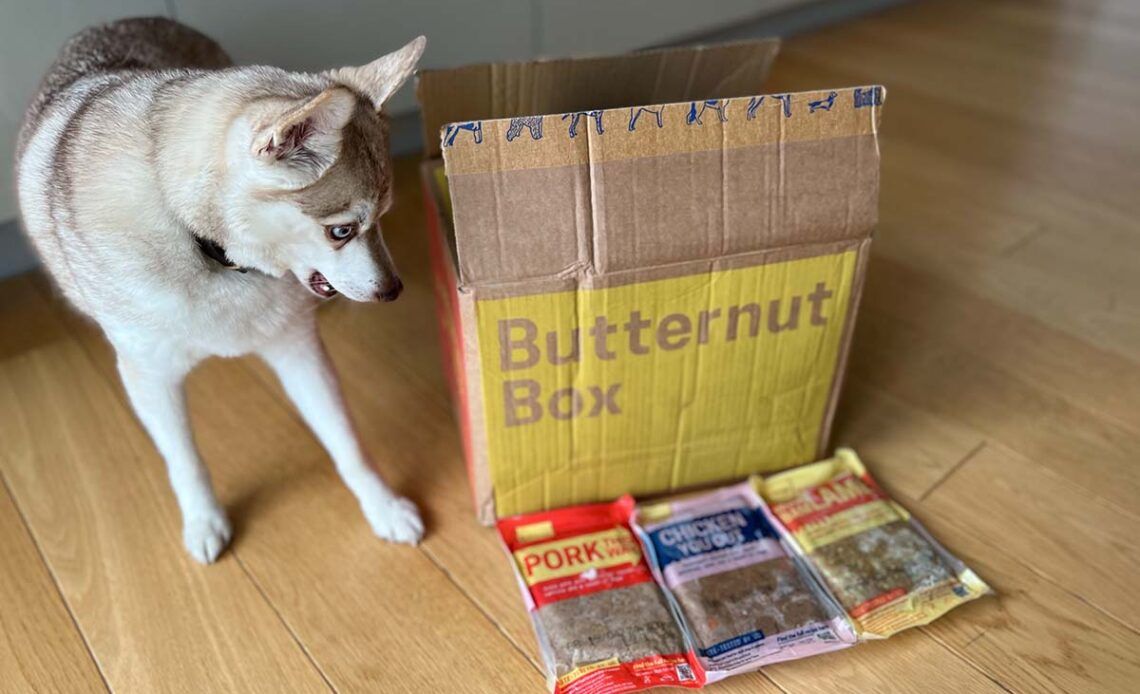 Last Updated on September 13, 2023 by Kieran
Are you thinking about making the switch to Butternut Box but you need a little push to complete the sign-up process.
We've been feeding Butternut Box meals to Copper and Skye for the past five years without any health issues or fussiness at mealtime.
Seeing firsthand the benefits that Butternut Box can bring to dogs in the UK and Ireland, I wouldn't hesitate to recommend their food.
They've been putting real food into dog food since launching eight years ago, feeding over 100,000 dogs in the UK since starting their business.
In this article, I'm going to explain how you can make a 50% saving on your first Butternut Box order plus an additional 50% off your second box.
(Cut to the chase: We recommend Butternut Box and you can save 50% on your first box and 50% on your second box by clicking here)
Who Are Butternut Box?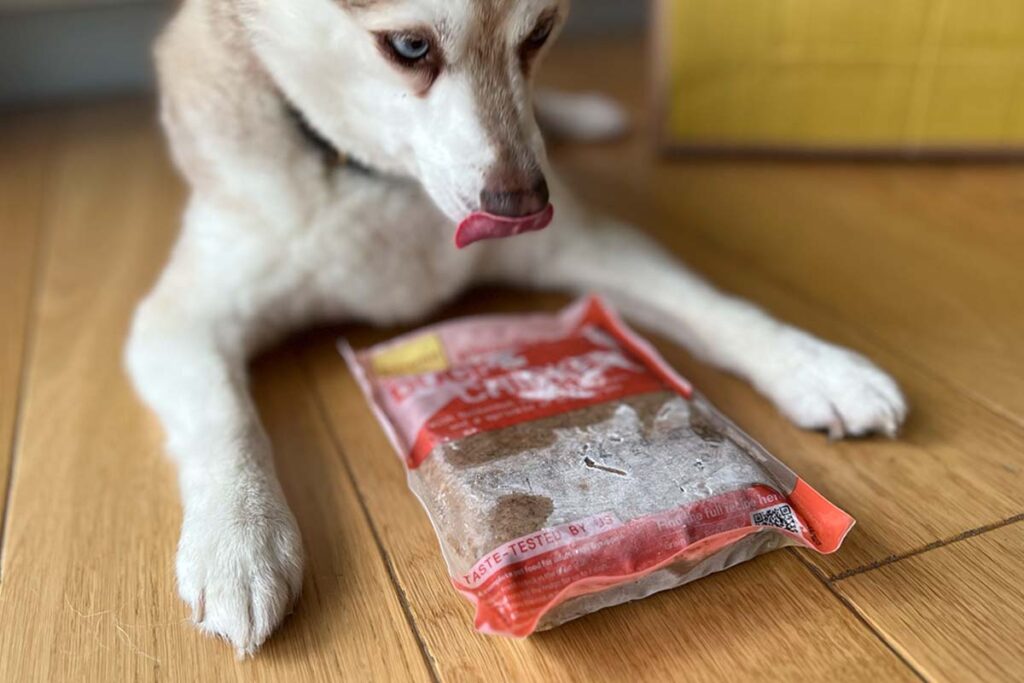 Butternut Box are one of the leading dog food delivery companies in the UK, while they also operate in the Republic of Ireland and the Netherlands.
So Butternut Box will deliver your dog's fresh food direct to your door so you'll never have to worry about picking up dog food at the supermarket again.
However, there's much more to Butternut Box than delivering dog food.
They've got an unrivalled range of balanced and complete meals for dogs so if you've got a particularly fussy eater at home, Butternut Box is a great choice.
I'm speaking from experience because my female Alaskan Klee Kai, Skye, was always fussy at mealtime when I fed her store-bought kibble or raw food.
But she loves Butternut Box and it's testament to their recipes, cooking methods and impressive range of flavours that cater to all preferences.
Butternut Box only use high-quality, fresh ingredients in their balanced and complete recipes so you can have peace of mind there's no nasties.
You won't find any additives or preservatives in their recipes, while they use clear and transparent labels so you know exactly what's in each recipe.
Butternut Box cook their meals at low temperatures to protect the integrity of the ingredients and lock in maximum flavour to keep dogs tails wagging.
Once the meals are cooked, they're frozen before being stored in eco-friendly packaging, sealed and placed on an eco-friendly delivery truck headed your way.
What I like about Butternut Box is their personalized service – by filling out their sign-up questionnaire, they can tailor their meals to meet your dog's needs.
So whether you've got an active, young dog or a slightly overweight, chilled out senior dog, Butternut Box will portion the meals accordingly.
As we mentioned earlier in this article, Butternut Box have already fed over 100,000 dogs in the UK, earning a reputation for ending fussiness amongst dogs.
Where To Buy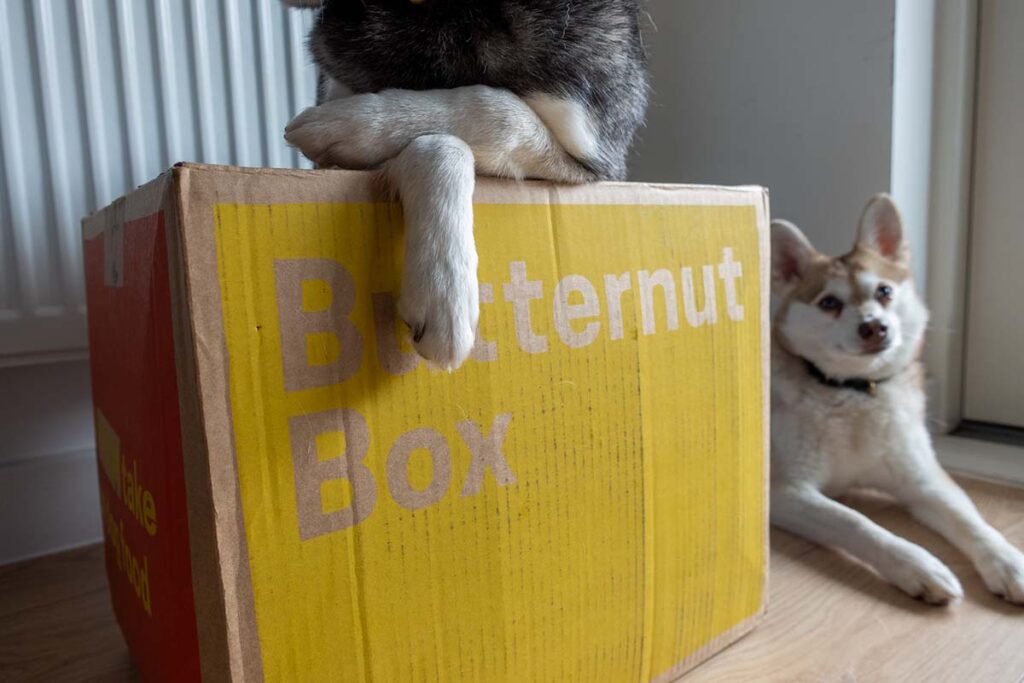 You can only sign up to Butternut Box via their website. So you won't be able to pick up their meals at the pet store or supermarket.
You can start the process by heading over to their website, entering your details before inputting all the necessary information about your dog.
This allows Butternut Box to get to know your dog – you'll be asked about age, breed, activity level, diet preferences, past diet, allergies and more.
Once you've completed the questionnaire, Butternut Box will suggest a range of different meals for your canine companion.
You can go along with their recommendations or you can still opt to select the meals that you think your dog will like the most.
It's worth noting that some of their meals carry a more premium price tag due to the cost of sourcing the ingredient so keep an eye out for that.
How To Save 50% On Your First & Second Butternut Box Order?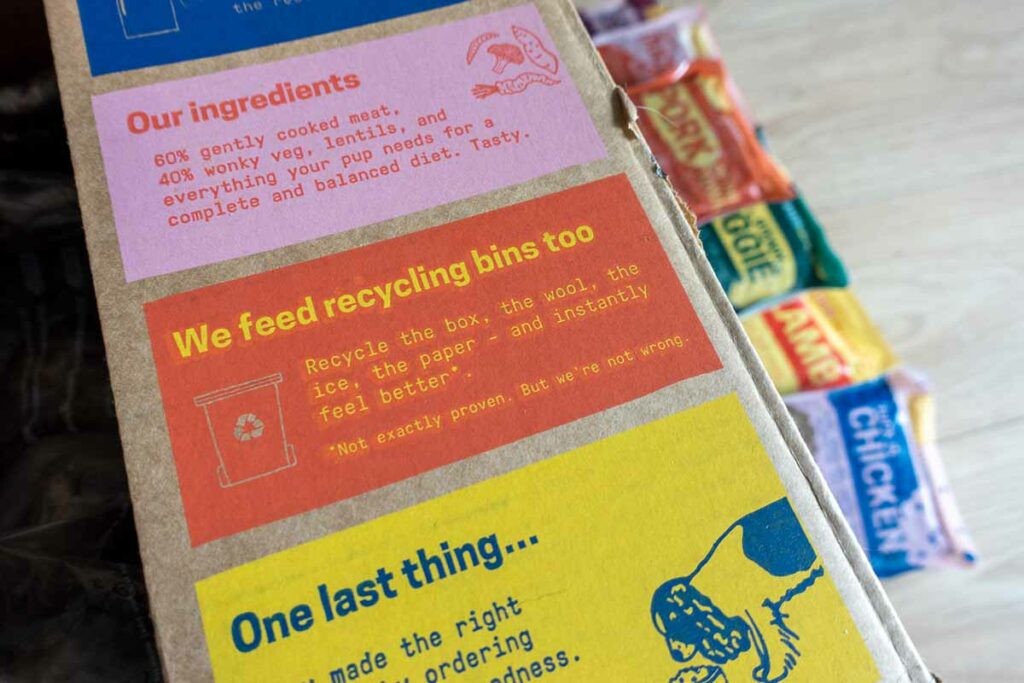 OK, we've got to the part of the article that you're probably really interested in.
You're 99% convinced that you want to join the Butternut Box movement but you just need a nudge towards that sign-up button.
Well, I'm thrilled to share with our loyal readers and subscribers that we have a very special offer to save you a chunk of change on your first order.
New Butternut Box customers can save 50% on their first Butternut Box order when they click this link.
This unique Butternut Box discount will be automatically applied at the checkout so you don't have to worry about entering a coupon code.
All you need to do is make sure you click this link or any of the links in this article and you'll automatically receive your discount.
Does that sound like a tempting offer? Well it gets even better.
Not only will you save 50% on your first Butternut Box order, but you'll save an additional 50% on your second Butternut Box order.
So to recap, our readers and subscribers can save 50% on box one and save 50% on box two by clicking this link.
Our Verdict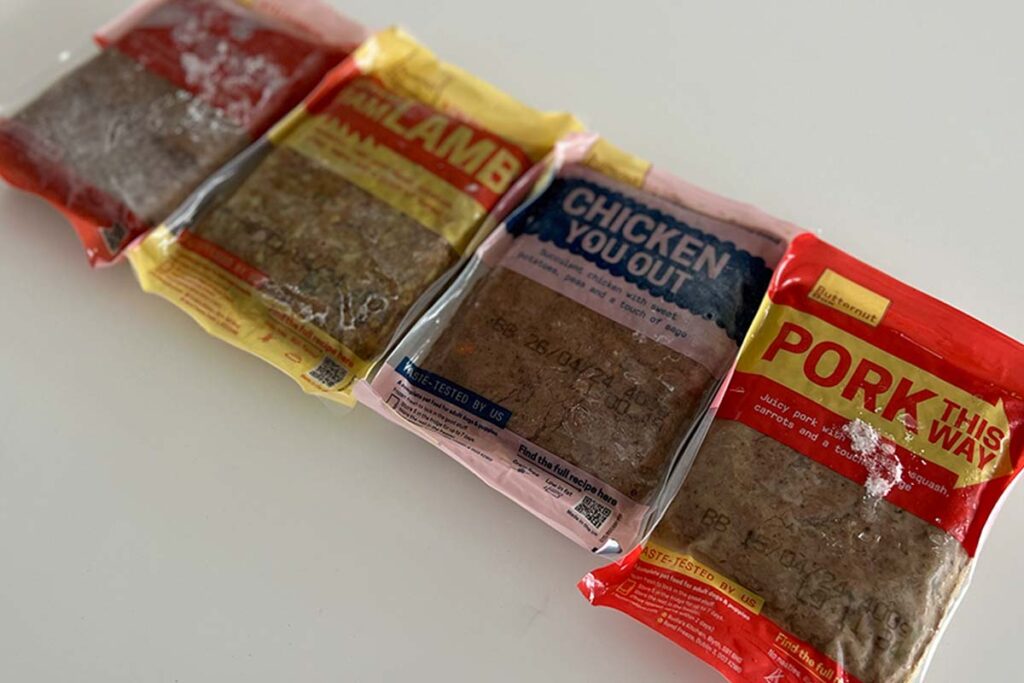 If you've been following Copper and Skye on social media for some time, you'll know that they love their Butternut Box meals.
We first started feeding Butternut Box to Copper and Skye in mid 2019 after we struggled to find food that they loved.
We found that kibble brands would make their breath smell, leave them with significant tear stains and cause bowel trouble.
Skye would be fussy with her dry food and usually turn her nose up at a kibble brand within a couple of weeks.
So Butternut Box really helped our dogs and gave us peace of mind that Skye and Copper were eating balanced and complete meals.
I felt good that they were eating human-grade meals that had been formulated by vets and tailored to meet my Klee Kai's specific needs.
We've seen a lot of change with Butternut Box over the past five years – their menu has expanded from three recipes to over 10!
They've embraced a more eco-friendly approach to their business that's great to see as someone who cares about the planet.
Butternut Box have also built a community of dog owners and you can become part of it!
Wrapping Up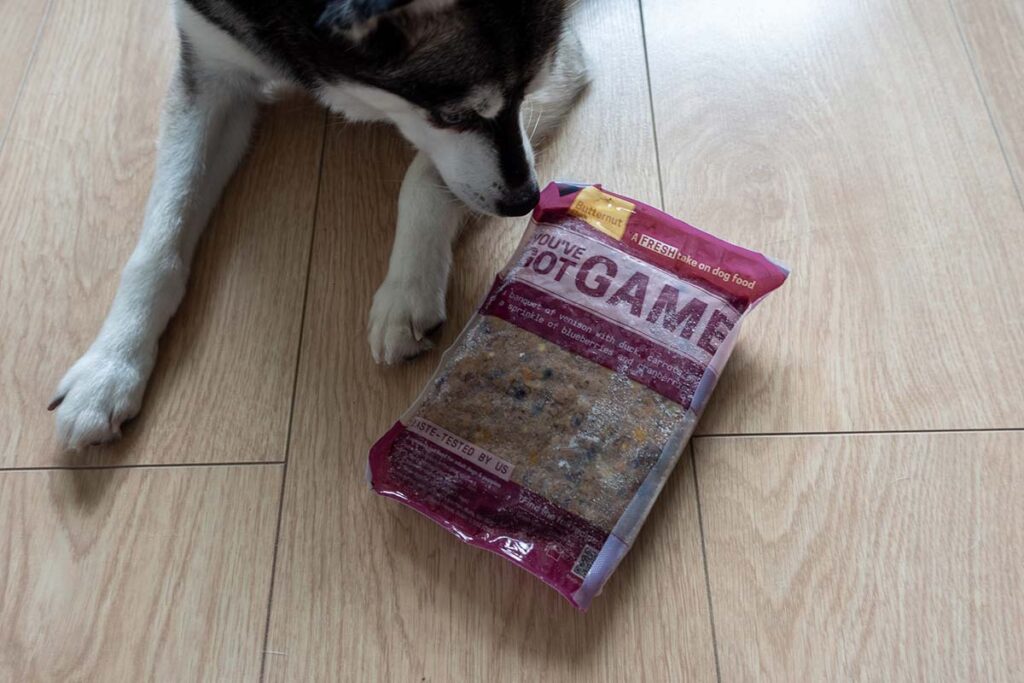 So now you've seen our special Butternut Box discount for our followers, readers and subscribers.
You can make a huge 50% saving on your first Butternut Box order when you click this link.
If that wasn't enough, you can save an additional 50% on your second Butternut Box order.
We've been paying out of pocket for Butternut Box such is our passion for their food.
We've even turned down opportunities to work with other dog food brands because we didn't want to make the change.
So if you're convinced Butternut Box is the right step forward for you and your dog, you can click this link to save 50%.
By doing so, you'll also support all things Life With Klee Kai, allowing us to dedicate more time to creating and writing content to help other dog owners.
If you have any questions about Butternut Box, you can also reach out to us at [email protected].