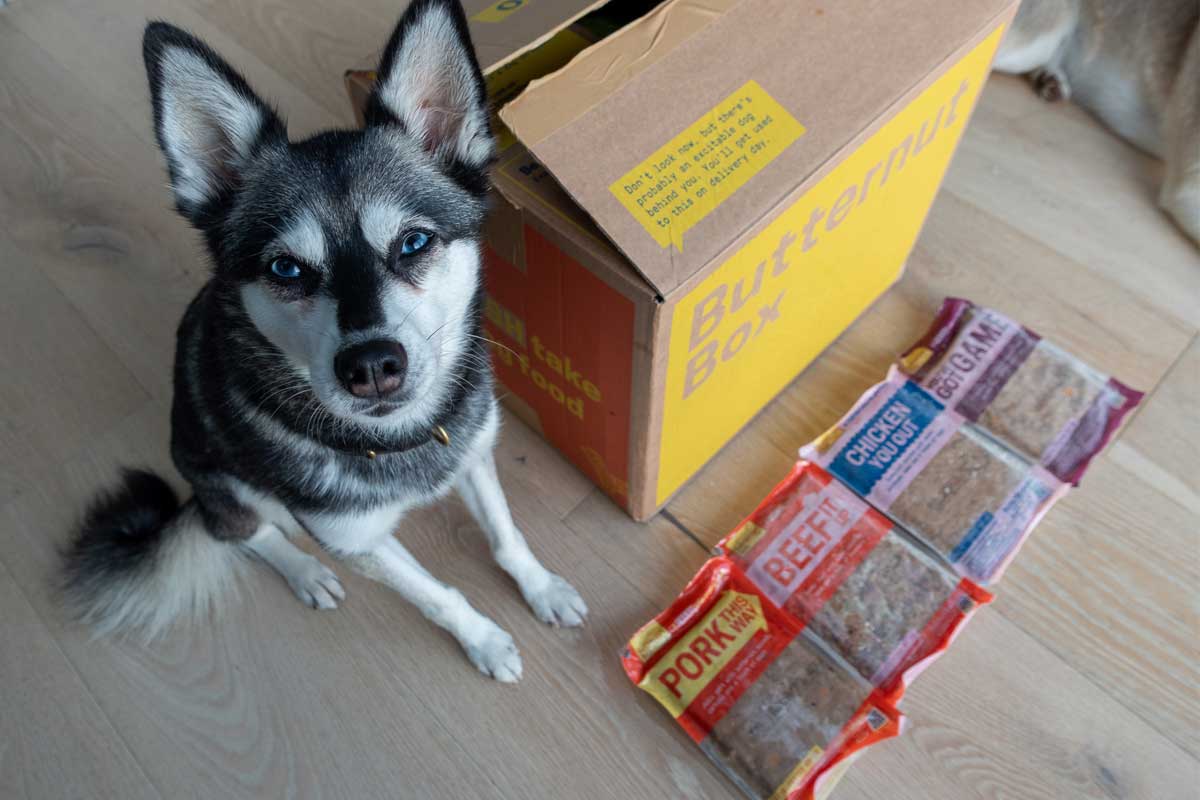 Last Updated on September 13, 2023 by Kieran Beckles
Are you thinking about making the switch to Butternut Box?
In this review, I'm going to be talking about one of our favourite dog food delivery companies in the UK at the moment – Butternut Box.
If you've already decided to give Butternut Box a try, you can save 50% off your first order and 50% off your second order by clicking here.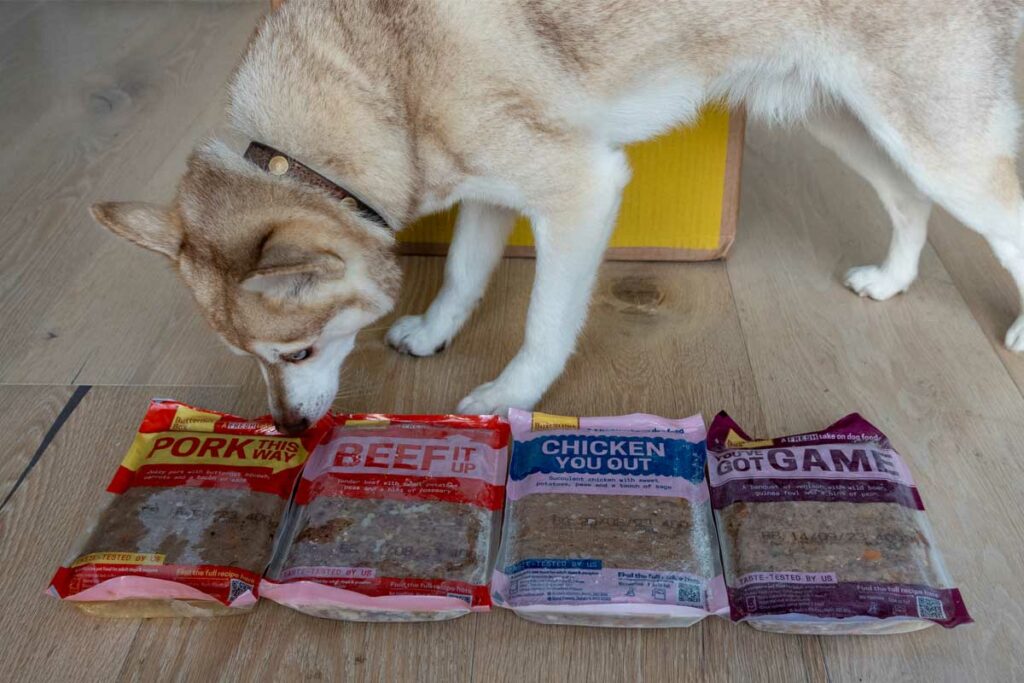 We first encountered Butternut Box when we moved back to the UK with my wife and two dogs at the start of 2019. Skye and Copper had been picky eaters when we lived in the USA so I wanted to find a dog food company that created balanced and complete meals that used fresh ingredients. We had been feeding Nom Nom in California and we were disappointed to be leaving them behind.
When we stumbled across Butternut Box online, we were instantly impressed. We love that they only use real ingredients in their recipes – that's fresh meat, fruit and vegetables. You won't find any additives, fillers or nasties in their fresh dog food. Just real ingredients displayed clearly on the packaging that you and I will recognise.
Their meals are comprised of 60% protein – so that could be meat or fish and the rest is vegetables and lentils. Some recipes have a hint of fruit – too. Unlike some big-name brands that you'd find at the supermarket, Butternut Box cook their meals at low temperatures to retain all the nutritional goodness and lock in all the flavour.
Once their meals are prepared, they're frozen and shipped to your door. It couldn't be easier. All the packaging in the box can be recycled – which is a great eco-friendly approach. The only part of your delivery that can't be recycled is the meal packets – hopefully that will change.
Skye and Copper have been fussy eaters in the past. Skye has also struggled with digestive issues. I was drawn to Butternut Box after reading just some of the thousands of reviews from customers who also had picky dogs or dogs who required a low-fat diet.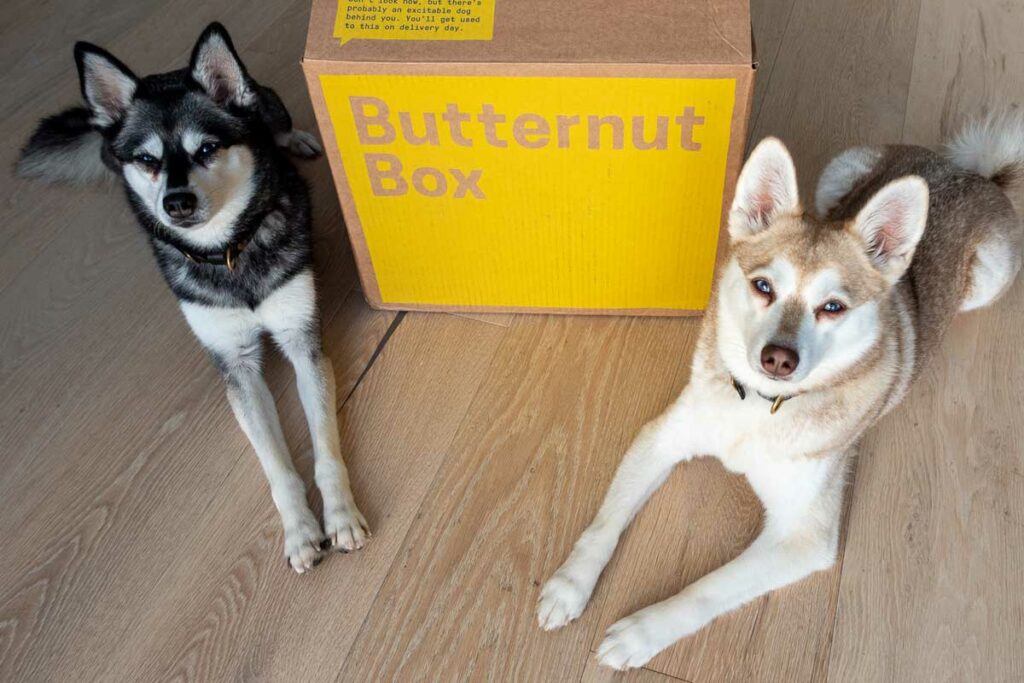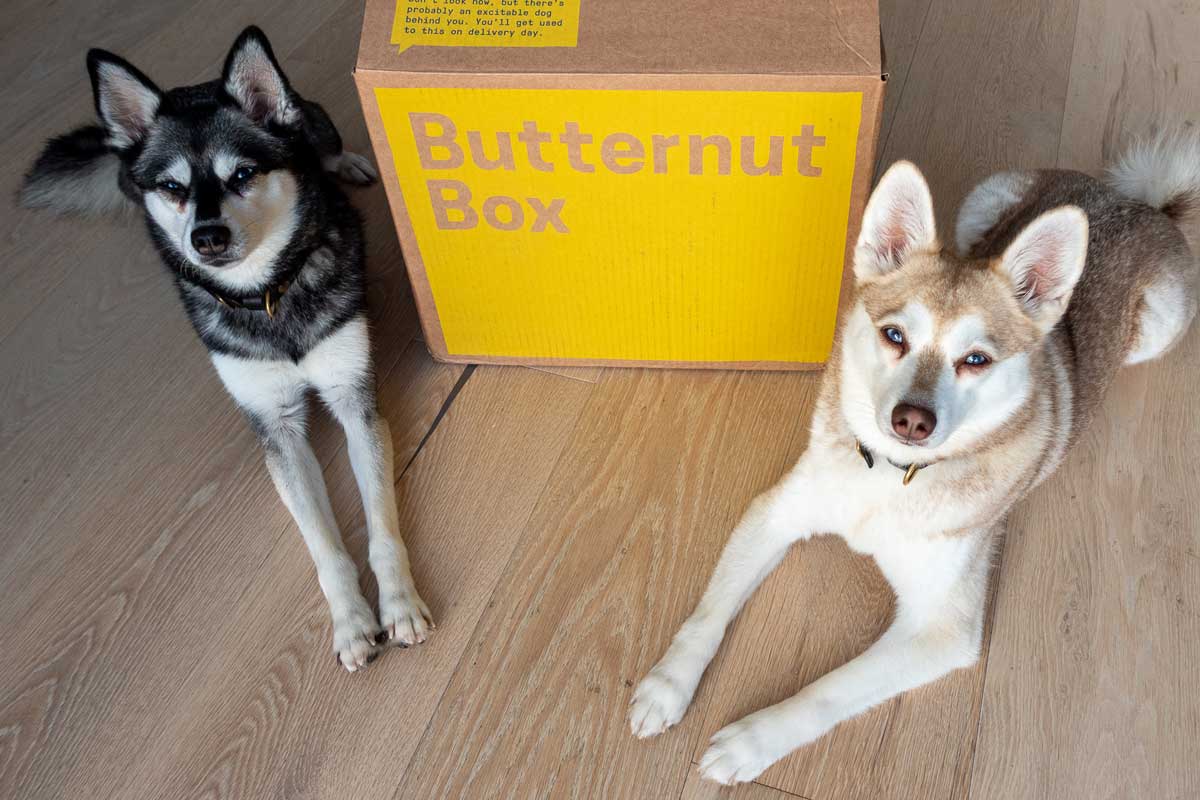 You can start your Butternut Box journey by signing up and filling out their questionnaire. This allows you to provide Butternut Box with key information about your dog such as age, weight, breed, activity level, allergies or dietary requirements. They can work with you to find the right recipe. If you have two dogs with different activity levels or different weights, Butternut Box will suggest recipes that suit both.
They've got an impressive range of recipes that has continued to expand since we first signed up with Butternut Box in 2019. You can now choose from Beef It Up, Wham Bam Lamb, Swish Fish Dish, Chicken You Out, Pork, You've Got Game, Pork This Way, Gobble Gobble Turkey, Duo Of Duck And Pork, Ready Steady Veggie and Plant Get Enough. The variety is incredible and extremely useful to keep picky eaters like Skye stimulated at mealtime.
You can opt for how frequently you'd like deliveries but going for every 4 weeks is slightly cheaper. However, keep in mind that you'll need sufficient freezer space to store a month's worth of meals. Once you break down the cost, feeding your dog Butternut Box's meals can cost less than your daily cup of coffee. In my opinion, it's worth it to promote a happy and healthy lifestyle for my dogs.
Now, we've tried a few fresh dog food brands since we've been in the UK. I think Butternut Box represents the best overall value of all the brands that we've tried. They provide a premium service so it can range from £30 to £70 a month depending on your dog (perhaps even more if you live with multiple big dog breeds). I pay £66 total for Skye and Copper's meals. That works out at just under £2.40 a day. Some people may think that's a lot but for me it's worth every penny.
Skye and Copper are no longer fussy with their food. They get excited about every meal. We'e tried a lot of different brands over the years and Butternut Box is the only one that Skye will consistently eat. Copper is less picky but no less enthusiastic about his fresh dog meals. When we first moved to the UK and before finding Butternut Box, we had many trips to the vet and emergency vet due to Skye's tummy. We've had no issues since feeding Butternut Box so we've saved on medical bills. Not only that, Skye and Copper are happier and healthier, with lots of energy and perfectly-shaped stools.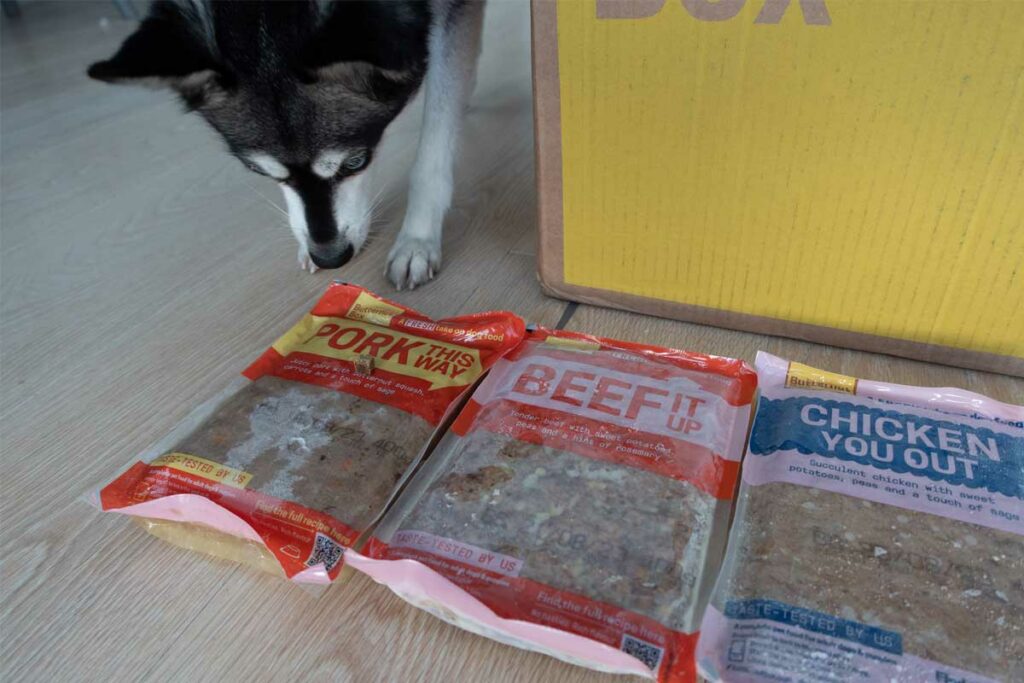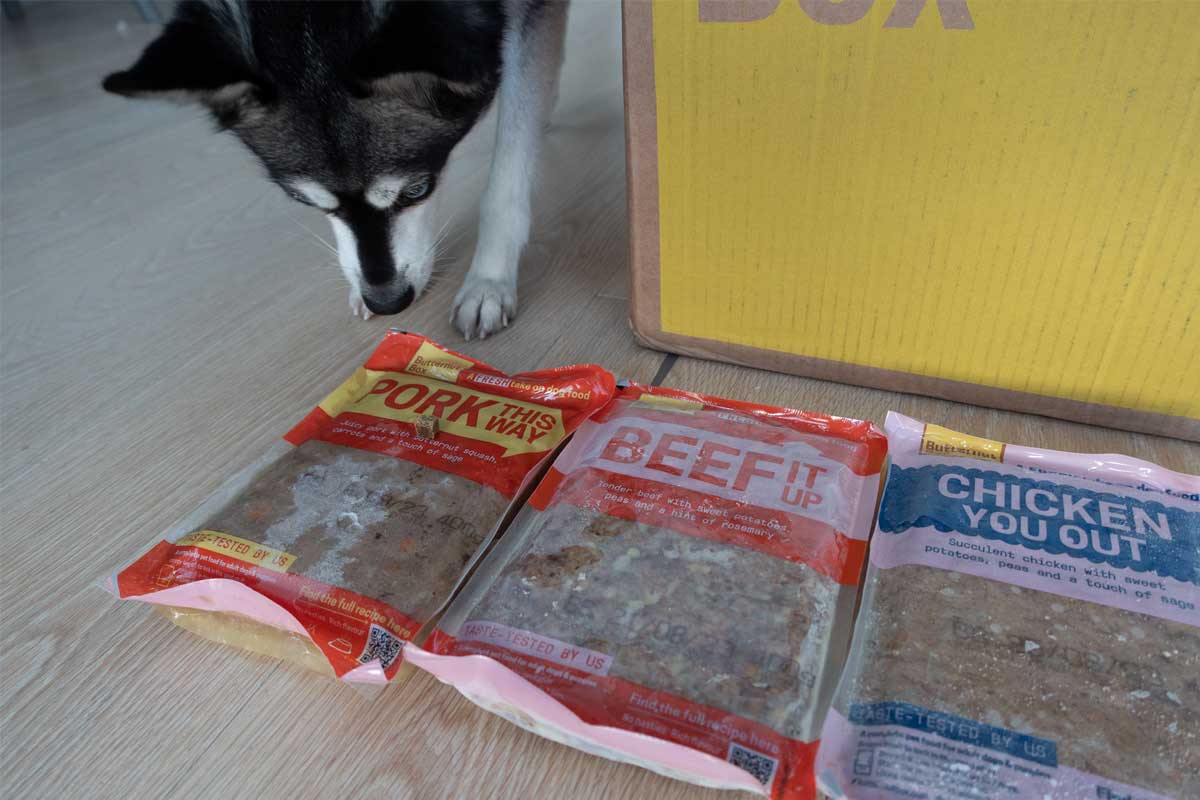 If you've come across this article and you're looking for fresh dog food that can help your dog's energy levels, flatulence, pickiness, sensitive tummy, bowel movements, I really recommend giving Butternut Box a try. You can get a 14-day trial box to see how your dog does if you're still unsure. Butternut Box provide lots of great information on how to make the transition to their food, too.