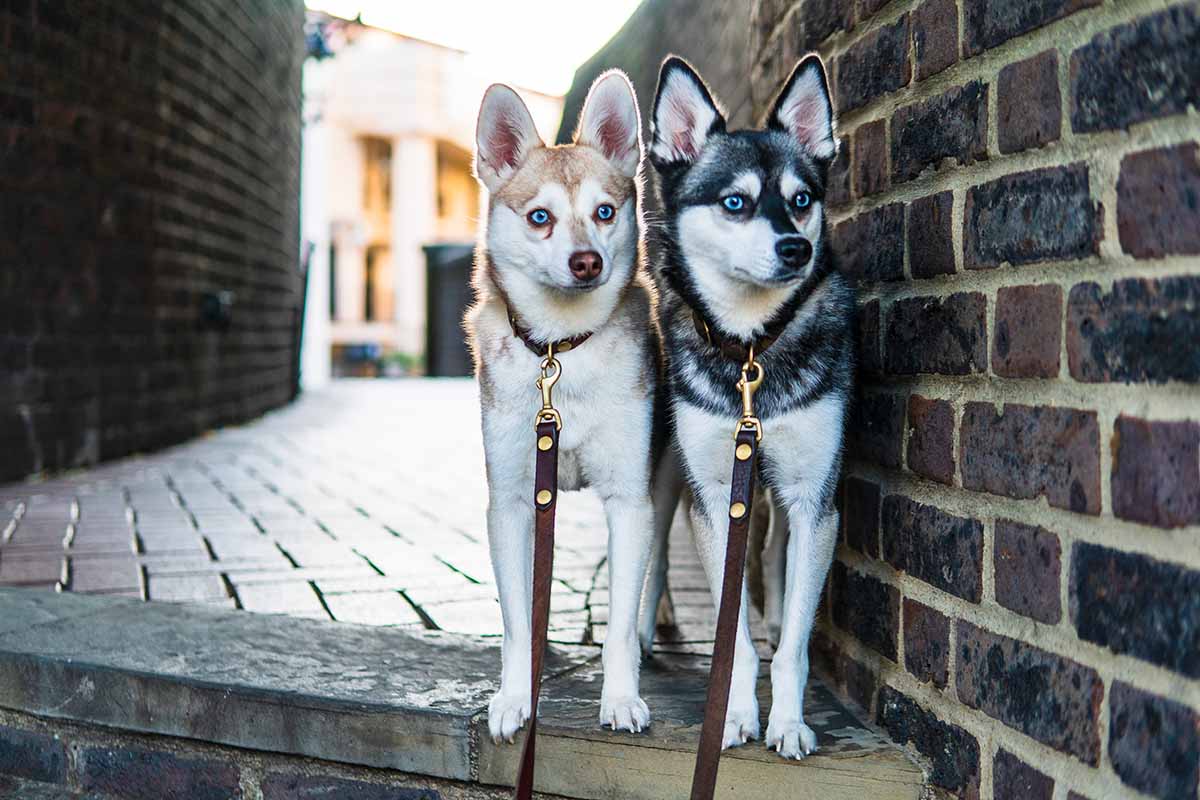 Last Updated on August 8, 2023 by Kieran
This is the question we get asked perhaps the most on social media: What is an Alaskan Klee Kai?
The answer is an Alaskan Klee Kai is a purebred dog that is recongised by the United Kennel Club. They're not a cross or mix breed.
The breed was created by an American lady called Linda Spurlin in Alaska in the 1970s. Spurlin set about creating the Klee Kai breed after she met a Husky mix called Curious who weighed just 17 pounds.
Speaking to the Alaskan Klee Kai Association of America's website, Spurlin shared her experience meeting Curious and why this dog inspired her to create a breed that looked like a Husky. Spurlin was visiting family in Oklahoma when she came across one of their dogs – Curious.
I thought this little creature was so cute that I asked if I could take her back to Alaska with us. They seemed quite pleased to be rid of an extra dog, and thus I acquired my first little husky. It seemed as though everywhere we went, people flocked around the vehicle to exclaim and marvel about this little dog. We went into a restaurant and discovered it empty because the patrons were over at the window looking out at our little dog! I knew I had to find a way to duplicate this little wonder.

Linda Spurlin on AKKAOA's website.
Spurlin set about creating a dog that looked like a Husky but came in a much smaller package. She wanted a Husky-like dog that would serve as a companion pet rather than a working dog like most Husky breeds.
The Alaskan Klee Kai founder used Alaskan Husky, Siberian Husky, Schipperke and American Eskimo to create the initial stock of AKK. She describes the Alaskan Husky as the Alaskan Klee Kai's ancestors.
The Alaskan Husky is a mixture of the best, and so was the creation of the Alaskan Klee Kai. I also added a small dose of Siberian Husky, and just the right amount of smaller dogs of similar conformation for developing my original stock.

Linda Spurlin on AKKAOA's website.
Spurlin explained that the Klee Kai's name came about from the Inuit word for little dog. Although she didn't initially intend to release her Klee Kai in the world, Spurlin sold her first "miniature husky" in 1987. The rest is history as word of these small Husky-like companion dogs spread and Spurlin was inundated with requests for her Klee Kai pups.
Although she was first in touch with the American Kennel Club in 1988, the Alaskan Klee Kai breed is still not recognised by the organisation. However, the Klee Kai have achieved recognition with Federation of International Canines, the American Rare Breed Association and Canine Rarity Shows. In 1997, the United Kennel Club granted breed status to the Alaskan Klee Kai. The following year, the Alaskan Klee Kai Club of America was created.W
When it comes to prospective owners of the breed, Spurlin shares a lot of great advice on the AKKAOA's website that we should all heed.
You should also ask to see the parents of the animal you are interested in. It is very important to see the environment in which your prospective pet has been raised. Puppies, like children, can be affected their entire lives by how they were treated at a young age. Any respectable breeder should allow you to visit their facility, as their schedule allows. They should also understand the importance of matching the right pup with the right family. I believe if a breeder does not have time for you, you do not have time for that breeder.

Linda Spurlin on AKKAOA's website.
So there you have, a brief history of the Alaskan Klee Kai breed. Yasmin was first introduced to the breed at the age of 10 when she saw one of Klee Kai in the Bay Area in California. Kieran didn't meet his first Alaskan Klee Kai until Skye was collected from LA in 2017.