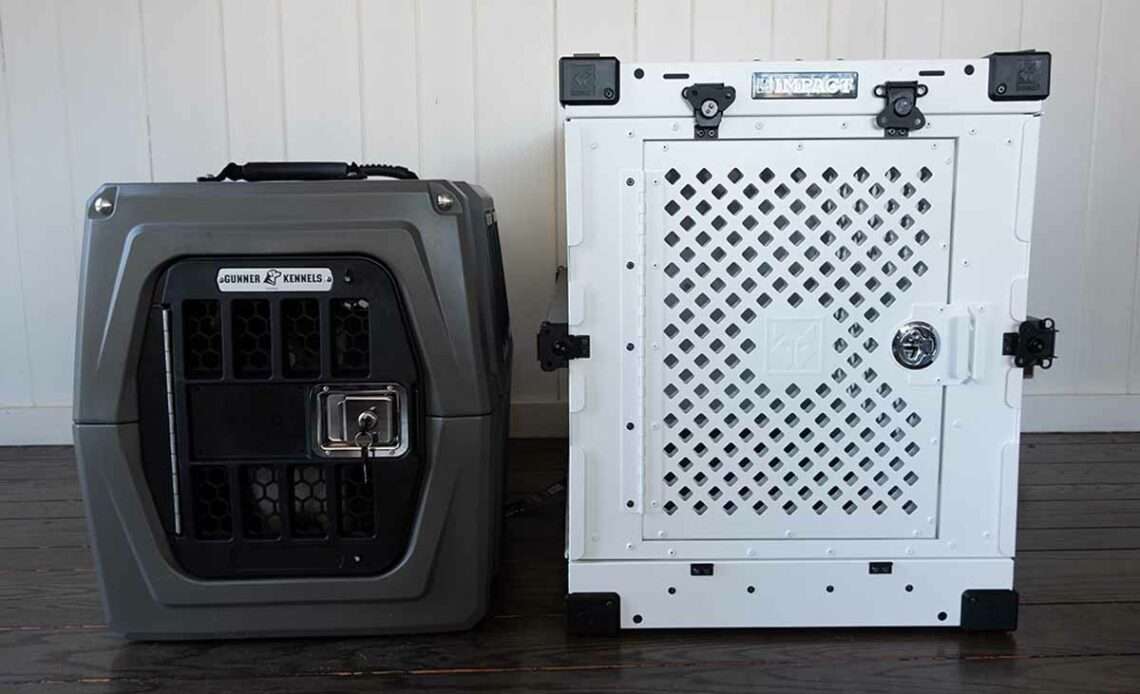 Last Updated on November 13, 2023 by Kieran Beckles
Are you looking to invest in a premium do crate but you can't decide between the Impact Collapsible Dog Crate and the Gunner G1 Kennel?
If you're preparing for a new arrival or you want to upgrade your current dog crate, there's no shortage of options available to pet parents who want a safe and secure den for their pup.
Impact Dog Crates and Gunner Kennels are two of the leading providers of dog crates in the USA at the moment, creating a range of high quality dog crates and kennels.
I've spent a lot of time (and money) researching the best dog crates for Copper and Skye since we returned to California in 2023.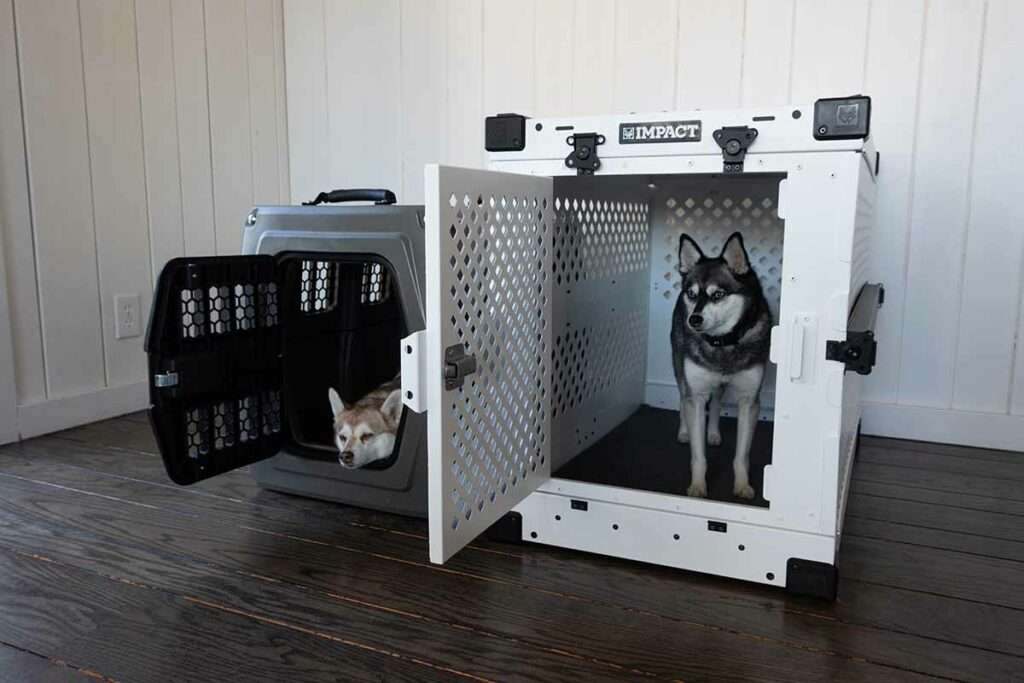 In this article, I'm going to take a look at Impact Collapsible Dog Crate and the Gunner G1 Kennel, giving an overview of these two products, sharing some of the differences as well as giving our verdict on the Impact crate and Gunner kennel.
With the introduction out of the way, let's start by taking a look at the Impact dog crate before moving onto the Gunner kennel.
Cut To The Chase: You can save 15% on your first Impact crate order when you click here and use code "LIFEWITHKLEEKAI" at the checkout.
Impact Collapsible Dog Crate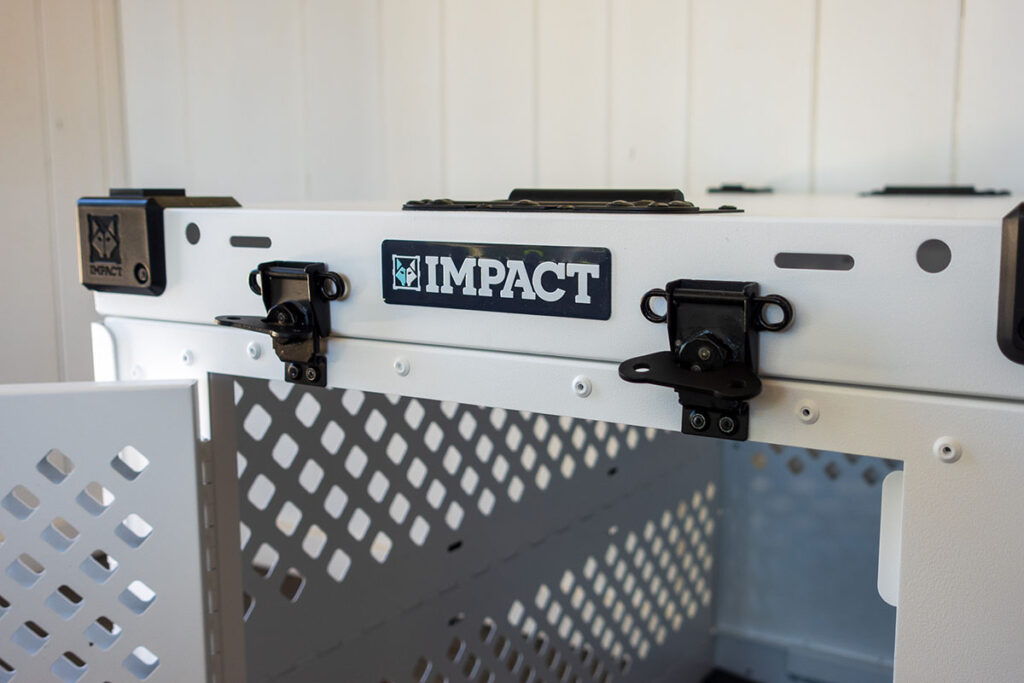 Impact have established themselves as one of the leading manufacturers of American built dog crates.
Impact Crates have a great range of dog crates – Collapsible, High Anxiety and Stationary – to cater to the specific needs of dog owners and their pets.
For the purposes of this comparison article, we're going to share an overview of the Collapsible crate.
This Impact dog crate has the ability to be collapsed inside 60 seconds to make it a great, versatile option for pet parents who want a crate that can be used at home, in the car or on vacation.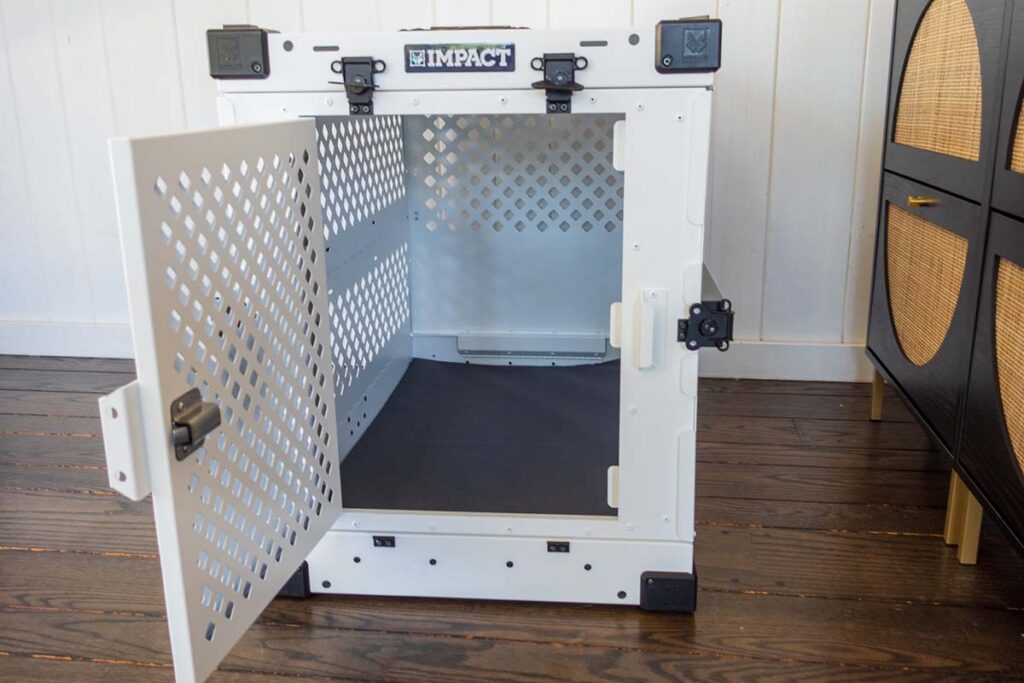 I found it relatively easy to collapse and reassemble the Impact dog crate once I practiced a couple of times – it can easily be done inside 60 seconds as advertised by Impact Crates.
Like all Impact crates, the Collapsible model has military grade handles to make it easy to carry once collapsed – my wife Yasmin had no issues carrying the crate to our car.
Impact use heavy duty materials to create a reliable and secure crate for your dog. With stackable corners, you can stack Impact crates if you've got two dogs like me.
The Collapsible crate has a one-handed operation so I found the door opening convenient to use even if I had my hands full with leashes, poo bags or my toddler.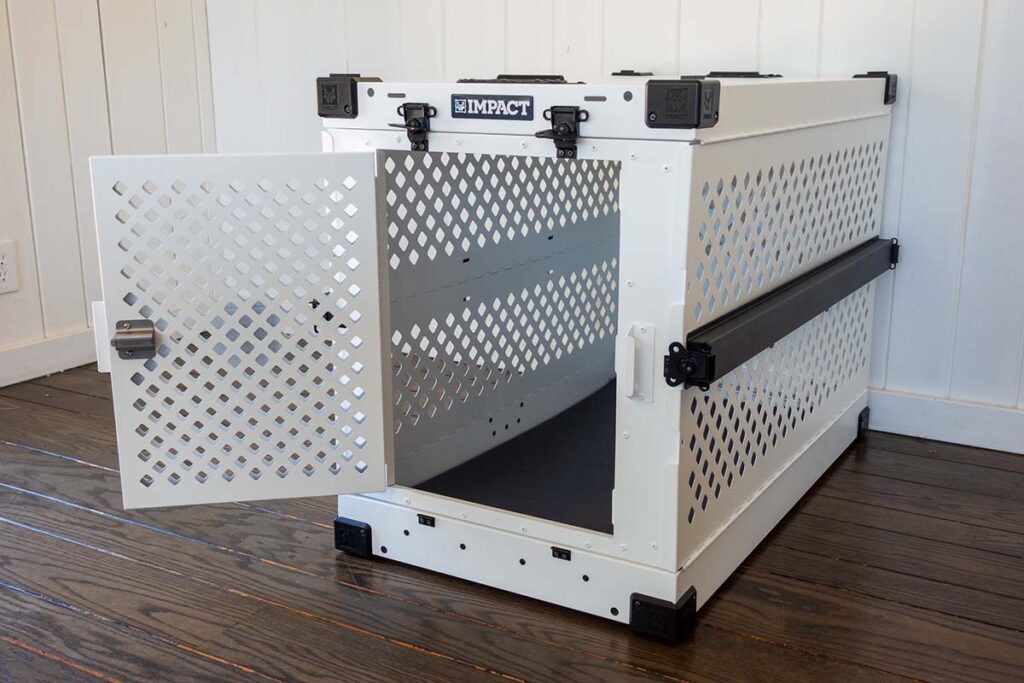 It has a slam latch so it's easy to shut but doesn't have added safety latches like the High Anxiety.
You'll noticed the diamond-shaped holes to provide ample air ventilation but prevent your dog from sticking their snout or paws through the holes and potentially injuring themselves.
The Collapsible Crate starts at $999 for the 30″ model and goes up to $1099 for the 40″ model (if you've got an extra large dog, they've got 48″ and 50″ models).
Our Verdict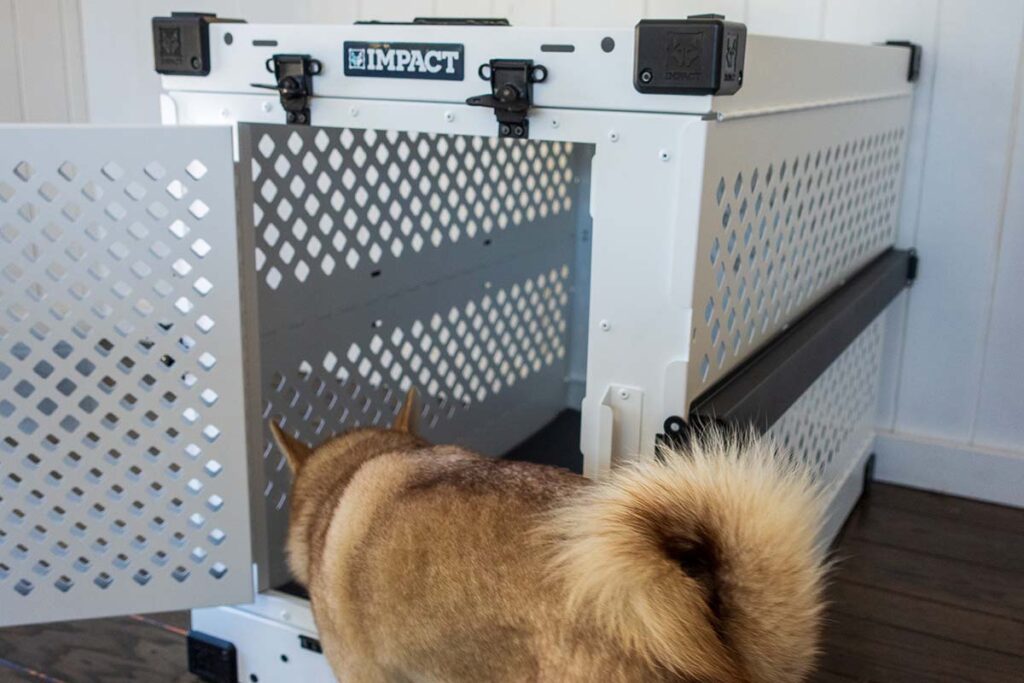 I made the decision to get an Impact Collapsible Crate because I wanted a dog crate that used highest quality materials, superstrong carry handles, designed specifically to be collapsed and could keep my dogs safe in a car accident.
As I mentioned above, this Impact crate was simple to set up, straightforward to collapse and highly portable thanks to military grade carry handles.
I was thrilled to ditch the awkward wire crates that are a pain to collapse and reassemble with fingers getting caught between wires.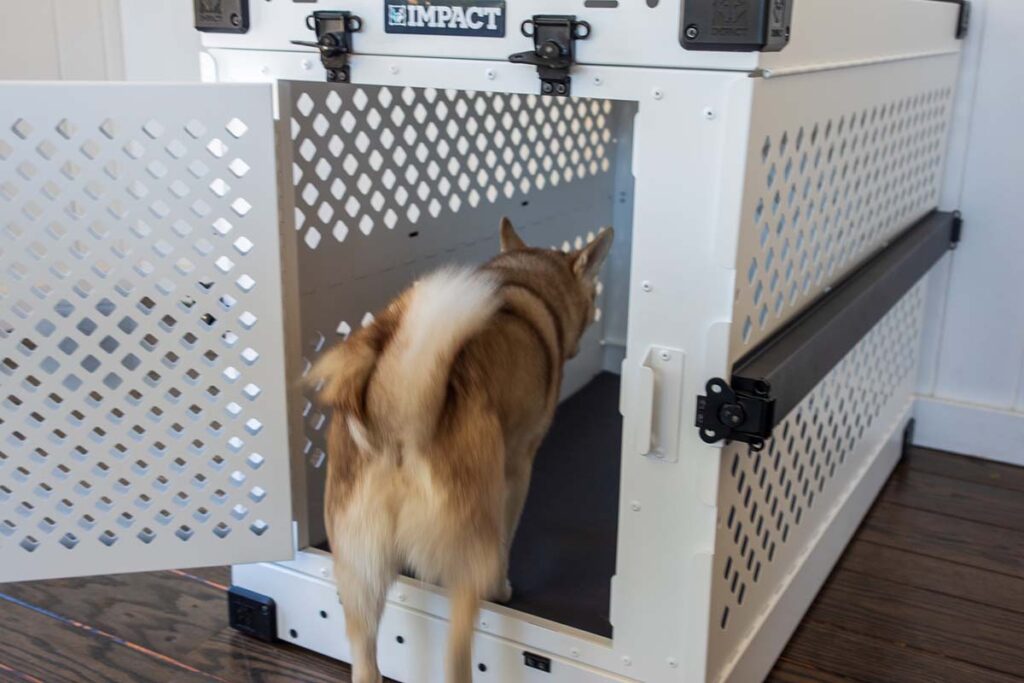 Copper and Skye felt comfortable in the Collapsible crate with the diamond-shaped ventilation holes providing ample air flow but visibility in the cargo space.
Once the Collapsible crate was assembled, it was obvious Impact had used durable materials because the crate didn't tremble when I sat on it.
As a busy dad, I really like the one-handed opening operation to make the crate really easy to use if I need to put Copper and Skye inside if surprise visitors come to the door and I'm holding my daughter.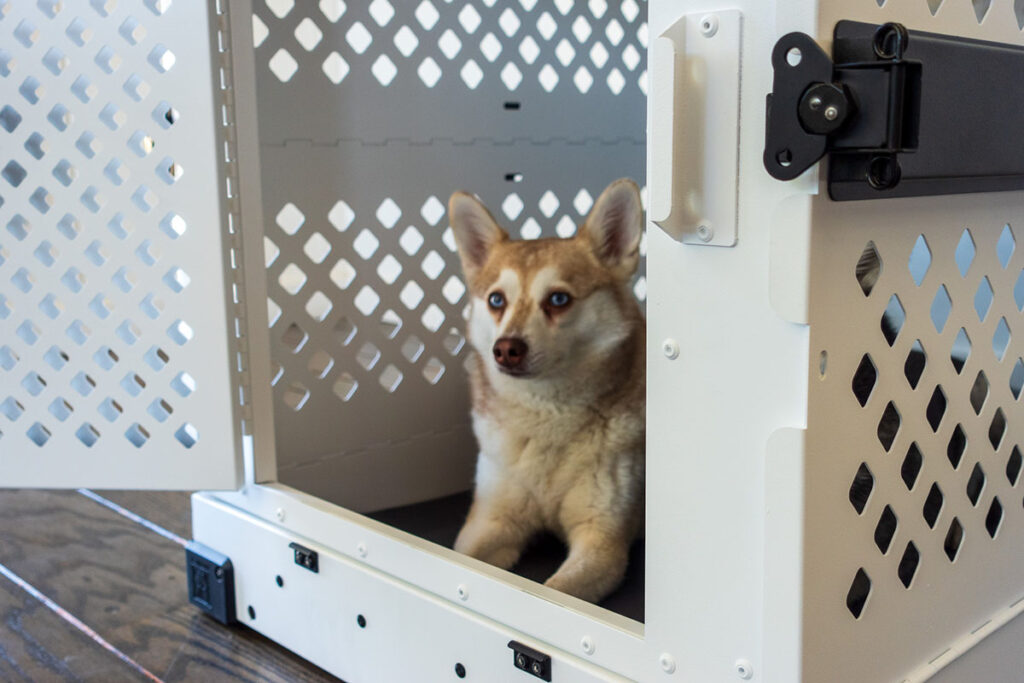 Impact offer a lifetime guarantee with the Collapsible crate should you find any faults with the crate.
I've had my Collapsible crate for six months and haven't experienced any issues despite collapsing and reassembling the crate multiple times a week.
While it has a premium price tag, I believe it's worth the investment considering the quality of the crate.
Gunner G1 Kennel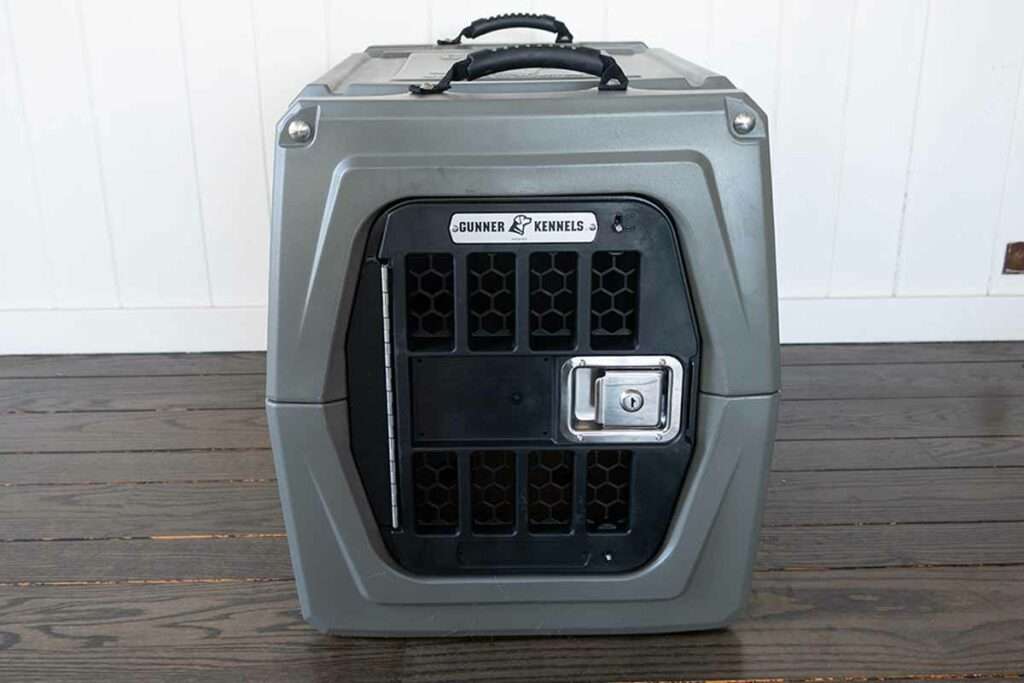 Gunner Kennels are considered some of the best in the dog crate marketplace thanks to their design, key features and reliability.
This Gunner Kennel can provide pet parents with peace of mind seeing as the small, medium and intermediate models have been Crash Test certified by the Center For Pet Safety.
You'll need to invest in the Gunner Kennel's tie downs to ensure you get their five-star crash test service. The dog crate has tie down pins incorporated into the design to make life easy for dog owners.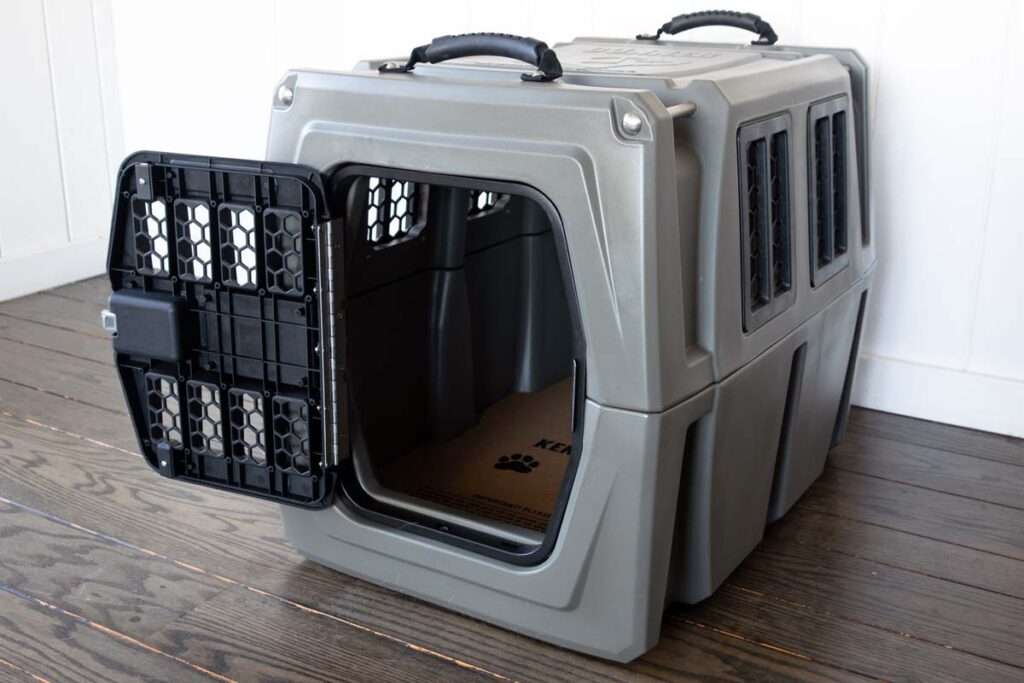 This Gunner Kennel is doubled-walled – which Gunner Kennels apart from other crates in the market. The double-wall rotomolded construction paired with its patented features will keep your dog doubly protected against impact, outside forces and environmental factors.
The Gunner Kennel has a paddle latch to make it easy to use, while the door is reversible meaning you can place it on either side of the dog crate.
It has a powerful door system reinforced by the aluminum frame. Gunner explain that these features can help to keep your dog safe in the event of a car accident.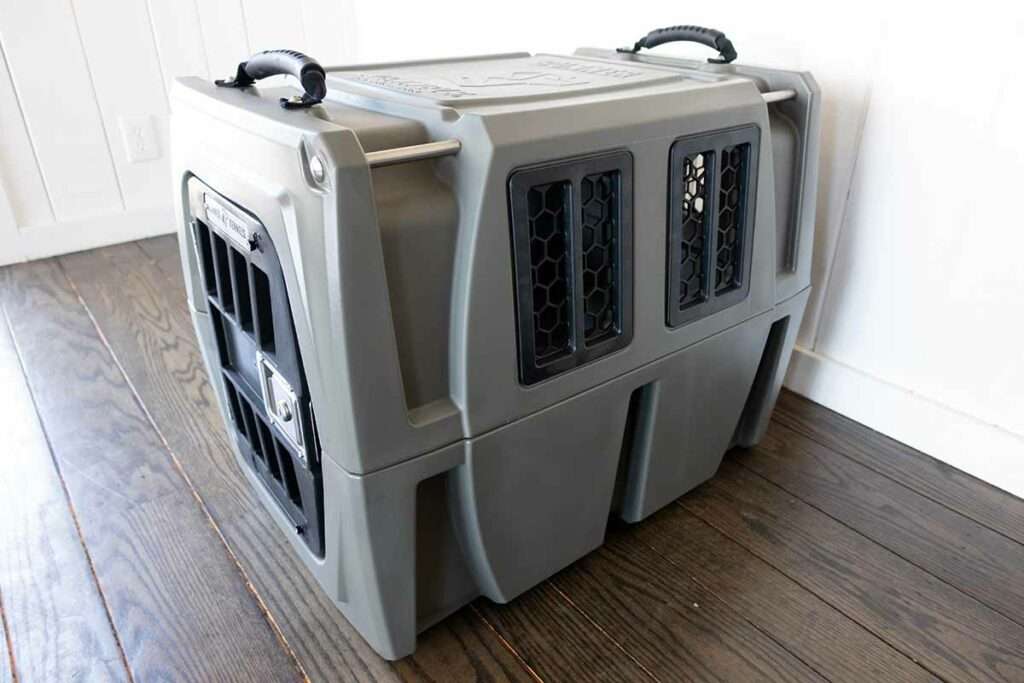 The Gunner Kennel incorporates a top and bottom locks to add an extra element of safety. They've also included a drainage system to make it easy to get rid of debris and dirt (or fluff).
The Gunner G1 Kennel starts at $500 for the Small Crate and goes up to $975 for the Large Crate.
Our Verdict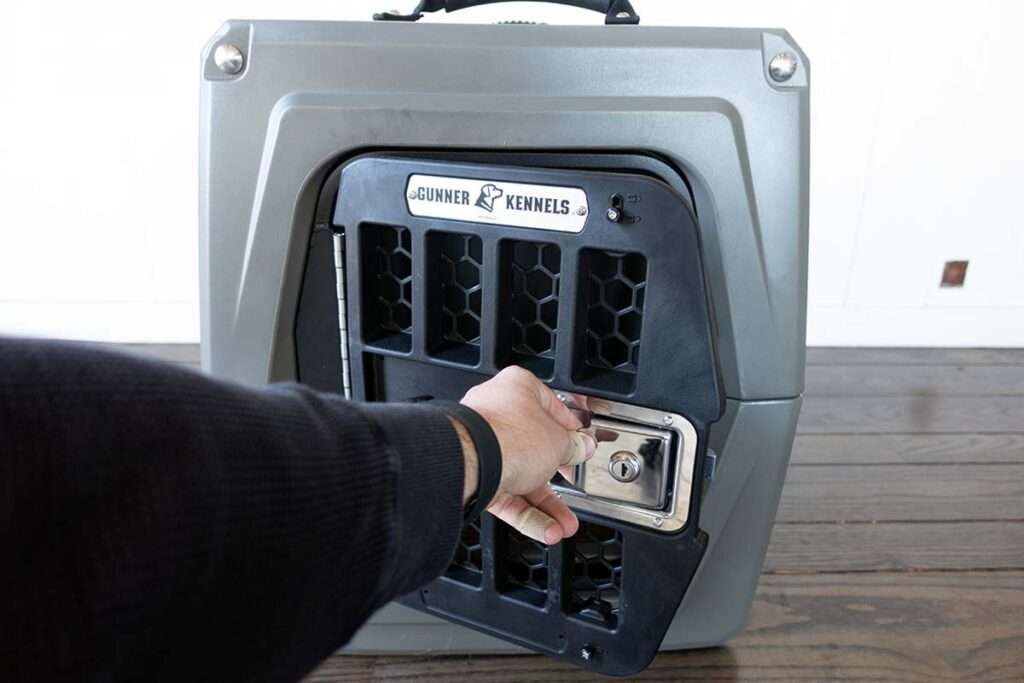 I was excited to get my hands on the Gunner Kennel after reading lots of positive reviews.
The Gunner Kennel arrived assembled in the box but I did have to attach the superstrong carry handles to the dog crate but that was the only work required from the dog owner to get the crate ready.
I really liked that the Gunner Kennel had non-slip feet which is a unique but obvious feature often overlooked when I've reviewed other dog crates.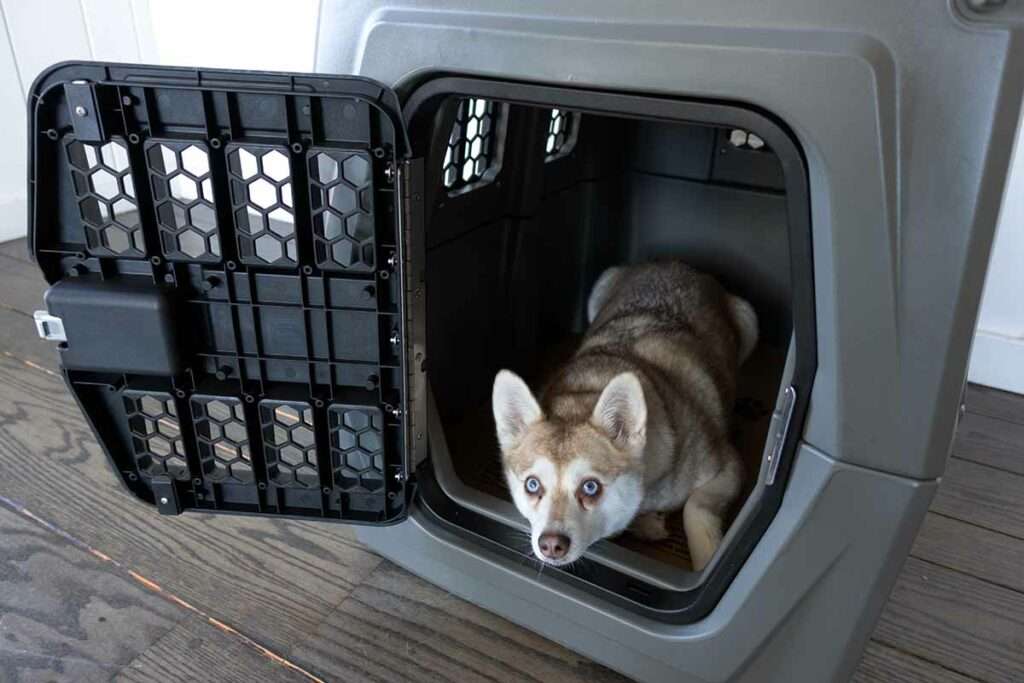 It has a heavy duty build with the secure aluminum steel frame and stainless steel hardware, and the Gunner Kennel was able to withstand my 205lb frame when I sat on its roof.
Copper and Skye appeared to enjoy the Gunner Kennel, with the wide base providing ample room for my Alaskan Klee Kai dogs.
Seeing as Copper and Skye shed a lot and Copper gets car sick, I thought the drainage system was a clever design feature.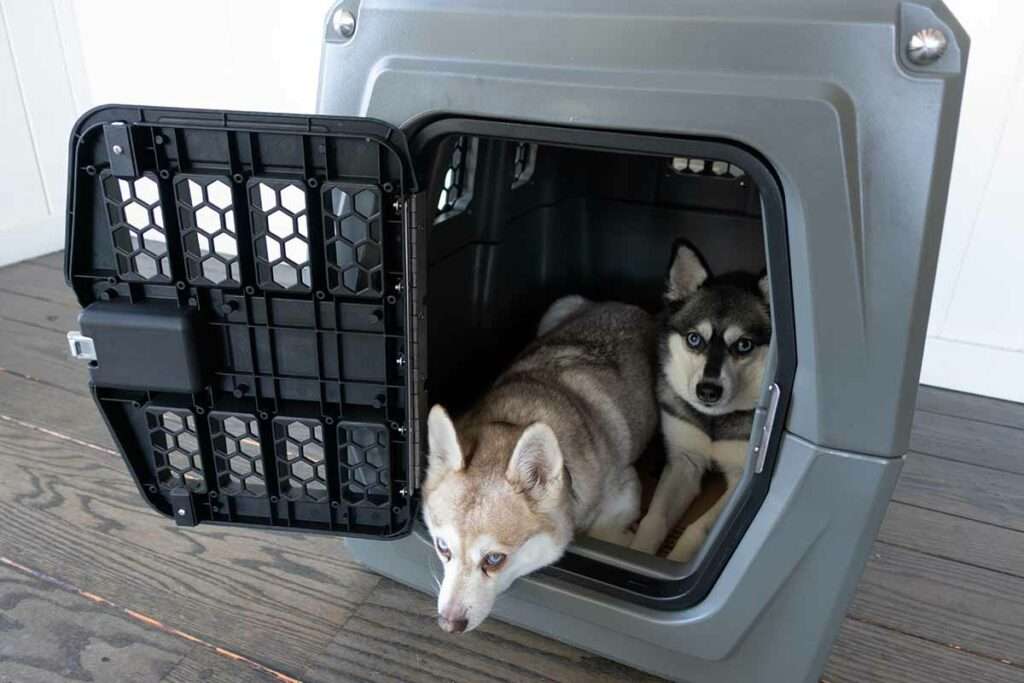 The Gunner Kennel was heavy to lift with an empty weight of 36lbs.
I really liked that the Gunner Kennel had the incorporated tie down pins to make it easy to tie down the G1 in the bed of a truck, the cargo space, or on the backseat.
Impact Collapsible Dog Crate Or Gunner G1 Kennel: Our Pick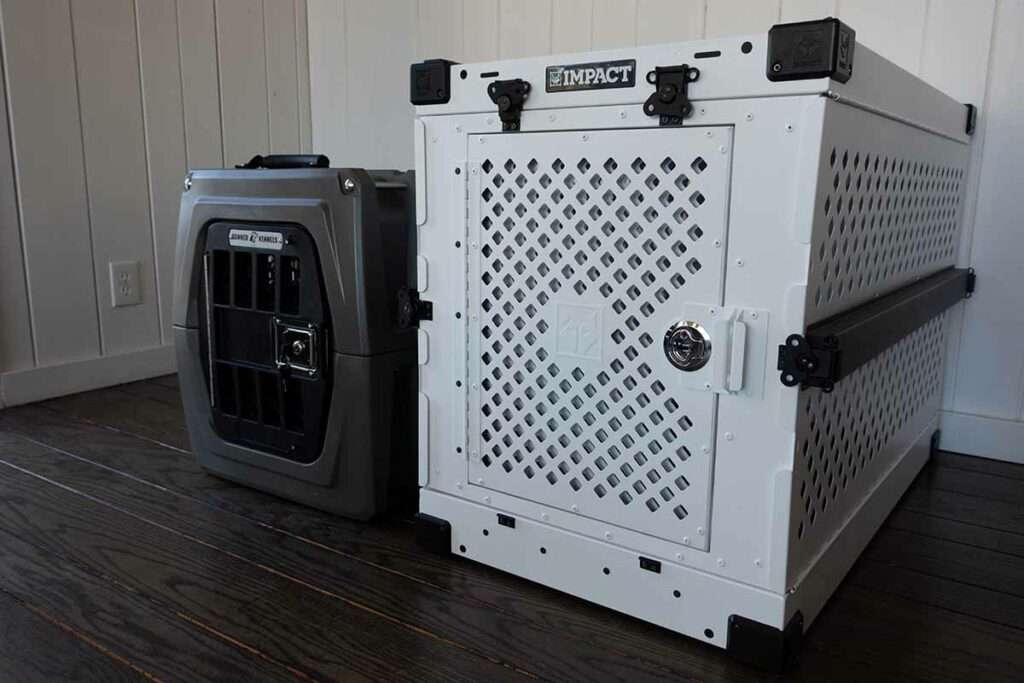 We've reached the key part of our comparison article – do we recommend the Impact crate or Gunner kennel?
Based upon my experience, I would recommend the Collapsible Crate but it really depends on your specific requirements.
I really liked the design of the Impact dog crate. I ordered the white version and I felt the design of the Collapsible crate fit effortlessly into the interior decor.
The Impact Collapsible Crate looks different to most dog crates that I've reviewed – the sleek design, the durable build and diamond-shaped holes.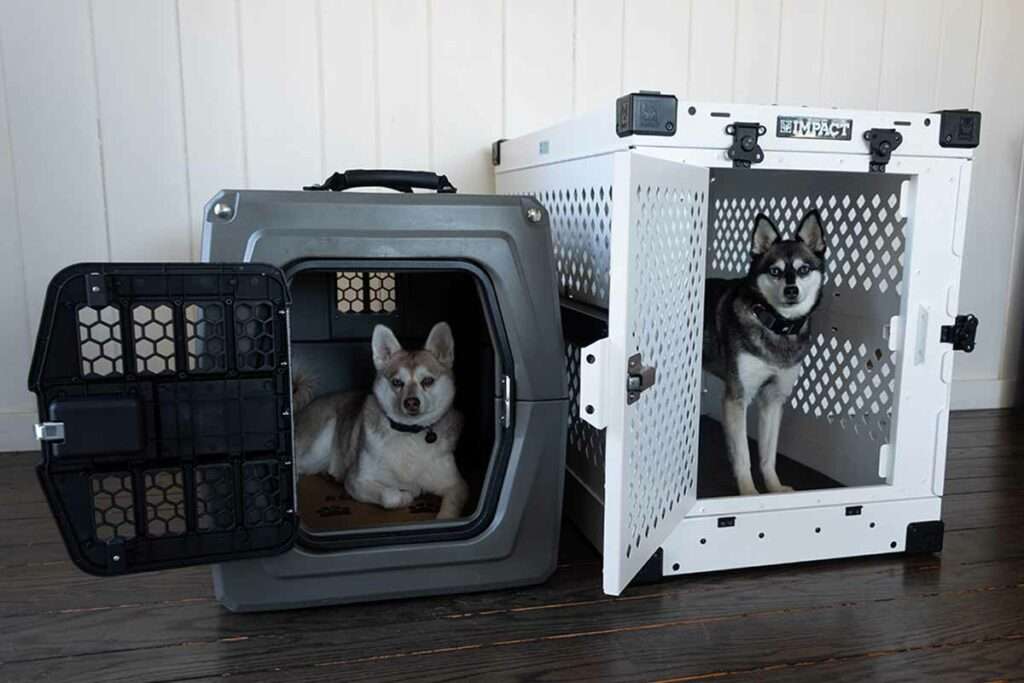 Perhaps the biggest selling point is the functionality and versatility of the Impact dog crate.
I love that I can collapse the crate inside 60 seconds, easily carry it to my car with the military grade handles or store it away if I need to make space in my home, but reassemble within a minute.
It's perfect for dog owners who like to travel with the dog and want a reliable crate that's easy to carry and easy to put together once you've reached your destination.
Having said that, the Impact dog crate hasn't been crash tested like the Gunner Kennel.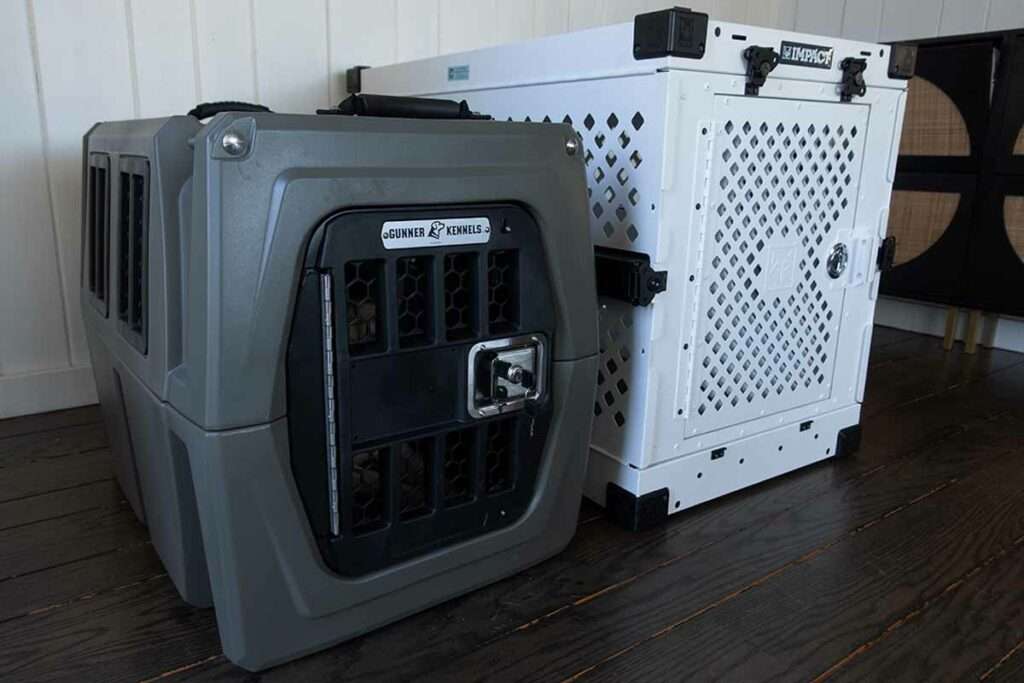 The Collapsible crate has kept dogs safe in car accidents (check out Impact's review section) but the Gunner Kennel has passed official testing so will give pet owners greater peace of mind.
Their dog kennel represents another great option but has the appearance of a typical crate – even though it has loads of clever design features not included in your average dog kennel.
The Gunner Kennel has a snug fit to keep your pet comfortable and safe, while the double wall can withstand double the impact and keep your dog cool or warm depending on the elements outside.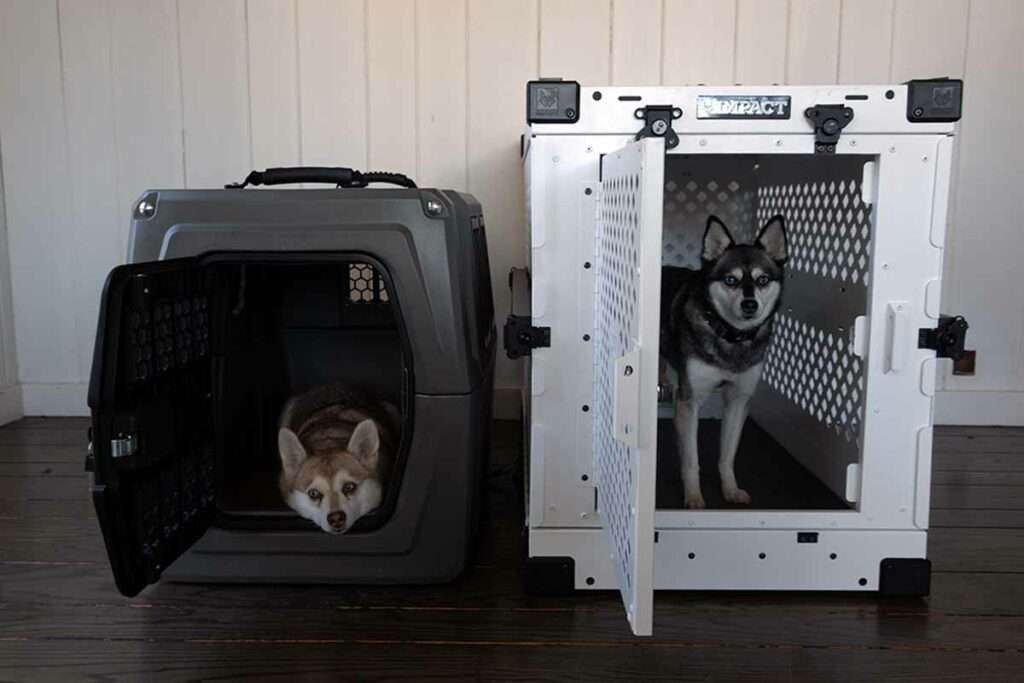 The Gunner Kennel is a more affordable option when you compare the prices, especially when it comes to the small size. As you go up in size, the difference in price lessens.
Overall, I'd recommend the Impact Collapsible Crate but I don't think you'll go wrong with either of these dog crates.
Where To Buy Impact Collapsible Dog Crate?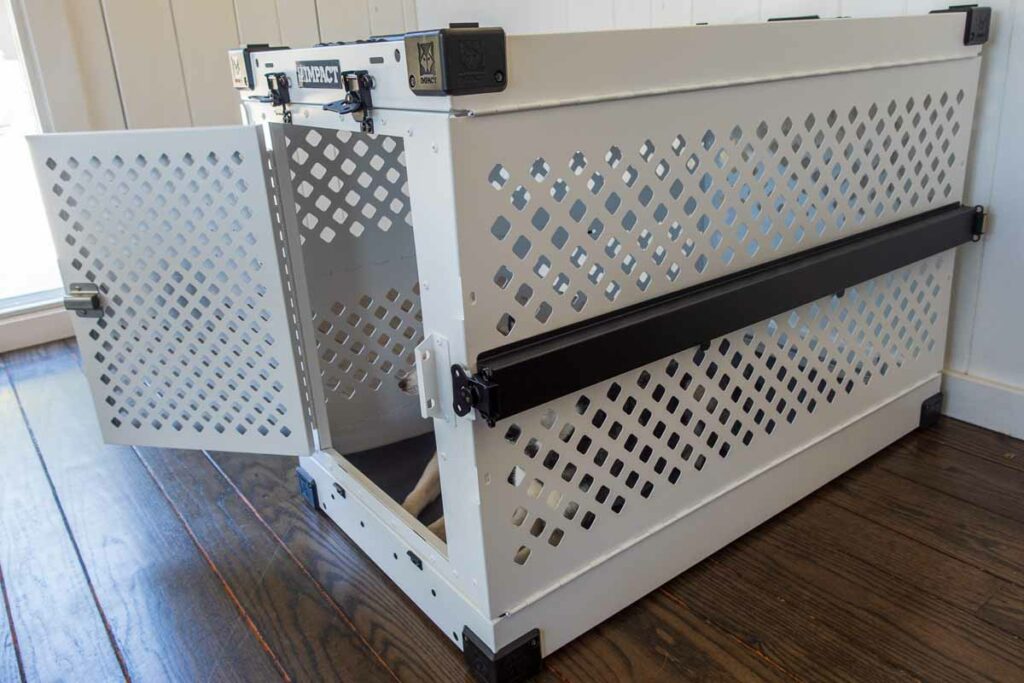 You can only buy the Impact Collapsible Dog Crate directly from Impact's website here.
Where To Buy Gunner G1 Kennel?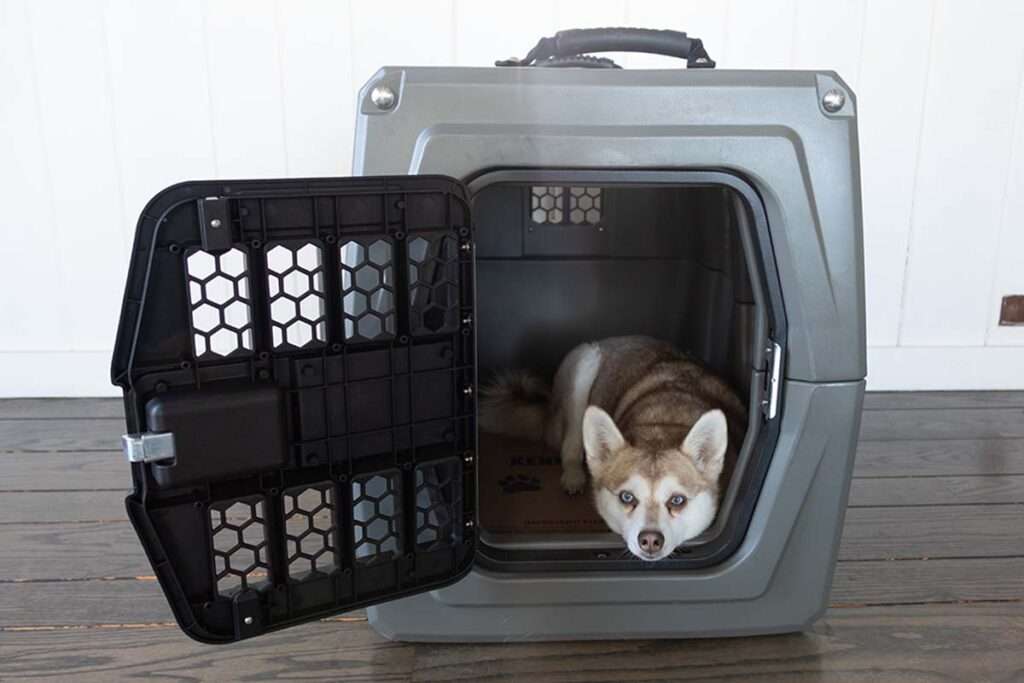 The Gunner G1 Kennel is only available to purchase through the official Gunner website here.
Is There An Impact Coupon Code Or Discount?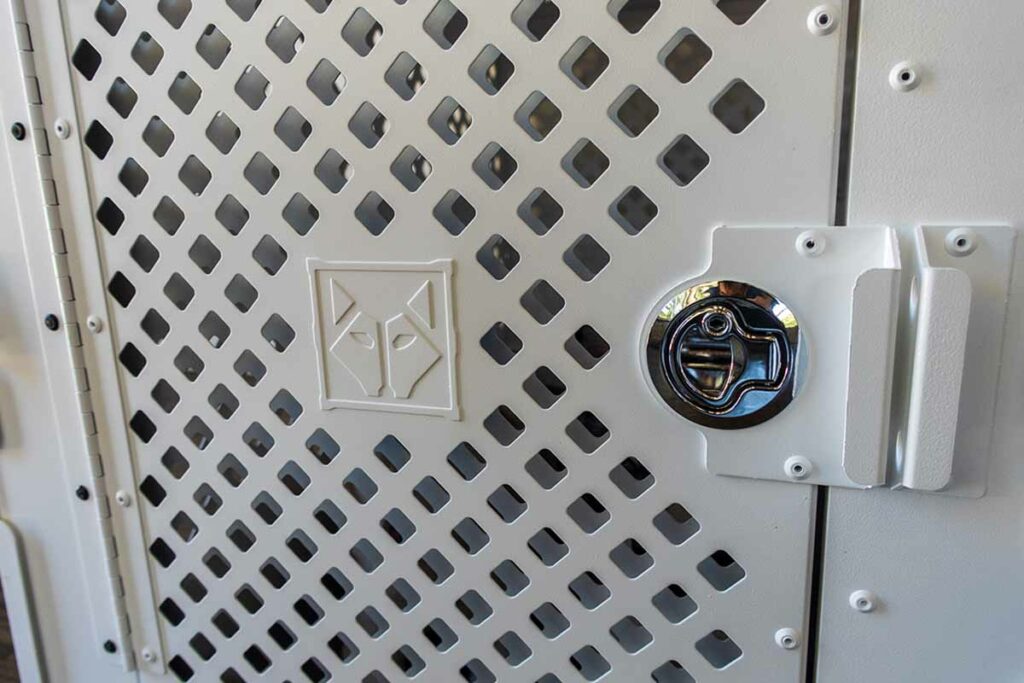 You can save 15% on your first Impact Collapsible Dog Crate when you click this link or the button below and use the discount code "LIFEWITHKLEEKAI" at the checkout.
Is There A Gunner Kennel Coupon Code Or Discount?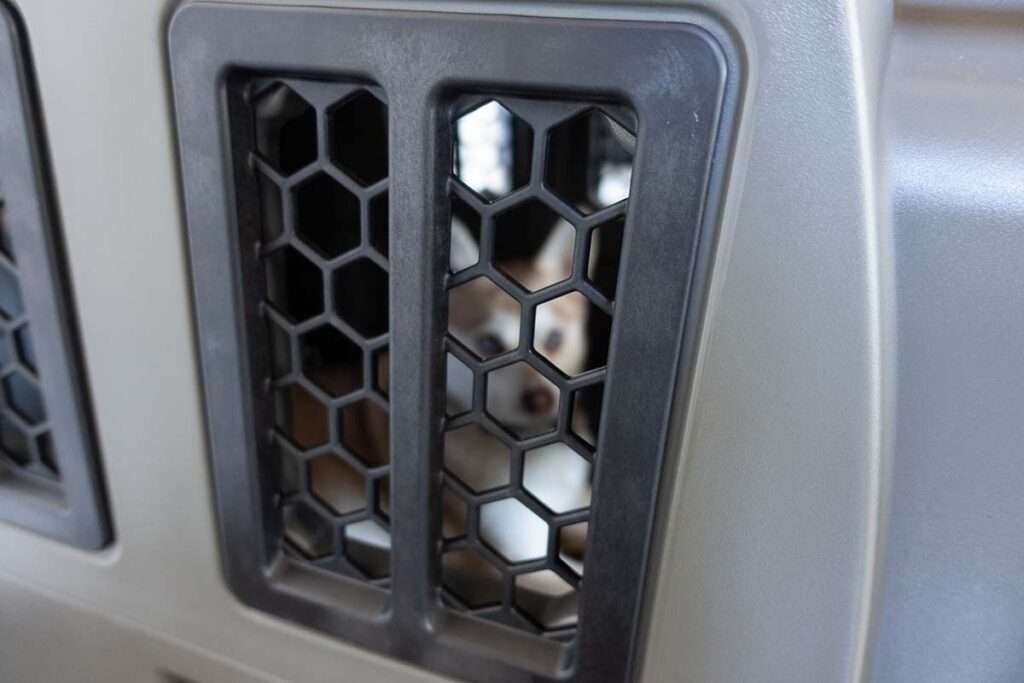 If you're ready to invest in a Gunner Kennel, you can check their website for savings on your first G1 Kennel when you click this link or hit the button below.
Anything Else To Consider?
We recommend investing in the tie downs to keep your dogs safe in their kennel.
Unfortunately the tie downs aren't included with your Impact or Gunner purchase so you'll need to buy them separately to make sure your dogs are secure and safe.
Impact Collapsible Dog Crate Or Gunner G1 Kennel: Wrapping Up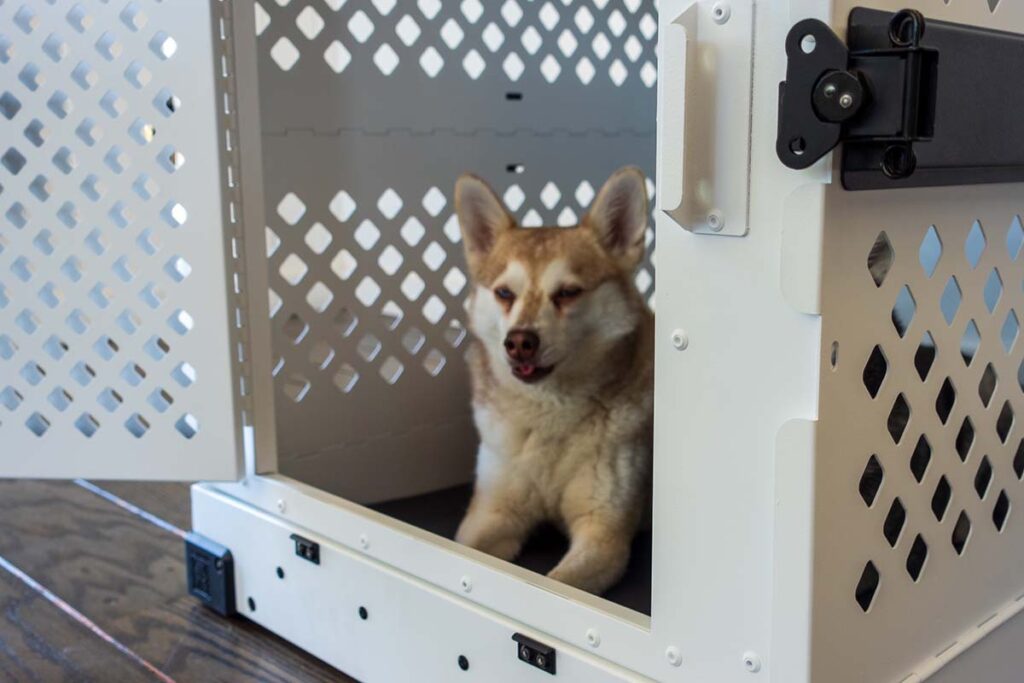 We've reached the end of our comparison article taking a look at the Impact Collapsible Dog Crate and the Gunner G1 Kennel.
My pick would be the Impact Collapsible Dog Crate based upon my specific requirements with my Alaskan Klee Kai.
I really like that the Impact Collapsible Crate can be collapsed, moved with ease, stored away and reassembled without fuss.
The Impact Collapsible Crate had a sleek, stylish design that makes it standout when compared to other dog crates.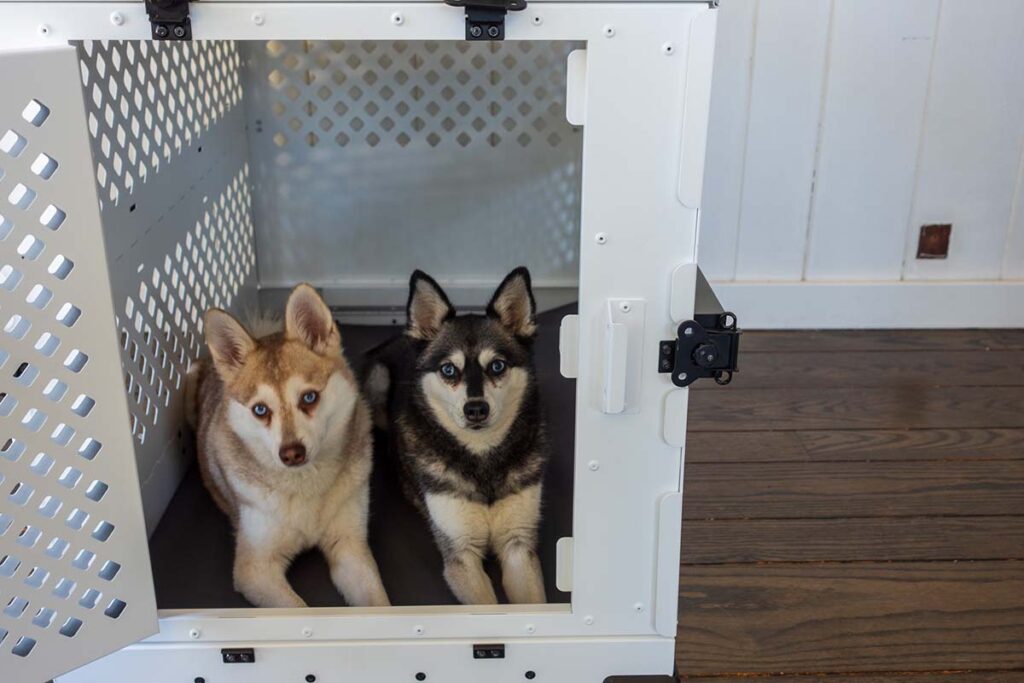 As a pet owner with multiple dogs, I really liked that Impact Collapsible Crate has stackable corners, allowing me to utilize space in my home and garage.
Having said that, if you're not interested in a collapsible dog crate and want to invest in a dog crate that has been crash tested, the G1 Kennel is a great choice
While it might lack some of the style of the Impact crates, it has a lot of clever features that make it a great practical choice.
While its empty weight makes it trickier to move than Impact Collapsible Dog Crate, it's still relatively portable thanks to the strong handles.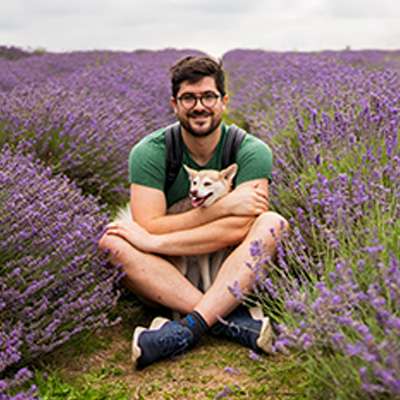 Kieran runs Life With Klee Kai on social media and other online platforms alongside his wife Yasmin. With over 10 years of experience as a journalist and a passionate dog owner, Kieran loves to combine his passion for pets and writing to share useful insights and product reviews to help other dog owners.