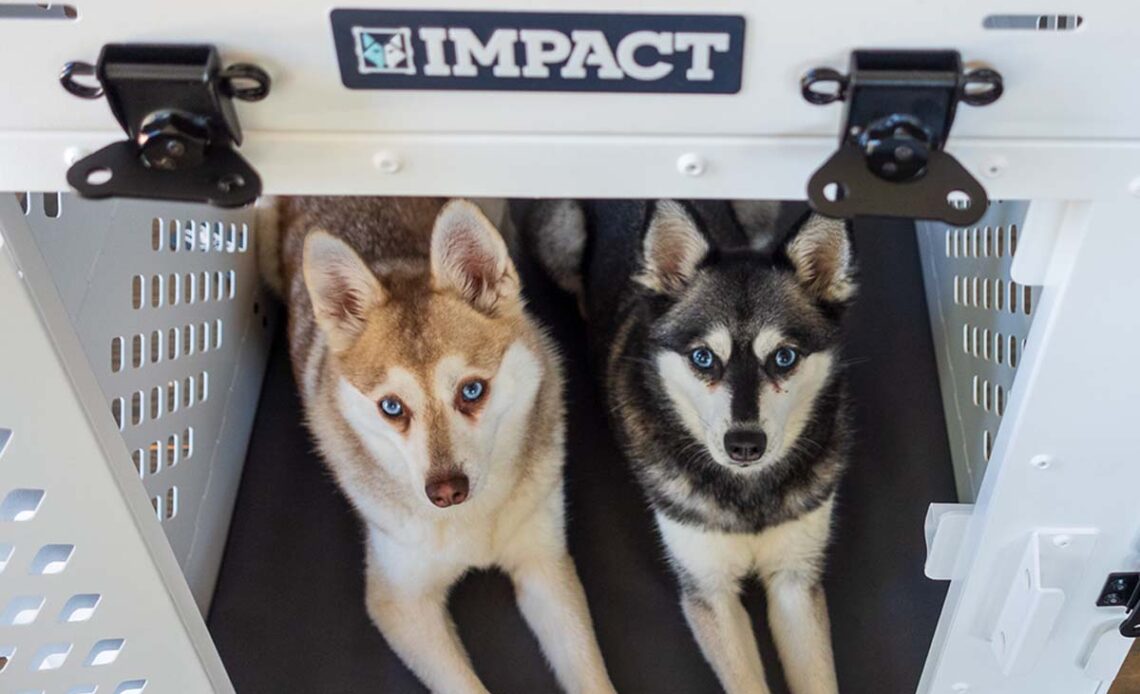 Last Updated on October 31, 2023 by Kieran Beckles
Are you ready to invest in an Impact Dog Crate but you can't decide between the Collapsible and Stationary Dog Crates?
It's a big decision to invest in a premium dog crate such as the Collapsible or Stationary models so I can understand why you'd want to get the decision right.
I'm hugely passionate about discovering and reviewing the best dog crates available on the market having seen firsthand the benefits crates have brought to Copper and Skye.
Dog crates represent a safe space for my Alaskan Klee Kai to escape from my rambunctious toddler or get some downtime if we have visitors over to our home.
We've used dog crates to keep Copper and Skye safe when we've lived in rentals in London, Bath and San Francisco – and we found that crates can even help their separation anxiety.
Impact Dog Crates are one of my favourite manufacturers in the USA thanks to their durable design, innovative features and sheer versatility. But they are expensive!
So in this comparison article, I'm going to shed light on the differences and similarities between the Impact Collapsible and Stationary Dog Crates if you're stuck between them.
Cut To The Chase: Get 15% off your first Impact Dog Crate when you click here and use the code "KLEEKAI" when you get to the checkout.
Who Are Impact?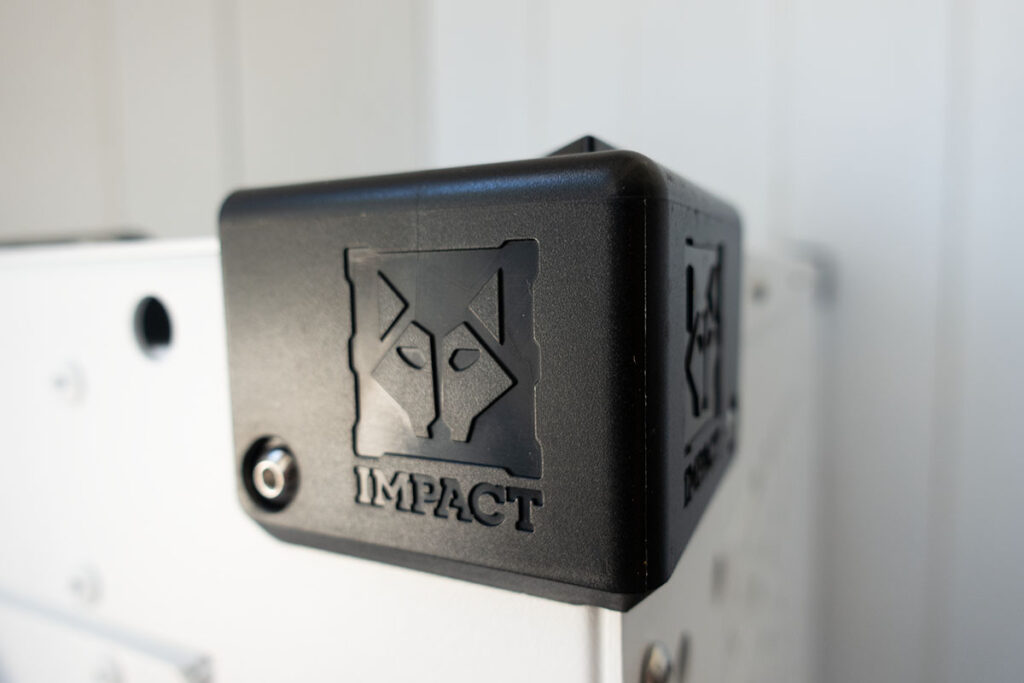 Impact are one of the leading providers of dog crates in the USA, alongside some other dog product brands such as Diggs.
They've crated a range of dog crates to cater to the individual needs of dog owners and their dogs, whether you like to travel, want a crate for home or have a dog with separation anxiety.
Impact's dog crates are made in the USA, so you can feel good that you're supporting an American brand rather than buying a crate shipped from another part of the world through Amazon.
At the time of writing, Impact have three different dog crates on offer, including the High Anxiety Dog Crate. For the purposes of this Impact dog crate review, we'll be examining the Collapsible and Stationary.
Impact's dog crates get stellar five-star review thanks to their durable design, safety features and practicality.
I encourage readers to check out the review section under each of Impact's crates to read some of the incredible testimonials, including stories of these crates withstanding fallen trees, car accidents and other freak occurences.
Impact Collapsible Dog Crate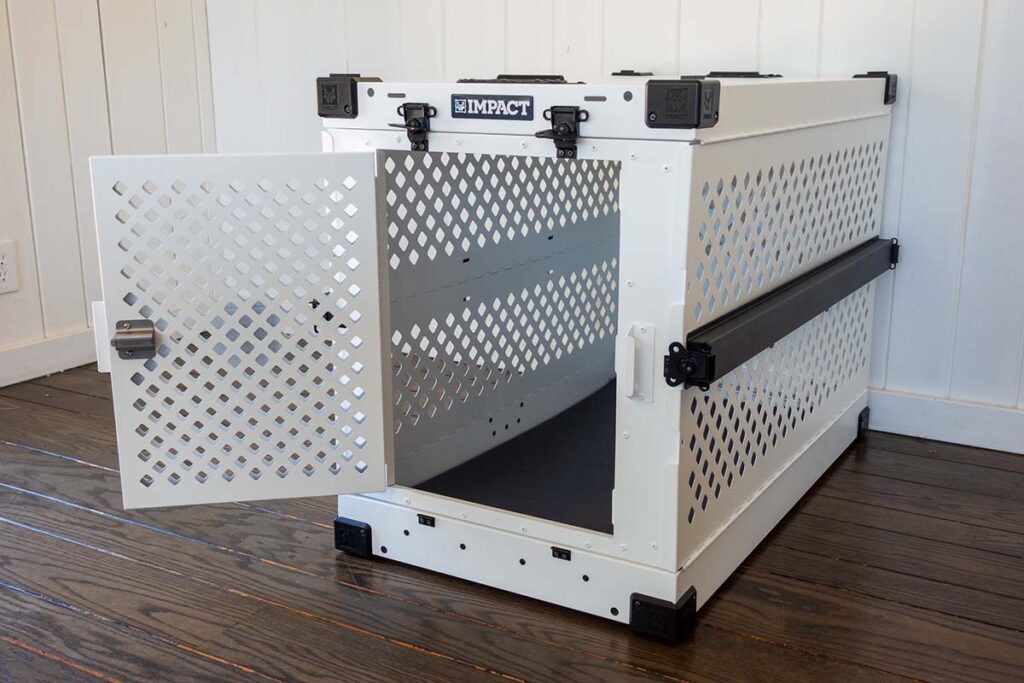 The Collapsible Dog Crate is one of Impact's most popular products thanks to its durable design.
While you're able to collapse the crate, it's still built using reinforced steel to ensure the dog crate can withstand the impact and rigors of day to to day life on the go.
The Collapsible Dog Crate doesn't require any tools to set up and you can be up and running in a matter of minutes. Once you've got to grips with the steps to collapse, you can easily do so inside 60 seconds.
If you're accustomed to buying and using awkward wire crates from Amazon, you'll find using this Impact Collapsible Dog Crate an absolute breeze.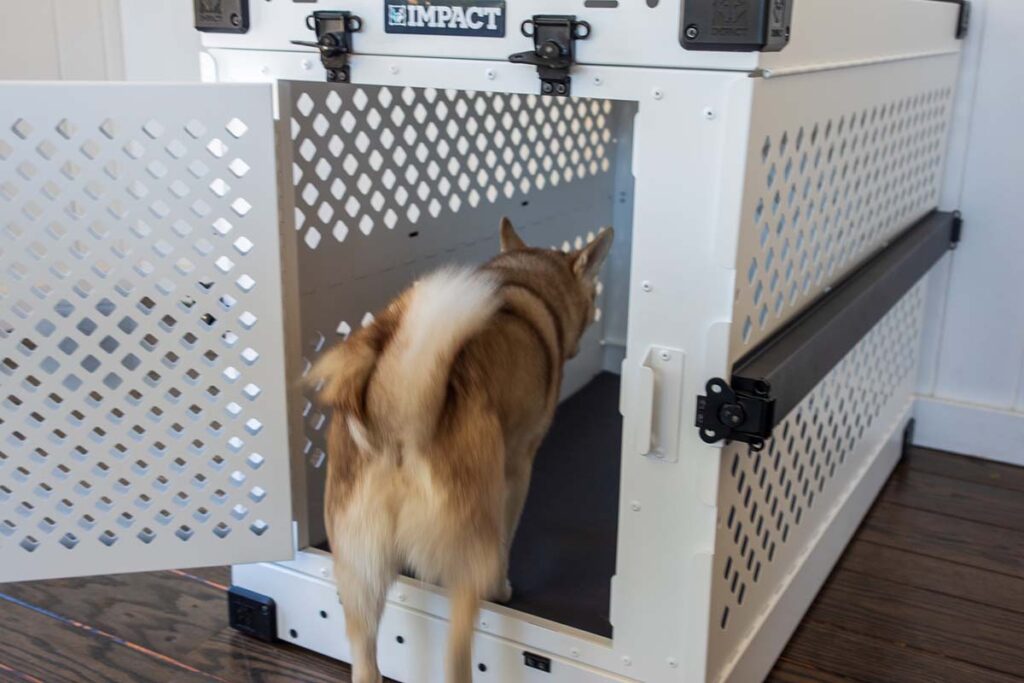 It has rounded diamond shaped air holes to provide ample ventilation for your dog as well as prevent over zealous pups from sticking their snout or paws through the holes.
Seeing as it can be broken down, you'll be pleased to learn that the Collapsible Dog Crate has military grade handles to make it easy to carry.
It has stackable corners which allows pet owners with multiple dogs to maximize space in their home.
The Collapsible Dog Crate starts at $999 for the 30″ inch size and goes up to $1199 for the 48″ model (unless you've got a Great Dane and need the 54″).
Impact Stationary Dog Crate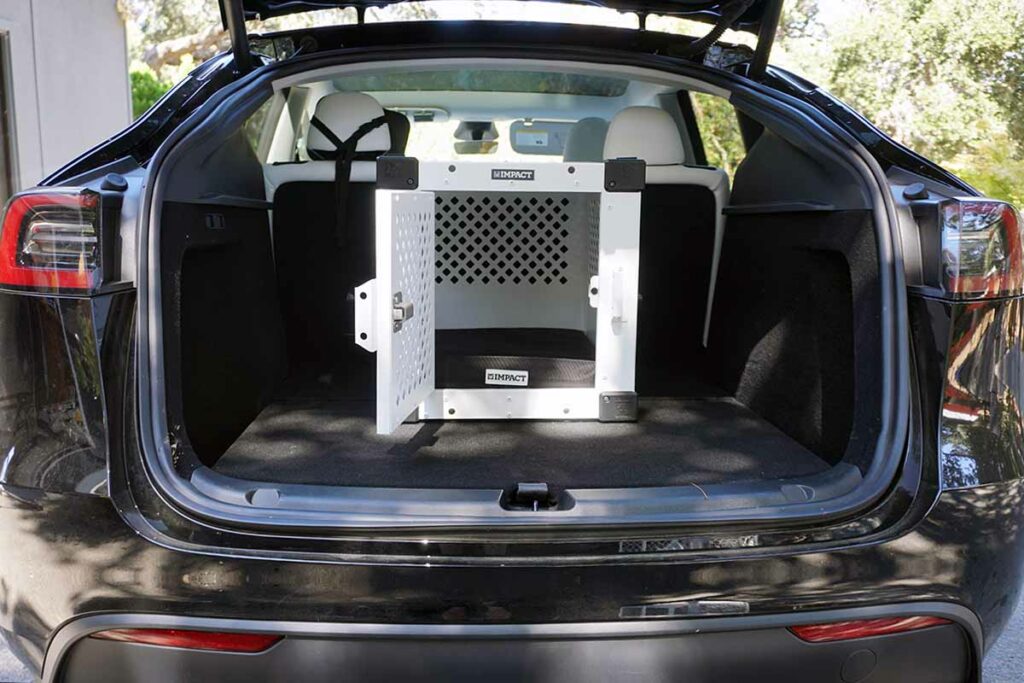 The Stationary Crate is another option for pet owners who want to invest in a premium dog crate.
Impact explain that the Stationary Crate has been designed to offer a blend of mobility and sturdiness, giving you peace of mind that your pup will be safe in their den.
Just like the Collapsible Dog Crate, the Stationary has diamond shaped round holes, military grade handles and stackable corners.
It's robust design has been able to withstand a range of different freak occurrences if you check out the dog crate review section on Impact's website.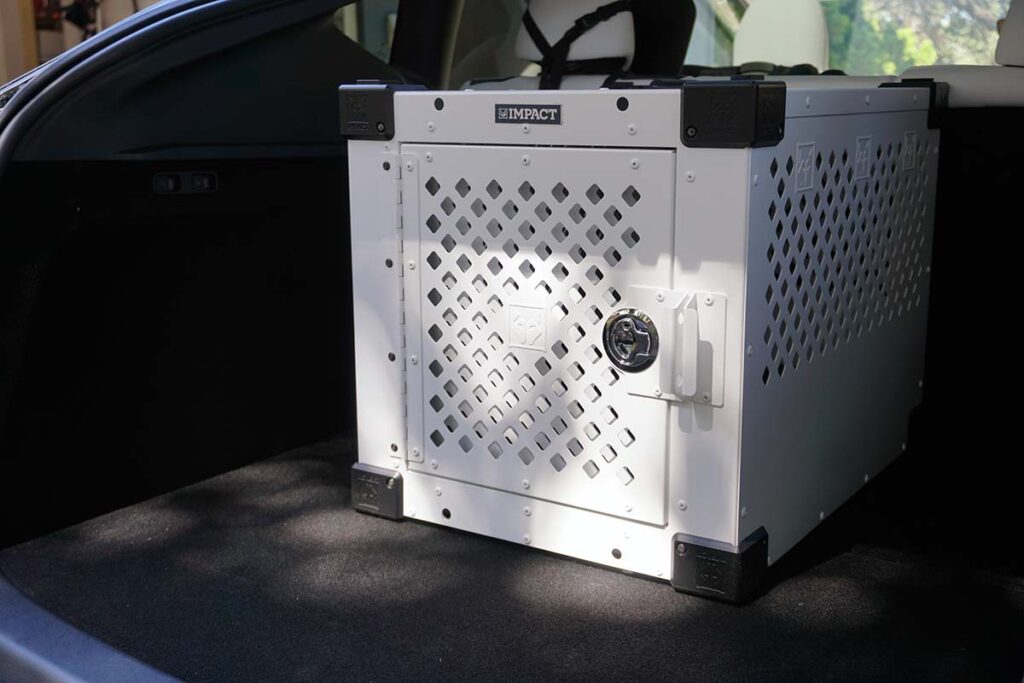 The Stationary is airline approved which is perfect for dog owners who do lots of international travel or are planning a move across the country.
When I received my 24″ Stationary Crate from Impact, it was already built in the box which meant no assembly was required.
While all of Impact Dog Crates carry a hefty price tag, the Stationary Crate is their most affordable option.
The Stationary Crate starts at $499 for the 20″ model and $1399 for the 48″ model.
Collapsible Vs Stationary: Similarities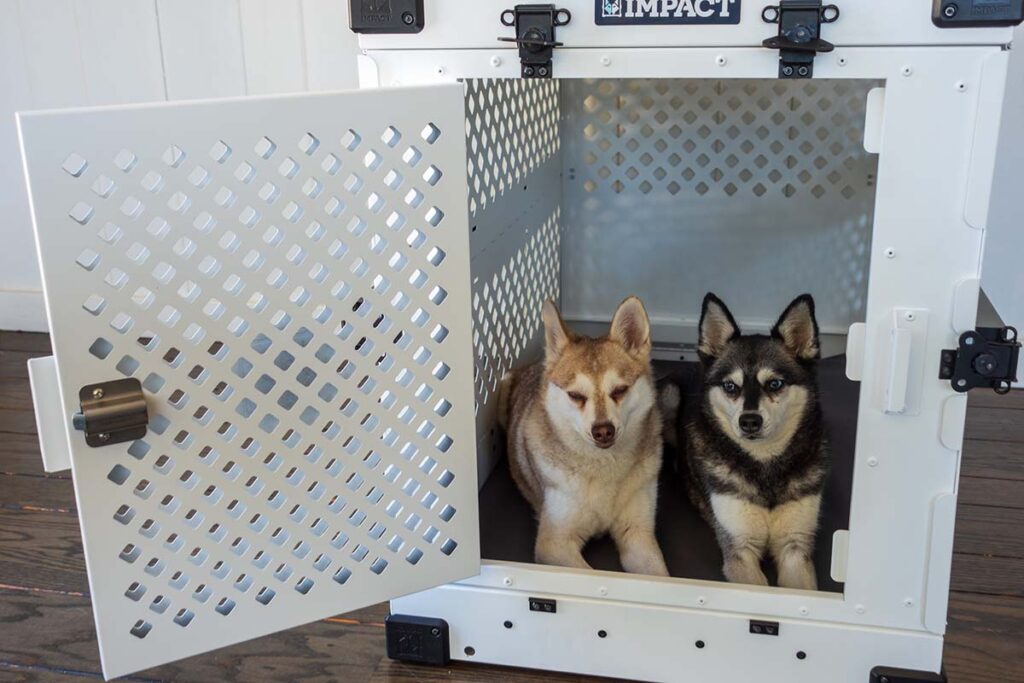 There are some similarities between these Impact Dog Crates so you'll get to avail of a range of features irrespective of whether you invest in the Collapsible or Stationary crates.
For instance, the Collapsible and Stationary crates have military grade handles, stackable corners, diamond-shaped rounded holes and one-handed operation to open the front door.
As we mentioned already, all Impact Dog Crates are made in the USA.
These two Impact Dog Crates come with a lifetime guarantee: Impact promise your crate will be free of defects in materials or workmanship, for life. If you have any issues, please contact customer service. We've had positive interactions with the Impact Dog Crate team.
Impact explain that neither the Collapsible or Stationary Crates are suitable for dogs with separation anxiety. If your dog struggles with anxiety or extreme destructive behaviour, you'll be better of taking a look at their High Anxiety Crate.
(Note: Impact offer a 10-year dog damage warranty on their High Anxiety Crate in the event that your dog damages it – but neither the Collapsible nor the Stationary are covered. You can read my High Anxiety Crate review here).
Collapsible Vs Stationary: Differences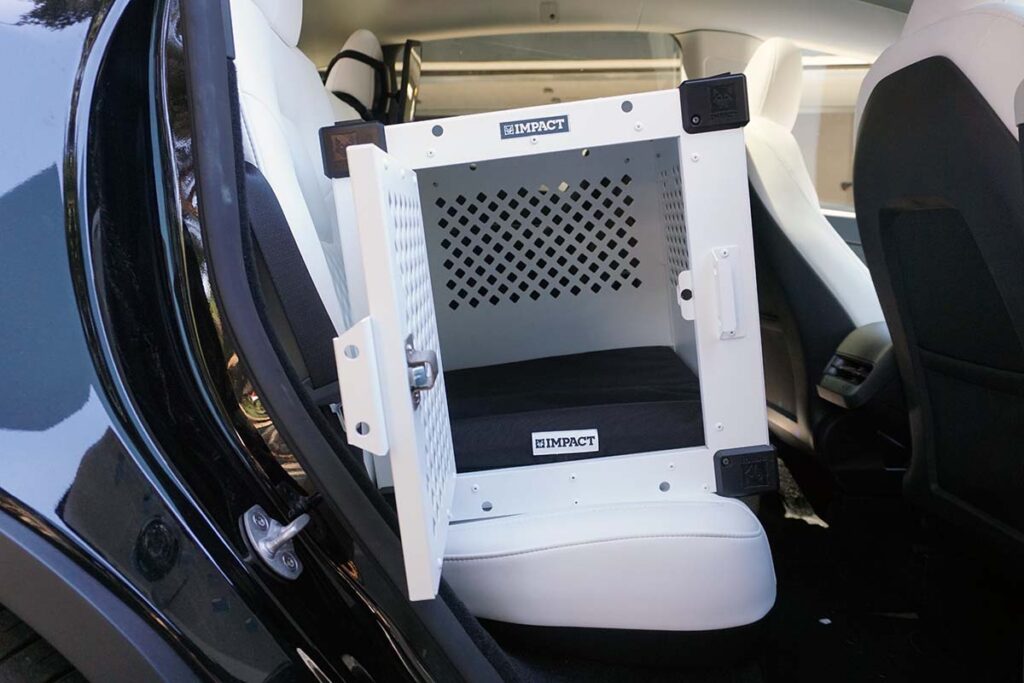 While there are some similarities between these two Impact Dog Crates, there are some key differences.
The Collapsible Dog Crate has a sleek, folding design which allows dog owners to utilize space in their home when they don't need the crate.
It's extremely portable and pet owners can carry the crate to their car with ease, or bring it on the road to set up at a hotel or office space.
The Stationary isn't collapsible, and although it has military grade handles, it's awkward to carry especially if you've got a bigger model.
While you can make the Impact Collapsible Dog Crate airline compatible if you buy airline rails, the Stationary Crate doesn't require any add ons to be used on a plane.
The Stationary Crate can also host a second door (that can be bought separately) to give pet owners multiple access points to their dog.
The Stationary Crate has eight different sizes, but the Impact Collapsible Crate has six.
The Stationary has a slightly cheaper price point because it has smaller crates on offer (20″ and 24″) – but these Impact Dog Crates have the same price when you're looking at the same size.
Our Verdict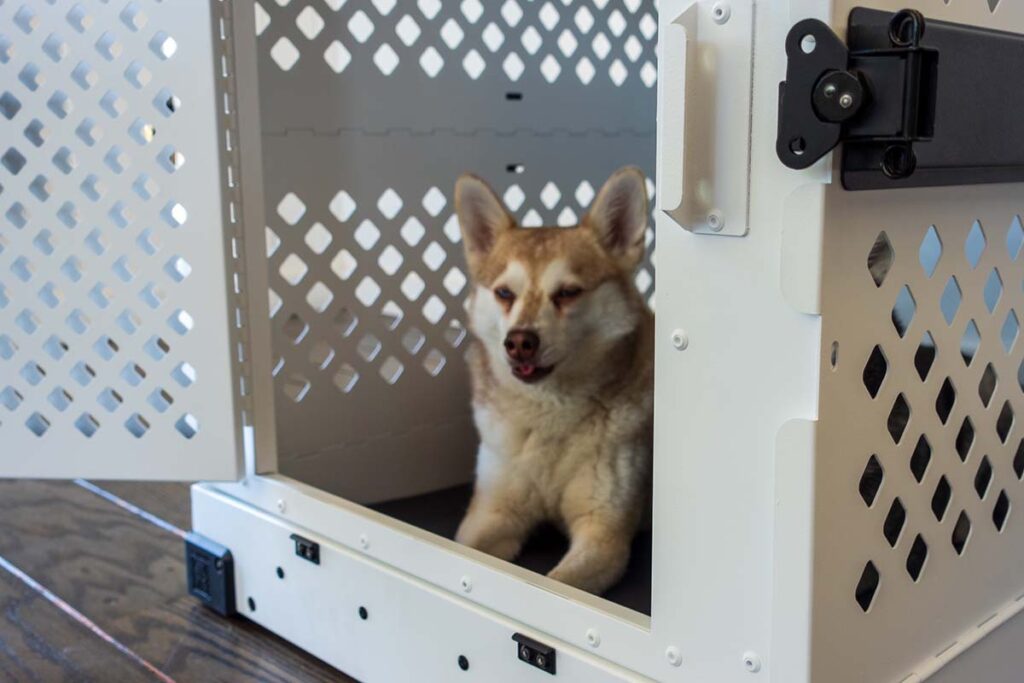 If you're ready to buy an Impact Dog Crate, you're probably ready to hear our pick.
I managed to get my hands on the Collapsible Dog Crate and the Stationary Crate – and there was a clear winner.
I'd recommend going for the Collapsible considering the sheer versatility of this Impact Dog Crate.
With a toddler and two dogs, space is at a premium in my home and I appreciate any chance to be efficient with space.
I like that I can move the Collapsible Dog Crate around my home to suit my needs – whether I want to offer my dogs a space to chill in my living room, office or the enclosed decking outside.
While I can use the Stationary Crate in my car, I like that I can easily carry the Collapsible Crate to and from the trunk without banging the crate against my shins.
It may be a Collapsible Dog Crate, but I have peace of mind knowing that it's design and materials used will offer protection to my Klee Kai if they're in the trunk of my car.
You can raed through the Impact Dog Crate review section to see some of the exceptional circumstances that this crate (and all their crates) have survived. It's really impressive.
Where To Buy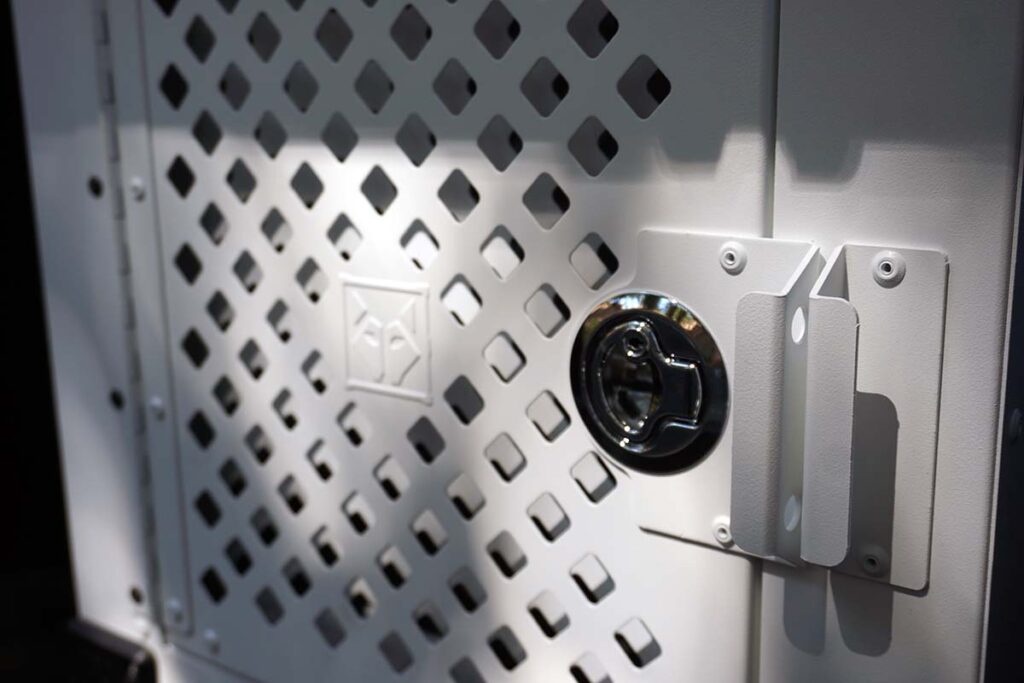 You can only buy an Impact Dog Crate direct from their website, you won't find their dog crates and accessories anywhere else.
The Collapsible Dog Crate starts at $999 for the 30″ crate and goes up to $1199 for the "48 crate.
The Stationary Impact Dog Crate starts at $499 for the 24″ model but goes up to $1399 for the 48″.
(If you like the sound of the High Anxiety Crate, you can check out my review here. The High Anxiety Crate has a heftier price tag than the Collapsible and Stationary models).
Save 15% by clicking this link or button below and using code "LIFEWITHKLEEKAI" at the checkout.
Do Impact Offer A Discount?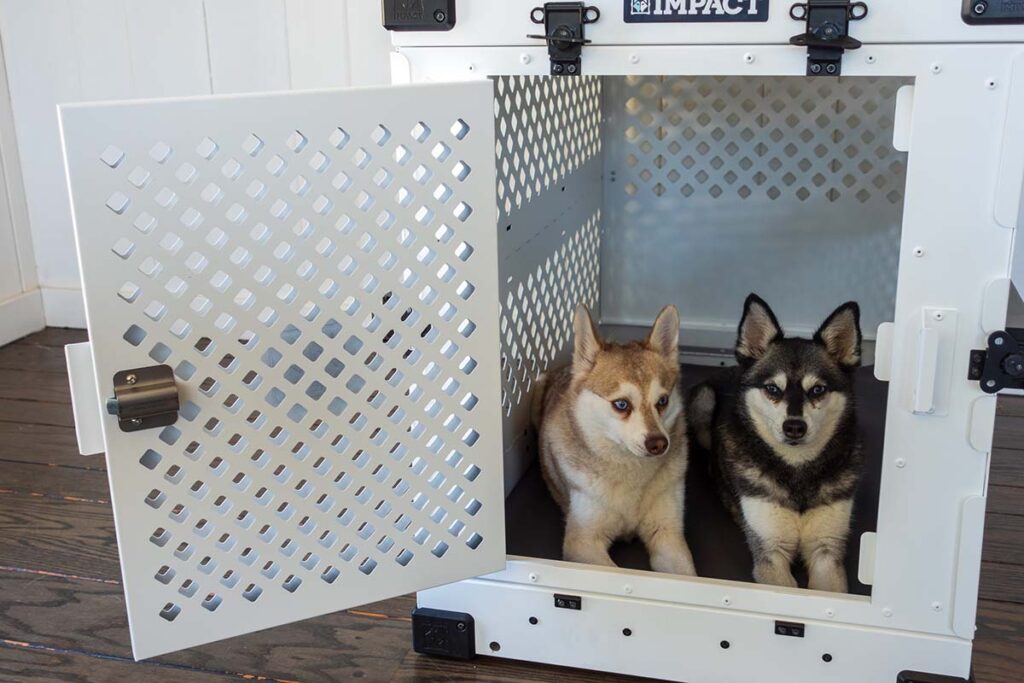 We reached out to Impact and managed to get our hands on an exclusive discount for our Life With Klee Kai community.
If you're interested in buying the Collapsible Crate, the Stationary Crate or the High Anxiety Crate, you can save 15% on your first purchase.
To get 15% off, click this link or the button below and use the discount code "KLEEKAI".
Wrapping Up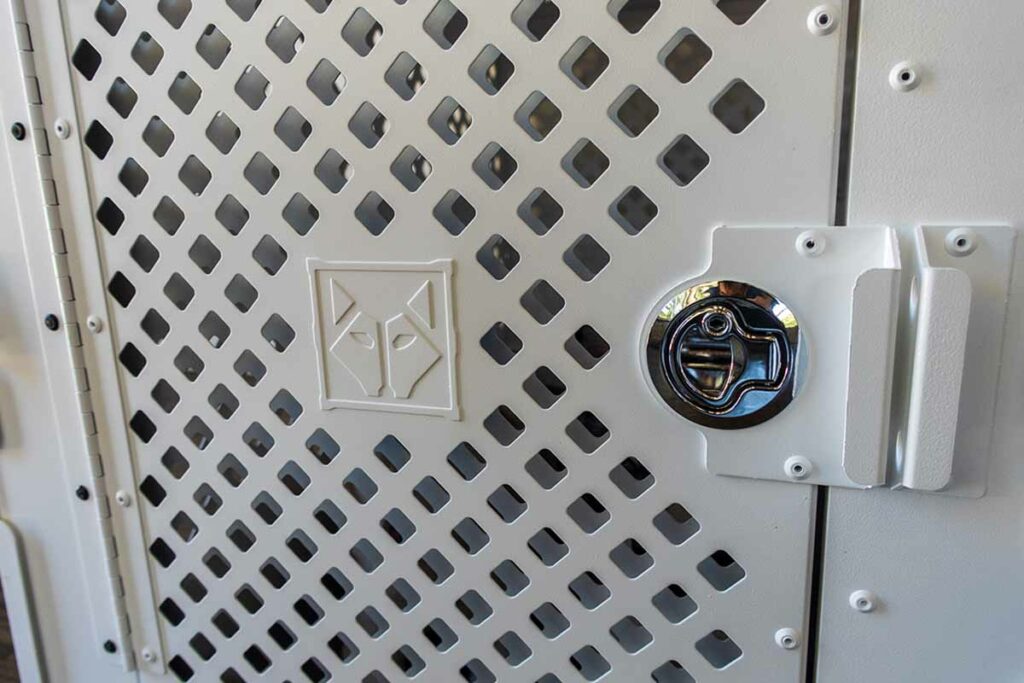 We've come to the end of our Impact Dog Crate comparison article.
Having taking an in depth look at the Collapsible Crate and the Stationary Crate, my pick would be Collapsible Dog Crate.
I appreciate the ability to collapse the dog crate and store it away when it's not in use.
It's perfect for pet owner who like to share their adventures with their dogs, whether it's a road trip or just a car journey to your local hiking spot.
Save 15% by clicking this link or button below and using code "LIFEWITHKLEEKAI" at the checkout.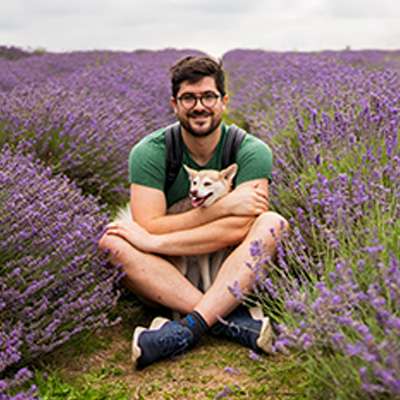 Kieran runs Life With Klee Kai on social media and other online platforms alongside his wife Yasmin. With over 10 years of experience as a journalist and a passionate dog owner, Kieran loves to combine his passion for pets and writing to share useful insights and product reviews to help other dog owners.