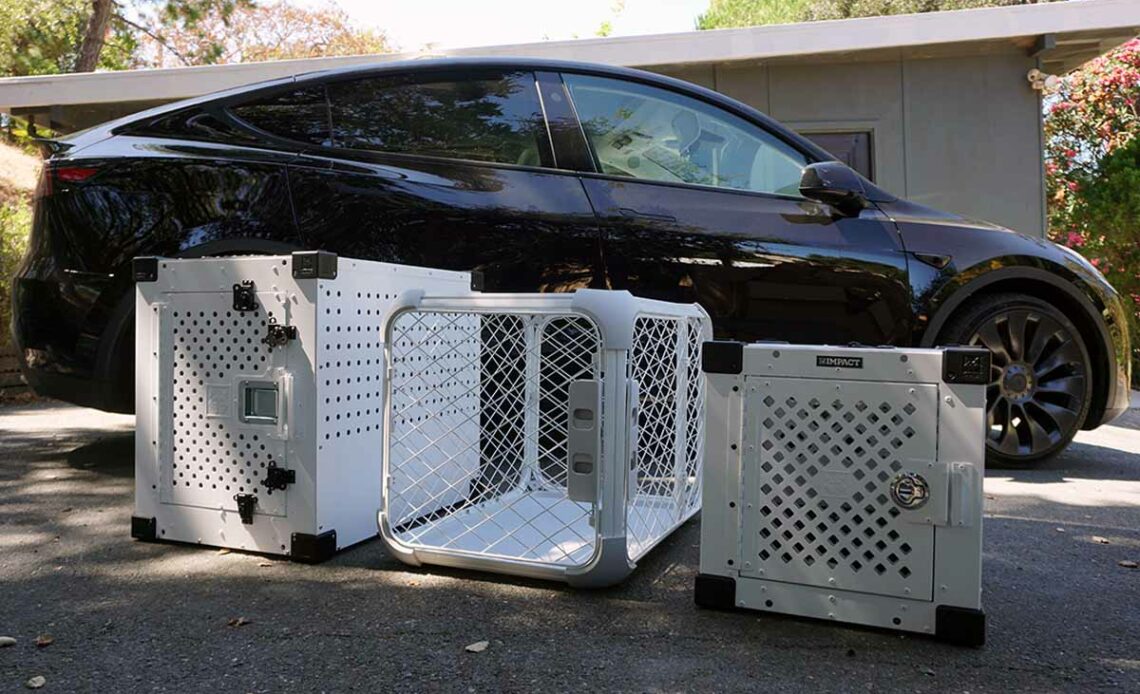 Last Updated on September 18, 2023 by Kieran
Have you purchased a Tesla Model Y but you're struggling to find a dog crate that will fit your trunk?
As someone who recently bought a Tesla Model Y, I noticed that there wasn't a lot of information online about the best crates for this particular Tesla car.
I enjoy combining my love for my pets with my passion for electric vehicles but it was tricky finding a suitable dog crate for my Model Y.
To ensure the safety and comfort of both you and your dog during fun road trips in your Tesla Model Y, it's essential to invest in the right dog crate that fits your trunk (or back row if that's what you prefer).
In this guide, I'm going to breakdown the crates that I've personally acquired and tested in my Tesla Model Y trunk to help other Tesla owners who have dogs.
We'll also explore the key factors to consider when selecting the best dog crate for your Tesla Model Y.
I'm not a dog behaviorist or trainer and I don't have any connection with Tesla aside from owning the Model Y. If you have further questions I recommend reaching out to Tesla or the dog crate company directly to address any concerns or questions you may have.
Things To Consider When Buying Dog Crate For Tesla Model Y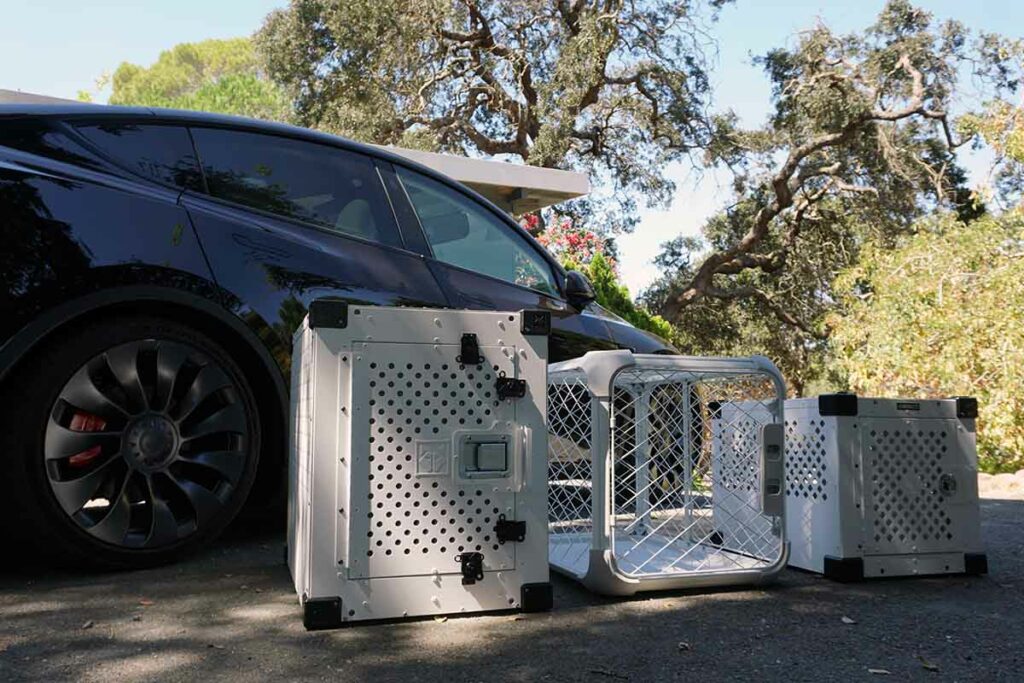 When I started my search to find a suitable dog crate for my Tesla Model Y, I drew up a list of criteria to consider. The list included a range of factors that I felt were important to me as a dog owner.
You don't want to travel with unrestrained dogs so crates are a great tool for pet parents. You want to avoid distracted driving because of unrestrained dogs so whether you opt for a crate or a car seat for your dog, I really recommend spending time researching your options.
While we don't like to think about it, I wanted a dog crate that would keep my Klee Kai safe in a car accident. It's the worst case scenario but I wanted a dog crate that kept Copper and Skye safe whether it's day-to-day journeys to the park or going on a long road trip to a National park.
Size and Fit
One of the first things to think about is the size of your dog and the available space in your Tesla Model Y's cargo area. Measure your dog's height and length to ensure a snug fit. Consider how the crate will fit alongside any other cargo or equipment you might be carrying.
Materials and Durability
Invest in a crate made from high-quality materials such as stainless steel. It should be durable enough to withstand the rigors of travel and potential dog wear and tear.
Ventilation
Adequate ventilation is essential to keep your dog comfortable during the journey. Look for crates with well-placed ventilation holes to ensure proper airflow.
Locking Mechanism
A secure locking mechanism is vital to prevent your dog from escaping during transit. Some crates come with ergonomic handles or one-handed mechanisms with additional butterfly locks.
Easy Installation
Consider how easy it is to install the crate in your Tesla Model Y. Look for crates that are designed for easy assembly and removal, especially if you need to switch between using the crate and having more cargo space.
Adjustable Sizing
If you have more than one dog or plan to get a bigger pet in the future, consider a crate with adjustable sizing options to accommodate different breeds and sizes.
Lockable Doors
For added security, look for crates with padlock double box versions. This ensures that the crate remains closed and your pet is protected at all times.
Crash Test Certifications
Check if the crate has been tested and certified by organizations such as CPS (Center for Pet Safety). These certifications indicate that the crate meets rigorous safety standards.
Budget
While safety and quality are paramount, it's essential to consider your budget. There are options available at various price points, so find one that offers the best balance of features within your budget.
Reviews and Recommendations
Do your research by reading reviews and seeking recommendations from other Tesla Model Y owners who travel with their dogs. They can provide valuable insights into the best crates for your specific needs. We specifically looked for reviews of how the dog crates fared in a car accident.
Best Dog Crates For Tesla Model Y
Now that we've looked at some of the factors to consider when selecting a dog crate for your Tesla, I'm going to highlight my top picks when it comes to crates for the Model Y that I've personally tested.
Impact High Anxiety Dog Crate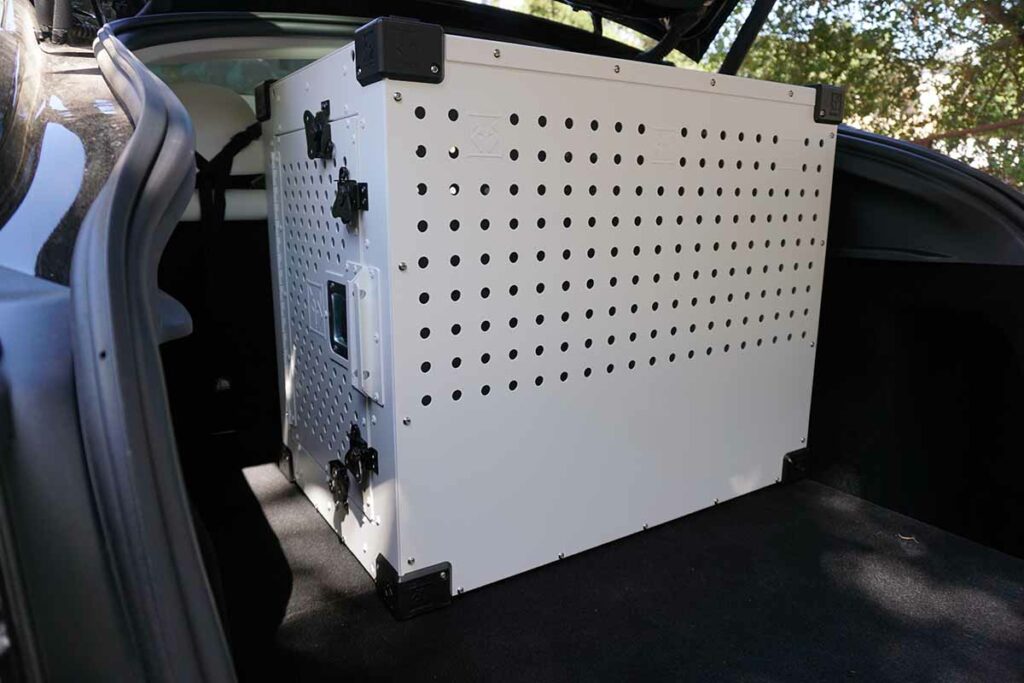 The Impact High Anxiety Dog Crate is a great option for pet owners who have dogs with anxiety like Copper and Skye. Impact have designed the crate to feel like a den rather than a dog cage. So your dog should feel comfortable and safe in the crate.
Impact describe the High Anxiety crate as "escape proof" so you can have peace of mind your dog is safe. It doesn't have just one built in safety lock. The High Anxiety crate has zinc steel paddle latch and four additional butterfly latches for extra security. It's constructed with 62% thicker alloy aluminum to increase the structural integrity of the crate. It's riveted and welded – too.
Your dog will have plenty of airflow thanks to the small circle ventilation holes. They're specifically designed to be 0.05cm in size so your dog can't sink their teeth in or get their snout through but still have airflow.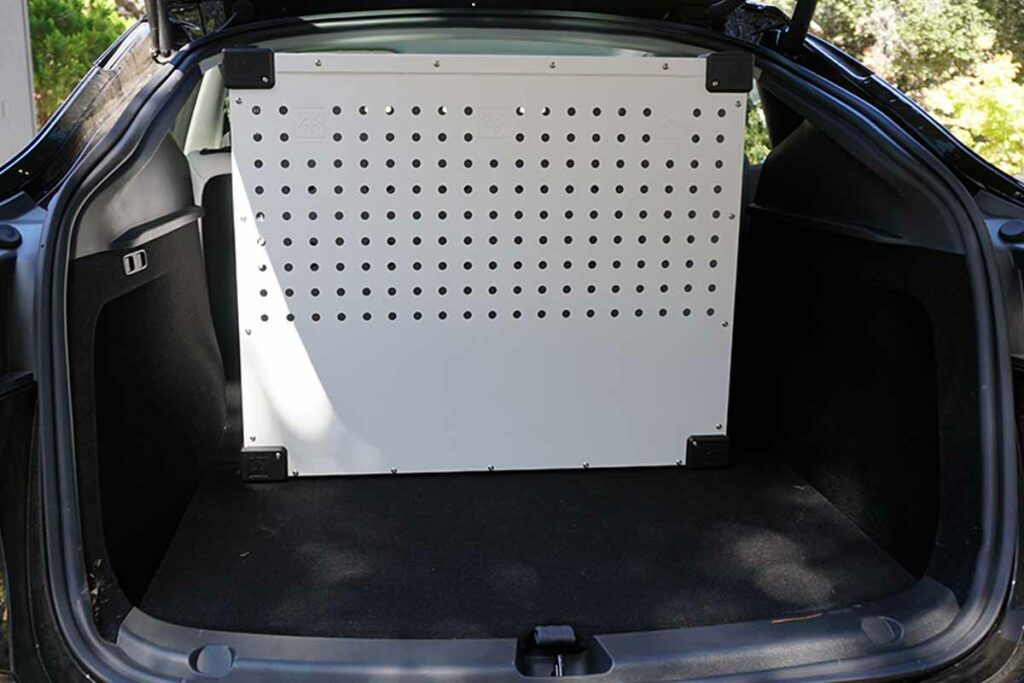 While you could get your High Anxiety crate in the rear seat, I preferred to use it in the trunk. The 30″ crate will fit the Tesla Model Y trunk when positioned to run parallel with the back seat.
I reached out directly to Impact and they confirmed the High Anxiety hasn't been crash tested. So there's no CPS crash test certification. Having said that, I read through the reviews and lots of dog owners have spoken about how the High Anxiety crate kept their dog safe in a rear end collision and even rollover accidents. I'd recommend checking out the reviews on Impact's website.
I like the High Anxiety for the sheer strength of the crate. Admittedly, you do have to construct the crate using the front and back walls, the door and ceiling. It can take some time but Impact's instructions are easy to follow.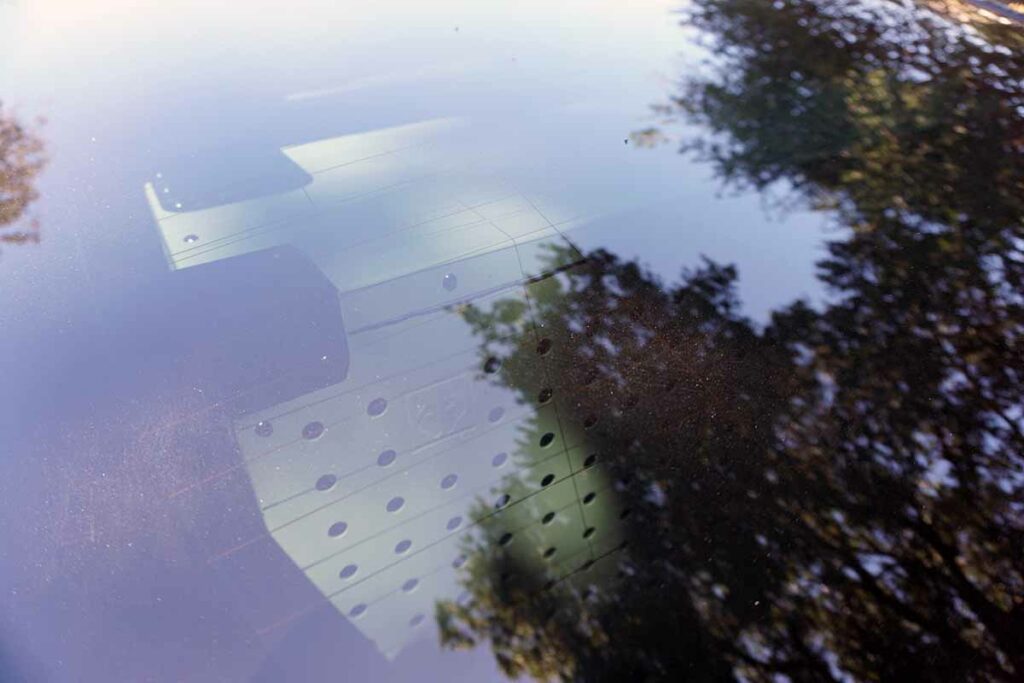 As I already mentioned, the 30″ High Anxiety crate will fit in the boot space sideways (and in the rear seat) but the larger High Anxiety crates are unlikely to fit in the trunk. I've only tested 30″ model so can't speak for the larger crates.
Where To Buy?
The 30″ High Anxiety Crate is priced at $1099 on Impact's website and comes with a 10-year Dog Damage Guarantee. So if your dog manages to damage the crate, you can get it replaced. This speaks to Impact's confidence in the structural integrity of the crate.
You can save 15% on the High Anxiety Crate when you click this link and enter code "KLEEKAI" at the checkout.
Impact Stationary Dog Crate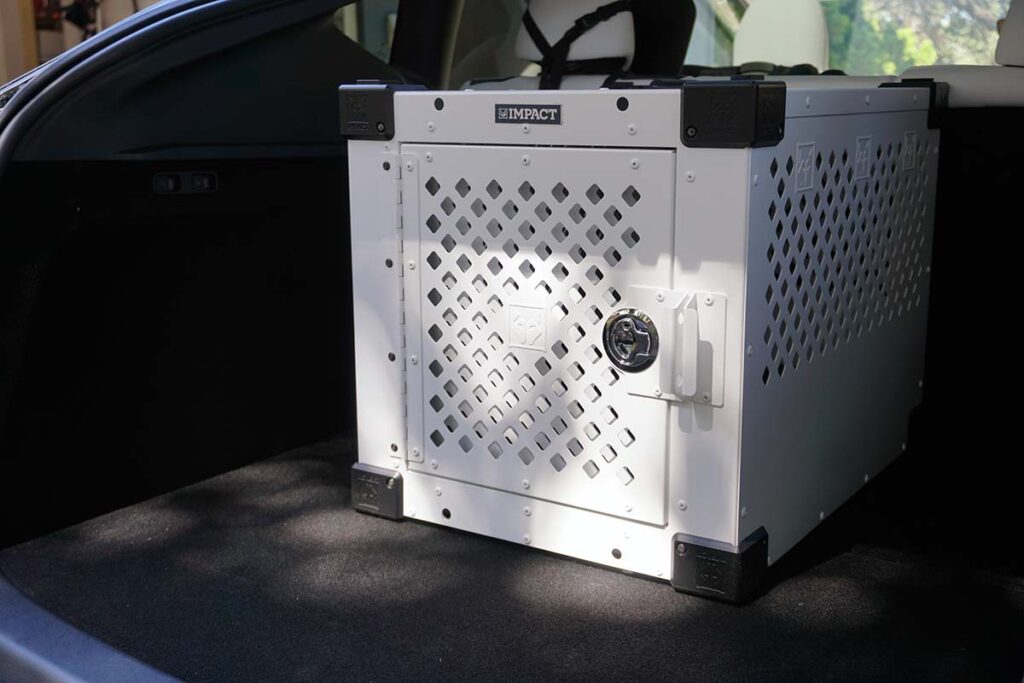 If you don't want to faff around with having to construct your dog's crate for your Tesla Model Y, I'd recommend checking out Impact's Stationary dog crate. I loved that this particular dog crate was ready to use as soon as I got it out of the box.
The Stationary Dog Crate doesn't have a welded design like the High Anxiety and the aluminum is thinner. These are factors to consider if you're trying to decide between the High Anxiety and Stationary Crates for your Tesla Model Y.
It has diamond-shaped, rounded-holes for ventilation so your dog is getting plenty of air but they can't damage their teeth, paws or snout trying to poke through the gaps. They're also more visible to pet owners than the High Anxiety.
While the Stationary Dog Crate lacks some of the strength of the High Anxiety, it's still a heavy duty, safe and secure. Made in the USA like all of Impact's crates, the Stationary is constructed with 100% aluminum. It's crafted from laser-cut aluminum and precisely riveted.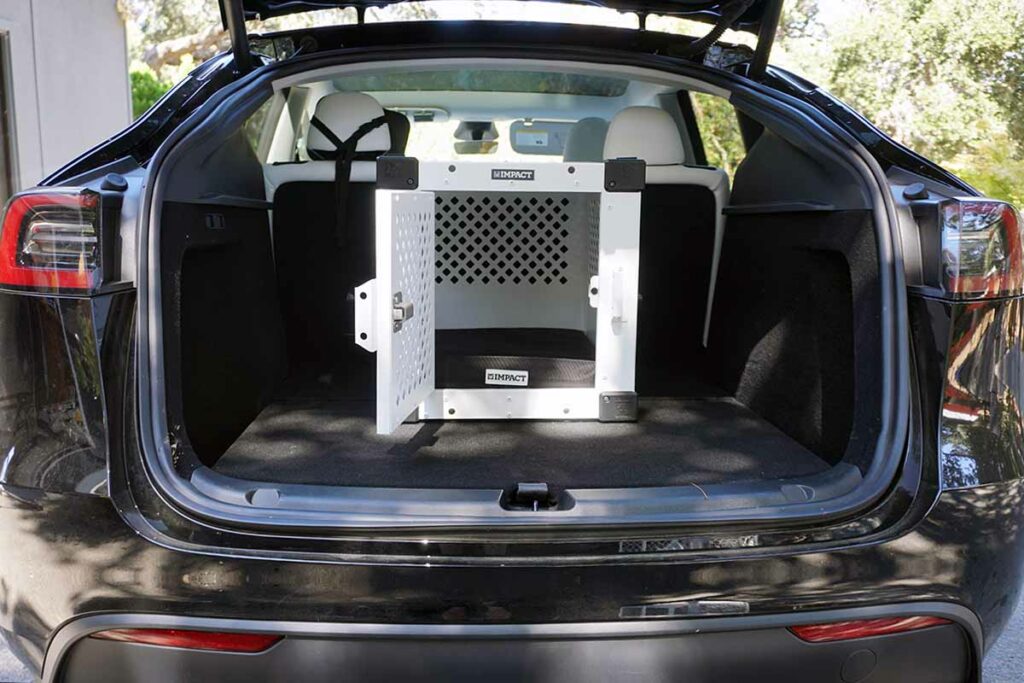 The Stationary Dog Crate, like the High Anxiety, is lightweight enough to be transported using the military grade handles. If you've got two dogs like me, you can invest in two Stationary crates and they've got stackable corners so you can utilise space.
If you're someone who likes to travel domestically or internationally with your dogs and you use your Tesla Model Y to get to airports, the Stationary crate is airline compatible so you can enjoy the convenience of having a crate for both your Tesla and your flight.
Impact confirmed with me that the Stationary isn't pet crash test certified so if you're looking for a crash tested crate that could be a downside. However, when you search "accident" or "crash" in the review section of their website, you'll see lots of positive testimonials.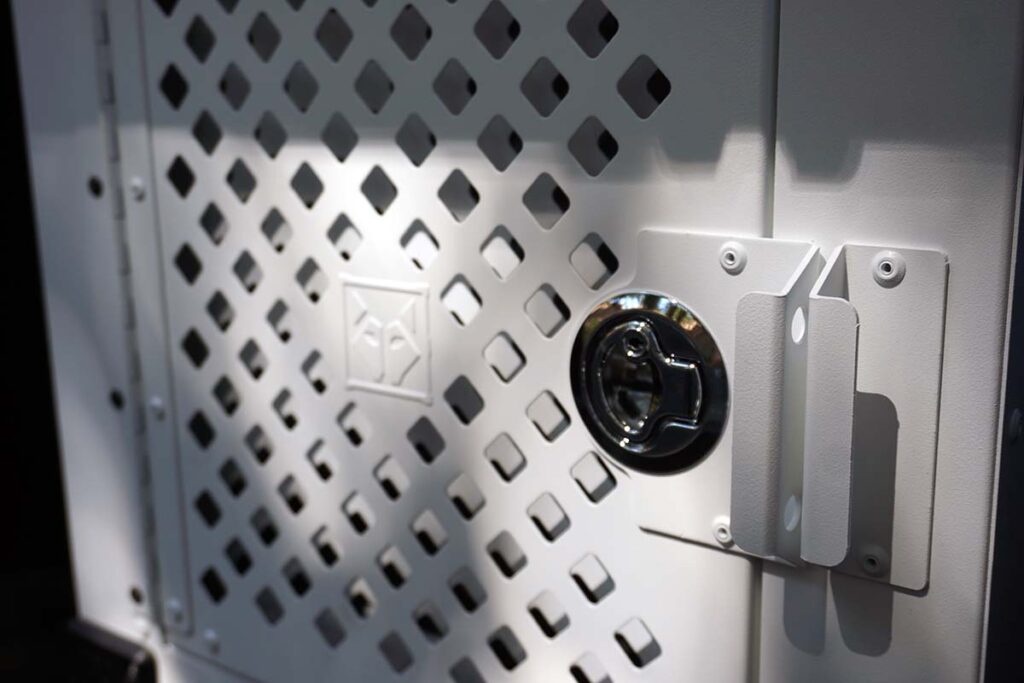 If you opt for the 30″ model, you can customize the crate to have a front door and side door, which gives you increased flexibility if you want to access your dog from your Tesla Model Y trunk when you take a comfort break. This isn't an issue with the 20″ or 24″ because you can place the crates in such a way you can access the front door. The 30″ model will need to run parallel to the rear seat so the side door is useful.
I opted for the 24″ inch Stationary Dog Crate and it was perfect for Copper or Skye – unlike the 30″ crate, I can only fit one dog in the 24″ inch crate. Copper and Skye are toy-sized Klee Kai so the 20″ or 24″ is likely to be ideal for small dog breeds. If you've got a medium size dog, you may want to go for the 30″ model but make sure to check Impact's sizing guidelines.
Where To Buy?
The Impact Stationary Crate starts at $499 for the 20″ length, $599 for the 24″ length and $999 for the 30″ length. I haven't tested the larger models in my Tesla trunk so I'd recommend reaching out to Impact to get more information if you're looking for a 34″ or above.
You can save 15% on Stationary Dog Crate when you click this link and enter code "KLEEKAI" at the checkout.
Revol Dog Crate By Diggs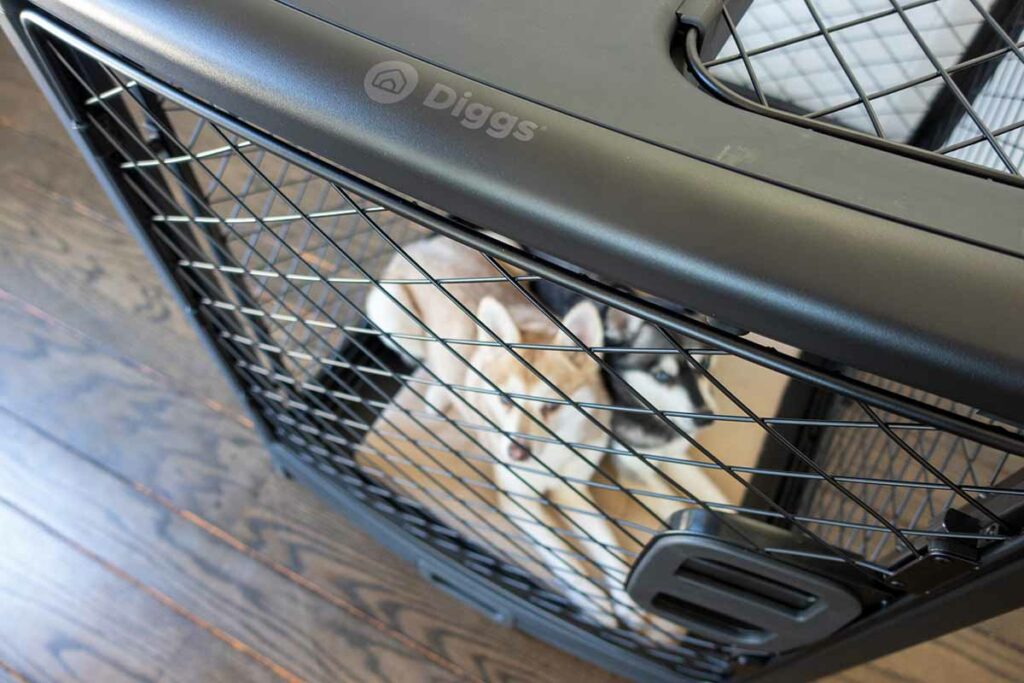 If you're looking for a collapsible crate that is easy to transport, you may want to consider the Revol. This Diggs crate has a stainless steel door, single-piece metal frame and easily removable separation wall (aka puppy divider) if you've got multiple dogs.
The Revol is hassle free to assemble and you can collapse the crate in less than 60 seconds so it's simple to wheel to and from your Tesla Model Y if you're looking to use this crate at home and for travelling.
Diggs explain on their website that Revol was inspired by baby industry standards and they've made the crate really easy to use without compromising the safety of your pets.
The Revol has a solid, single piece frame and diamond-shaped wire mesh design to keep your pet safe in the dog crate when they're in your Tesla car.
It has a handle and wheels that make the Revol simple to collapse and transport which is really convenient if you're someone who likes to go on road trips with your dogs in your Tesla and you need to crate for the car and the hotel.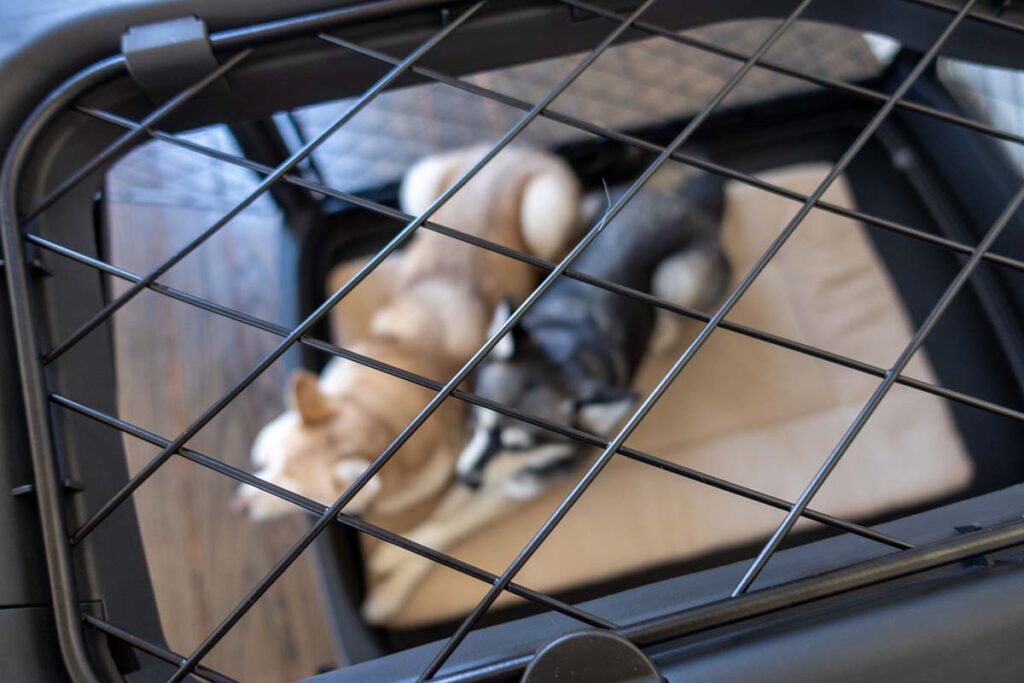 Diggs write on their website that the Revol is perfect for small spaces.
I really liked the sheer convenience of being able to wheel the crate to and from my Tesla Model Y. While I was able to carry the Impact crates, my wife liked being able to transport the Revol whereas she found the other crates trickier to carry.
Unfortunately, the Revol hasn't been put through crash tests so that's a negative. If you've got your heart set on crates with a safe pet crate test certification than you'll need to keep looking.
While it doesn't have an emergency escape hatch, it does have access from the roof which is a bonus.
Overall, I would have more peace of mind with the Impact crates due to the sheer heavy duty construction but there's no doubt the Revol provides a more flexible option for pet parents. The Revol has multiple access points so you can access your dog from your seat in the rear from the top or side.
Where To Buy?
I've tested the Revol dog crate in my Tesla Model Y – the small size fits comfortably and the medium size fits snuggly (double check the measurements of your trunk). The Revol small will set you back $375 and the Revol medium is priced at $475.
You can save 10% on your first order when you click here and use code KLEEKAI at checkout. 
Evolv Dog Crate By Diggs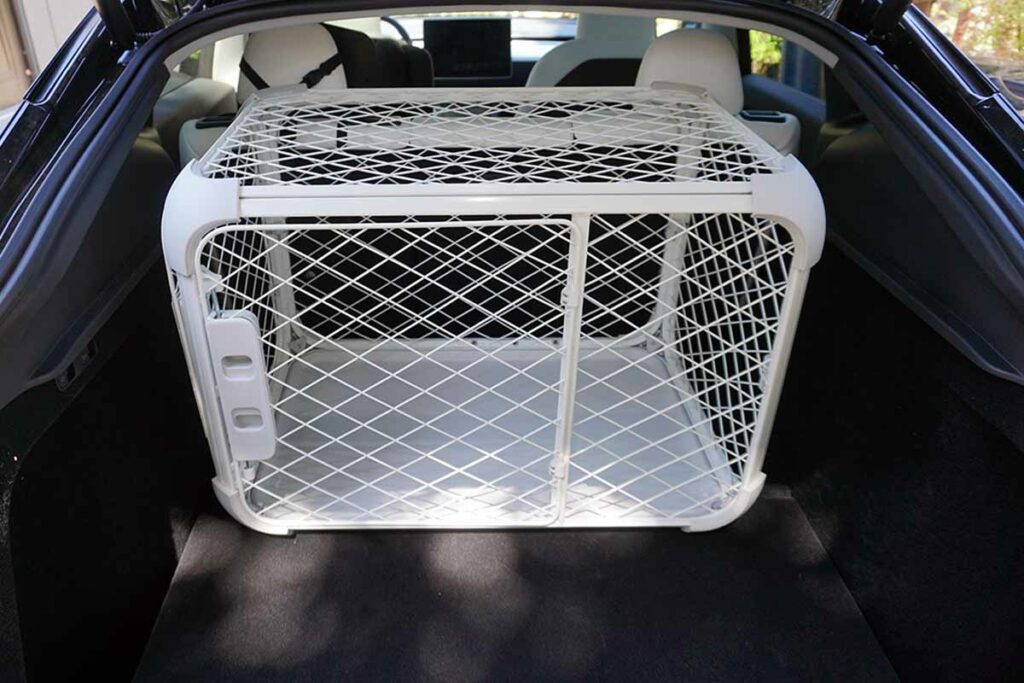 The final dog crate that I acquired and tested in my Tesla Model Y was the Evolv.
This is a relatively new dog crate created by Diggs to challenge their popular Revol model.
The Evolv is Diggs' slimmest dog crate that has a playpen mode and modular design. So it's perhaps the most versatile of all the crates listed in this guide if you want a dog crate that can serve multiple functions.
This particular dog crate is made from ultra-strong coated steel to provide a durable frame, while the Evolv has a diamond-shaped paw safe wire mesh to keep your dog's paws and teeth safe.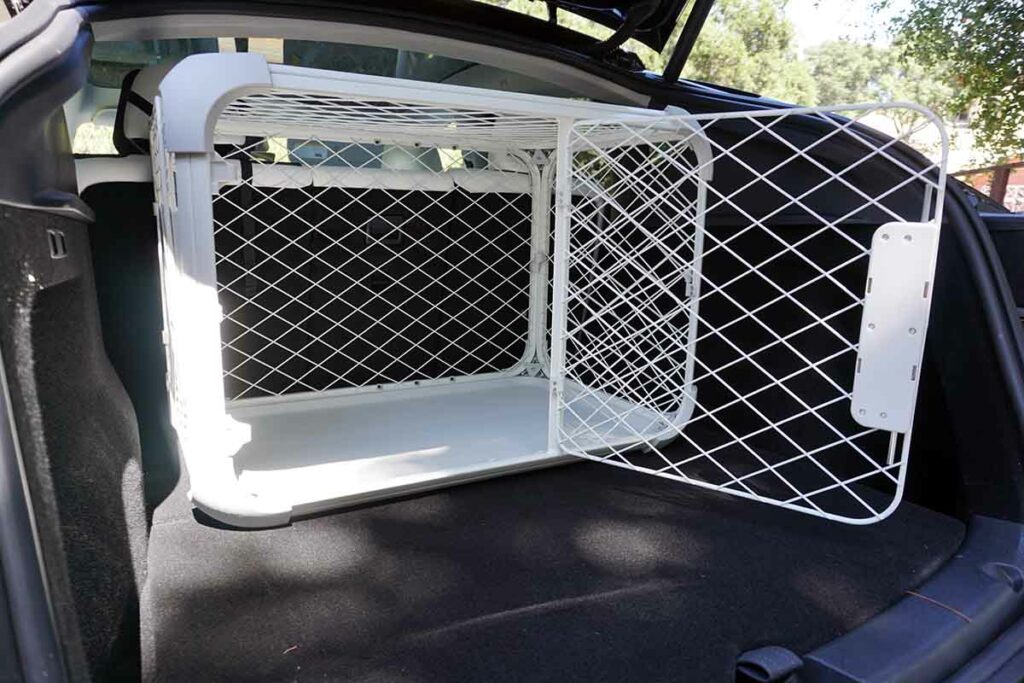 The Evolv gives dog owners totally flexibility because you can reposition the two doors and you can even add extra doors to make it a four-door dog crate. When you take the dog crate out of your Tesla, you can transform it into a playpen if you need such a space in your hotel or AirBnB.
You don't need any tools to assemble or disassemble the crate – it takes around five minutes to construct. This makes setup simple and stress free if you need to have the option to break it down when you're not using it in your Tesla.
It comes with a removable tray so if you've got a dog like Copper who regularly gets car sick, you can park up your Tesla Model Y and clean the floor. I really like this feature because Copper does struggle sickness on long car journeys.
Just like the Revol, the Evolv hasn't been crash tested so that's something to keep in mind. While there aren't any reviews from pet owners who've been involved in car accidents, the crate certainly feels sturdy. I'd recommend speaking to Diggs to address any concerns your have.
However, there are safety features such as the rounded corners to avoid sharp edges inside or outside.
You'll be able to fit the Evolv small and medium in your Tesla Model Y but I haven't personally tested the larger sizes so you'll need to speak to Diggs about those dog crates.
Where To Buy?
The Evolv is priced at $170 for the small and $200 for the medium so these two Diggs crates have a significantly lower price point than the other dog crates mentioned in this article.
You can save 10% on your first order when you click here and use code KLEEKAI at checkout. 
My Dog Crate Recommendation For Tesla Model Y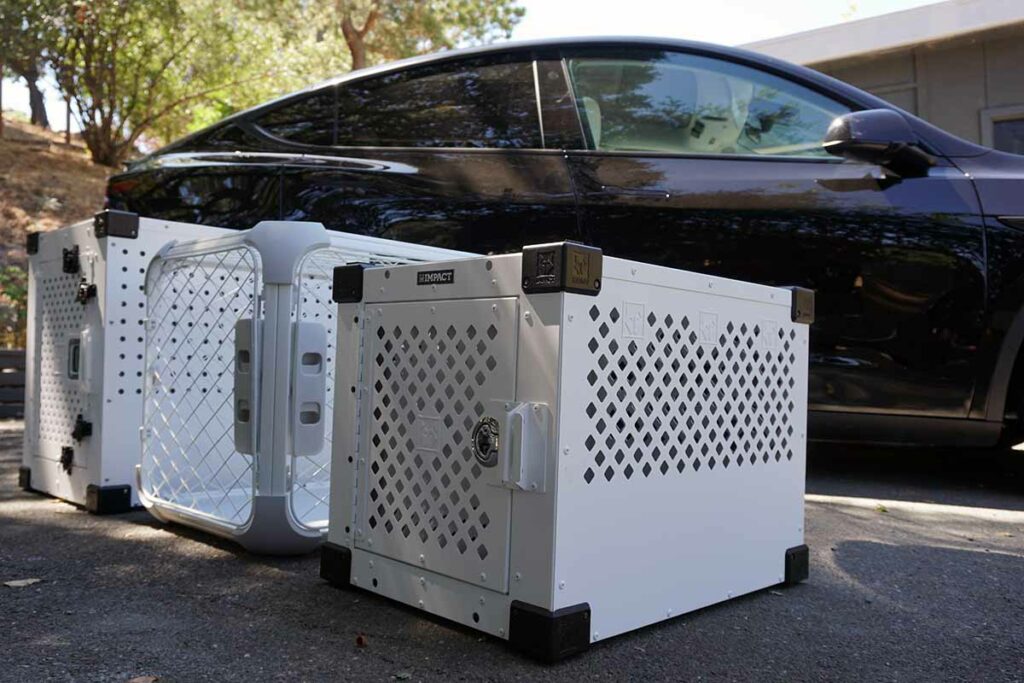 Based upon my experience testing and using all four dog crates mentioned in this article, my top pick for safety would be Impact's High Anxiety Dog Crate.
I was impressed by the dog crate's welded structure, thicker aluminum and overall design.
Having read through lots of reviews, there are some really encouraging testimonials from dog owners with the High Anxiety crate who have unfortunately been involved in car accidents.
While it does take the best part of an hour to put the dog crate together, once you've completed the hard work, you'll have peace of mind with this dog crate in your Tesla Model Y.
If I had to suggest an alternative dog crate, it would be the Stationary Dog Crate. I opted for the 24″ model and if you need to accommodate multiple dogs in your Tesla Model Y, you can fit two 24″ Stationary Dog Crates side by side in the trunk. So it's a great choice for the Tesla Model Y.
It's much more convenient as the dog crate arrives constructed already – you can use the dog crate immediately in your Tesla Model Y once it arrives at your home. While it lacks the thick build of the High Anxiety dog crate, it's still a durable option and there are also reviews from pet owners who have experienced car accidents.
So it comes to personal preference but my picks would be the High Anxiety or Stationary.
How To Secure Your Dog Crate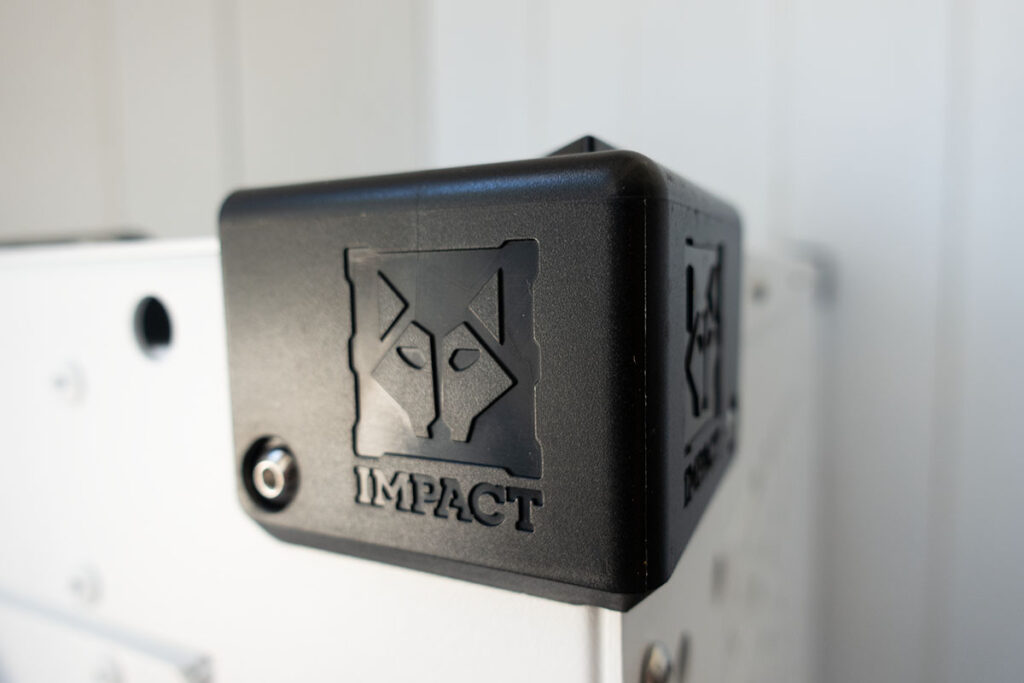 While the dog crates in this article haven't been crash tested in any car models, I reached out the brands mentioned in this guide to understand how to secure the dog crates.
Impact had the following to say with regards to using ties to secure your Impact crate in the trunk:
"We suggest using tie-down straps through the handles on the top of the crate. Each vehicle will have a different tie-down point, it is best to refer to your vehicle's owner manual for the best location."
While I've written this article from the perspective of using these crates in the trunk, you could opt for the rear seats. I have only tested 30″ models and under in the rear seat of my Tesla Model Y car.
So if you're looking for a 30″ crate or under to put in your back seat, I can confirm they'll fit. I can't speak for the High Anxiety, Stationary, Revol or Evolv that are bigger than 30″.
With regards to securing your dog crate in the seat, here's what Impact told me:
"In regards with rear seat you can use the tie-down straps as well and it will definitely be secured in your vehicle."
As I mentioned at the start of the article, I 'm not a professional when it comes to Tesla models or dog crates but just speaking from my experience as a dog parent with a Telsa Model Y and sharing my journey trying to find a dog crate that works.
How Did I Select Best Dog Crates For Tesla Model Y?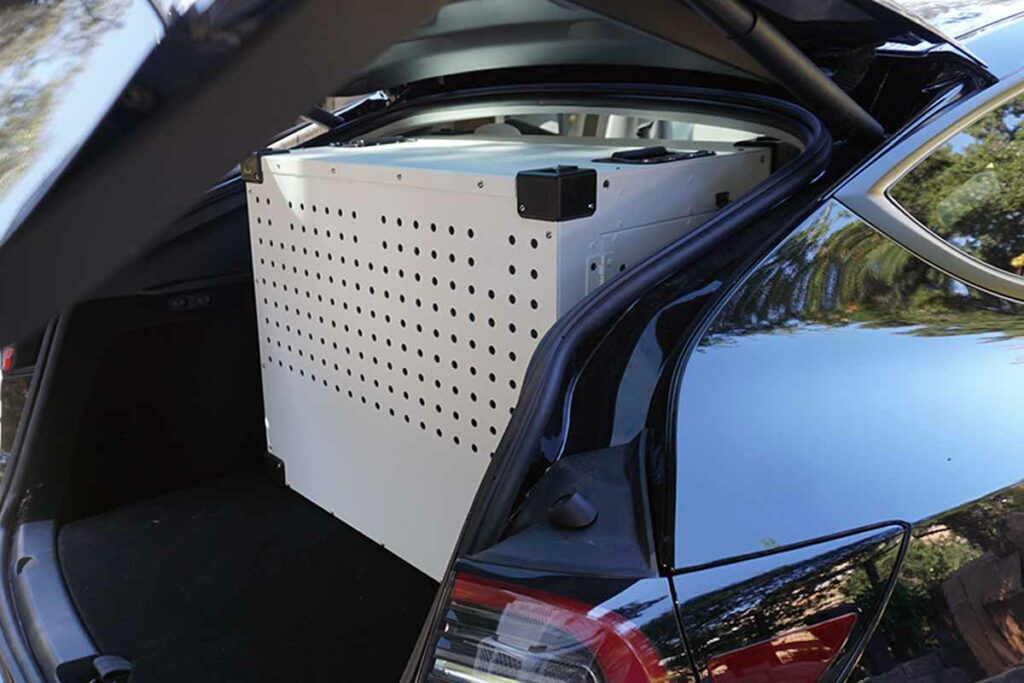 I started my search for the best dog crate for the Tesla Model Y by researching online and contacting dog crate companies that I've previously used to learn about their recommendations.
When I started my research for this guide, I noticed a lack of recommendations and suggestions for Tesla Model Y owners who want to keep their dogs safe on road trips.
I also consulted Reddit to hear what other Tesla Model Y owners had to say about their experience.
At the time of writing, I haven't been able to invest in all the dog crate recommendations that I encountered, such as the Gunner Kennel or the Variocage dog crate.
I hope to try these dog crates in the future for my Tesla Model Y and many car models that interest my readers. If I do get around to testing other dog crates in my Tesla, I will update this guide accordingly.
Finishing Up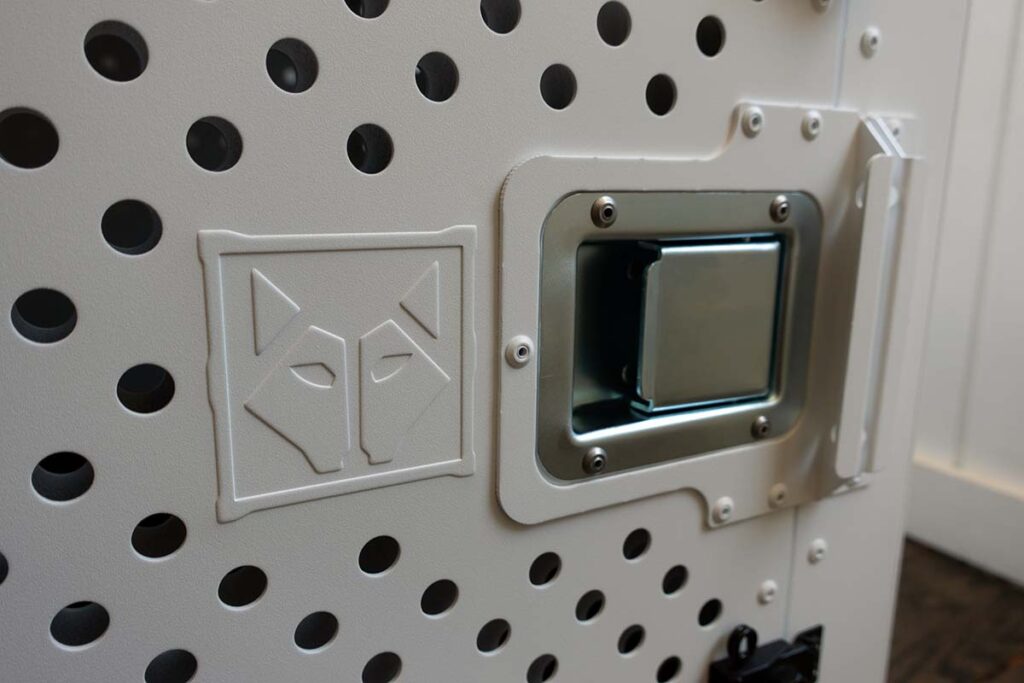 We've reached the end of our best dog crates for Tesla Model Y.
I've taken you through some of the things to consider before you decide to invest in a dog crate for your Telsa Model Y.
We've discussed what to look for, the sizes that will likely fit in your Tesla Model Y based upon my tests and where you can buy the crates recommended in this guide.
My top picks would be the Impact High Anxiety or the Impact Stationary Dog Crates depending on whether you want a extra strong dog crate or a more versatile dog crate.
Having said that, I think all four dog crates in this article would make a good consideration for a Tesla Model Y owner who wants to invest in a quality crate for their pup.