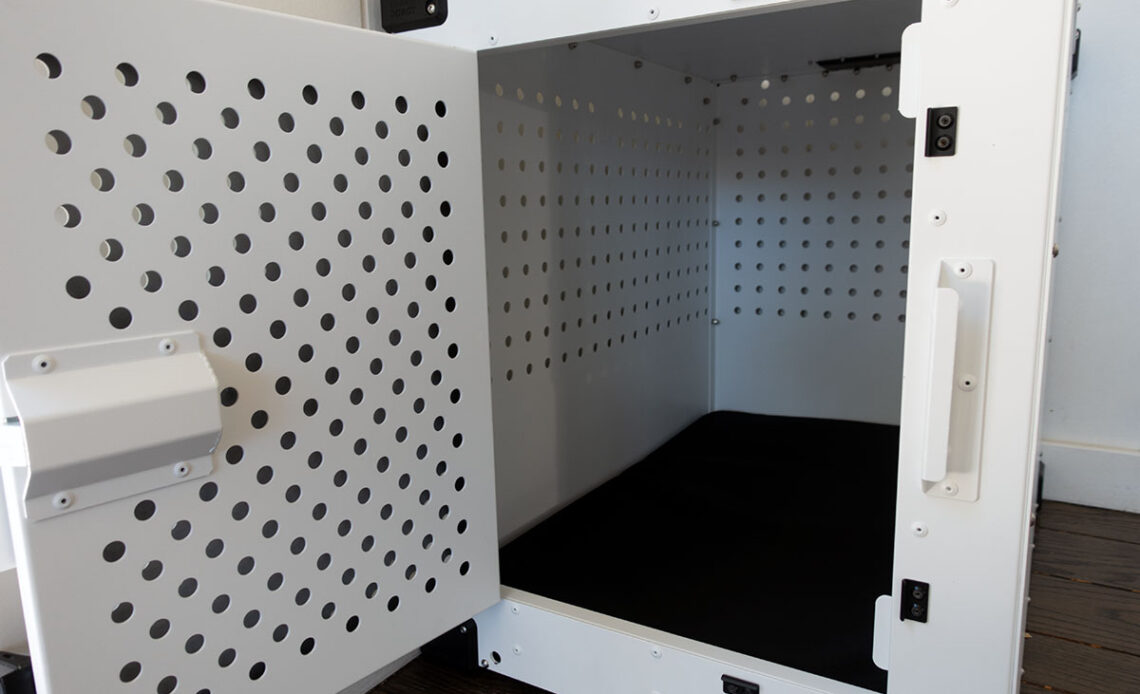 Last Updated on September 7, 2023 by Kieran
Do you have a dog with separation anxiety and you want to find a dog crate to keep them safe and secure?
I've got two Alaskan Klee Kai dogs who struggle with varying degrees of separation anxiety, while they're also escape artists.
With that in mind, I started to search for dog crates that could cater to my anxious dogs.
It was important to find a dog crate that felt like a safe space for my Alaskan Klee Kai dogs when I'm not home, while incorporating features to prevent my mini huskies from getting hurt.
This is how I came across the Impact High Anxiety dog crate.
In this review, I'm going to be taking a deep dive into this particular Impact dog crate and explain how it helped my dogs and made my life as a pet owner easier.
Before I go any further, I want to stress that dog crates won't fix your dog's anxiety.
We've consulted with dog behaviorists to work on Copper and Skye's anxiety outside of the crate, but we do crate our dogs when they're home alone for their wellbeing.
I consider Impact Crates (or crate training in general) to be a useful tool to help dogs and pet owners but you should consult with a professional if your dog has an underlying condition or issue.
So with that out of the way, let's start our crate review of Impact's High Anxiety crate.
Skip To The Good Part: You can save 15% on your first Impact Dog Crate order when you click this link and use the discount code "KLEEKAI" at the checkout.
Who Are Impact Dog Crates?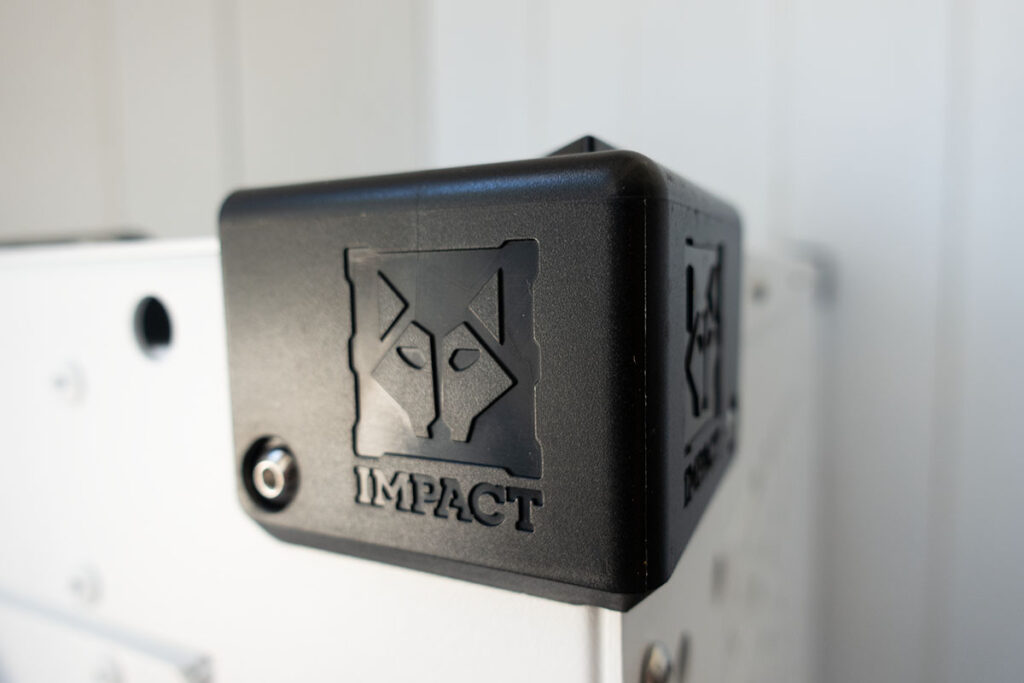 Impact Dog Crates are one of the leading providers of quality-built dog crates in the USA.
Their founder Michael Bailey started his dog crate business with the goal of "manufacturing and selling high-quality American-made aluminum dog crates and accessories".
Impact Dog Crates "prioritize the safety and security of pets while providing peace of mind to owners".
They cater to dogs of all ages, breeds, sizes and temperaments, while dog owners can find a crate that is tailored to meet their specific needs.
They've got three crates – there's the Impact Collapsible Dog Crate, the Impact Stationary Crate and the Impact Crate that we're discussing in this specific review.
Impact Dog Crates are made in the USA, constructed with 100% aluminum and come with a Lifetime Guarantee or Dog Damage Guarantee.
While Impact's range do cost a lot more than other crates, you're purchasing as quality dog crate that has unique design features and constructed using premium materials.
Impact High Anxiety Dog Crate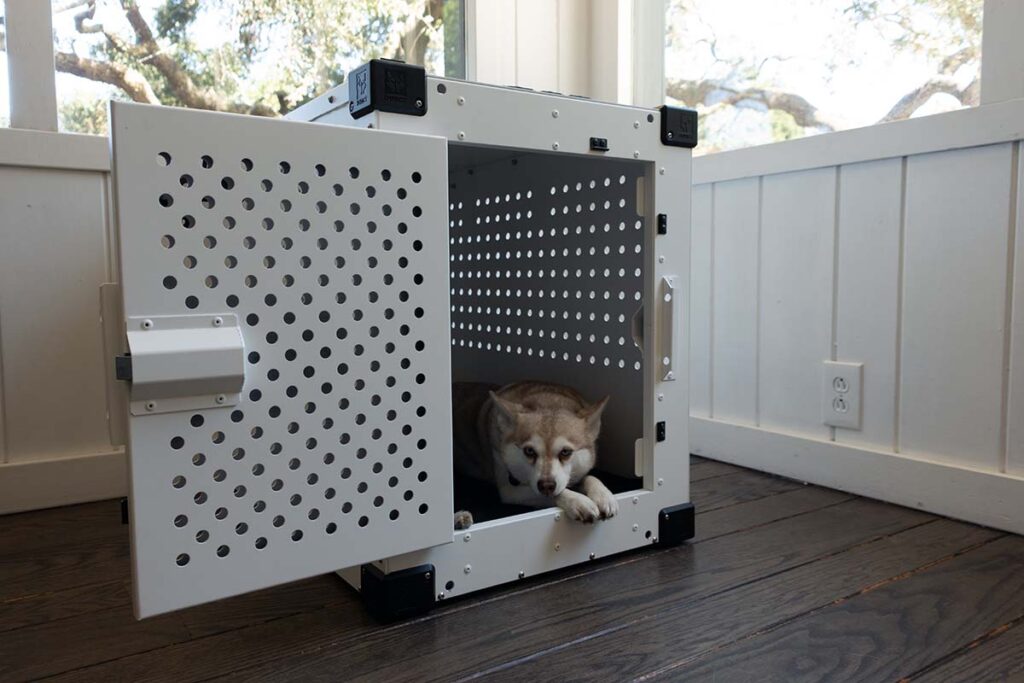 Impact created their High Anxiety crate to cater to dogs with severe anxiety when left alone.
Separation anxiety is a chronic canine condition that can affect any dog irrespective of breed or mix, with the symptoms typically showing when pet owners leave their pups at home alone.
This Impact crate has a number of key design features that look to cater to anxious dogs.
Impact used 62% thicker durable aluminum than other Impact Dog Crates to give the crate even greater structural integrity and resist the efforts of dogs who like to try to escape their crates.
Impact go as far as writing that the High Anxiety Crate is "escape-proof" – it's been thoughtfully engineered to protect and outsmart pets who suffer from severe separation anxiety.
So how have Impact made their High Anxiety Crate resistant to wannabe Houdinis?
It's got a stainless steel slam latch that has a robust mechanism and provides extra security against any escape attempts by your dog. The zinc steel paddle latch can "withstand high-stress forces".
The High Anxiety Crate has four additional butterfly latches to provide even extra strength and security. I found these simple to use so it isn't complicated but provides more peace of mind.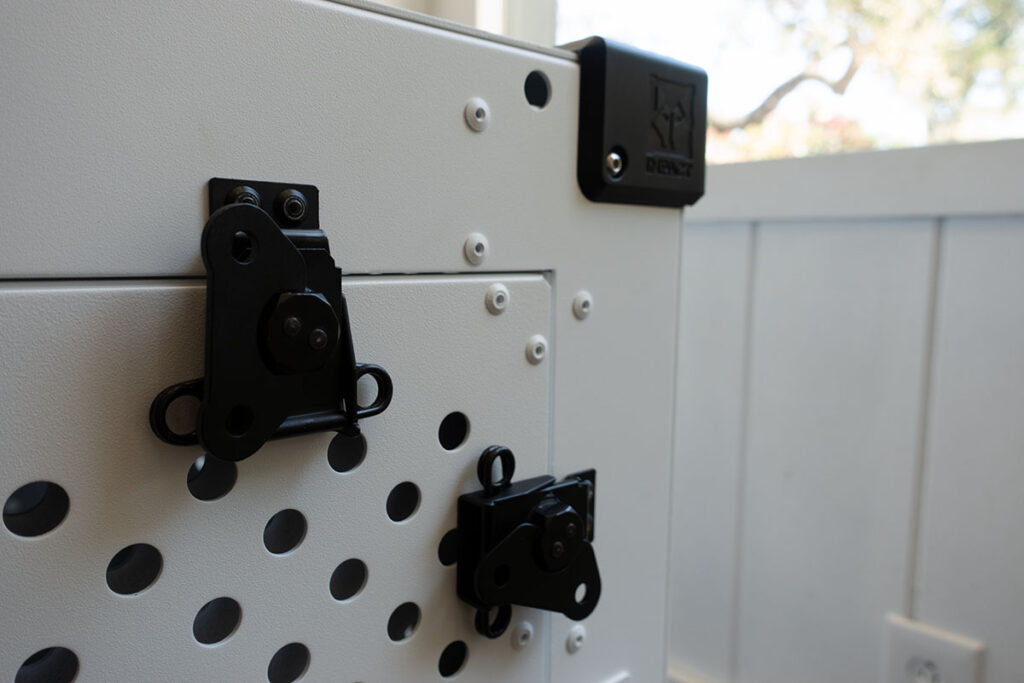 Unlike the Collapsible Dog Crate and the Stationary Crate, the High Anxiety Crate has small circle ventilation holes (0.05 inches) to provide plenty of air flow. However, the ventilation holes are sufficiently small that dogs won't be able to get their teeth stuck into the ventilation holes.
This Impact Dog Crate does have some of the same features you'll find on the other crates.
The High Anxiety Crate has stackable corners so you can utilize floor space in your home or in your trunk.
It has military grade handles so make it comfortable to move around your home or take it on the road if you need to keep your dog safe in an AirBnB or hotel.
Our Review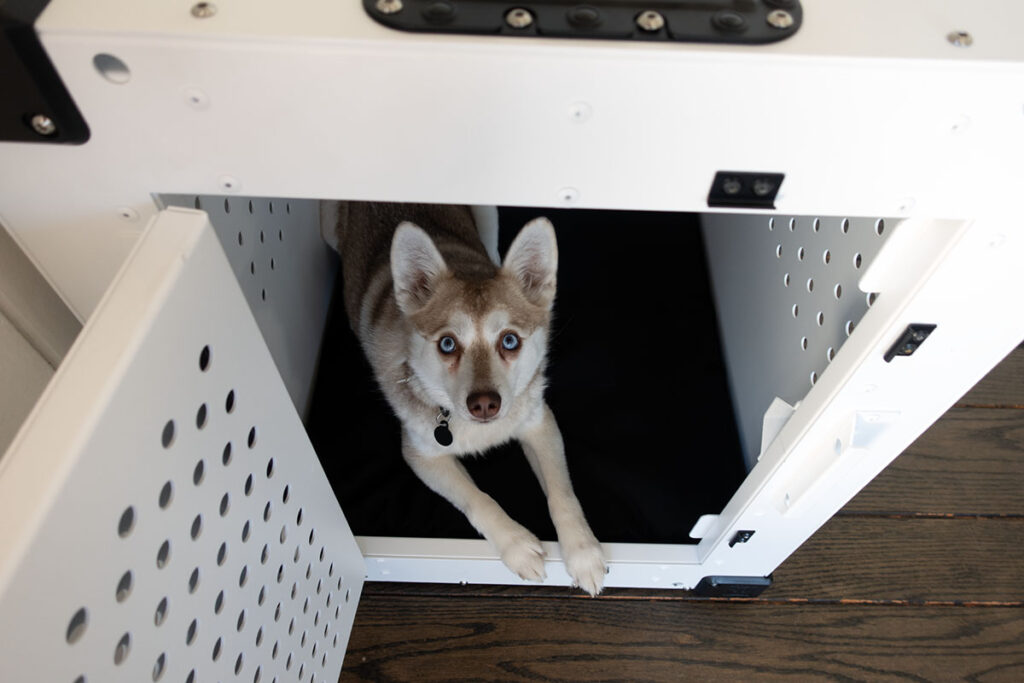 Are you fed up with your dog destroying their crate? Well, I can relate. Copper has destroyed a couple of fabric dog crates over the years, while I don't enjoy putting together wire crates.
I decided to ditch the wire crates in favour of this Impact Dog Crate.
As a pet owner with two dogs who have varying degrees of separation anxiety, I really wanted to give the High Anxiety Crate a try.
Copper can be destructive when left at home alone, while Skye likes to have a safe space akin to a den.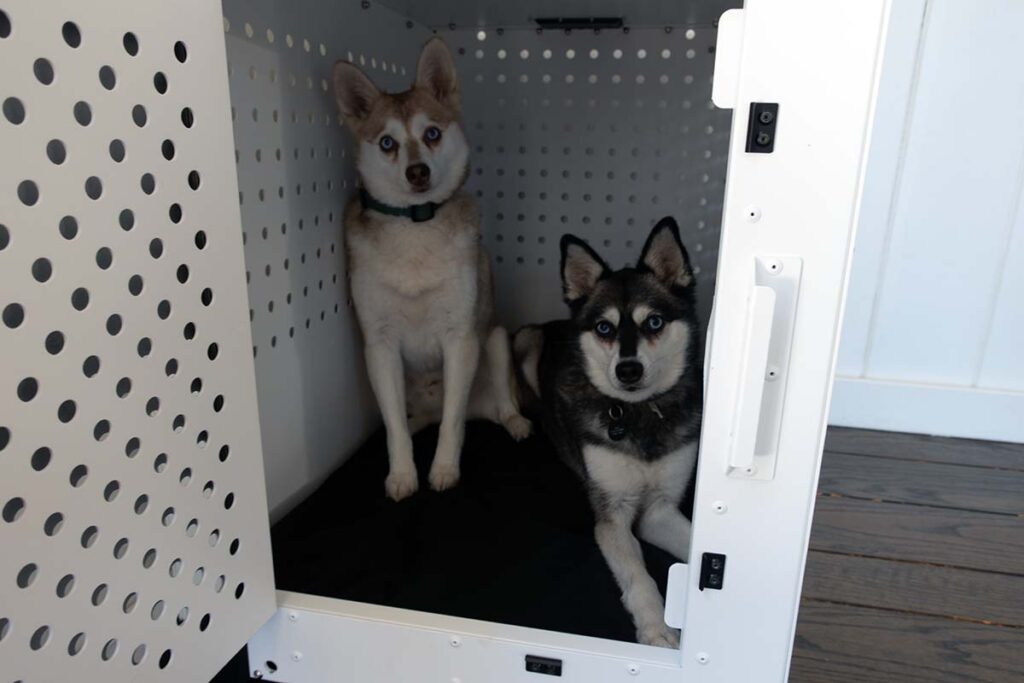 I liked that this High Anxiety model is a durable crate that stood up to the test of my anxious Klee Kai more than a wire crate.
The small vent holes appeared to make Skye feel more comfortable in her new crate than past alternatives I've used.
Unlike the Stationary Crate and the Impact Collapsible Dog Crate, the High Anxiety model takes more time to build. I would say it took me the best part of an hour to construct and I need the help of my wife a few times.
Impact have a useful YouTube video that you can use to put the High Anxiety model.
While you'll need to be patient, it does give you a chance to appreciate the sheer quality of the crate. It's durable aluminum and you really come to understand why this crate is escape proof!
As someone who usually has their hands full balancing life as a parent and a pet owner, I liked how easy the stainless steel slam latch is to use. The butterfly latches are simple to tighten to add extra security.
I liked the design and our Impact Dog Crate, just like the Impact Collapsible Dog Crate, got a lot of compliments.
Typically, I leave Copper and Skye in the same crate but if you've got multiple dogs, you should consult with a behaviorist to see if they recommend individual crates. The stackable corners will still allow you to maximize space.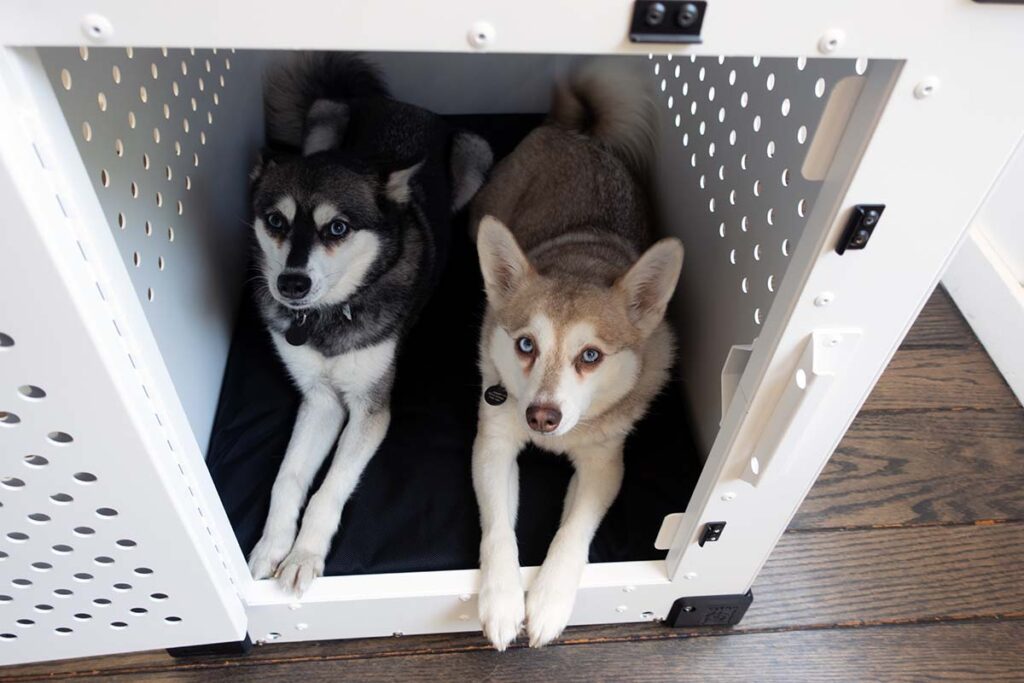 If you've got anxious dogs like me, you'll know it's tough to find high anxiety dog crates.
Impact have designed and built a top of the class dog crate for dogs with anxiety, destructive tendencies or history of escaping.
I would recommend the High Anxiety crate if you're looking for a dog crate to cater to anxious pets.
How Much Does Impact's High Anxiety Dog Crate Cost?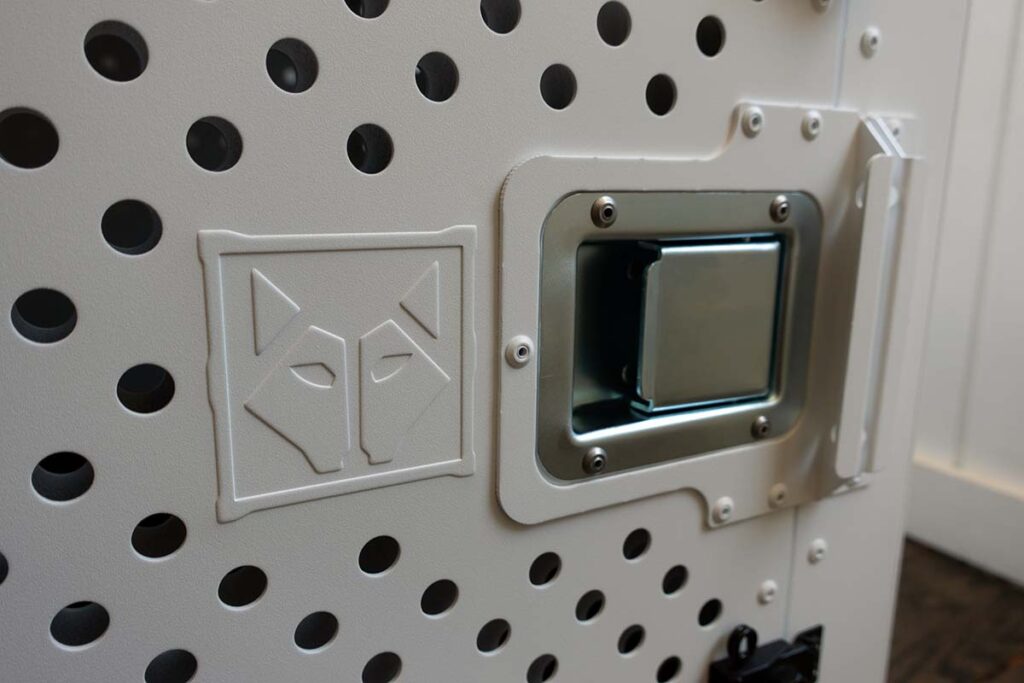 If you're familiar with Impact Dog Crates, you'll know they're a premium crate with a hefty price tag.
However, you could be tearing your hair out trying to keep your dog safe and secure when home alone, so investing in a High Anxiety product is a no brainer.
The smallest 30″ crate will set you back $1099, while the biggest 48″ crate will cost you $1699.
It's worth nothing that Impact only offer their Dog Damage Guarantee with the High Anxiety product.
You can add the vinyl pad for an extra cushioning or their orthopedic crate pad.
Do We Have Impact Coupon Code Or Discount For Our Readers?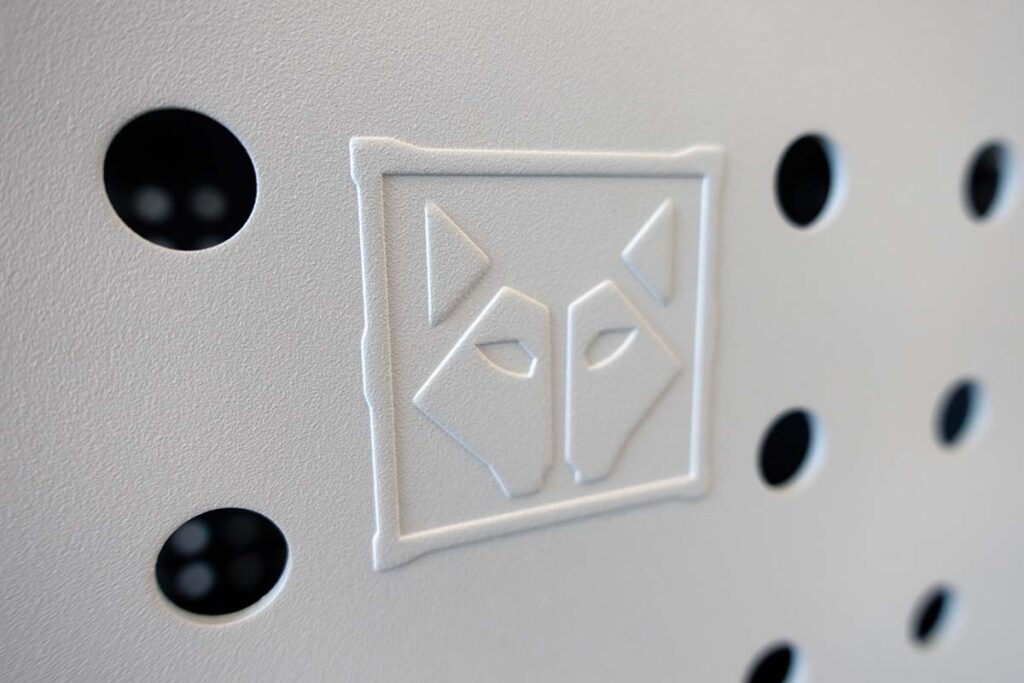 So you're ready to invest in this Impact crate but you want to make a chunky saving.
Well, we contacted Impact and they've provided our readers with the chance to save 15% on their order.
You can save 15% on your High Anxiety order when you click here and enter coupon code "KLEEKAI" at the checkout.
So, if you order the 30″ crate, you can save over $165 on your order. So that's money you can keep in your pocket or put towards buying a vinyl pad for your crate.
To recap, you can save 15% on their High Anxiety order by clicking here and entering "KLEEKAI" at the checkout.
How Does Impact's Dog Damage Guarantee Work?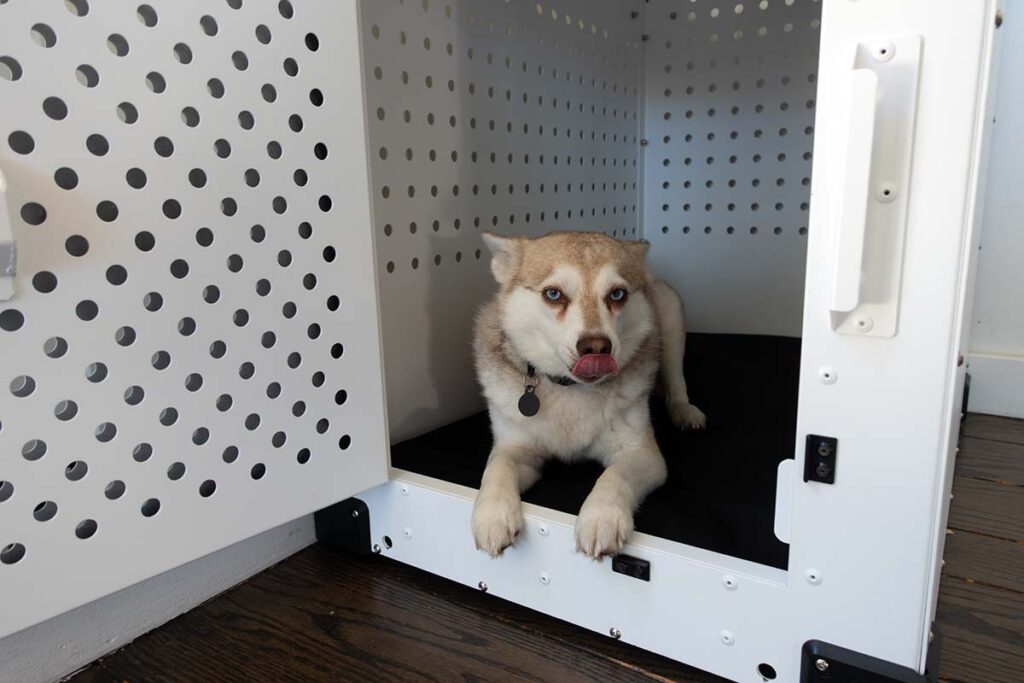 Impact only offer their Dog Damage Guarantee on their High Anxiety product. Here's what Impact write on their website:
"If your dog damages a part of the crate causing a malfunction or compromising the safety of your dog and the crate, those parts will be replaced for free. Free replacement parts, or even crate replacement, is provided within this 10 year timespan. If this happens, please contact us immediately, so we can provide you with replacement parts or a brand new crate."
Anything Else To Consider?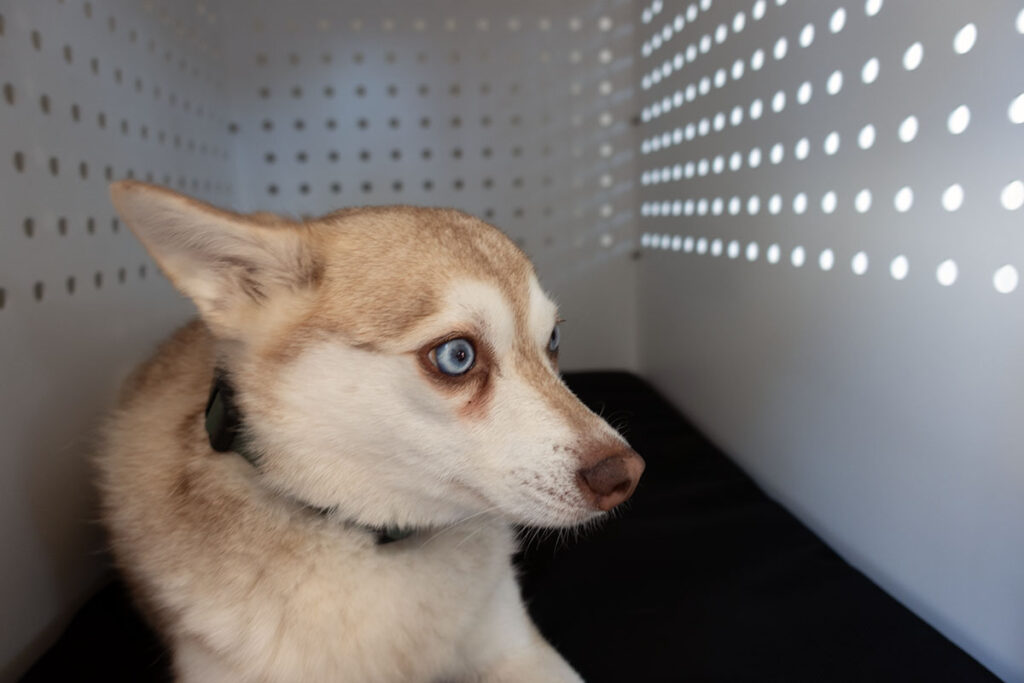 Unlike the Impact Collapsible Dog Crate and the Stationary Crate, you can only order the High Anxiety in gray. Impact explain on their website that they made this decision to ensure a speedy process.
The High Anxiety model is not airline complaint unlike the Stationary Crate. You can't buy airline rails.
While you can make the Impact Collapsible Dog Crate IATA complicant, you can't make the High Anxiety IATA approved with brackets. So you won't be able to use the dog crate for airline travel.
Conclusion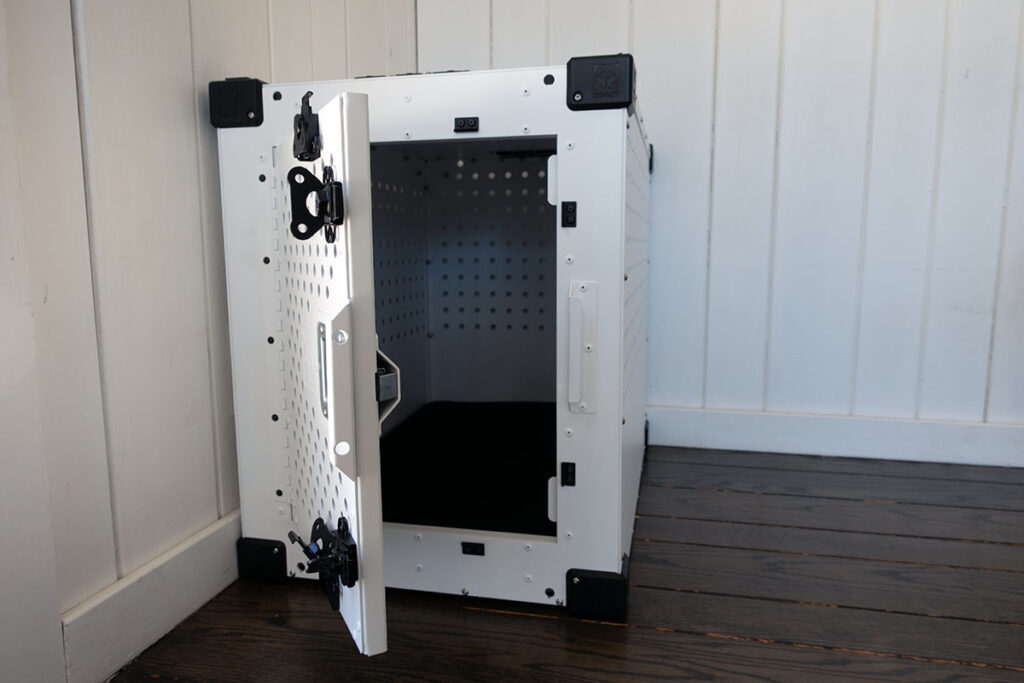 We've reached the end of this crate review.
As someone with two dogs who are anxious when left alone, I really appreciated this Impact dog crate. I had already purchased the Collapsible Dog Crate, this particular crate gave me greater peace of mind.
It's a heavy duty, well designed crate that can make your dogs feel safe when dog owners are out.
It can give dog parents confidence that their pet is secure in their crate and can't be destructive or hurt themselves.
While the High Anxiety crate is expensive, you have a 10-year Dog Damage Guarantee to rely on and this crate should last a lot longer than different crates you've tried in the past.
Copper and Skye really enjoy being in their Impact crate thanks to the den-like design. Copper hasn't caused any damage to the crate, while Skye's anxiety has improved in the crate.
While I still use the Collapsible Dog Crate if we're travelling, I prefer the High Anxiety model for leaving my dogs at home alone on a daily basis.
You can probably tell we're big fans of Impact from this crate review and they've definitely made life easier with our Alaskan Klee Kai.
Save 15% on High Anxiety crate by clicking here and entering coupon code "KLEEKAI" at checkout.