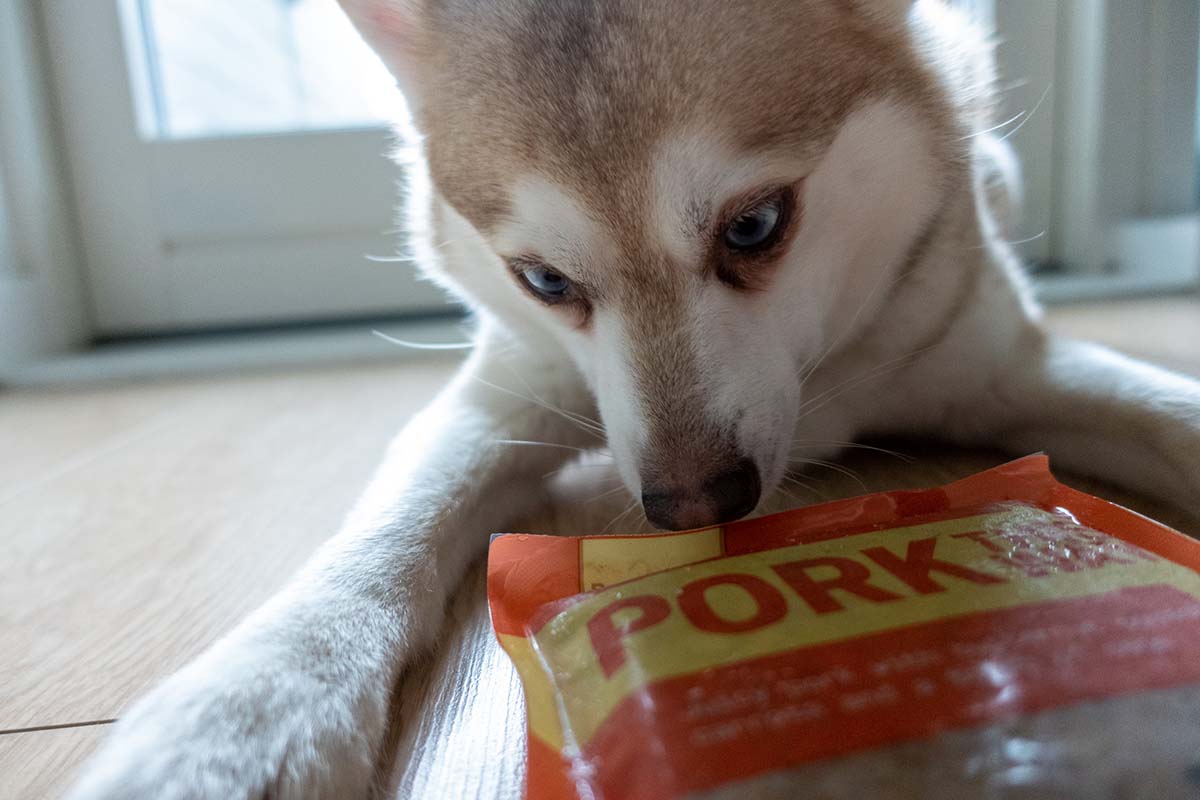 Last Updated on October 31, 2023 by Kieran Beckles
Are you thinking about switching your dog onto Butternut Box or Forthglade but you're not sure which of the two brands would be the best fit for your pup?
We've previously fed both Butternut Box and Forthglade to Copper and Skye so we're well-positioned to discuss the differences and similarities of these two brands.
It can be a confusing and overwhelming experience trying to decide what's the right dog food for your dog because there are so many options in the UK at the moment.
Whether you want fresh dog food, customised kibble, high-quality wet food, air-dried dog food, freeze-dried dog food, raw dog food or grain-free dog food.
For the purposes of this article, we're going to take a look at the difference between Butternut Box and Forthglade based upon our experience and our research.
We'll take a deep dive into Butternut Box vs Forthglade, examining the ingredients, the cooking processes, the recipes on offer. We'll share our verdict on both dog food brands before picking our favourite.
(Cut to the chase: We recommend Butternut Box and you can save 50% off your first box and 50% off your second box by clicking here).
What Is Butternut Box?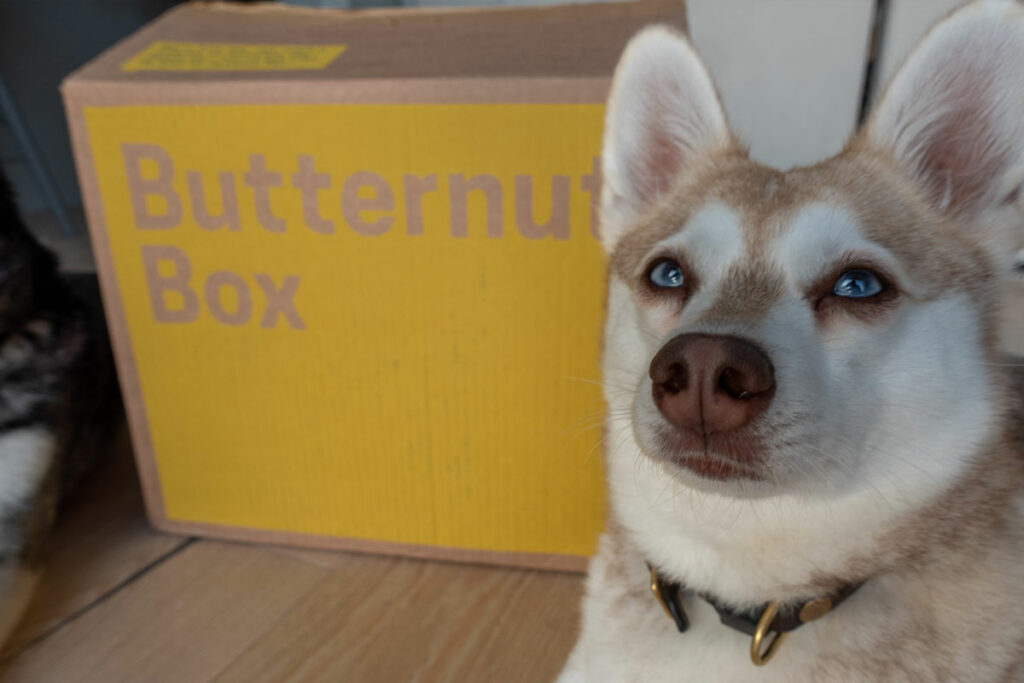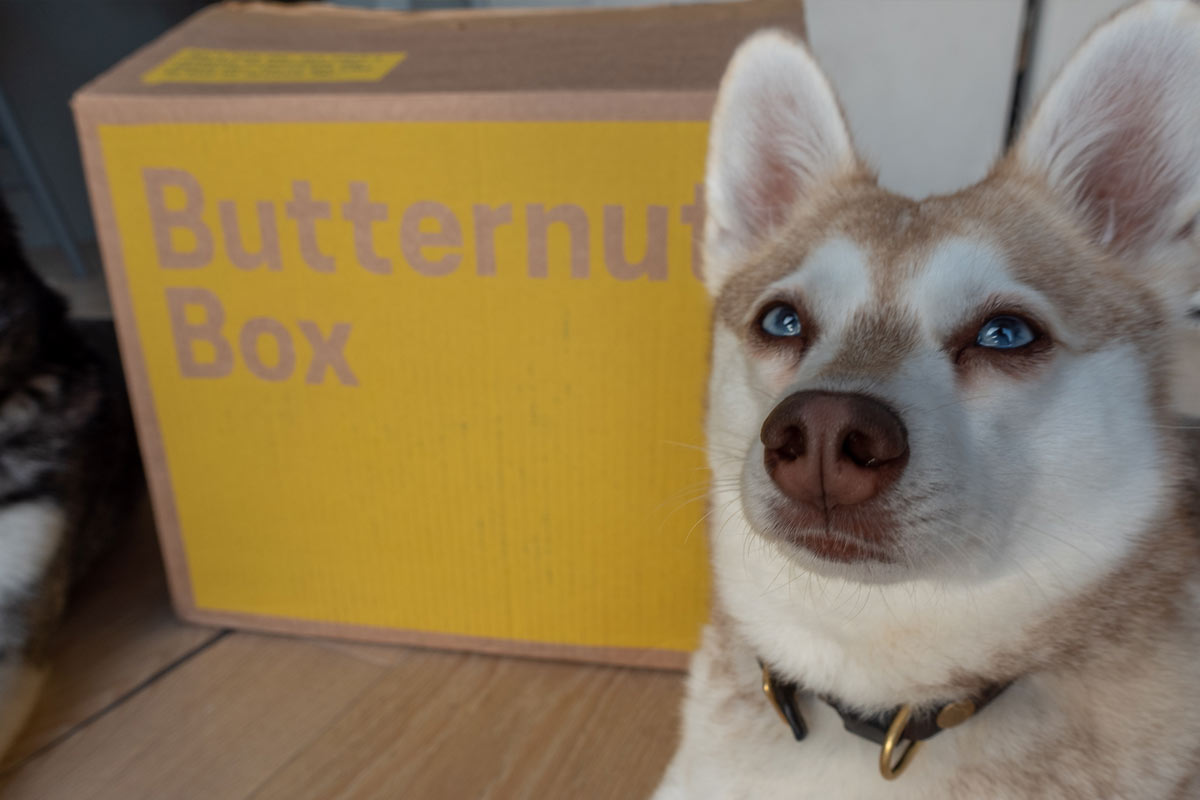 Butternut Box are a fresh dog food company who have been putting the food back into dog food since 2016. Since launching their business, they've already fed an incredible 100,000 dogs in the UK. It's clear that Butternut Box is a big hit with dog owners for their performance and dogs for their taste.
To start your Butternut Box journey, you'll need to take their sign-up questionnaire so they can get some key information about your four-legged friend. This includes age, size, weight, breed, daily exercise, eating habits and health conditions if applicable. Once Butternut Box have this information, they'll put together a suggested meal plan. While you can go with their recipe suggestions, you're able to alter your dog's meals if you believe they'll enjoy a particular recipe or you think they'd like a varied selection.
Butternut Box use high-quality ingredients in their recipes. They're comprised of 60% meat and 40% fruit/vegetables. At the time of writing, Butternut Box have an incredible 12 recipes so if you've got a fussy eater like Skye, you won't be short on options. I've found that selection between 6 and 8 different recipes works well because I can alternative proteins every couple of days to keep Skye intrigued. If you're worried about your dog's weight, Butternut Box can help. They want to ease the obesity crisis amongst dogs in the UK by providing pet owners with pre-portioned meal pouches. At mealtime, it's as easy as rip and serve once you've defrosted the meal pouch.
Butternut Box will ship your meals direct to your door so you won't have to worry about picking up dog food during your weekly shop or dashing to the supermarket to buy some dog food because you've ran out. They use eco-friendly packaging that can be recycled (except for the meal pouches). So you can feel good about doing your bit for your dog's health and doing your bit for the planet.
Our Verdict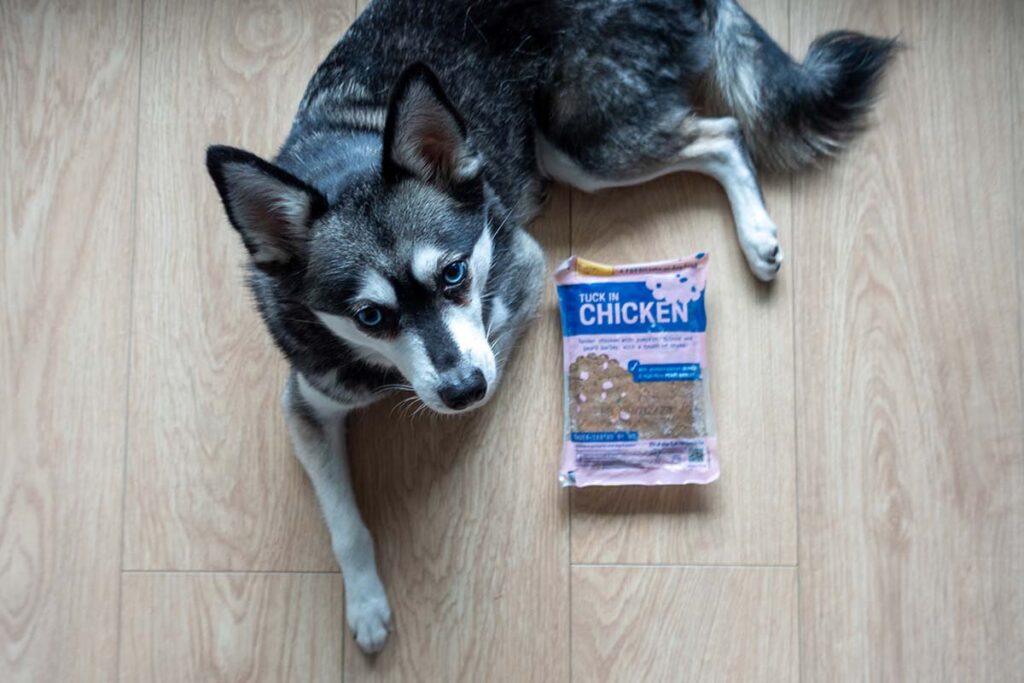 We've been feeding predominantly Butternut Box for the past four years since we moved back to the UK from the USA. Initially when we returned to the UK, we struggled to find a dog food brand that agreed with Skye's sensitive tummy. Fortunately, we eventually came across Butternut Box – and we haven't looked back since. Skye hasn't been to the vet since 2019 – that's four years without tummy problems. To put that into context, we frequented the vet every 6-8 weeks before finding Butternut Box. Skye is obsessed with Butternut Box's meals, especially Pork This Way, Wham Bam Lamb, Duo of Duck & Chicken, and You've Got Game. Copper is food motivated but he is equally as passionate about his Butternut Box meals. Seeing as he's very food motivated, we try to give him low-fat meals such as Chicken You Out and Gobble Gobble Turkey.
At the time of writing, we've been paying for our Butternut Box meals. It costs between £70 and £80 a month for both Copper and Skye depending on the recipes we include in their meal plan. You're able to adjust the monthly cost by selecting the recipes that don't have a surge charge. Copper and Skye wolf down their respective meals before switching bowls and making sure there's no scraps left behind. Even fussy Skye! This has never happened with any other dog food brand that we've tried.
If you'd like to give Butternut Box a try, we've got an exclusive discount for our readers and followers. You can get 50% off your first box and 50% off your second box when you click this link: https://butternutbox.com/LifeWithKleeKai
What Is Forthglade?
Where to buy: amazon.co.uk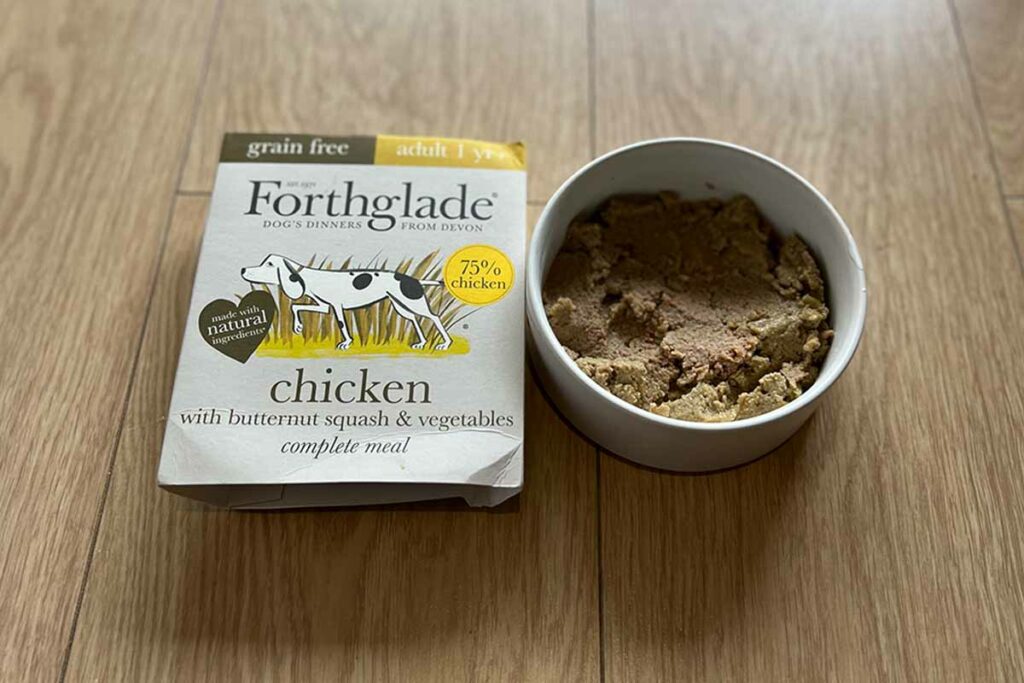 Forthglade are a dog food with a lot of experience. They've been in operation since 1971 – so that's over 50 years of feeding British dogs. They've got a range of different pet food formats on offer, from grain-free cold-pressed natural dry dog food and complete and complementary wet dog food.
The grain-free, cold-pressed dry food is created using using natural ingredients and added vitamins and minerals. It's cold-pressed to retain the natural flavour of the food. Forthglade have two dry food recipes on offer – chicken and duck. Alternatively, you could opt for their wet dog food. Forthglade's website explains that their complete and complimentary wet food has been designed for dogs who have sensitive tummies. It's made using natural ingredients and includes minerals and vitamins. They've got more recipes on offer within their wet food range – 75% salmon, lamb, duck, beef or turkey. Forthglade use brown rice and healthy vegetales to complement the protein in their wet-food recipes. Their wet food range has puppy and senior dog options to cater to dogs of all ages.
Forthglade offer their grain-free, cold-pressed dry food starts at 1kg (£8.79) to 18kg (£107.99). Their wet food started at £22.25 for 12 trays (which equates to £1.24 a tray).
Our Verdict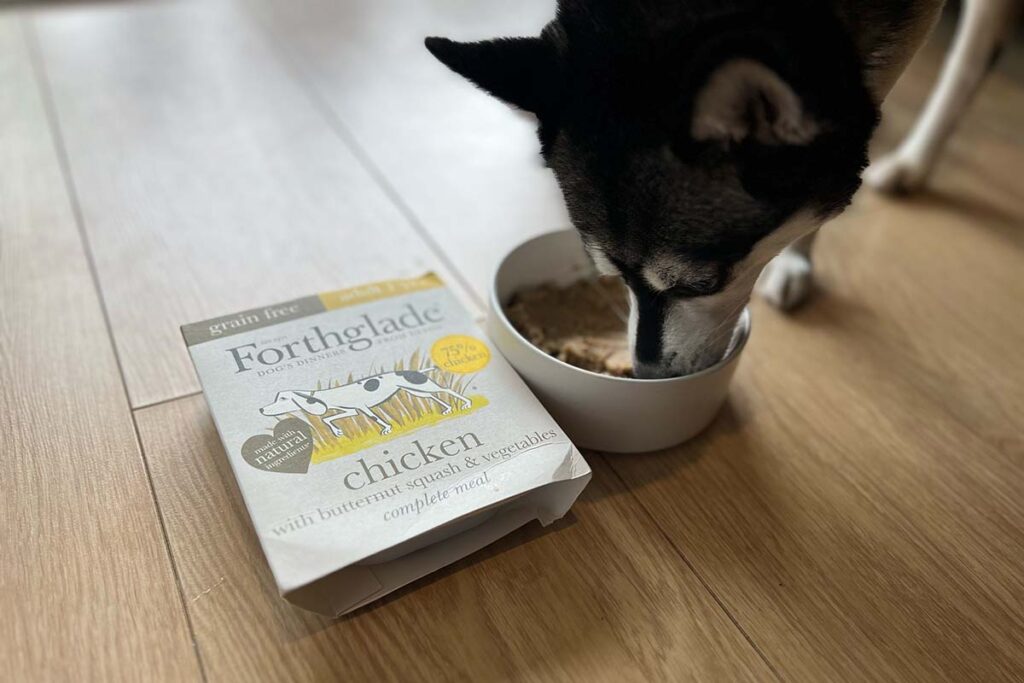 We gave Copper and Skye some Forthglade to try and the results were mixed. Copper was content to much on his Forthglade meal – we bought the grain-free, cold-pressed dry food and added some of their wet food as a tasty topper. He's not so fussy when it comes to his meals so I wasn't surprised that Copper didn't hesitate to give it a try. However, Skye was rather more cautious. While she did try some, Skye left over half of her food in her bowl (much to Copper's delight). We're aware that every dog is different and this is just my experience. While Skye wasn't super motivated to eat Forthglade's food, I'm sure lots of dogs will love their meals. As a brand, I had peace of mind that they're a trusted dog food supplier and I like that they make a contribution to the National Trust for every meal purchased.
Butternut Box vs Forthglade: What's Our Verdict?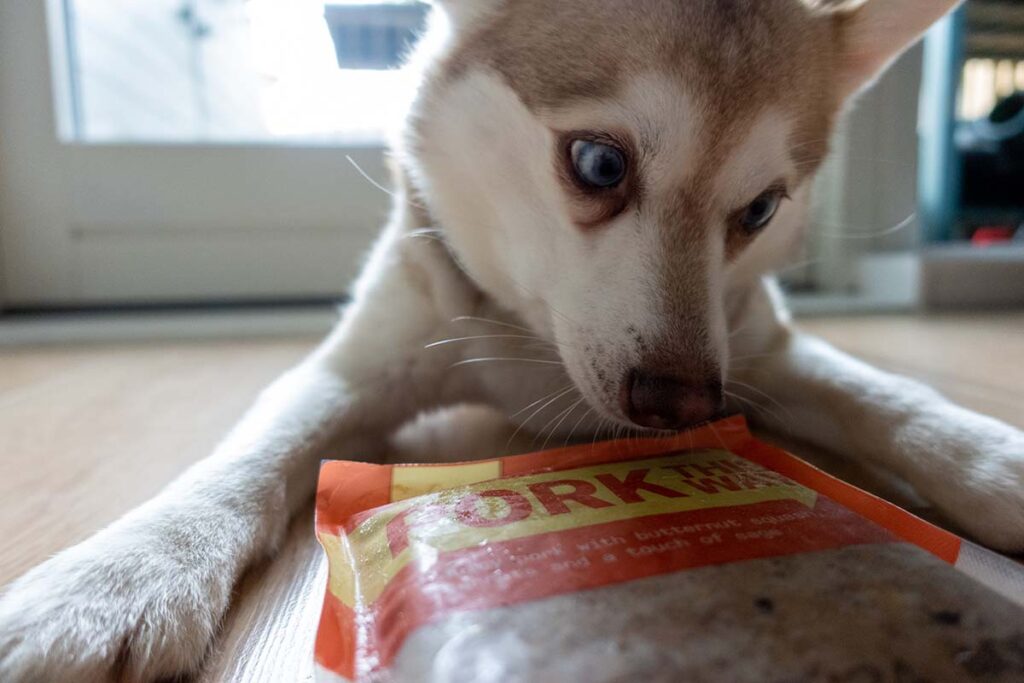 You probably won't be surprised to learn that we consider Butternut Box to be a superior option to Forthglade. Having tried both dog food brands with my Alaskan Klee Kai, Butternut Box was the clear winner.
I found that Copper and Skye loved their fresh meals. I had a great range of recipes to choose from. If Skye showed the slightest hint of fussiness, it was great to have the ability to whip out a Wham Bam Lamb or You've Got Game to offer her a more decadent option than low-fat Gobble Gobble Turkey.
While Butternut Box is customized to meet Copper and Skye's needs, I consider it to be an affordable option that doesn't cost more than a cup of coffee a day. By paying that price, I have confidence that Copper and Skye are eating a balanced and complete diet that's fresh, vet approved and keeps fussiness and sensitive tummies at bay.
Do We Have A Butternut Box Or Forthglade Discount Code?
If you'd like to give Butternut Box a try, we've got an exclusive discount for our readers and followers. You can get 50% off your first box and 50% off your second box when you click this link: https://butternutbox.com/LifeWithKleeKai
Butternut Box Vs Forthglade: Our Final Thoughts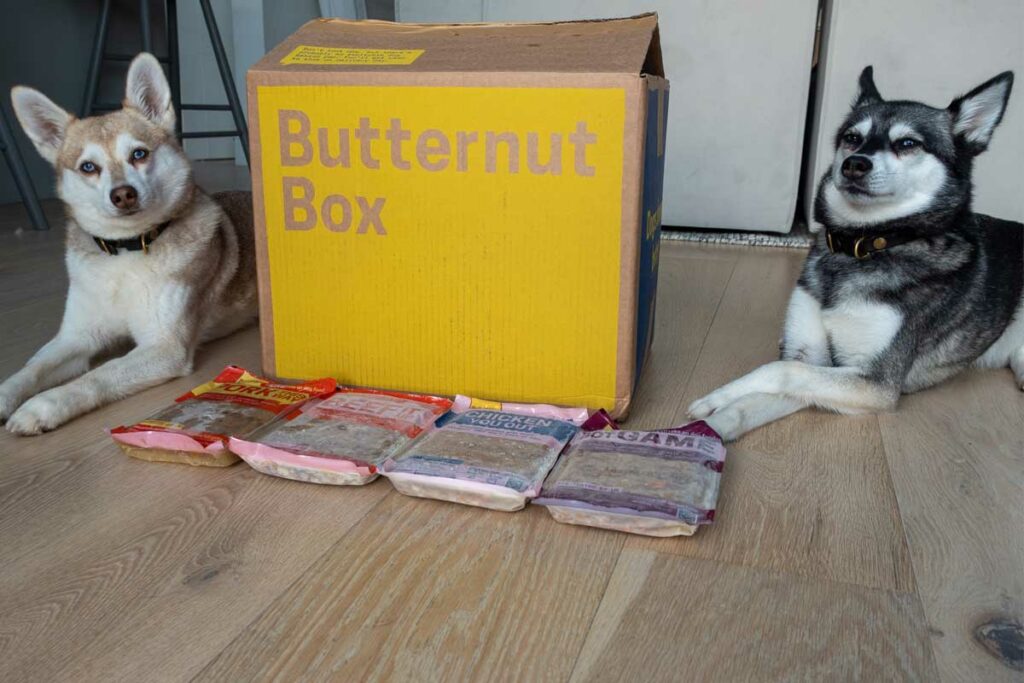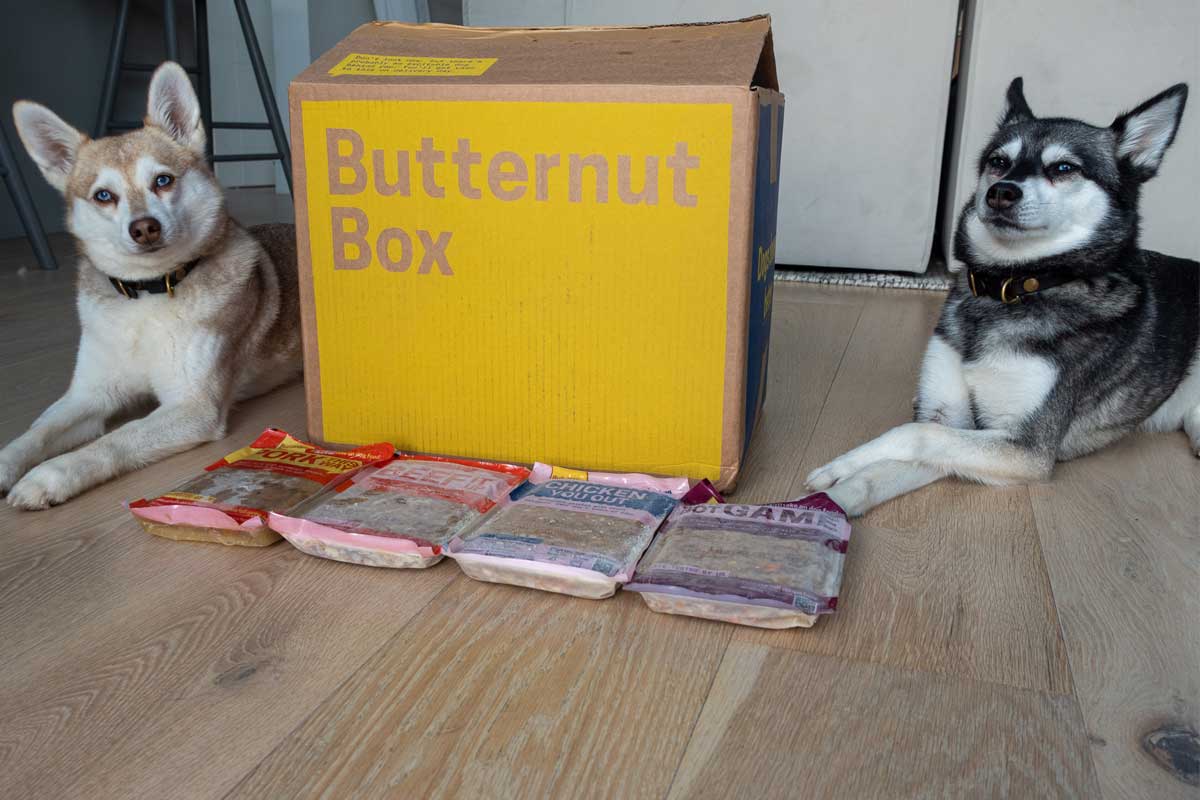 We've reached the end of our article on Butternut Box vs Forthglade.
While I think you can't go wrong with Butternut Box or Forthglade, my personal preference would be Butternut Box.
I've seen the benefits of feeding Butternut Box to my two Klee Kai – they're happy, energetic and healthy eating their fresh meals.
Having said that, Forthglade is still a great option so if you decide to go with this experienced pet food company, you won't go wrong.
Don't forget you can get 50% off your first box and 50% off your second box when you click here: https://butternutbox.com/LifeWithKleeKai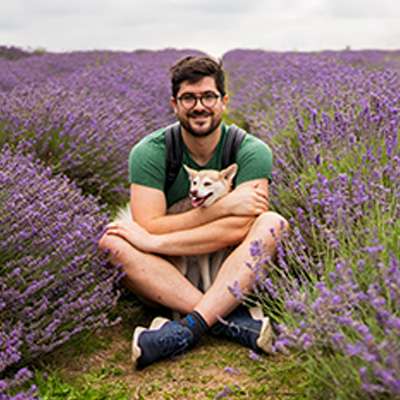 Kieran runs Life With Klee Kai on social media and other online platforms alongside his wife Yasmin. With over 10 years of experience as a journalist and a passionate dog owner, Kieran loves to combine his passion for pets and writing to share useful insights and product reviews to help other dog owners.