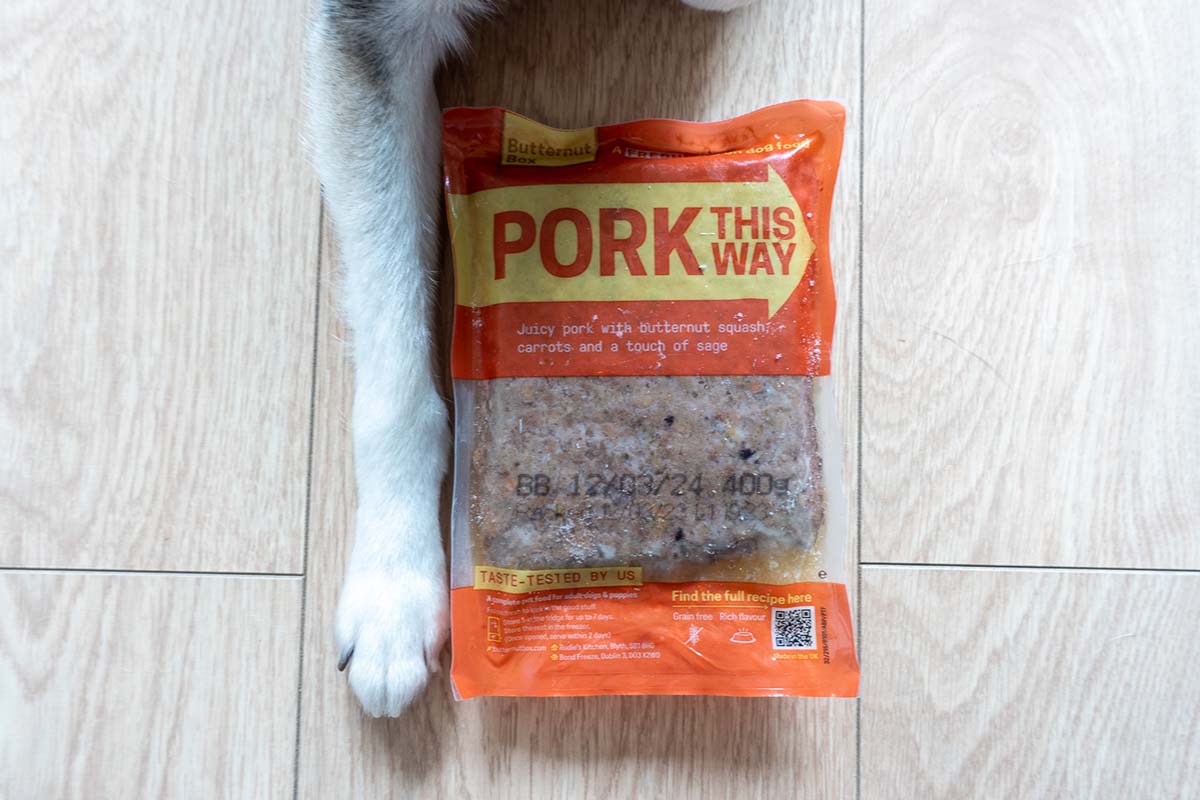 Last Updated on September 13, 2023 by Kieran
Are you thinking about making a change to your dog's diet but you can't decide between Butternut Box and Bella & Duke?
I've fed Butternut Box and Bella & Duke to my Alaskan Klee Kai and I'm going to share my insights in this comparison article to help other dogs owners in the UK who can't choose between these two dog food delivery companies.
If you are ready to make the change to Butternut Box or Bella & Duke from kibble or wet food, you're already taking the right steps to promote a balanced and healthy diet for your canine companion.
However, it can be confusing trying to decide between different dog food companies considering the number of different pet food formats currently available in the UK marketplace.
In this article, I'm going to take a close look at Butternut Box and Bella & Duke, sharing some information about both brands as well as providing insight into my experience feeding these two different dog food formats to my Klee Kai.
At the end of the comparison feature, I'll give my recommendation and explain why I've got a preferred option.
(Cut to the chase: We recommend Butternut Box and you can save 50% on your first box and 50% on your second box by clicking here).
What Is Butternut Box?
Website: www.butternutbox.com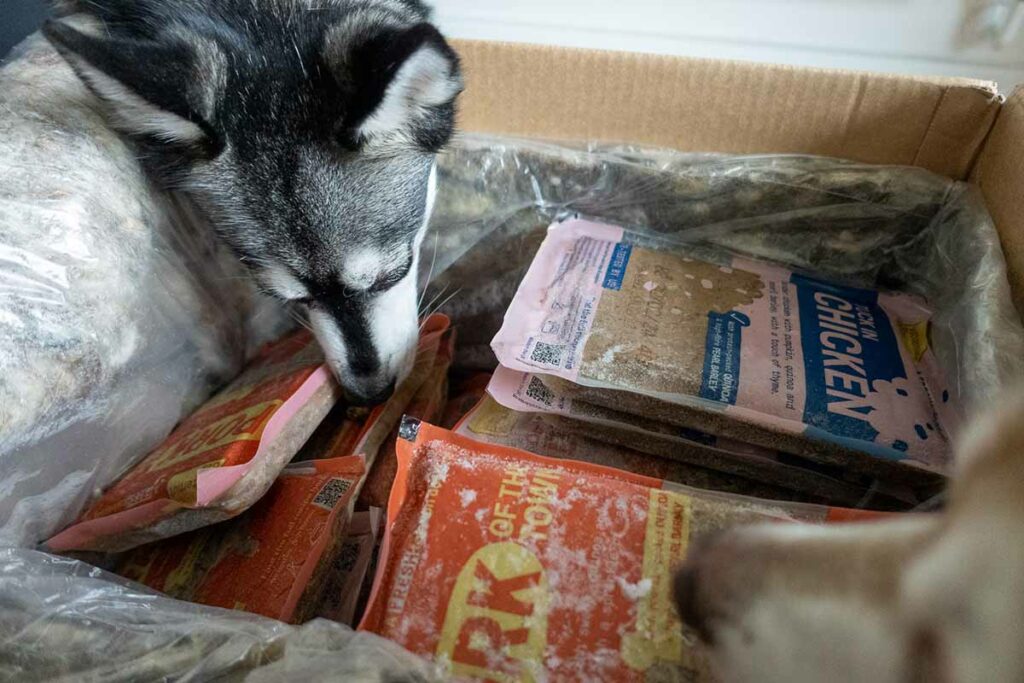 Butternut Box are a fresh dog food company based within the UK who are providing British dog owners with the opportunity to feed balanced and complete meals to their dogs rather than store-bought kibble or wet food. Having launched in 2016, Butternut Box have already fed over 100,000 dogs in the UK – a staggering number. Butternut Box only use human-grade, high-quality ingredients in their recipes so you can have confidence your dog is eating the best. All of their recipes contain at least 60% meat and the rest is made up of fruit, vegetables and superfoods. They have clear and transparent labelling so you know exactly what your dog is eating and you'll recognise all the ingredients unlike confusing labels sometimes found on store-bought dog food. Butternut Box cook their meals at low temperatures to protect the integrity of the ingredients and lock in maximum flavour for your dog. The meals are frozen before being shipped to your door. They've got a minimum of 10 different recipes so there's something for every dog no matter their preference. For instance, they've got grain and grain-free options. Butternut Box are hoping to help the UK tackle the dog obesity problem so their meals are tailored to meet each dog's specific needs. You'll have to fill out their sign-up questionnaire to provide key details about your canine companion. Once you've got your dog's meal plan, you can select frequency of deliveries. You'll save money if you go for a monthly delivery but you will require more freezer space. Butternut Box have a sustainable approach to their business, with the majority of their packaging recyclable. They've got a stellar reputation with an average 4.9/5 score on Trustpilot based upon over 30,000 reviews. Butternut Box are known for being a great option if you've got a dog who has a sensitive digestive system. They're a hit with picky eaters too!
Our Experience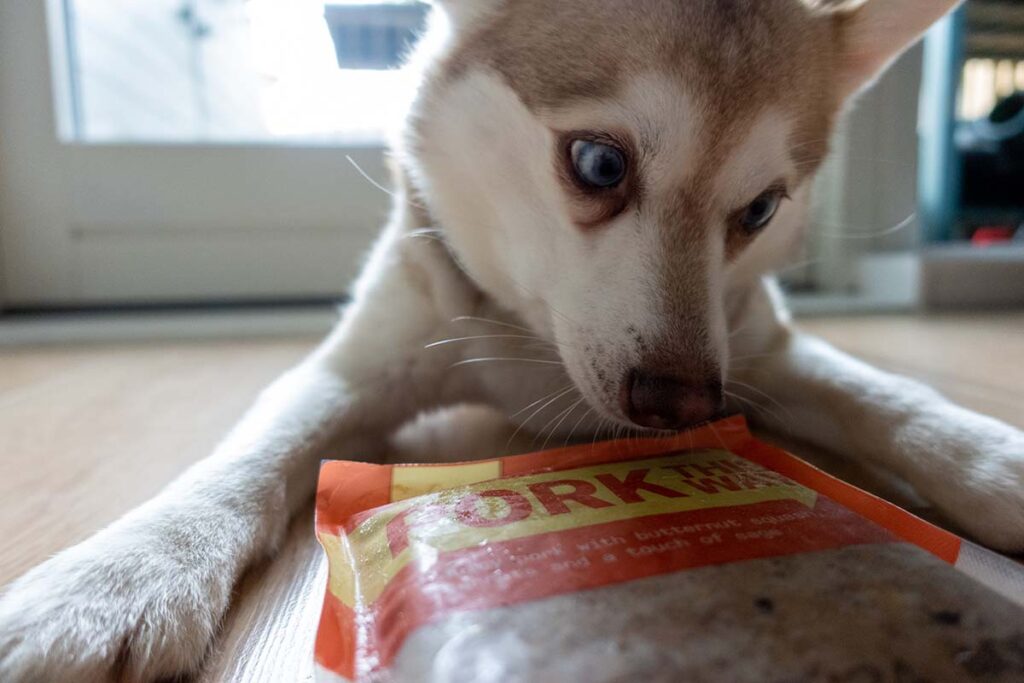 We've had a great experience feeding Butternut Box to Copper and Skye. After we initially struggled to find dog food that agreed with their tummies and kept them motivated at mealtime, we turned to Butternut Box. The transition was simple – we slowly introduced their new fresh meals over a couple of weeks. Copper and Skye almost immediately showed more interest at mealtime which was a fantastic to see as concerned pet parents. Skye is particularly fussy with her food and we had experienced lots of trips to the emergency vet in the past when we couldn't get her to eat. This was no longer a concern with Butternut Box. She is quick to finish all her Butternut Box meals, perhaps not with the same gusto as her brother Copper, but the bowl is always empty nevertheless. Since we made the switch to Butternut Box, we're delighted to see their range of recipes increase from 3 to over 10. It's perfect for picky eaters like Skye. We've never had any issues with deliveries or food quality. I also like that Butternut Box have become increasingly eco-friendly over the past three years.
To help you along your way, you can save 50% on your first Butternut Box order and 50% on your second Butternut Box order when you click here or below. So you're effectively getting a free box over the course of two orders and it gives you an opportunity to give Butternut Box for a significant amount of time to see if your dog likes their new food.
Bella & Duke
Website: www.bellaanduke.com
Bella & Duke differ from Butternut Box because they're a raw dog food company. If you're someone who has been researching raw dog food, you may find this brand interesting. They've got a reputation for being one of the best raw dog food companies in the UK. They source all their in ingredients from within the UK, so you can feel good about supporting local businesses. They're recipes use natural ingredients, contain least 80% meat and don't contain any grain or fillers. Bella & Duke explain on their website that they only use the highest quality ingredients in their recipes. Just like Butternut Box, Bella & Duke operate as a subscription service. So you'll have to fill out key details about your dog such as age, breed, weight, exercise routine and more. Once you've completed the initial questionnaire, Bella & Duke will help guide you in your choice of recipe and subscription plan. Your box of raw dog food will be shipped direct to your door so it's minimal fuss. You can permanently remove dog food from your shopping list as you'll never have to worry about picking it up during your food shop again. Bella & Duke will need to be stored in the freezer apart from a couple of packets ready to defrost and feed to your dog. As we're talking about raw dog food, you'll need to be particularly careful about how you handle the food – wash your hands thorough if you do come in direct contact with raw dog food. If you've got elderly people or young children in your home, you may want to think twice about feeding raw.
Our Experience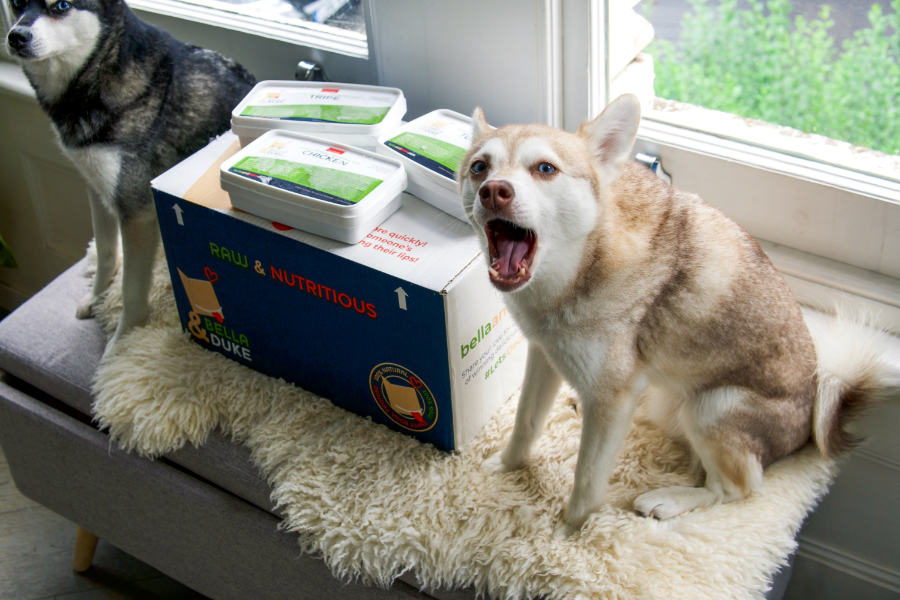 We gave Bella & Duke a try for a month but ultimately decided to go back to fresh dog meals. There's no doubt that Bella & Duke are a dependable dog food company who are a really good option if you want to give raw dog food a try. I liked that they're transparent about all the ingredients in their recipes. Bella & Duke had their customer service team give me a call to ensure I was informed about the food Copper and Skye were eating. The deliveries were reliable and the packaging was durable. It did require a lot of freezer space so that's something to keep in mind. It had a slightly more premium price but did contain a high percentage of meat. Overall, I found raw dog food a slightly more inconvenient way of feeding Copper and Skye, especially as they weren't particularly into the food. Skye would have some bites but rarely finished her food. Copper liked most of the recipes that he tried but I didn't sense the same mealtime excitement. However, this is just my experience and your dogs could be totally obsessed. Every dog is different!
Butternut Box Vs Bella & Duke: What's Our Verdict?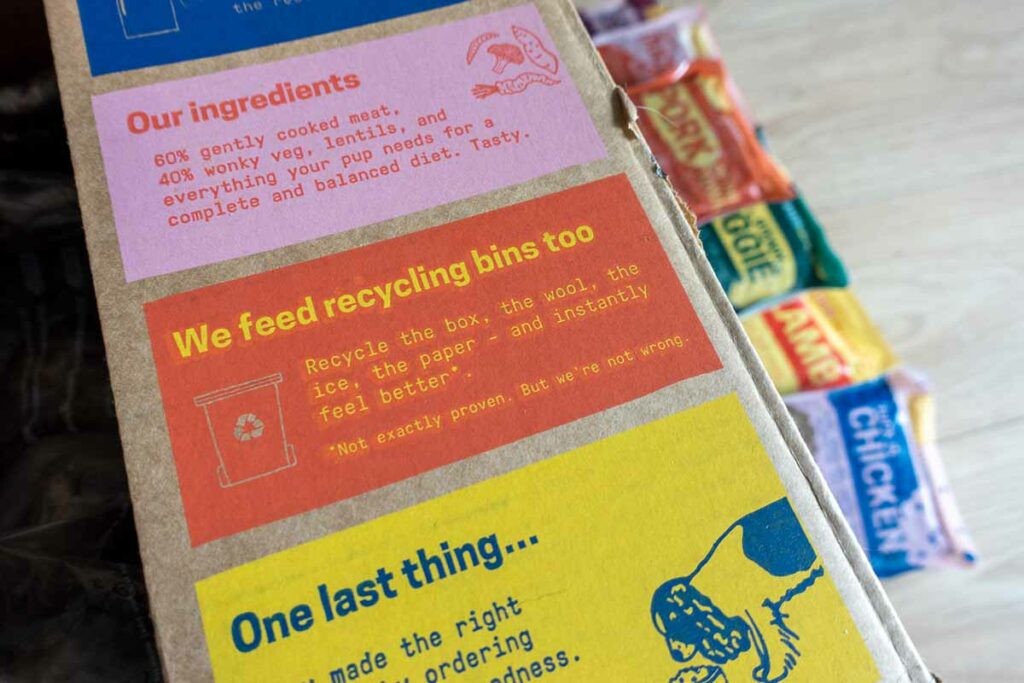 As you can probably guess at this stage, I'd recommend Butternut Box over Bella & Duke to our readers.
I like that Butternut Box's meals come in pre-portioned packaging that's easy to serve to Copper and Skye – I just cut the top and pour into their bowls.
They've got a great range of balanced and complete recipes and I can clearly see the real ingredients so I feel good about feeding human-grade meals to my dogs.
Butternut Box have a fantastic menu so you can find something that your dog will like, whether it's chicken, beef, turkey, duck, game, salmon, vegetarian or even plant-based.
Having said that, Bella & Duke do a good job with their dog food and if you're eager to try raw, you won't go wrong with this company.
But my personal preference would be Butternut Box based upon my success feeding their meals to Copper and Skye over the past five years or so.
Do We Have A Butternut Box Or Bella & Duke Discount Code?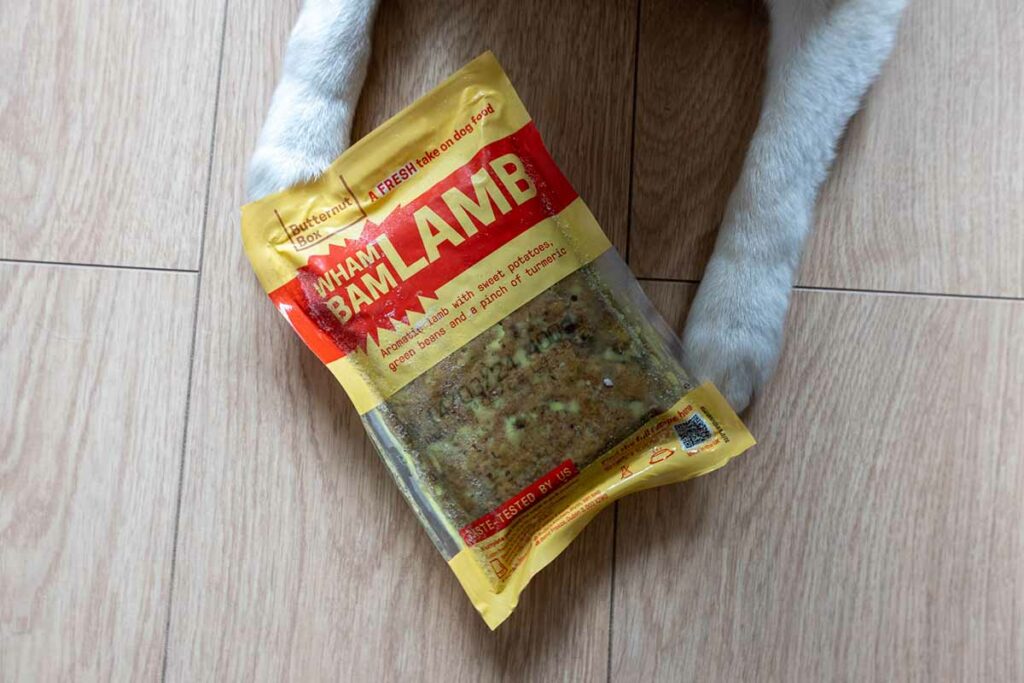 If you'd like to give Butternut Box a try, we've got an exclusive discount for our readers and followers. You can get 50% off your first box and 50% off your second box when you click this link: https://butternutbox.com/LifeWithKleeKai
Butternut Box Vs Bella & Duke – Our Conclusion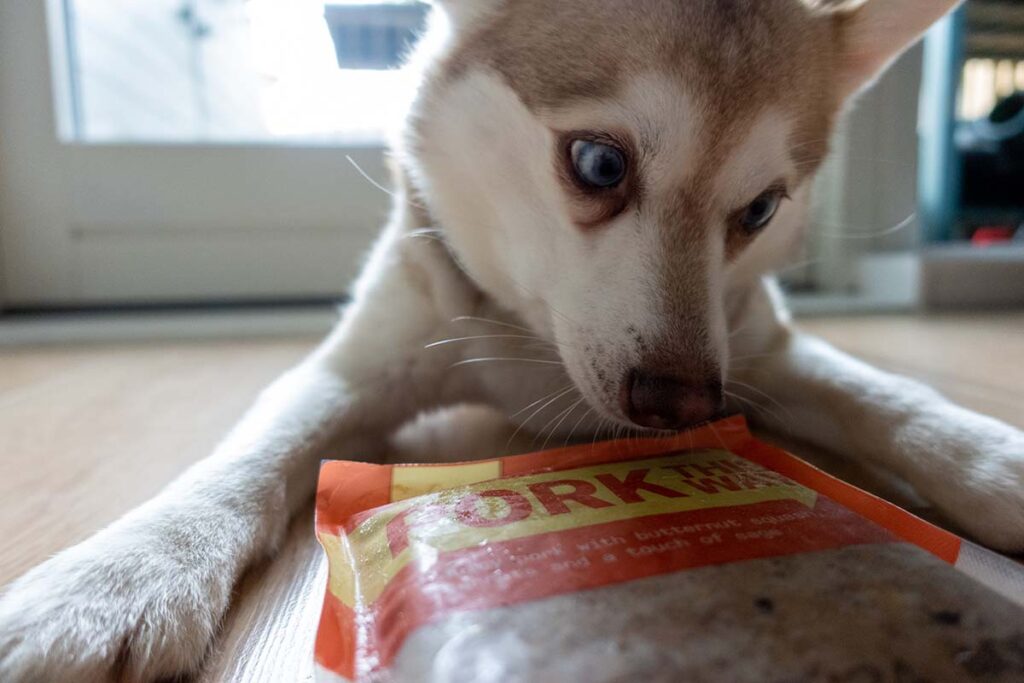 We've reached the end of our Butternut Box vs Bella & Duke comparison article.
They're two reputable dog food companies in the UK who offer different pet food formats to British dog owners who are looking to adopt a fresh approach to their pet's nutrition.
Butternut Box provide balanced and complete customised meals that are cooked at low temperatures before being frozen and delivered direct to your door.
Bella & Duke are a leading raw dog food company in the UK who offer a personalised subscription service to British pet parents who believe in the merits of raw.
My pick would be Butternut Box because I've had great success feeding their meals to my Alaskan Klee Kai but you won't go wrong with either company.