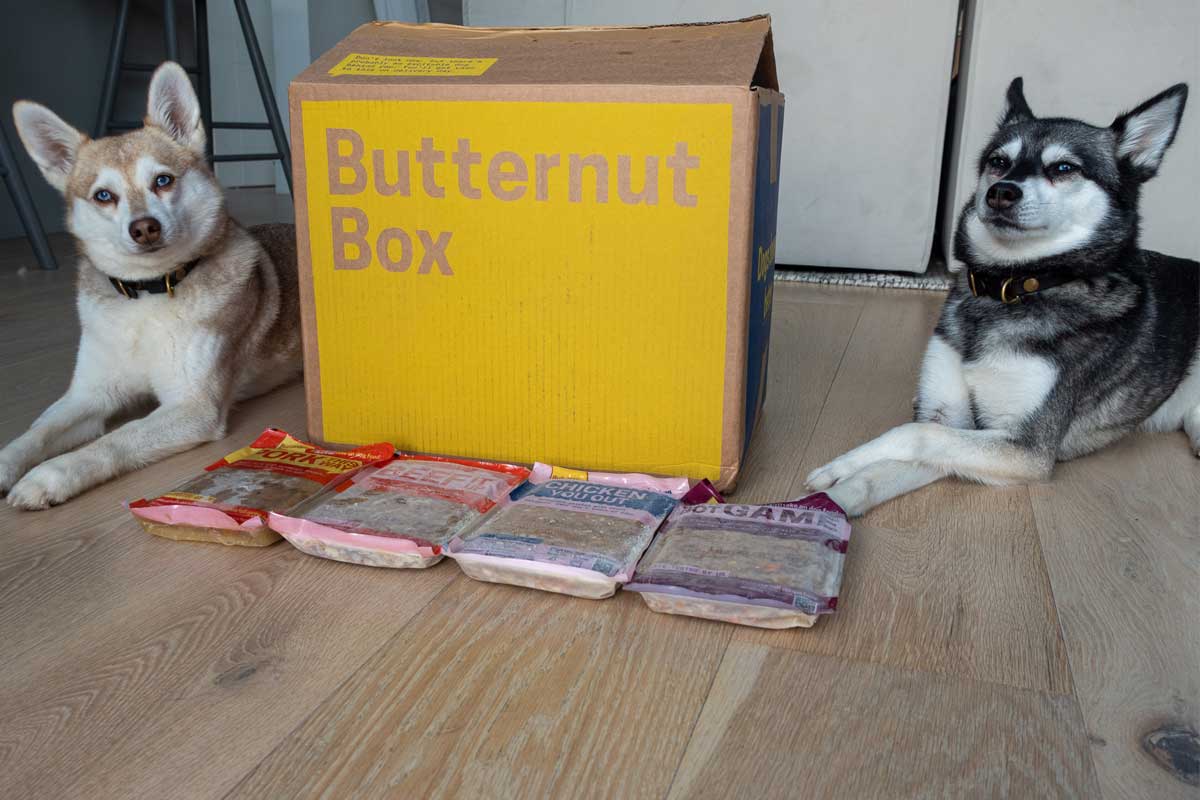 Are you thinking about switching to Butternut Box but wondering what's the difference between Butternut Box and raw dog food?
It's a question that I asked myself when I decided to make a change to Copper and Skye's diet a few years ago but I was unsure whether to go for Butternut Box or a raw dog food brand.
It can be confusing trying to decide what type of pet food diet is right for your dog and for your circumstances.
There's no shortage of pet food formats, whether you're looking at balanced and complete fresh meals, air-dried dog food, raw dog food, freeze-dried dog food or customised kibble.
As part of my work, I've had the benefit of feeding the majority of these formats to Copper and Skye. I've seen the benefits of feeding high-quality meals to my Alaskan Klee Kai dogs.
In this article, I'm going to tackle the question of Butternut Box vs raw dog food – and what's the difference. I'll also touch upon my experience feeding both to Skye and Copper.
Disclaimer: Before I go any further, I want to share that I'm currently feeding Butternut Box meals to Copper and Skye. We pay for these meals out of our pocket so it's not gifted. Having said that, if you click any of the links in this article, we may make a small commission. Any revenue generated will go towards me dedicating more time to creating content just like this for dog owners like me.
(Skip to the good part: You can save 50% on your first and second Butternut Box order by clicking here).
What Is Butternut Box?
Website: www.butternutbox.com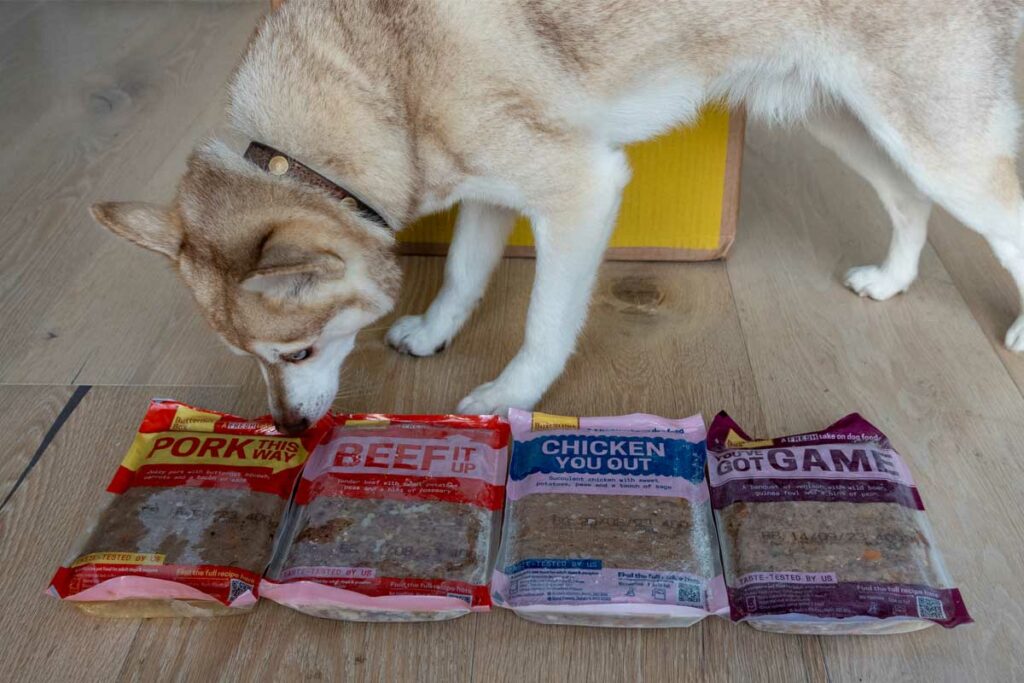 Butternut Box are a fresh dog food company who have been revolutionising mealtime for British dogs. They believe in putting the food back into dog food – so you won't find any additives, nasties or preservatives in their recipes. Instead, it's just high-quality ingredients. Butternut Box's recipes are comprised of 60% meat and 40% fruit, vegetables and other minerals. Butternut Box's team of vets make sure each recipe has the right balance of minerals and vitamins for dogs of all ages. They source the best quality ingredients from trusted suppliers so you can feel confident about your dog's meals. They cook their meals at low temperatures (90 degrees) to lock in the flavour and nutrients as well as remove any bad bacteria from the meat. Butternut Box will portion your dog's food based upon their requirements after you've filled out their questionnaire. Seeing as nearly 60% of dogs in the UK are obese, it gives dog owners peace of mind that their pooch is getting just the right amount. Once the meals are ready, they're frozen before being shipped direct to your door. By freezing your dog's meals, Butternut Box don't have to use any nasties or preservatives.
Dog owners will be required to fill out a questionnaire before signing up to Butternut Box so they can get an in-depth insight into your canine companion. You can share their exercise routine, how many treats they devour and any health conditions. Butternut Box will suggest some meals for your dog but you're free to choose from their range of 11 recipes. Their impressive menu was one of the reasons why Butternut Box appealed to me. Skye is a fussy eater so I love having the ability to vary her meals. You can select the frequency of delivery ranging from fortnightly to monthly. Butternut Box will ship your dog's meals direct to your door, using Woolcool to ensure the pouches are still frozen when you get to your box. Butternut Box have an eco-friendly approach so you can recycle most of the elements of your delivery.
When it comes time to serve your dog their Butternut Box meals, you'll need to defrost the meal pouch before cutting it open and serving direct into your dog's bowl. At the time of writing, I'm feeding Butternut Box to Skye and Copper at a cost of £70 a month. It's more than you'd pay for store-bought dog food but Copper and Skye haven't had any issues since switching to Butternut Box, which wasn't the case with kibble or wet food. This is just my experience – perhaps yours is different. But seeing the sheer volume of positive reviews on Trustpilot (average score 4.9 stars based upon over 15,000 reviews), I suspect many dog owners have experienced a positive change after switching their fussy eater or dog with a sensitive tummy to Butternut Box.
What Is Raw Dog Food?
Raw dog food is a hugely popular pet food format. If you've decided to ditch the kibble or gravy in favour of something healthier for your dog, you're probably familiar with raw dog food already. The basic concept is that dogs should eat a raw diet like their ancestors would've eaten in the wild centuries ago. Therefore, it's a diet that's high in meat. Most will opt for a 80-10-10 formula (80% meat, 10% bone, 10% offal). However, some raw dog food brands and some dog owners who make their own raw food will add in some eggs, fish, fruit, vegetables and superfoods.
Before I go any further, I should point out that there are risks associated with feeding a raw diet to dogs. In fact, the UK government has a page dedicated to the handling of raw pet food and the associated risks. They stress the importance of washing hands thoroughly with soap and hot water after handling raw food, storing and defrosting away from where human food is stored and prepared, and cleaning and disinfecting all surfaces that the raw pet food touched.
Raw meat can be contaminated with harmful bacteria such as Salmonella, Campylobacter, Listeria and E. coli. Some pet foods, such as those which are described as being lightly steamed or lightly cooked, may not have been fully pasteurised and may still potentially contain harmful bacteria. People can become unwell after handling raw pet food and treats. It is therefore important to take the correct precautions before, during and after feeding pets.

Gov.UK
In the UK, there's a number of reputable raw dog food companies who have been providing pet owners with the opportunity to feed raw. Much like Butternut Box, they'll source their ingredients from trusted suppliers as they strive to use meat from high welfare farms. In my experience, I found some raw dog food companies may ask customers to fill out a questionnaire so they can learn more about your dogs. They may even offer a consultation with one of their experts. I have noticed that other raw dog food companies will leave dog owners to work out the best option for their four-legged friend. Most brands will offer a choice between a traditional raw food option (aka 80-10-10) and raw food combined with some fresh ingredients. Either way, once you've made your selection, they'll ship their meals to your door using ice to keep it frozen. Most raw dog food brands have an environmentally-friendly approach like Butternut Box.
The price of raw dog food can fluctuate but I found that I'd typically pay between £80-100 for a supply of raw dog food that would last a month for Copper and Skye. You'll need a sizeable freezer to store the meals as they're usually stored in trays that aren't as convenient to organize. So you may have to make room in a couple of shelves in your freezer.
Butternut Box Vs Raw: What's The Difference?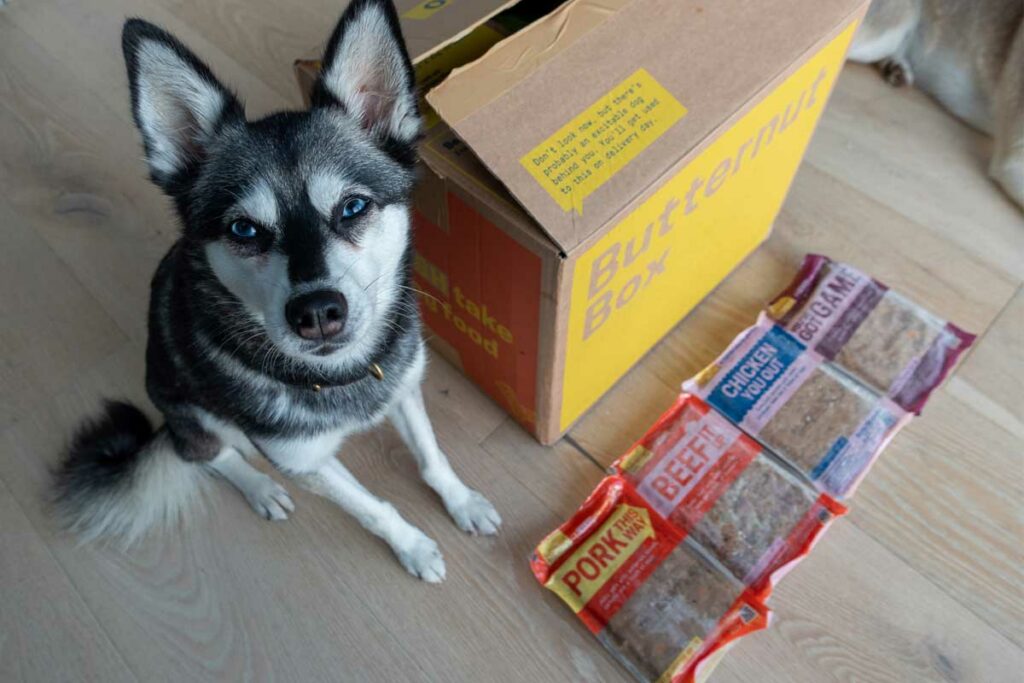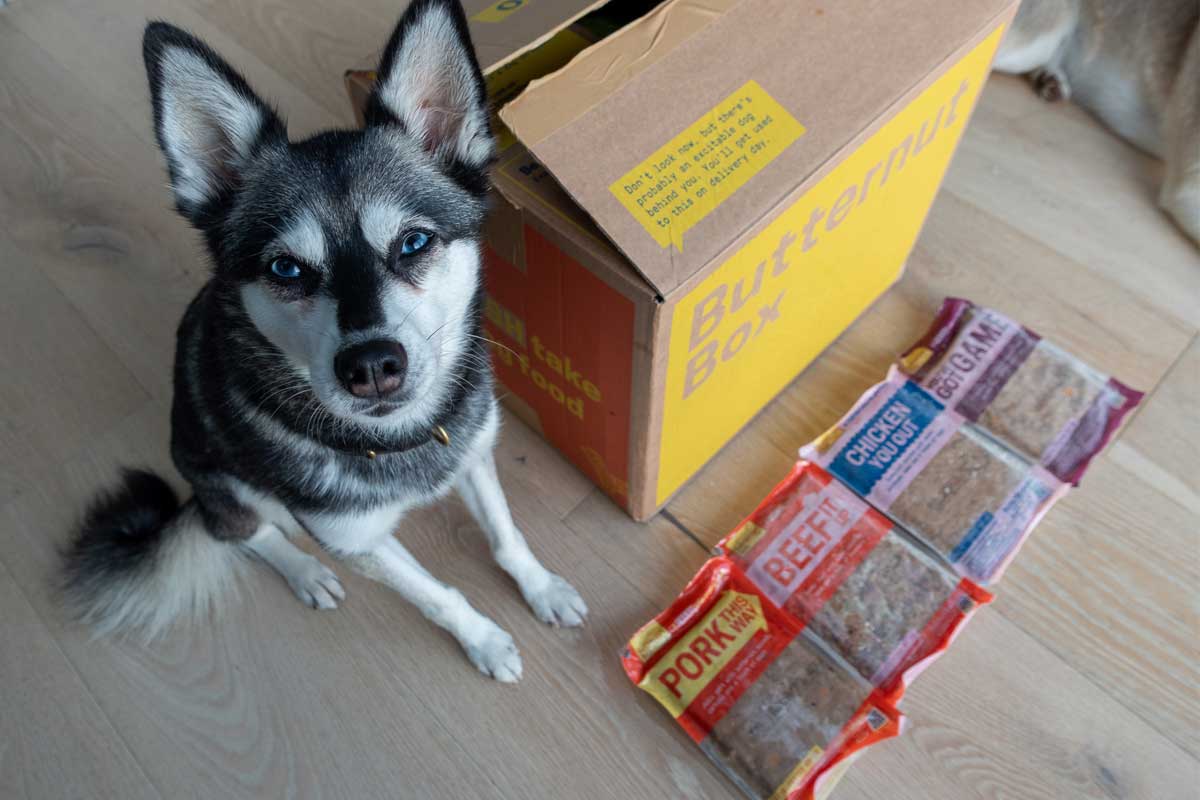 So what's the difference between Butternut Box and raw dog food?
Well, Butternut Box's meals aren't classified as raw because they've been cooked at low temperatures to kill bad bacteria in the meat.
Raw dog food hasn't been cooked so it could potentially contain harmful bacteria as listed in the UK Gov quote above.
That's the key difference.
Butternut Box Vs Raw: Our Verdict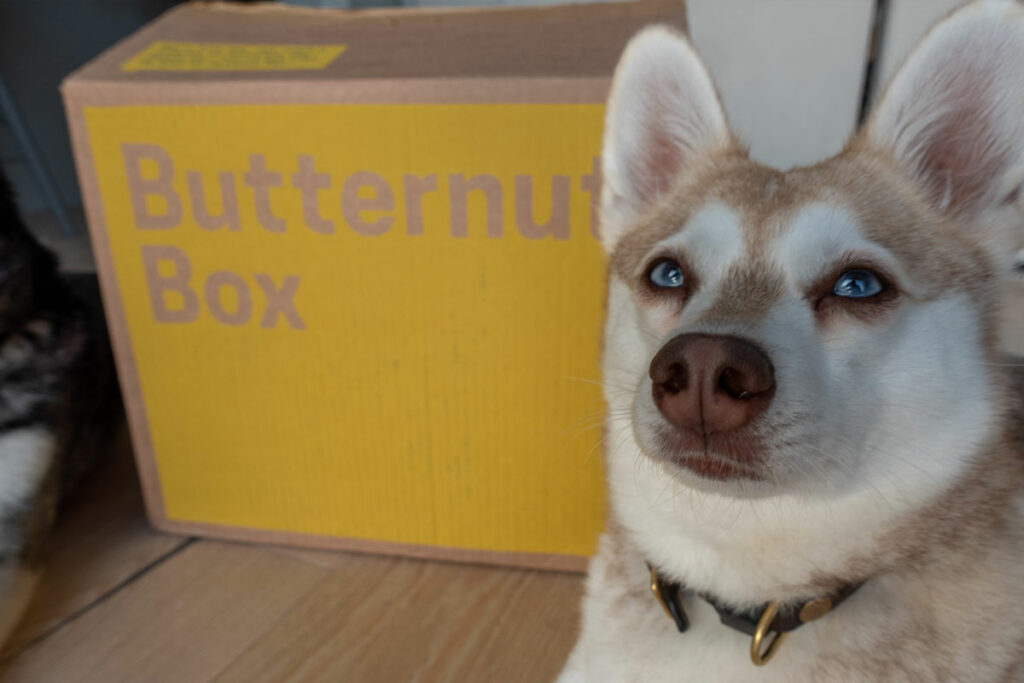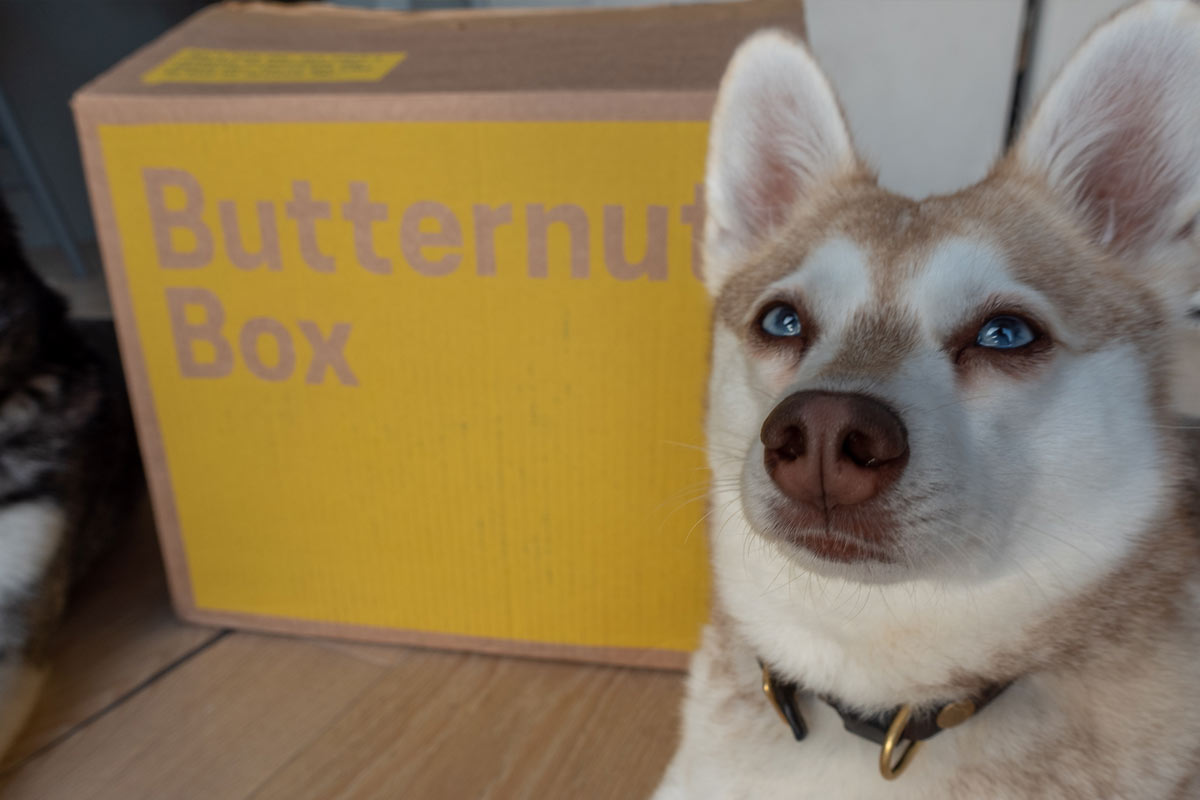 I've fed both Butternut Box and raw dog food to Copper and Skye.
While there is one raw dog food brand that Copper and Skye enjoyed, they weren't big fans of the majority of the raw dog food companies I've tried. Of course, every dog is different and your dog may love every brand of raw dog food.
Copper and Skye have struggled with sensitive tummies in the past, while Skye can be extremely picky with her food. She refused to touch every raw dog food brand that I tried to feed her apart from one. Copper was a more willing participant but his favourite was the same.
Having said that, I've stuck with Butternut Box in the long term for a number of reasons. I love their array of recipes, which are perfect for picky Skye. I usually select around six different recipes so I can vary her meals every couple of days. Butternut Box is the only brand that she's never gone off. Copper is more food motivated and there's no doubt that he adores his Butternut Box meals.
As a dog owner, I like that Butternut Box's meals use high-quality meat that are prepared into delicious meals. They're easy to store in the freezer (much easier than the trays that the majority of raw dog food companies use). I keep a couple of defrosted pouches in the fridge.When it's mealtime, it's as easy as rip-and-serve so there's no fussing around. If you've got an open packet in the fridge, you don't have to stress about blood leaking out of the packet. I found it less faff and fuss feeding Butternut Box than raw dog food.
Butternut Box are good value for money. I pay around £70 a month for my two dogs, which is between £10 and £30 less than most raw dog food brands that I've previously tested.
How To Save On Your First Butternut Box Order
We've got an exclusive discount for our readers and followers. You can get 50% off your first and second Butternut Box orders when you click this link: https://butternutbox.com/LifeWithKleeKai
Butternut Box Vs Raw: Wrapping Up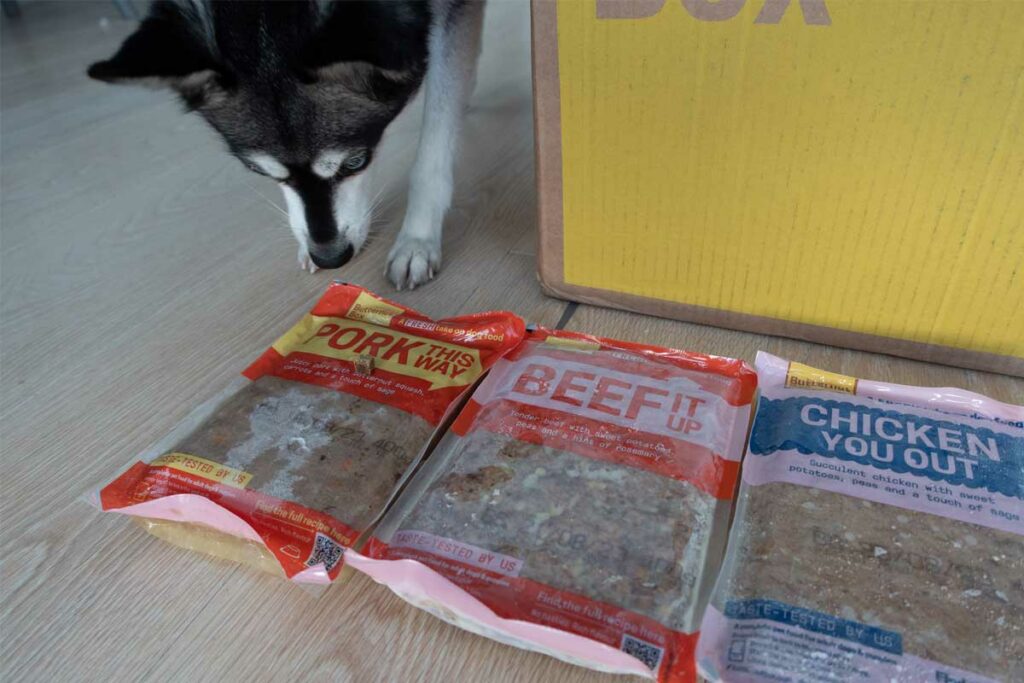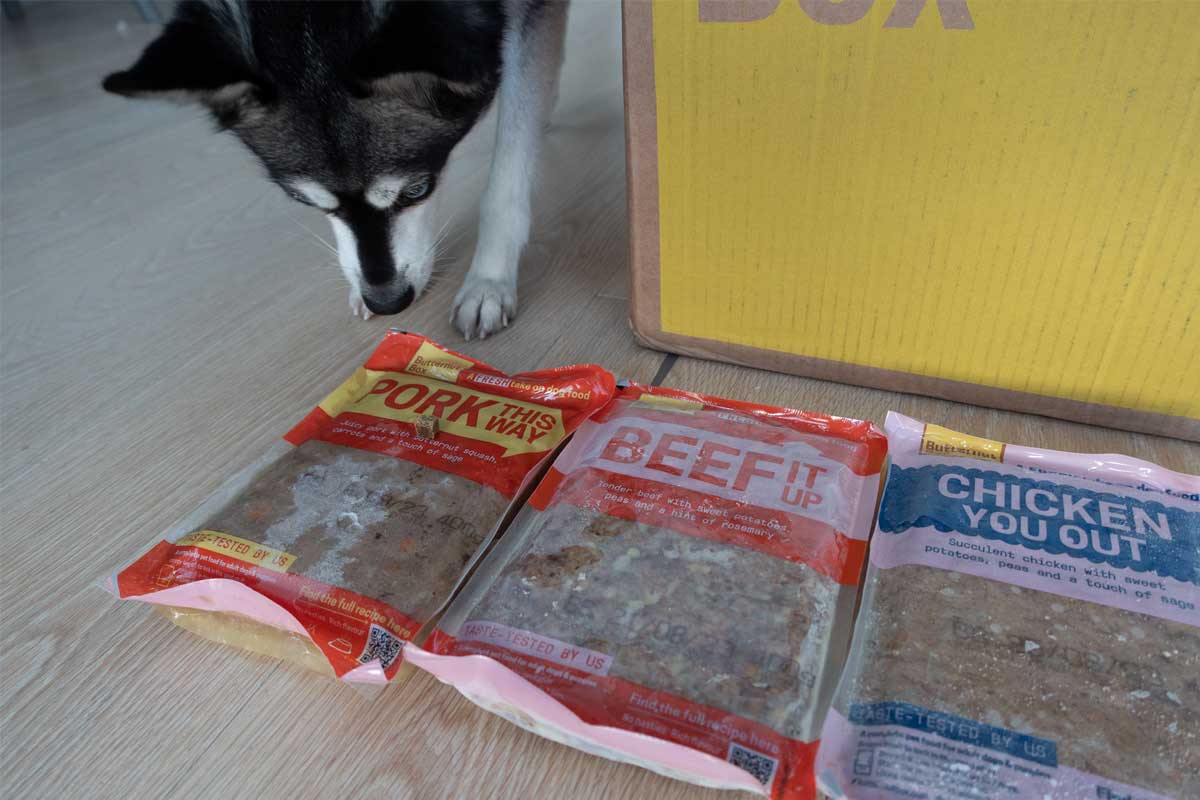 So we've reached the end of my Butternut Box Vs Raw article.
Butternut Box isn't the same as raw dog food despite using high quality meat that usually makes up 60% of their recipes. Unlike raw dog food, Butternut Box cook their meals at low temperatures before their frozen to lock in flavour and nutrients as well as kill any potentially bad bacteria in the meat.
Having tried both pet food formats, my personal preference would be Butternut Box based upon my Alaskan Klee Kai's love of their meals, the pre-portioned meal pouches, simplicity of meal preparation and variety of recipes.
But if you've decided to give raw dog food a try or you're already feeding raw and you're going to stick with it, we're happy that you've ditched the kibble in favour of something balanced, complete and natural.