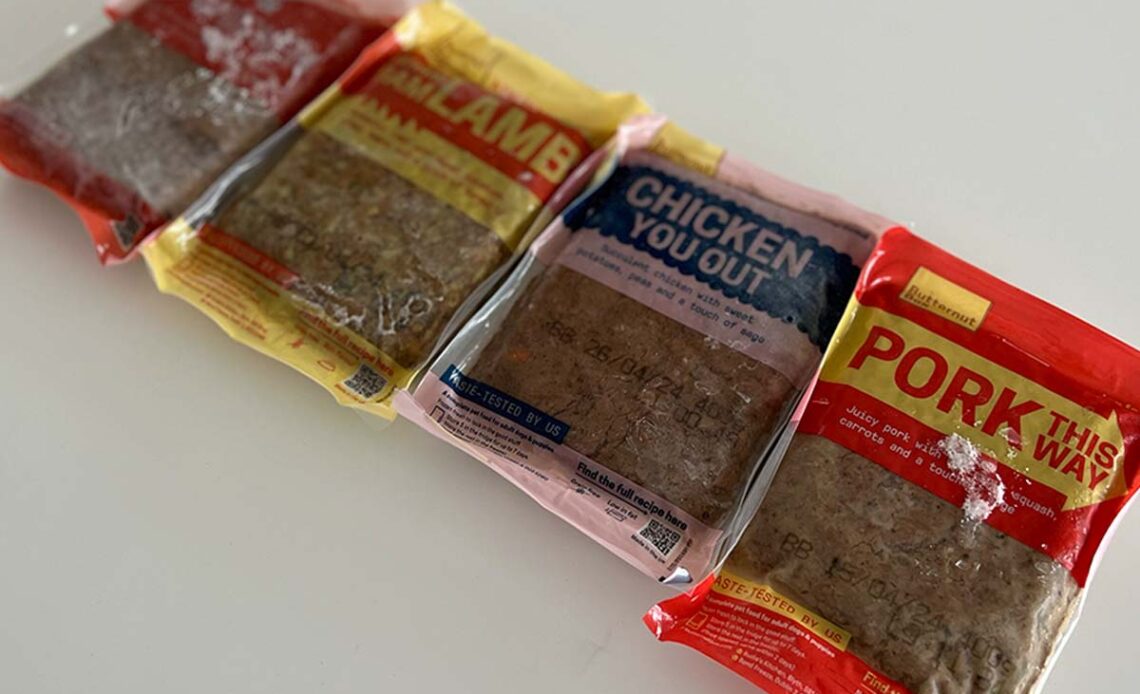 Last Updated on September 15, 2023 by Kieran
Have you been thinking about giving Butternut Box a try but you want to know what are some of the best fresh dog food alternatives?
There's been a welcome shift towards fresh dog food over the past couple of years in the UK and Europe as dog owners look to adopt a fresher approach to dog food for their pets.
If you're familiar with the fresh dog food scene in the UK, you'll almost certainly have heard of Butternut Box. They're perhaps the leading fresh dog food delivery service in the UK after launching their tailor made dog food in 2015.
However, Butternut Box are facing increased competition from other dog food brands who are also looking to provide fresh dog food.
Before we go any further, I want to point out that I believe Butternut Box is the best dog food delivery company in the UK. Long-time readers and subscribers will be aware that we've fed Butternut Box to Copper and Skye over the past five years.
But we've had the chance to try other dog food subscription services through social media campaigns.
In this article, I'm going to highlight some of the best alternatives to Butternut Box in the UK if you're looking to find dog food that is similar to Butternut Box.
Alternatives To Butternut Box
How We Found Butternut Box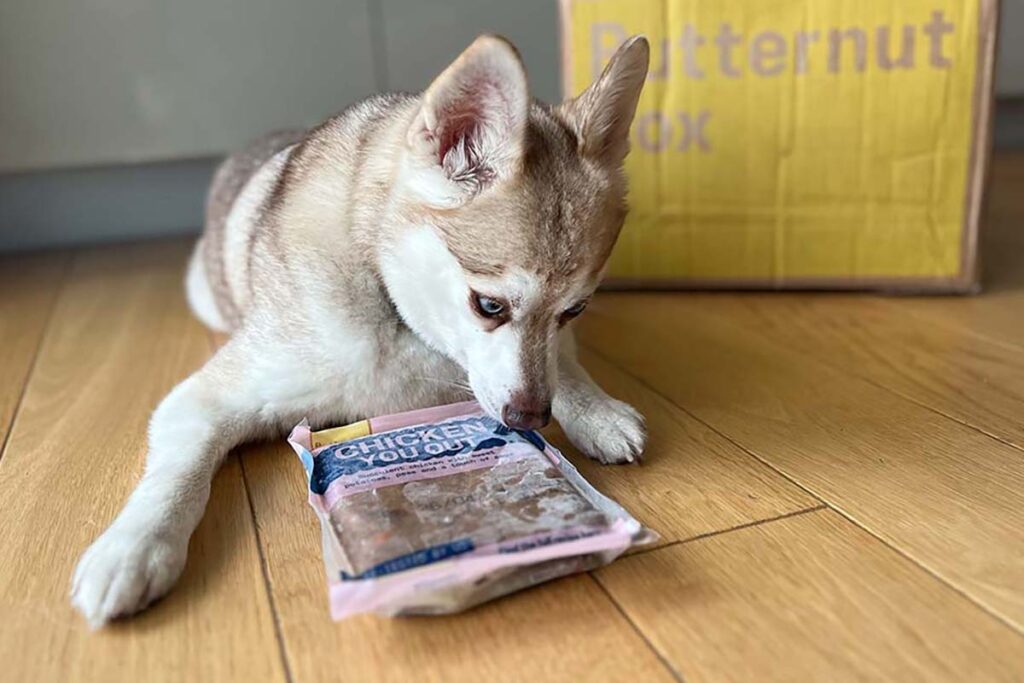 We made the switch to Butternut Box in 2019 when we decided to ditch dry food in favour of fresh dog food.
While we had read lots of good information about raw food, we decided that we preferred the idea of feeding dog food that uses human grade ingredients in freshly cooked meals.
Once we decided to ditch kibble and wet food bought at our local supermarket, we started to research fresh dog food and came across Butternut Box.
What Did Copper And Skye Think
Copper and Skye loved their Butternut Box meals and it's been incredible to see the dog food brand's growth since we signed up to the dog food subscription service.
When we initially signed up to Butternut Box, they had just three recipes on offer. At the time of writing, Butternut Box offer over 10 different recipes that include grain and grain free options.
Whether you've got a fussy eater, dog with flatulence, obese dog or underweight pet, I truly believe Butternut Box could be a great option for you.
But I understand some dog owners might be concerned about freezer space, the price of fresh dog food, and the inclusion of certain natural ingredients in recipes.
Ready For A Change?
Perhaps you've been reading about raw food and you want to make a change to your dog's diet after a significant spell feeding Butternut Box.
If that's the case, we're going to highlight some dry food brands, raw dog food brands and other dog meals that could cater to your needs.
Why We Stuck With Butternut Box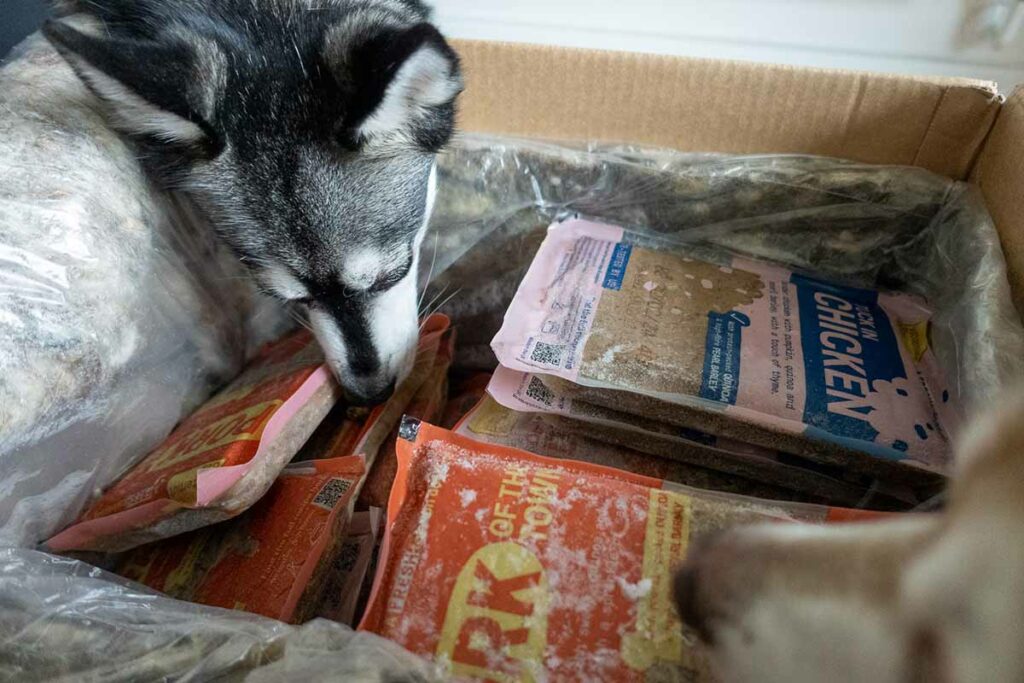 Before I highlight some alternatives to Butternut Box, I want to explain why we stuck with the dog food delivery company through our time in the UK.
Perfect For Picky Dogs
Copper and Skye are fussy eaters and the latter has a sensitive tummy that didn't do well on a dry dog food or wet dog food diet.
As business owners and parents, we didn't have time to make home cooked meals but we really wanted to feed freshly cooked meals.
That's how we found Butternut Box!
Convenience
Butternut Box have kept Copper and Skye fed for the best part of five years and whenever we've dabbled with the idea of making a change to their diet, we've always returned to Butternut Box.
Copper and Skye love their dog food and we like the convenience of dog food delivery. It's super convenient for dog owners with busy lifestyles but want their dogs to eat home cooked meals.
We even invested in a second freezer to ensure we had sufficient freezer space to store all the recipes.
Ever-Expanding Menu
Butternut Box are constantly innovating and expanding their range of recipes. Seeing as Skye can be fussy, we love having the ability to rotate the protein source she's eating.
Butternut Box gently cook their human grade ingredients to lock in nutritional goodness and flavour before the meals are frozen and shipped to your door.
There's no denying that fresh food costs more than dry food or wet food but we've saved a lot of money on vet bills. There's no dash to the emergency vet on the weekend because Skye isn't eating!
Speak To Butternut Box
If you've been feeding Butternut Box to your dog and you're thinking of making a change, I'd encourage you to give Butternut Box a call to see if they can suggest any changes before you make a change to your dog's diet.
On the other hand, if you haven't fed Butternut Box to your dog and you're thinking about signing up for the first time, I'd encourage you to give it a try.
To help you along your way, you can save 50% on your first Butternut Box order and 50% on your second Butternut Box order when you click here or below. So you're effectively getting a free box over the course of two orders and it gives you an opportunity to give Butternut Box for a significant amount of time to see if your dog likes their new food.
Pure Pet Food
The Basics
Pure Pet Food offer dry dog food that can cater to pet parents who want to feed their dog meals using natural ingredients but don't want to deal with the issue of freezer space.
Based in Yorkshire, Pure Pet Food have created tailor made dog food that can meet the requirements of your dog to ensure they're living an active and healthy lifestyle.
How Pure Works
They only use human grade ingredients in their recipes that are cooked at low temperature to create their fresh dog food.
Pure Pet Food, just like Butternut Box, require dog owners to fill out a sign-up questionnaire so they can get to know your dog and their habits.
Once they've got the key details about your dog, Pure Pet Food will offer a suggested meal plan but you can still make changes before signing up to their subscription service.
How To Prepare Pure
Unlike Butternut Box, Pure send your dog's gently cooked dog food in a bag with a scooper for the food and a scooper for the water.
You'll have to do some work – you need to mix the food with some water to create your dog's meals.
Once you've finished mixing, you can serve the fresh dog food to your dog and store the bag in a cool, dry space such as the cupboard.
To feed Pure to your dog, you won't need to stress about freezer space. I think that's a big pro – you can stick to dry food that uses natural ingredients and tailored to your dog.
Our Verdict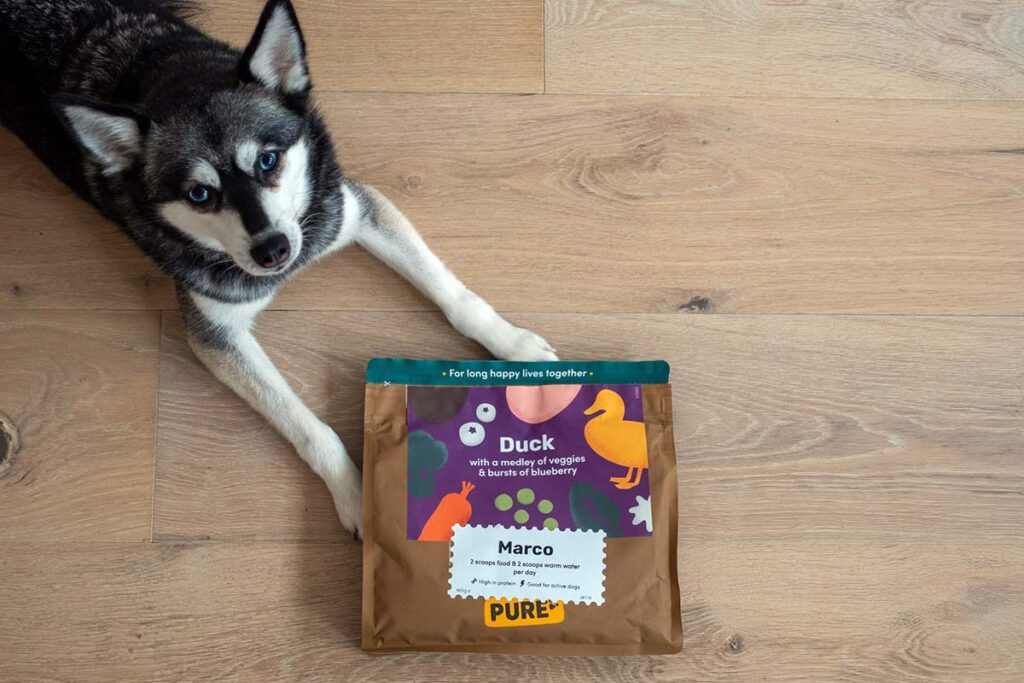 Copper and Skye did enjoy their Pure meals but there's no escaping the fact that the dry food looks less fresh than Butternut Box's meals.
Having said that, it's cheaper, requires less space and Pure still have a stellar reputation with dog owners. Just check out their Trustpilot reviews to see how many dogs they've helped. Pure seem to be a big hit with picky dogs and dogs with sensitive tummies.
For that reason, I feel confident suggesting Pure Pet Food as an alternative to Butternut Box.
Where To Buy
You can only buy Pure Pet Food directly from their website. So you'll need to sign up to their subscription plan by clicking this link and heading to their website.
New customers can get 30% off their first order and 10% off their second order when they click here or the button below.
Naturaw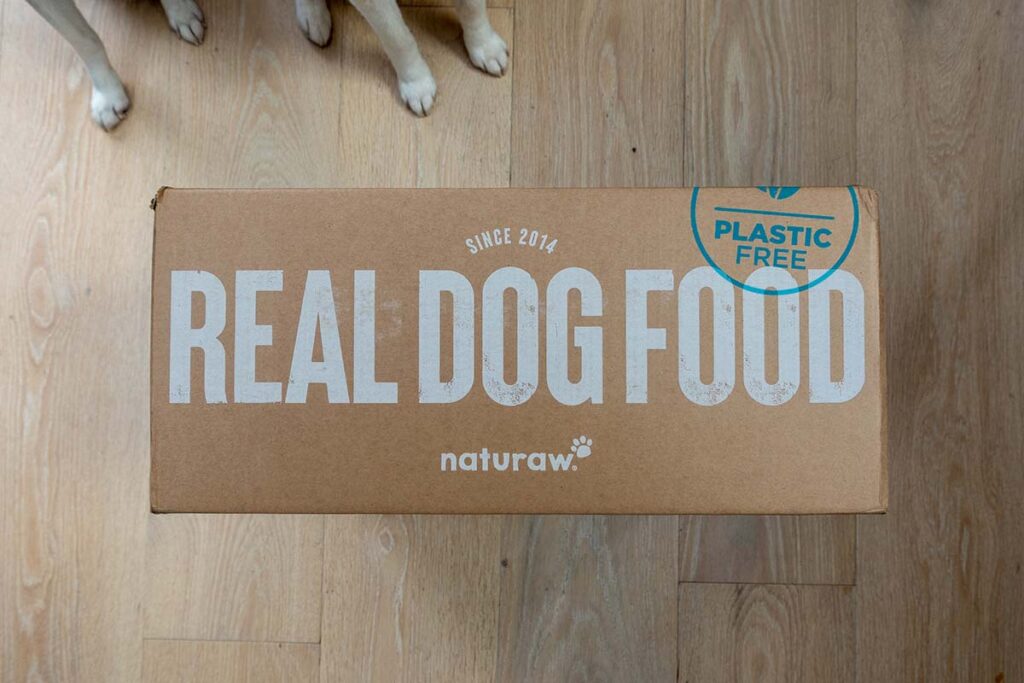 The Basics
The idea of raw dog food is a controversial one. You'll find some dog owners who swear by the benefits of a raw fed diet, while other pet parents (or professionals) have reservations about feeding raw.
We've always been interested in a raw food diet but ultimately didn't want to deal with some of the hassles associated with these meat meals.
With young children at home and a person with auto immune issues, it's a particular food format that we've been reluctant to try.
But if we were to make the switch to raw dog food, we'd consider Naturaw.
They're a fresh dog food delivery company who offer the opportunity to feed raw in a convenient way.
How Naturaw Works
Natural use 100% British meat that is sourced from high welfare British farms. So you can feel good that your dog's meals contain human grade ingredients sourced from responsible suppliers.
Their raw food recipes are vet approved so you can have peace of mind that your canine companion is eating a healthy diet comprised of quality ingredients.
Naturaw offer meat-only recipes but include balanced and complete meals that contain fruit, vegetables and other superfoods.
They use plastic-free packaging that is compostable and they're trailblazers when it comes to their sustainable practises (their factory is solar powered!).
How To Prepare Naturaw
Naturaw's meals are stored in recycable packaging that you'll have to open and scoop the raw meat from the pouch into your dog's bowls.
It's important to be very careful handling raw food and practise good hygeine. You'll want to keep young children out of the way.
I'd recommend investing in tupperware to place the rest of the raw meat if you don't use all the raw food in one go because it can get messy.
Our Verdict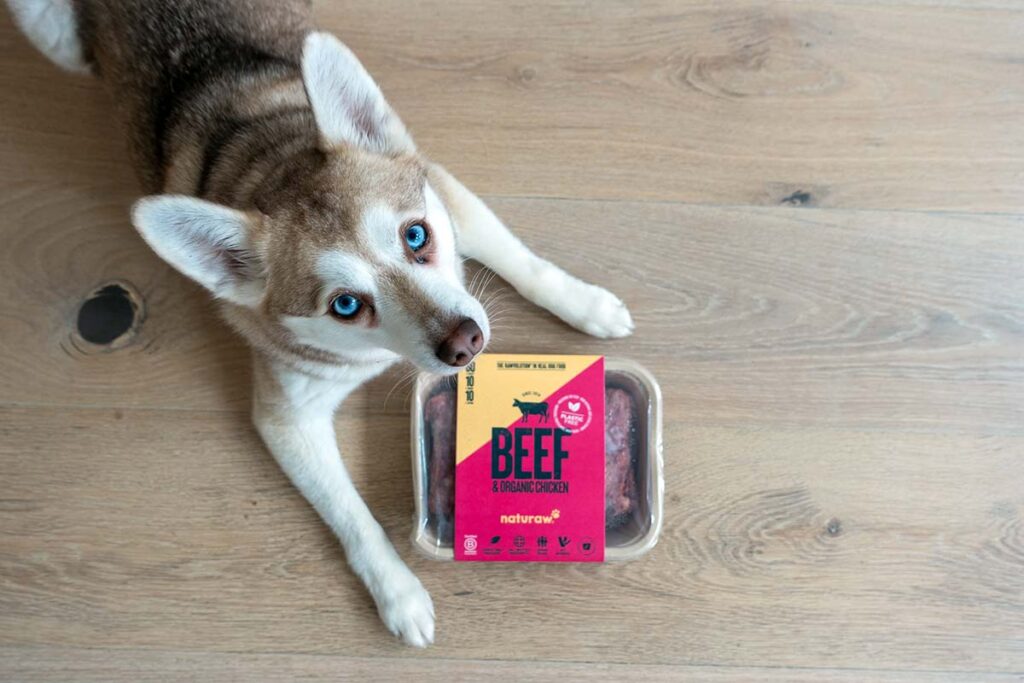 Naturaw believe dogs should be eating fresh, natural, raw food – not processed dog food that contains additives, nasties and other bad stuff.
As dog owners, we really believe in feeding fresh dog food and we were inspired to give raw food a try once we read more about Naturaw.
We loved that they use human grade ingredients in a raw food diet before your dog food is delivered direct to your door.
What makes their dog food delivery service stand out is their eco-friendly approach (by far the most sustainable of the dog food brands we've encountered).
While their green approach is great, Copper and Skye enjoyed their dog food which came as a surprise.
Previously our Alaskan Klee Kai have been reluctant to try raw food but Copper and Skye loved Naturaw.
Like a lot of dog food that uses human grade ingredients, tailored to your dog, their service isn't cheap. You'll have to pay more than regular dog food companies who offer dry dog food or wet food.
Where To Buy
If you're interesting in giving Naturaw a try, you can place an order through their website. You can click here or hit the button below to get started.
Forthglade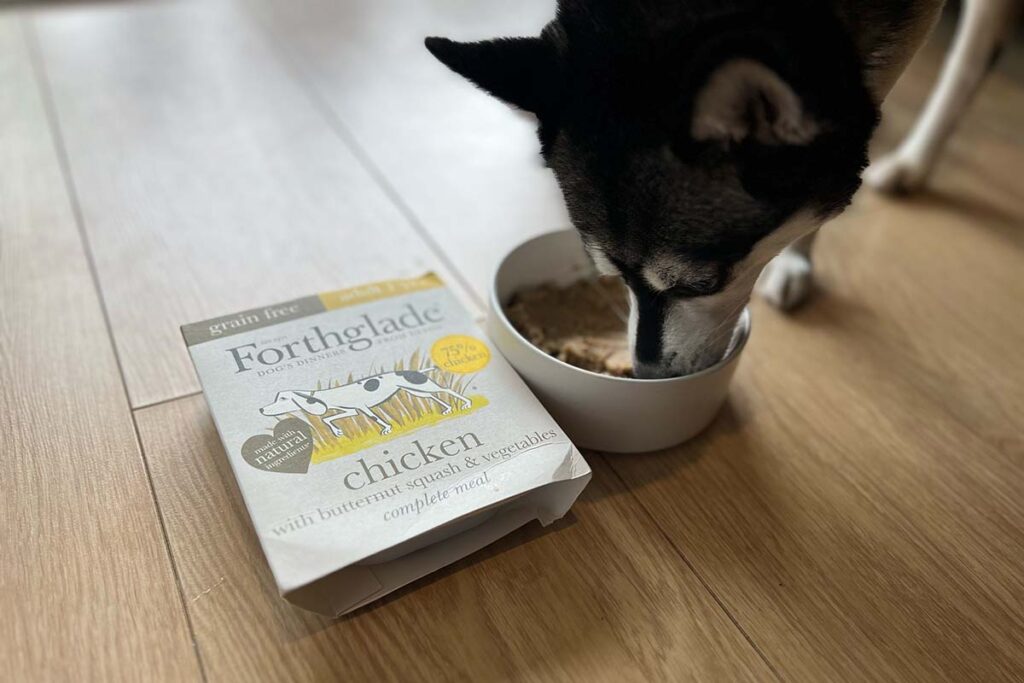 The Basics
When you research Butternut Box, you'll often see their dog food pitched against Forthglade.
They're a well-established dog food brand in the UK thanks to their range of wet dog food, dry kibble, fresh meals and other supplementary products.
Forthglade's unique selling point is perhaps that their dog food is grain free. So whether you opt for dry kibble or wet dog food, your dog won't be eating grain!
How Forthglade Works
Their website explains that their recipes cater to dogs of all different ages, whether you've got a puppy, adult or senior dog.
Dog owners who want adopt a fresher approach will be encouraged to learn Forthglade's recipes don't contain any additives or nasties.
They only use natural ingredients that are cooked in the kitchens in Devon before being sold online or in your local supermarket.
How To Prepare Forthglade
Forthglade don't offer the same customization as Butternut Box, Pure Pet Food or Naturaw.
You'll need to pay close attention to your dog's meal and see how much they'll need to eat based upon their breed or weight.
If you don't want to faff around with a sign-up questionnaire, you may appreciate Forthglade's frictionless approach. You can even order Forthglade from Amazon!
Our Verdict
We've tried Forthglade's complete meals with mixed success.
Copper liked his Forthglade meals but Skye was a bit more particular with their food.
Having said that, I've noticed a lot of dog owners giving Forthglade good reviews so I wanted to include them as an option for British pet parents.
If you don't want the hassle of filling out answers about your dog, you may like the simplicity of heading to Amazon and placing an order.
While their meals aren't tailored to your dog, they still use quality ingredients so you can feel good about your dog's food.
Where To Buy
You can buy Forthglade on Amazon where they have a store page. So it's pretty simple to get their dog food if you already have an Amazon account. To place an order, click here or hit the button below.
So What Do We Recommend?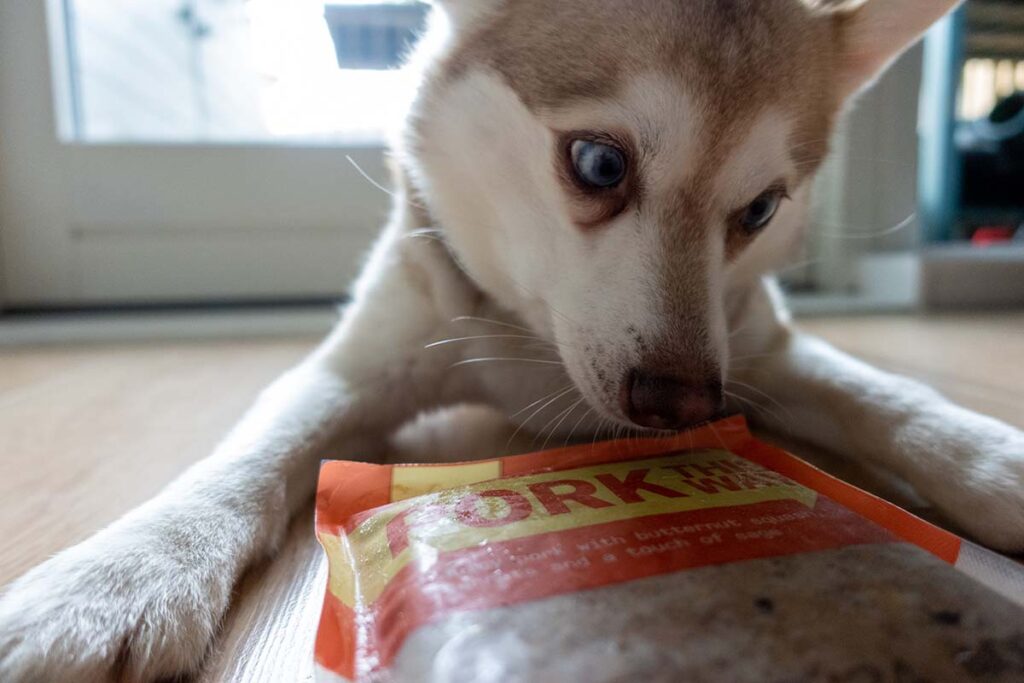 Look, as a dog owner who likes to feed fresh dog food, I'll always recommend Butternut Box.
Why We Love Butternut Box
We've had so much success feeding Butternut Box to Copper and Skye, I find it difficult to overlook their dog food.
As Klee Kai owners, we appreciate their cooking method, their ingredients, range of recipes and overall service.
There's a reason why Butternut Box have an average score of 4.9 stars based upon over 30,000 reviews on independent review website Trustpilot.
If you're thinking about leaving Butternut Box, we'd urge you to speak to the brand to see if they can help or make a change to your dog's Butternut Box meals.
How To Save 50% on two Butternut Box Orders
Alternatively, you may be thinking about giving their dog food a try but you're worried about the costs.
If that's the case, we can offer 50% off your first Butternut Box order and 50% off your second Butternut Box order. So that's almost a risk-free chance to try Butternut Box over a two-box period. 
The Bottom Line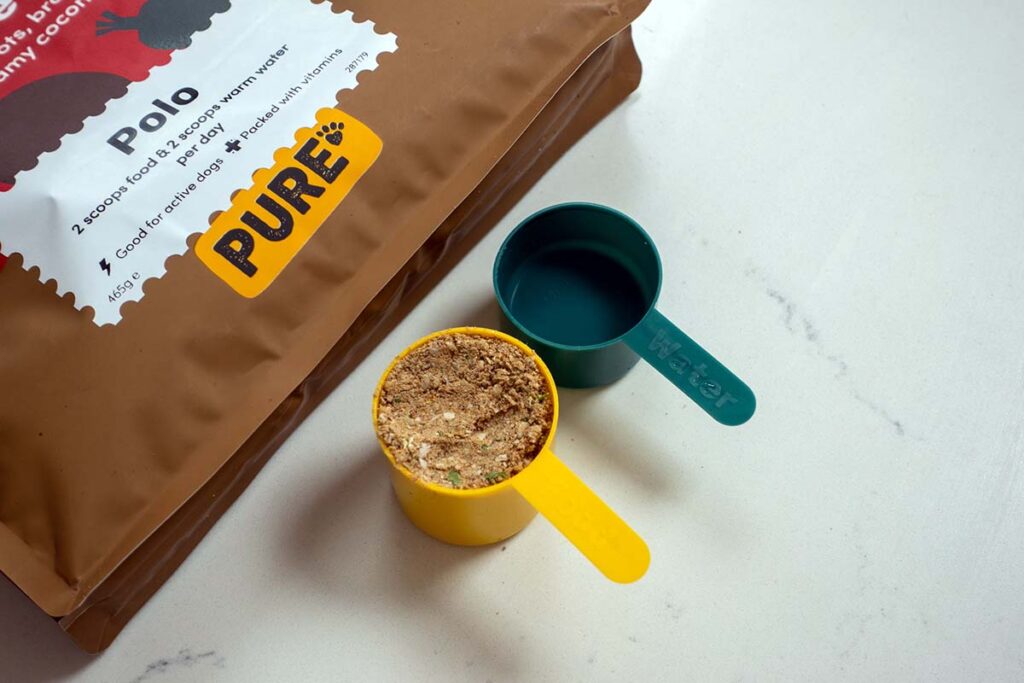 If you've made your decision and you're looking to find dog food similar to Butternut Box, we've highlighted three alternatives.
Top Pick
Our suggestion would be Pure Pet Food because they offer a lot of the same things as Butternut Box.
Their air-dried food is gently cooked, your dog's meals are tailored and shipped direct to your door.
You don't need freezer space because their meals can be stored in the cupboard or any cool, dry place.
However, you will need to prepare your dog's meals which could be inconvenient for some dog owners.
If you decide to go with Naturaw or Forthglade, you won't go wrong either.
But ultimately, I'd encourage you to stick with Butternut Box based upon our positive experience with Copper and Skye.