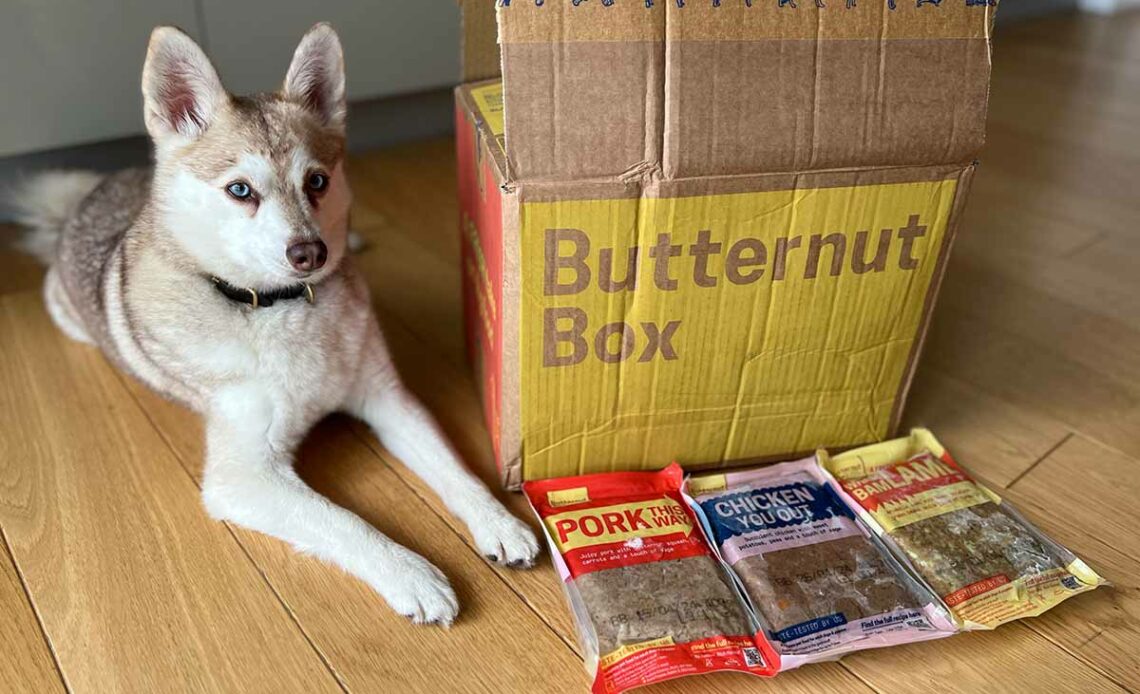 Last Updated on September 13, 2023 by Kieran
Are you ready to make a change to your dog's diet and you've heard about Butternut Box but want to learn more?
Well, I'm in a good position to talk about Butternut Box as I've been feeding their meals to my Alaskan Klee Kai for over 5 years in the UK.
My dogs Copper and Skye are fussy eaters and my journey to find fresh dog food that they love led me to Butternut Box.
Butternut Box are one of the leading providers of balanced and complete meals in the UK, Ireland and the Netherlands (they're expanding!).
But just like any dog food company, Butternut Box have their pros and cons so they may not be the right choice for every dog owner and dog.
In this article, I'm going to take a look at Butternut Box pros and cons, what's good about the brand and where they could potentially improve.
So if you want to learn about the positives and negatives of feeding Butternut Box to your furry friend, you'll want to keep reading this article.
I'll also have a special discount for Life With Klee Kai followers, readers and subscribers if you decide you do want to give Butternut Box a try.
Who Are Butternut Box?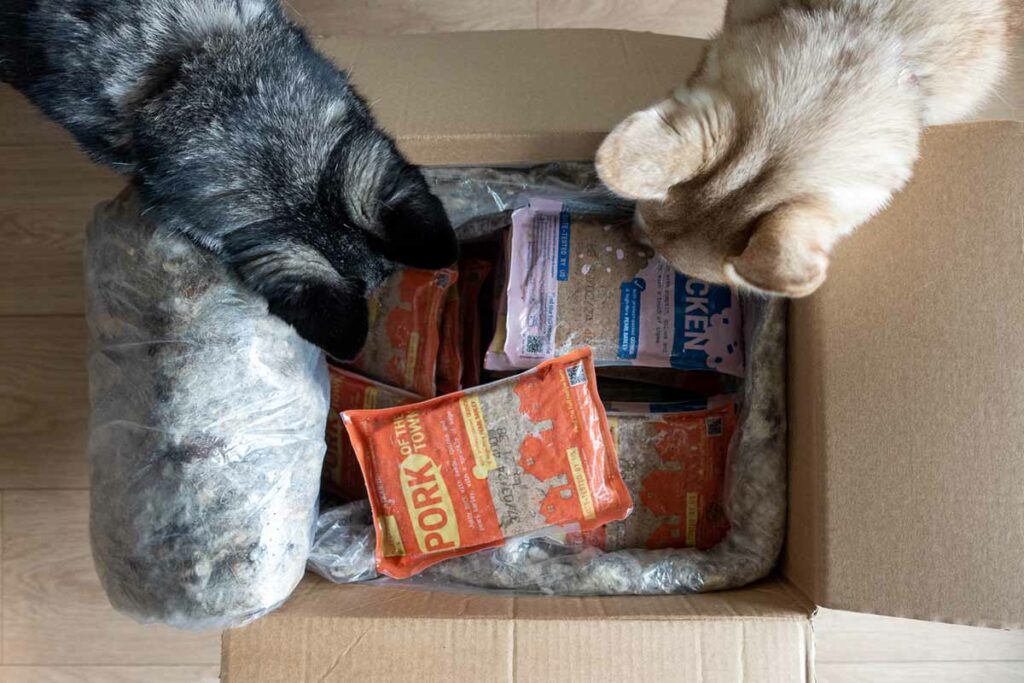 I wanted to start my Butternut Box: Pros And Cons article by providing a little background into the dog food company.
They launched in 2016 after their co-founders Kevin and David set about trying to create a fresh option for dog owners in the UK.
With an initial desire to put real food back into dog food, Butternut Box provided a healthier, natural alternative to store-bought kibble or wet food.
While they initially started with a few recipes, Butternut Box now have an unrivalled range of different options on their menu for dog owners to choose.
Whether your dog likes indulgent meals such as Pork This Way or you'd like your dog to shed some pounds so they're eating Gobble, Gobble Turkey, there's options for all dogs of all shapes and sizes. They've also got grain-free options for dogs who have an allergy to grains!
Butternut Box will deliver your dog's meals direct to your door in eco-friendly packaging so you can feel good about your dog's health and the planet's health.
How Does Butternut Box Work?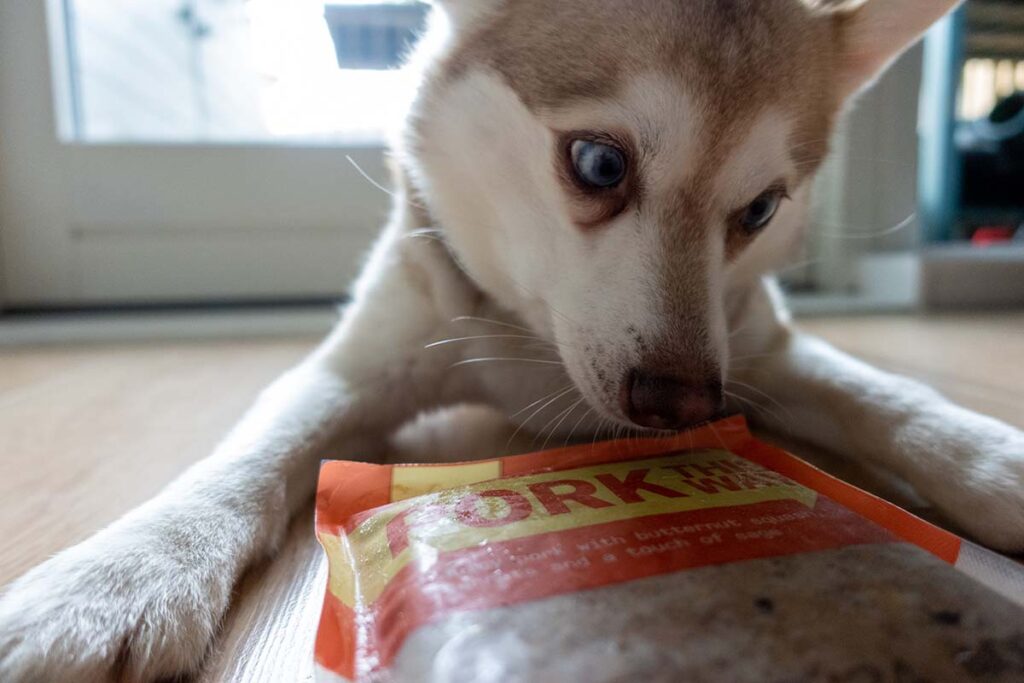 It's simple to get started with your Butternut Box subscription.
You just head to their home page and start the sign-up process where you'll be asked to fill out key details about your dog.
Butternut Box will ask questions such as your dog's age, breed, activity level, eating habits, past dog food, allergies and more.
Once they've got all the key details about your pup, they'll suggest a meal plan to meet your dog's daily needs.
However, you still have the flexibility to adjust the recipes, size of the portions, frequency of deliveries and you can work with their help team.
Once you've completed your subscription, your dog's meals will be shipped direct to your door and you'll never haver to worry about running out of dog food again.
Now that we've taken a look at some basics regarding Butternut Box, it's time to get started with our Butternut Box Pros And Cons.
Butternut Box Pros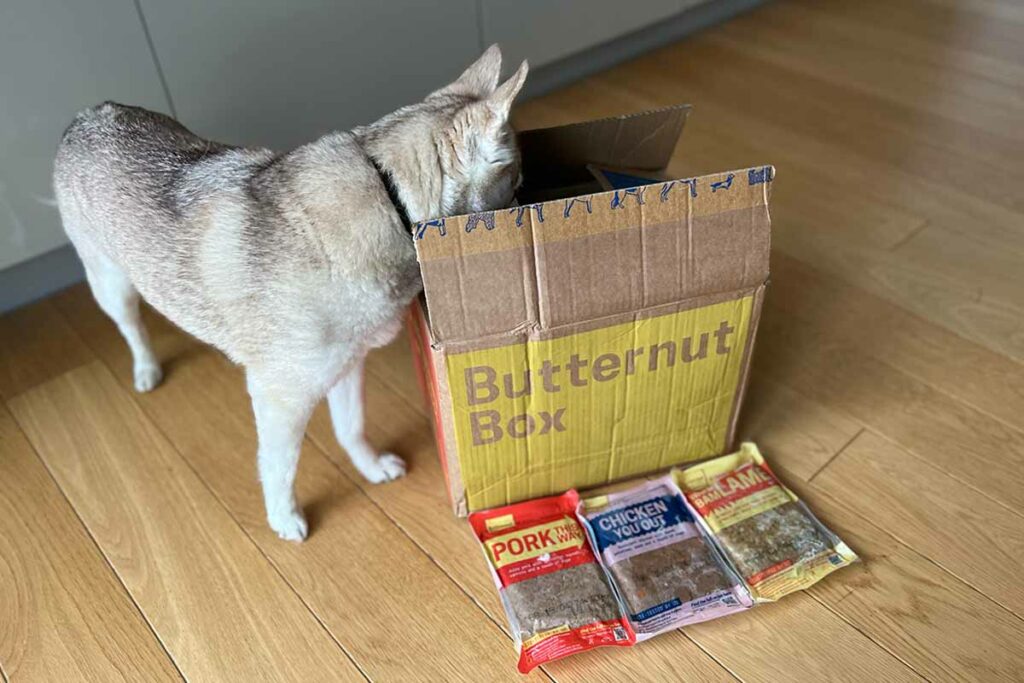 • Human-grade ingredients – Butternut Box only use high quality ingredients in their recipes, such as real meat, fresh fruit and vegetables and superfoods. You can have peace of mind knowing that your dog is eating balanced and complete meals made from real ingredients.
• No Nasties – You won't find any nasties in your dog's Butternut Box's meals. They don't use any additives, flavourings, preservatives – just real food. It's so good that Butternut Box have even thrown events where they've used their meals to create food for humans! So it's been taste-tested by humans!
• Over 10 Recipes – If you've got fussy eaters like me, you'll be excited to offer your dog a big selection of recipes. At the time of writing, the Butternut Box menu includes: Beef It Up, Chicken You Out, Gobble Gobble Turkey, Wham Bam Lamb, Pork This Way, Duo Of Duck & Chicken, Ready Steady Veggie, Plant Get Enough, Pork Of The Town, Salmon To Love, Tuck In Chicken and You've Got Game. There's so much choice.
• Cooked At Low Temperatures – Butternut Box cook their meals at low temperatures so the ingredients retain their nutritional integrity. This is unlike some other dog food brands who make their food at harsh temperatures. Butternut Box cook at less than 90 degrees to lock in flavour and to ensure your dog gets all the nutrients from the ingredients.
• 60% meat or more – Have you ever read the ingredients label of some kibble bags or wet food tins? Firstly, they can be confusing with ingredients you don't recognise and you may be surprised by the low meat content. Butternut Box's meals contain at least 60% meat so you can feel good that your dog is getting sufficient protein.
• Grain-free options – Butternut Box offer a lot of flexibility. They've got recipes that contain grains and other recipes that don't. Some dogs may have an intolerance to grain so it's great that Butternut Box offer this option. They also have vegetarian and plant-based recipes if you want to get your dog involved in Meat-free Mondays.
• Pre-portioned – There's a big obesity crisis amongst dogs in the UK. It's estimated over 50% of dogs in Great Britain are overweight. Butternut Box will pre-portion their meals to ensure your dog gets the right amount every day. So you won't need to worry about overfeeding or underfeeding your dog ever again! It makes mealtime a hassle-free experience.
• Eco-friendly packaging – Butternut Box use a lot of recyclable elements in their packaging. You can recycle the box and the wool insulation. So you can feel good about feeding your dog healthy food and leaving a green paw print by signing up to Butternut Box. This is an increasingly important factor for dog parents.
• Premium but affordable – There's no escaping from the fact that Butternut Box will cost you more money if you're accustomed to purchasing your dog's food at your local supermarket or pet store. However, they do provide a premium service. Having reviewed many different dog food brands for my other website over the past five years, I believe Butternut Box are competitively priced when compared to other dog food delivery companies. In my experience, they're not the most expensive with some brands costing a lot more. You can learn more about monthly pricing in my article here.
• 50% discount available – we can offer Life With Klee Kai followers, readers and subscribers the chance to get 50% off their first Butternut Box order AND 50% off their second Butternut Box order when they click this link. By doing so, you'll get effectively get a free box over the course of two orders. It's automatically applied at checkout so you don't need to worry about entering a coupon code.
Butternut Box Cons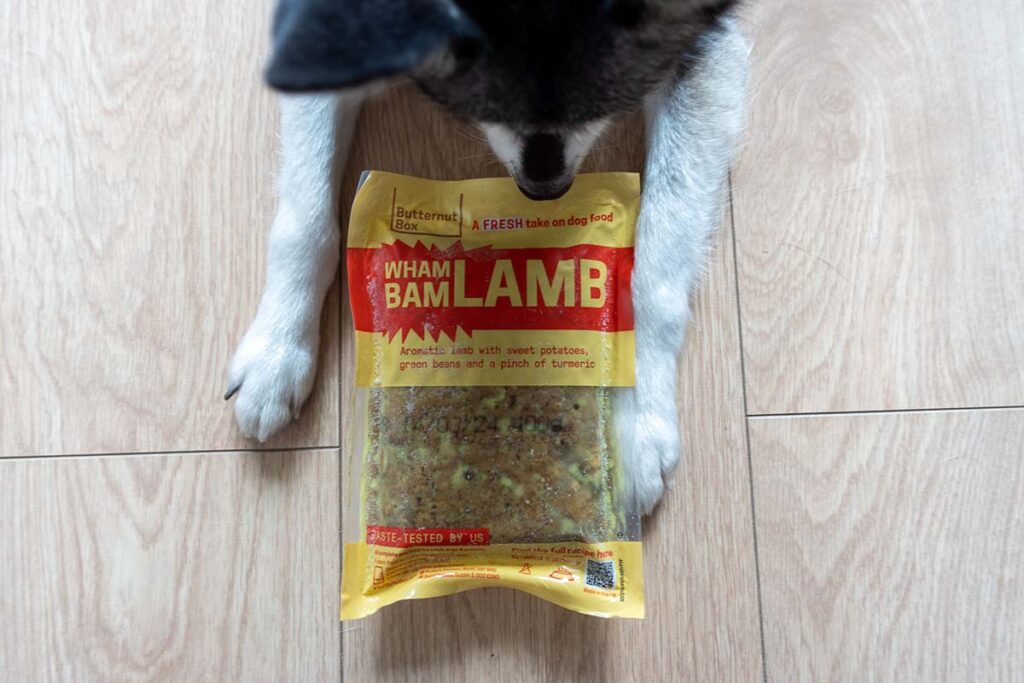 • Costs more than kibble and wet food – While Butternut Box are competitively priced, there's no getting away from the fact that you'll have to increase your budget for dog food each month. Speaking from experience, I paid more money for Copper and Skye's food but Butternut Box saved me a lot of money when it came to trips to the vet or the emergency vet because Skye wasn't eating and heaving tummy trouble. I believe it's a worthwhile investment in their health.
• Meal pouches not recyclable – I love that Butternut Box have a eco-friendly approach to their business but there's still some room for improvement. Their pre-portioned meal pouches aren't recyclable, which is a shame. It's one area where I believe Butternut Box can hopefully improve in the future to provide a better experience.
• Requires fridge/freezer space – Butternut Box advise dog owners to store the majority of their meals in the freezer and keep 4 or 5 in the fridge ready to serve. If you're used to feeding kibble or wet food, you'll need to get used to making space in your fridge and freezer for your dog's food. This could be a slight inconvenience depending on your storage space. It's a small price to pay for feeding your dog fresh meals! You can also tinker with the delivery frequency to best suit your situation: more regular deliveries means less meals to store away but higher delivery costs; less deliveries means less delivery fees but more storage space required.
How To Save On First Butternut Box Order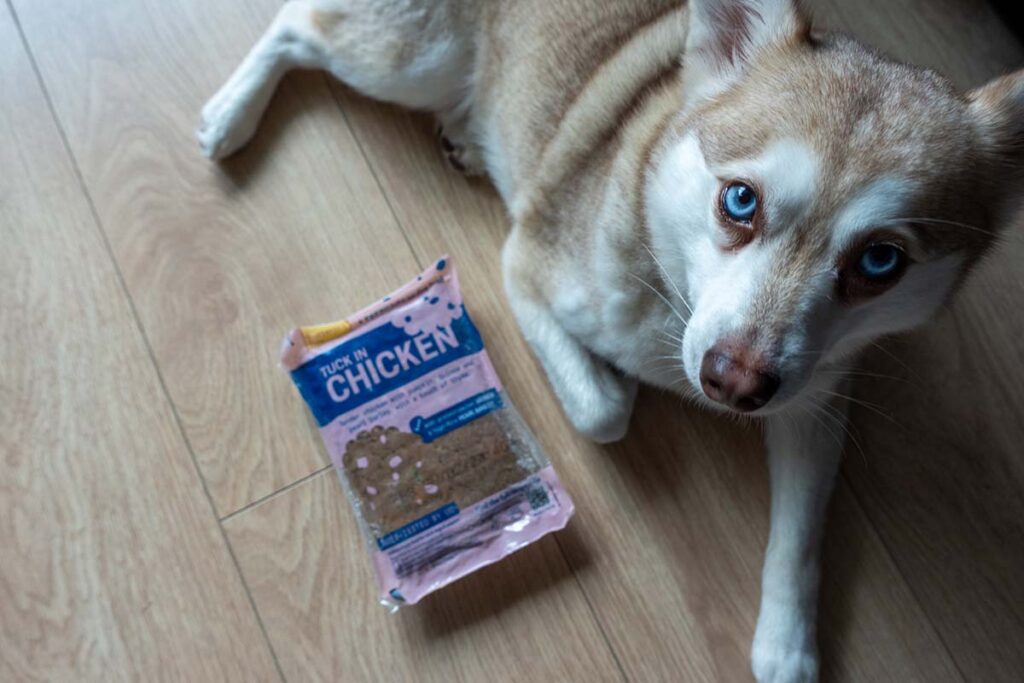 I'm excited to share our unique discount with our followers, readers and subscribers. You can save 50% on your first Butternut Box order when you click here.
There's more good news! If you sign up via any links on this page, you'll also save 50% on your second Butternut Box order. So that's two great savings!
So you're effectively getting a free box over the course of two orders and it gives you an opportunity to give Butternut Box for a significant amount of time to see if your dog likes their new food.
Wrapping Up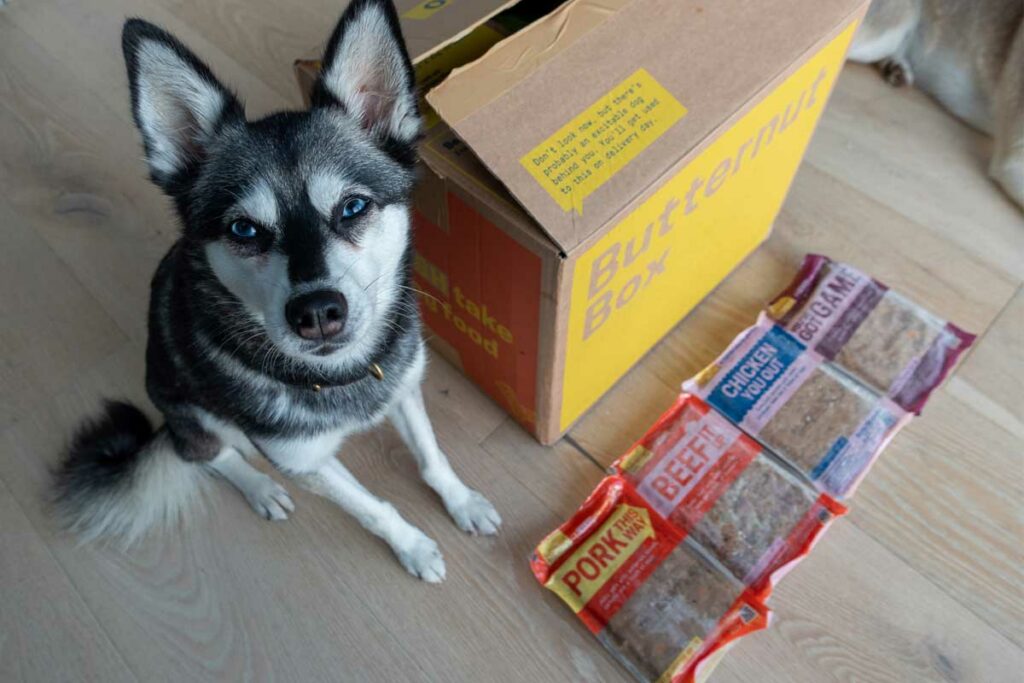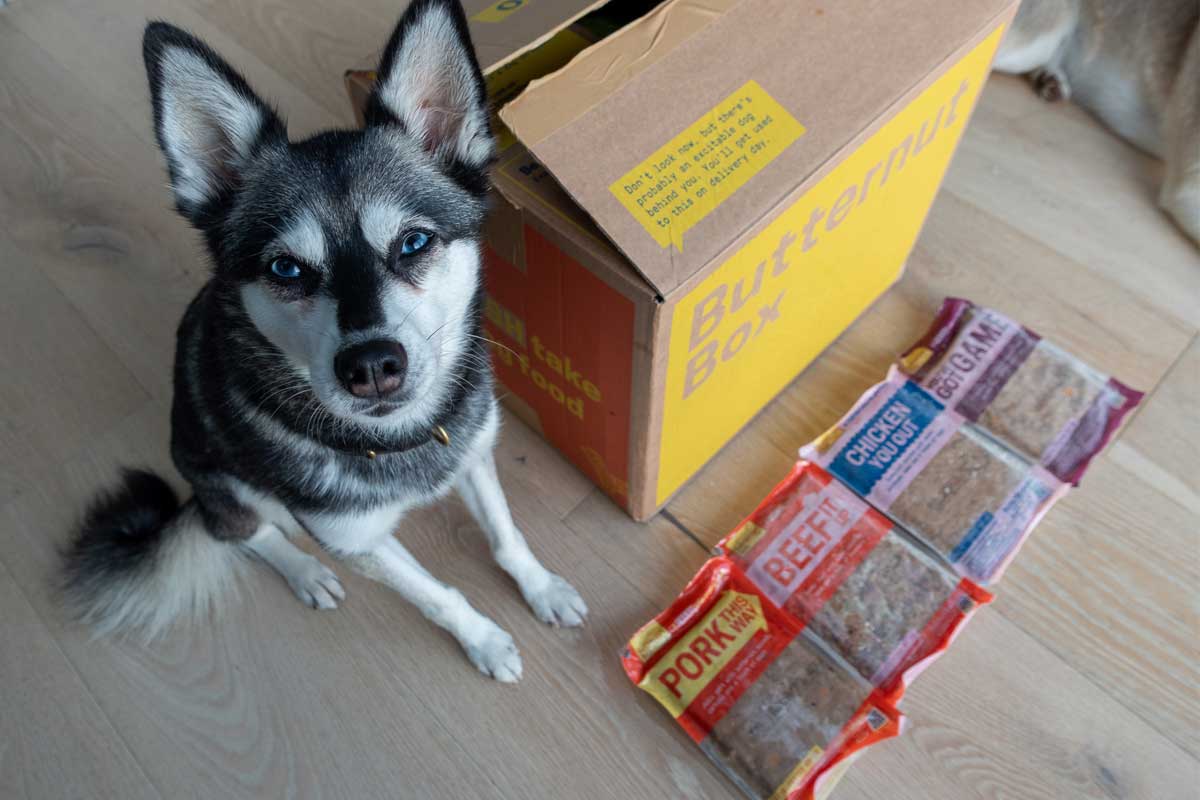 We've reached the end of our Butternut Box pros and cons article.
I've walked you through some of the pros and cons associated with feeding Butternut Box to your dogs based upon my five-year experience.
Overall, I love Butternut Box, their meals, what they stand for and the happiness that they've brought to Copper and Skye.
While you can expect to pay more for Butternut Box than traditional dog food options, I believe you'll save money in the long run on vet bills based upon my experience.
You'll feel good that you're feeding balanced and complete meals to your dogs that have been vet approved and tailored to your dog's needs in pre-portioned packaging.
If you've read this Butternut Box pros and cons article and you'd like to learn more, feel free to reach out us at [email protected] or via social media.
Finally, you can save 50% on your first Butternut Box order and 50% on your second Butternut Box order when you click this link.