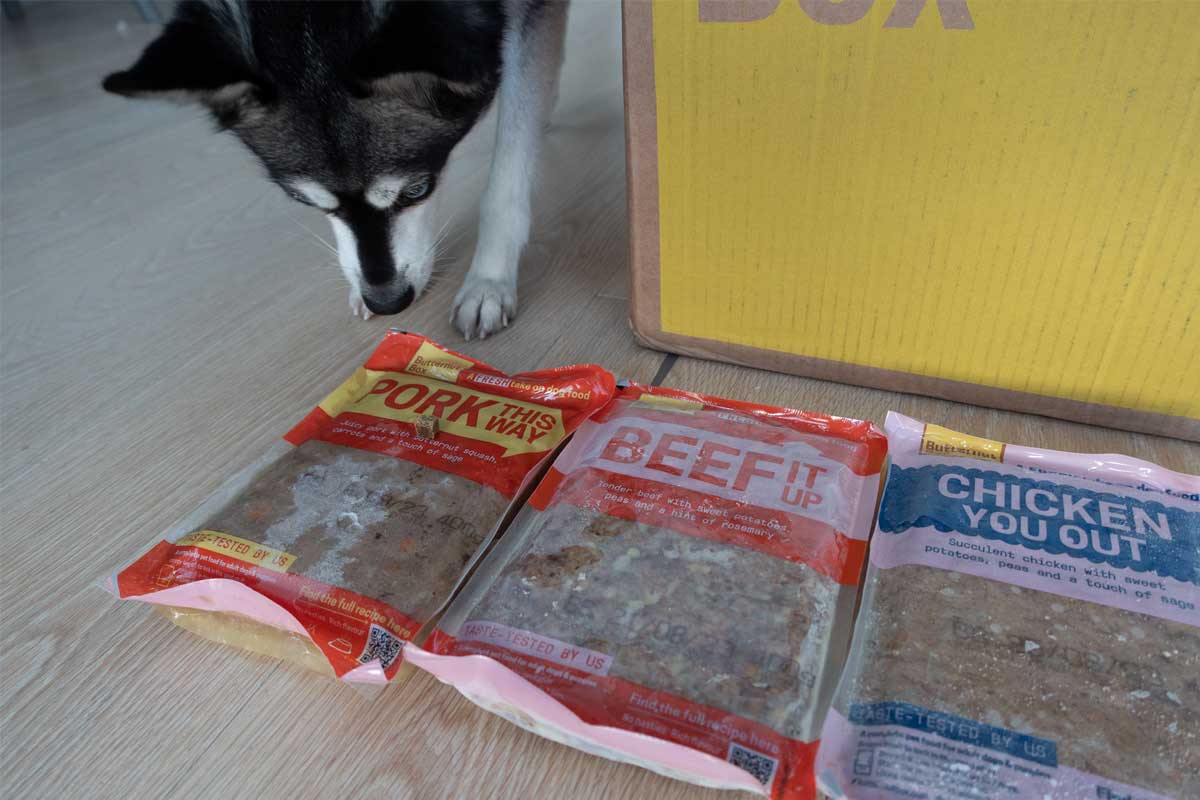 Last Updated on September 13, 2023 by Kieran
Are you thinking about signing up to Butternut Box and Tails but you can't pick between these two tailored dog food brands?
We've previously fed both Butternut Box and Tails to our Alaskan Klee Kai – Skye and Copper – so can provide our insight into these two dog food companies.
They're two examples of dog food companies offering British and Irish pet owners with the chance to feed balanced and complete meals to their canines.
While we believe both brands are good options for dog parents, there is one option that we consider superior thanks to the composition, variety, taste and family values.
Before we go any further, I'd like to point out that if you sign up to either Butternut Box or Tails via the links in this article, we may make a small commission.
This commission will allow us to dedicate more time to creating content that we hope will prove useful to other dog owners whether you have a Klee Kai or not.
(Cut to the chase: We recommend Butternut Box and you can save 50% on your first box and 50% on your second box by clicking here).
Butternut Box
Website: butternutbox.com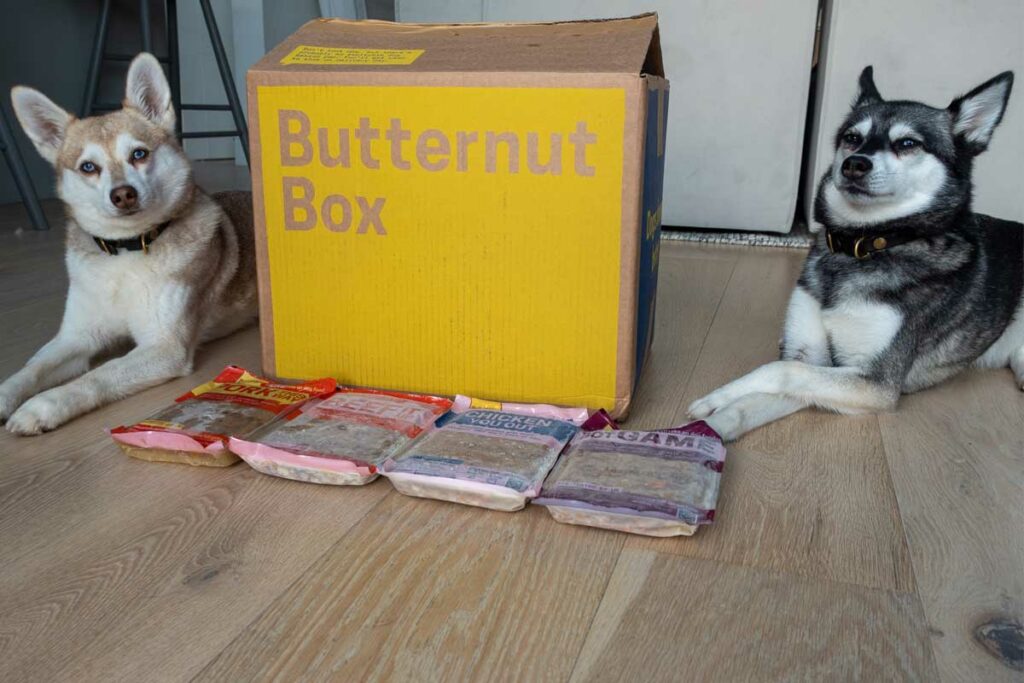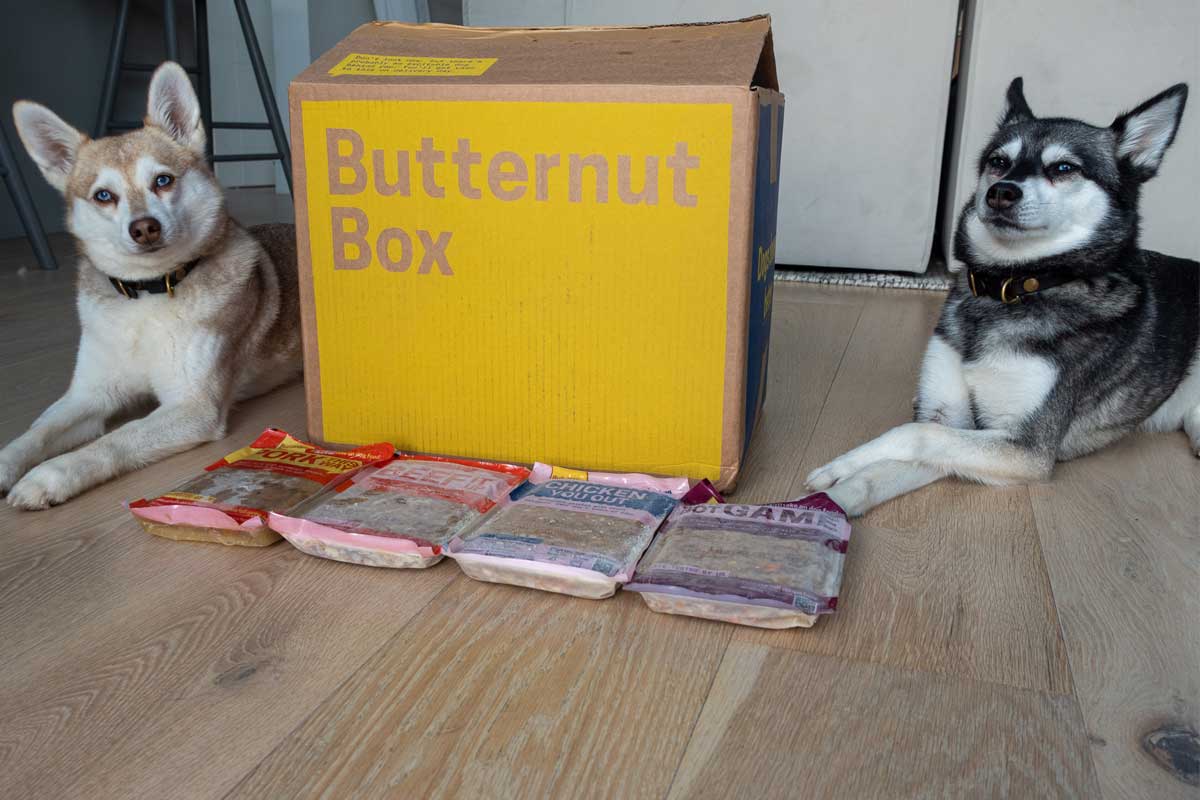 Butternut Box are one of the leading providers of balanced and complete dog meals in the UK, Ireland and the Netherlands. They've fed over 100,000 dogs in the UK since launching their business.
They're offering a fresh take on dog food so pet owners can ditch the store-bought kibble in favour of vet-approved meals that are customized to meet your dog's specific needs.
Butternut Box use high-quality meat in their dog food – each meal is comprised of at least 60% meat as well as fresh fruit and vegetables. They cook their meals at low temperatures to ensure the ingredients retain their nutritional integrity and lock in maximum taste.
It's important to point out that Butternut Box never use any additives, nasties or preservatives in their food. So you can have peace of mind that your dog is eating fresh meals comprised of real ingredients that can benefit their day-to-day life.
Butternut Box initially offered four recipes when we first started to feed their meals to our dogs but in the past few years, they've expanded their range to 10. It's perfect for picky eaters like Skye who tends to grow bored with her meals if there's not a lot of variety.
Copper and Skye particularly love Wham Bam Lamb, You've Got Game and Pork This Way. However, there are also chicken, turkey, duck, vegetable and plant-based options to cater to all dogs.
You may not be aware that nearly 60% of dogs in the UK are overweight, underlining the obesity crisis amongst our canines. Butternut Box will tailor their meals to meet your dog's specific needs based upon your answers in their sign-up questionnaire.
The pre-portion their meals into meal pouches and it's as easy as rip-and-serve to start your dog on Butternut Box's meals. They provide detailed information on how to transition your dog onto Butternut Box from their current food.
Once their meals are cooked, Butternut Box freeze the meal pouches before shipping them direct to your door so there's minimal hassle for pet owners. They use eco-friendly materials that can be recycled to ensure your dog's food remains cold.
Butternut Box's meals need to be stored in the freezer apart from 3-5 meal pouches that you can defrost in your fridge before serving to your four-legged friend.
In my experience, you can usually fit your Butternut Box meals in your top freezer drawer thanks to their rectangle shape. However, if you opt for monthly deliveries, you may need a little more space to store your meals but you'll make a saving!
Butternut Box have a stellar reputation with picky eaters, dogs with allergies or flatulence and dogs with sensitive stomachs.
Our Experience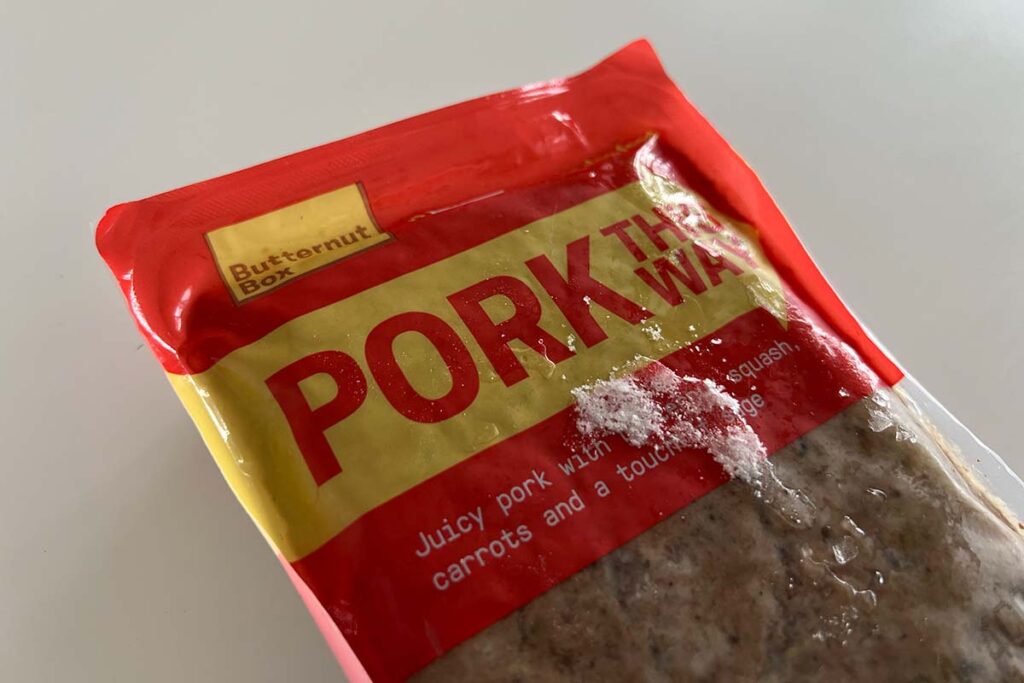 We first switched to Butternut Box in 2019 when we moved back to London from California. We remained with the dog food company throughout most of the following three years before a brand partnership led us to temporarily move to another dog food company. However, Skye started to become fussy with her meals despite us sticking with the fresh dog food genre. So we opted to move back to Butternut Box and we haven't looked back over the past year.
Skye loves Butternut Box and it's incredible to see our fussy pup devouring every meal. Her favourite recipes are lamb, duck, beef and game. If you have a temperamental eater at home, you'll know the relief that comes with seeing your dog finally tucking into the meals on a consistent basis. It goes without saying Copper is equally as enthusiastic about his Butternut Box food.
I'm continually impressed by Butternut Box's ever-evolving approach to pet nutrition. If you sign up to their subscription service, you'll get regular updates from Butternut Box on changes to their meals, new additions and other ways to get involved in the Butternutter community.
As a pet owner who tries to their best to protect the environment, I appreciate that Butternut Box use eco-friendly packaging and have a sustainable approach to their business. You can feed your dog their meals and feel good that you're doing your bit for your dog's health and the planet.
While we've given our verdict, don't take our word for it. Butternut Box have an average rating of 4.9 stars based upon over 15,000 reviews on independent website Trustpilot. That's a lot of happy dogs and happy pet owners.
To help you along your way, you can save 50% on your first Butternut Box order and 50% on your second Butternut Box order when you click here or below. So you're effectively getting a free box over the course of two orders and it gives you an opportunity to give Butternut Box for a significant amount of time to see if your dog likes their new food.
Tails
Website: www.tails.com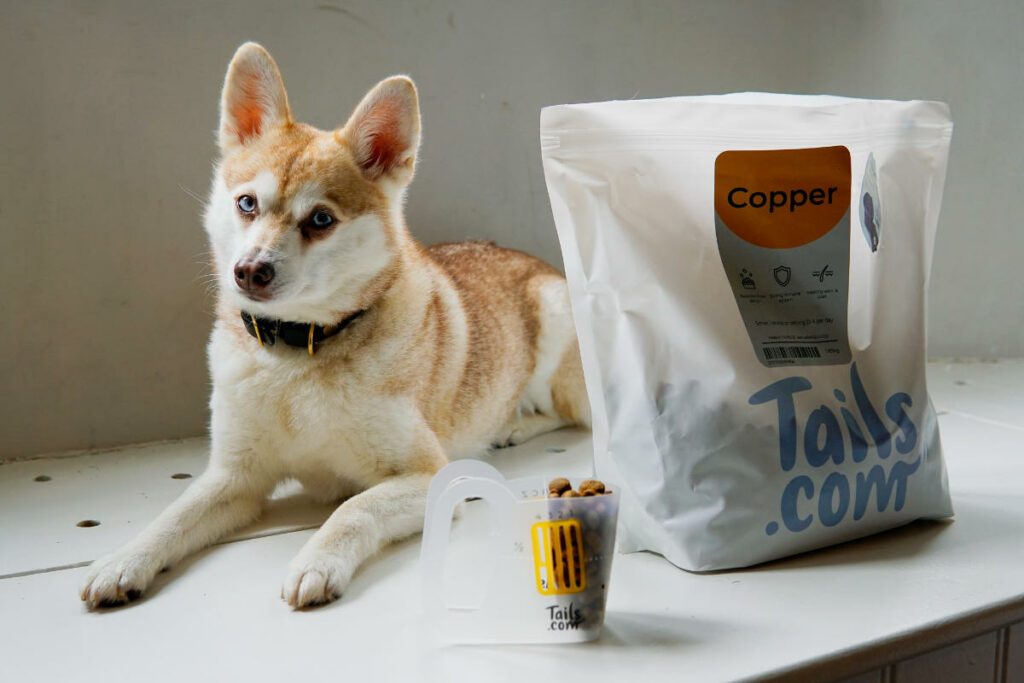 Tails are a well-established dog food company in the UK. They offer a range of pet food options to keep British dogs well fed whether they like dry food, wet food or gravy.
We had the chance to feed Tails to Copper and Skye for a couple of months but ultimately we made the switch back to fresh dog meals because they preferred it.
They use high quality ingredients in their recipes just like Butternut Box, avoiding added sugar or other nasties that you may find in other store-bought dog food.
Tails explain on their website that their recipes are packed with protein, root vegetables and wholegrains, for energy, fibre and proper nutrients.
Tails ask new customers to provide details about their dog so they can get to know your dog's physical traits as well as their habits such as activity level.
Once you've keyed in more information about your pup, Tails will offer a suggested meal plan for your canine companion to ensure their needs are met.
Tails include a custom scooper so you won't overfeed your dog. In my experience, the scooper was easy to put together and was a useful addition.
If you don't think your dog will enjoy a dry-food diet, they offer 19 difference recipes in a wet dog food format. They're slow cooked recipes in a variety of textures.
Our Experience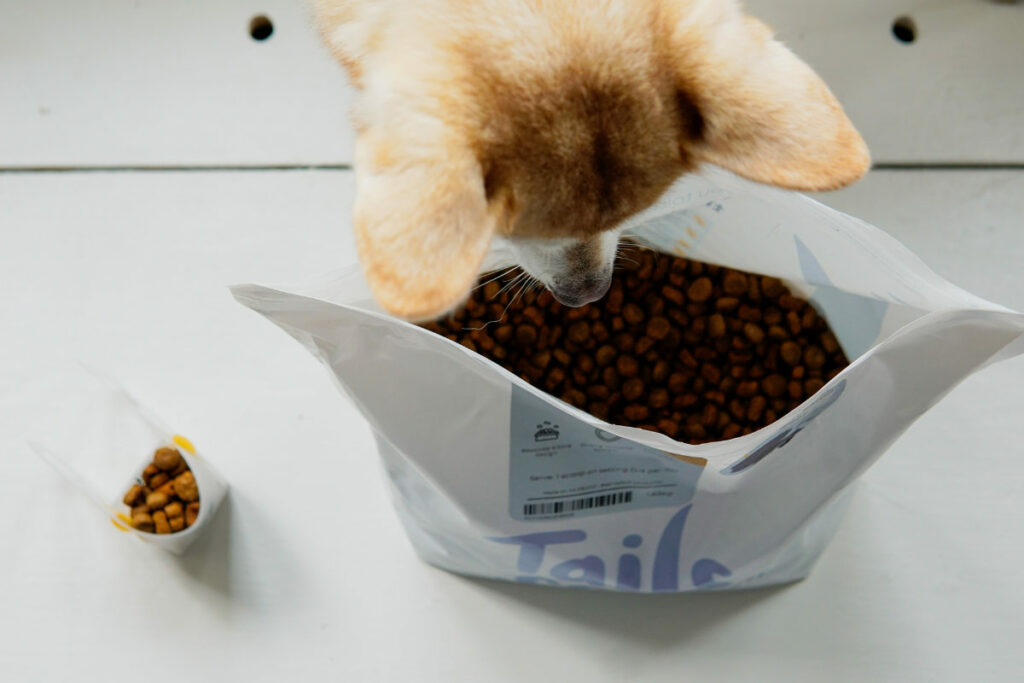 As I hinted above, Tails wasn't an overwhelming hit with my dogs.
Copper showed a moderate interest in their dry food and wet food but his mealtime excitement was subdued compared to fresh dog meals.
Skye was extremely picky with Tails and it ultimately prompted us to ditch Tails in favour of a return to Butternut Box because it was starting to become a real issue with pickiness and senstitivity.
I must state that I was impressed with Tails and their attention to detail in the initial box of food. They go into great detail about each ingredient in their food, how to make the transition to their meals and provide a lot of additional help for dog owners.
Having said that, Tails have good reviews online with 4.6 stars based upon over 30,000 reviews on independent website Trustpilot.
Butternut Box Vs Tails: Our Pick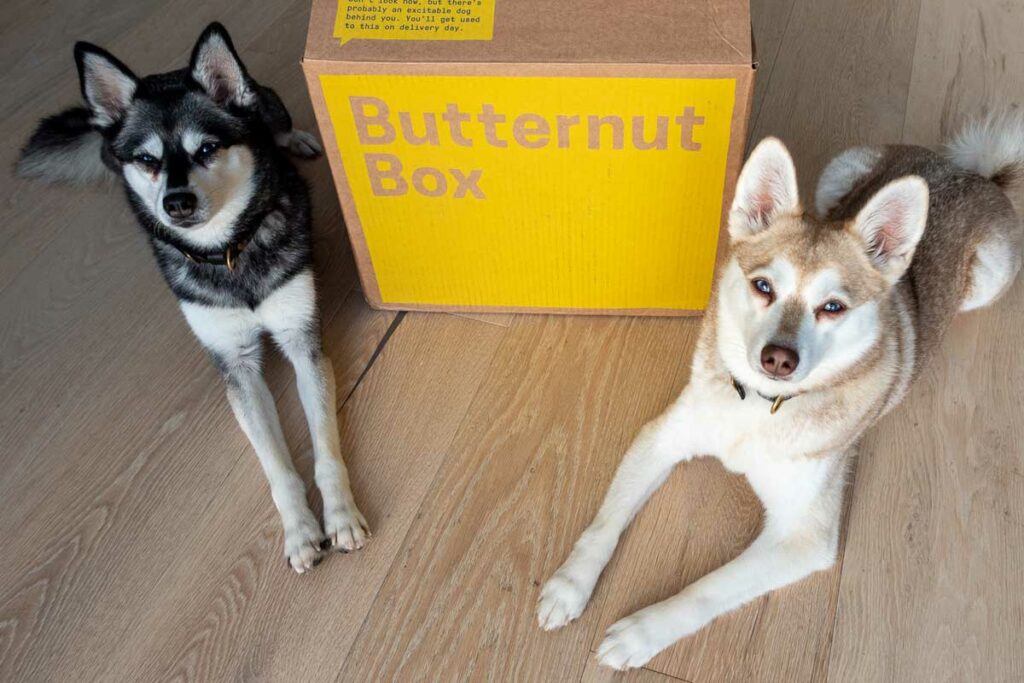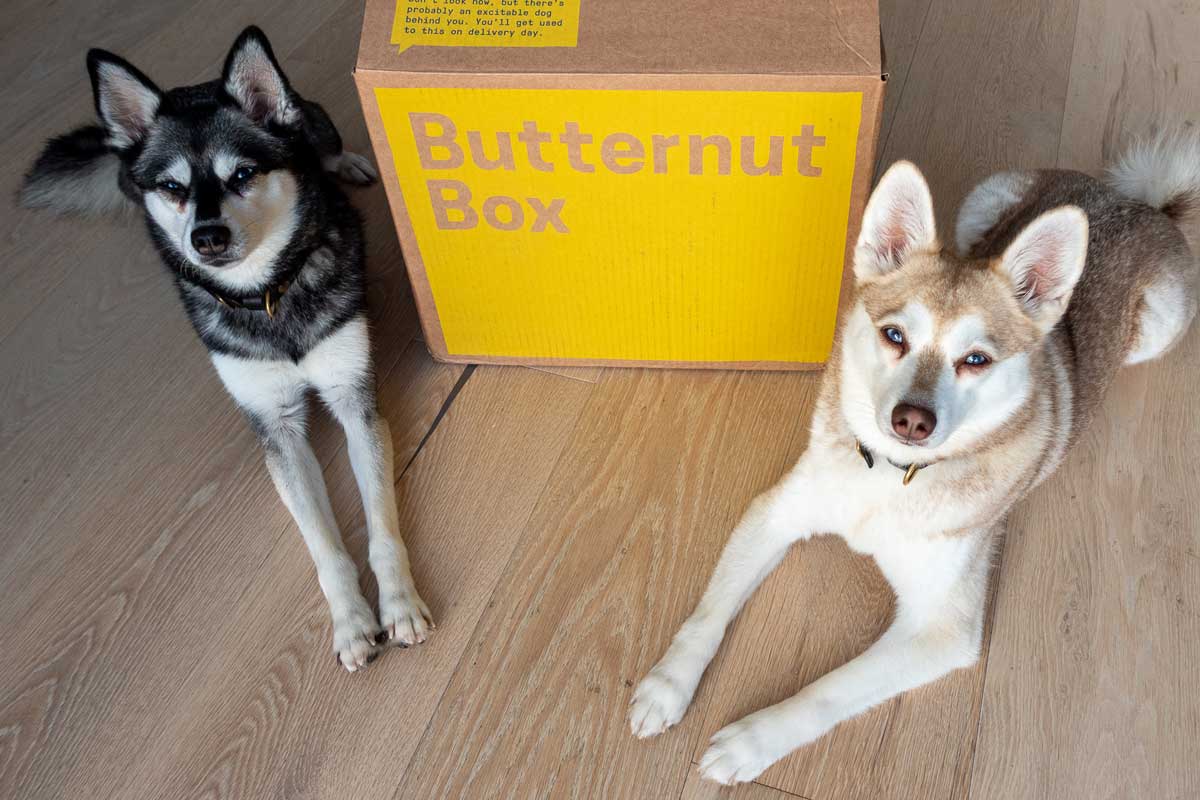 We've reached the end of our article on Butternut Box and Tails.
You probably won't be surprised to learn that my recommendation would be Butternut Box based upon experience.
Copper and Skye are obsessed with Butternut Box's meals despite being consistently fed their meals for the best part of four years. During the time that we've fed them Butternut Box, we haven't had any stomach issues or fussiness at mealtime.
Having previously experienced persistent bouts of pickiness with Skye, Butternut Box have provided my wife and I with real peace of mind. We know that Copper and Skye will always finish their meals.
This is especially important if you travel occasionally or a lot and you have to leave your dogs with a dog sitter. You don't want to be fretting about whether your pets will eat while you're gone away.
Personally, I believe fresh dog food that is comprised of at least 60% meat is the best way to keep my dogs happy, healthy and fuelled for their active day-to-day lives as important members of the family.
Tails provide dry food that comes in bags so it's easier to store than Butternut Box but I do believe you compromise on freshness.
While Butternut Box and Tails have good reputations online, Butternut Box do have a superior score on Trustpilot – too.
If you'd like to give Butternut Box a try, we've got an exclusive discount for our readers and followers.
You can get 50% off your first box and 50% off your second box when you click this link: https://butternutbox.com/LifeWithKleeKai
Wrapping Up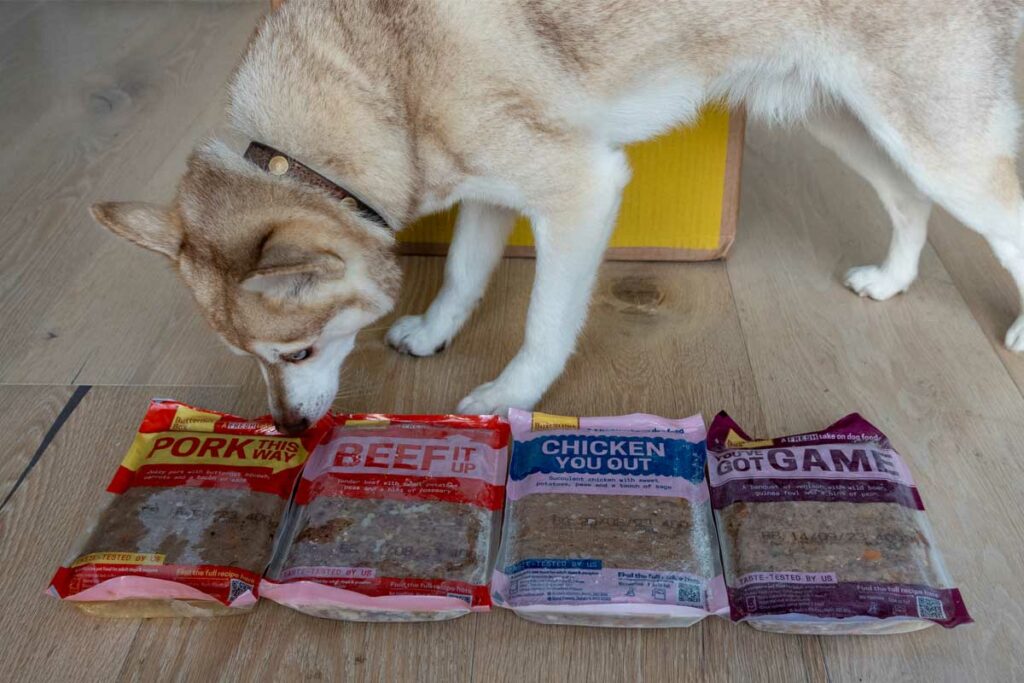 We've reached the end of our Butternut Box and Tails comparison article. They're two good options for dog owners in the UK who want to adopt a fresh approach to their pet's diet.
While Tails have a versatile range of dry food and wet food (plus treats), Butternut Box have 10 different recipes to provide a great menu for dogs.
Copper and Skye have always enjoyed Butternut Box and it's easily their preferred dog food of all the different brands that we've had the opportunity to try since returning to the UK in 2019.
We can offer our followers and our readers the chance to save 50% on your first Butternut Box order so you can try Butternut Box at the fraction of the normal price and cancel if you don't believe it's a fit for you and your dog (but I'm sure you'll be converted). They do have a superior Trustpilot score – too.
If you'd like to give Butternut Box a try, we've got an exclusive discount for our readers and followers. You can get 50% off your first box and 50% off your second box when you click this link: https://butternutbox.com/LifeWithKleeKai