If you're thinking about getting an Alaskan Klee Kai but you're wondering whether these dogs shed a lot, the answer is yes!
It's a resounding yes, too. Alaskan Klee Kai will shed throughout the year so there's really no escaping the hair. We find with Copper and Skye are constant shedders and it's something that we've just become accustomed to living with. There's hair everywhere, all the time.
Alaskan Klee Kai have a double coat that is typically made up of a thick, dense undercoat and a coarse, versatile outer coat. While the Alaskan Klee Kai is considered a moderate-to-high shedder throughout the year, these mini huskies are season shedders too.
With Copper and Skye, we find that they'll blow out their undercoat during the changing of the seasons. Typically we find that Copper and Skye will shed noticeably more as we leave spring and say hello to summer. It's a similar story when we're in autumn and the months are getting colder. There's hair all over our home and our clothes.
Skye and Copper blow out their coats at different times – too. We find that they're never quite exploding with loose hair at the same time, which brings an added layer of fun to proceedings.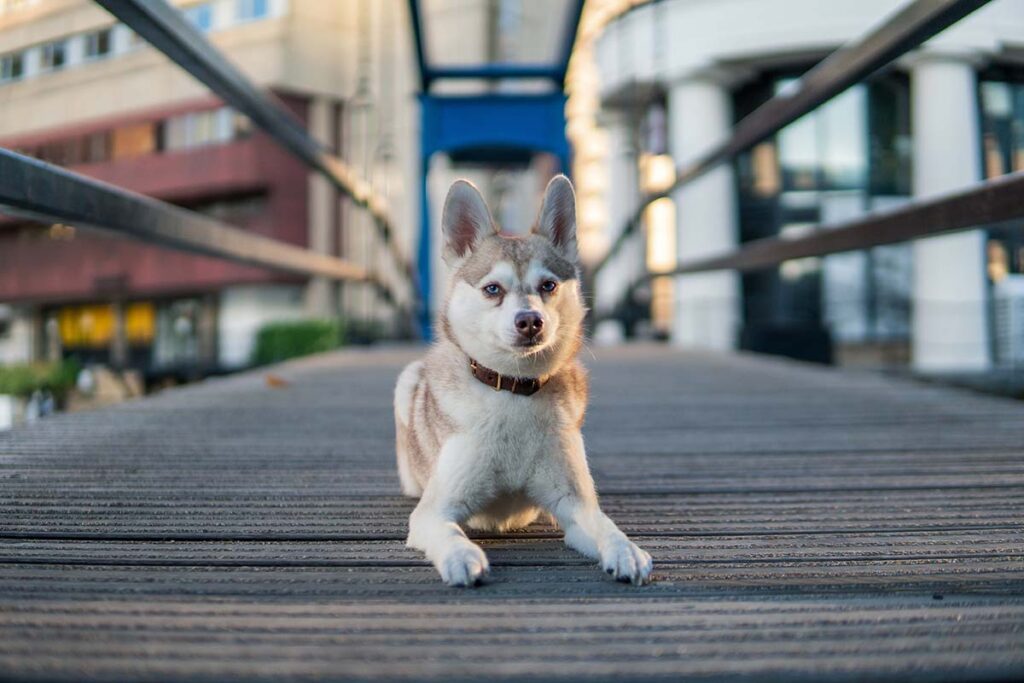 When it comes to brushing our Klee Kai, we use the Tangle Teezer (more on this brush later!). We find that both Copper and Skye tend to shed starting from their hindquarters and lower back. It's where most of the loose hair comes from so we pay special attention to their fluffy rears, legs, and lower back to collect as much hair as possible. Their necks are usually another area of their body where there's plenty of loose hair to collect with our Tangle Teezer.
If we're honest, we don't brush Copper and Skye enough. It really should be a daily task to make the shedding much more manageable. But as life tends to get in the way, we aim for a couple of times a week. A typical grooming session will last 10 to 15 minutes. We brush Skye and Copper, remove the hair collected, go again. By the time we've finished brushing them, we'll usually have 5 or 6 big balls of fur.
Some Alaskan Klee Kai owners take their mini huskies to the groomers to get brushed but this is something we haven't tried. It's worth noting that Alaskan Klee Kai should only be bathed once or twice a year, so if you do have a Klee Kai, you don't want to wash them too often.
We've tried a lot of different grooming products since getting Copper and Skye five years ago. Some have worked well, some not so much. Initially we opted for a grooming glove that you can find on Amazon. This was probably Copper and Skye's preferred way of being brushed but we felt it wasn't the most effective. If you've got an anxious or nervous Alaskan Klee Kai, it could be a good way to introduce regular grooming sessions to built their confidence before transitioning to a brush.
Skye and Copper weren't big fans of wire brushes that you'll often see being used by groomers. Alaskan Klee Kai can be skittish by nature and they'd twist and wiggle because it seemed to be uncomfortable. You won't be surprised to hear that we ditched the wire brush in favour of the Tangle Teezer.
We heard about the Tangle Teezer and decided to give it a go. Of all the different grooming products that we've tried, the Tangle Teezer was the biggest success. We were surprised by how effective it was at collecting loose hair from Copper and Skye's coats. It was plastic so they were much more comfortable tolerant of being brushed. The Tangle Teezer has been designed with double-coated dogs in mind so it's perfect for Alaskan Klee Kai.
The Tangle Teezer uses patented two-tier teeth technology – their website explains that the longer teeth gently removes dirt, reaching down to the undercoat, while shorter teeth pick up loose hair. While other grooming brushes can cause what's called "brush burn", the Tangle Teezer uses polymer teeth for a much more pleasant experience for your dog. Copper and Skye certainly appreciated this.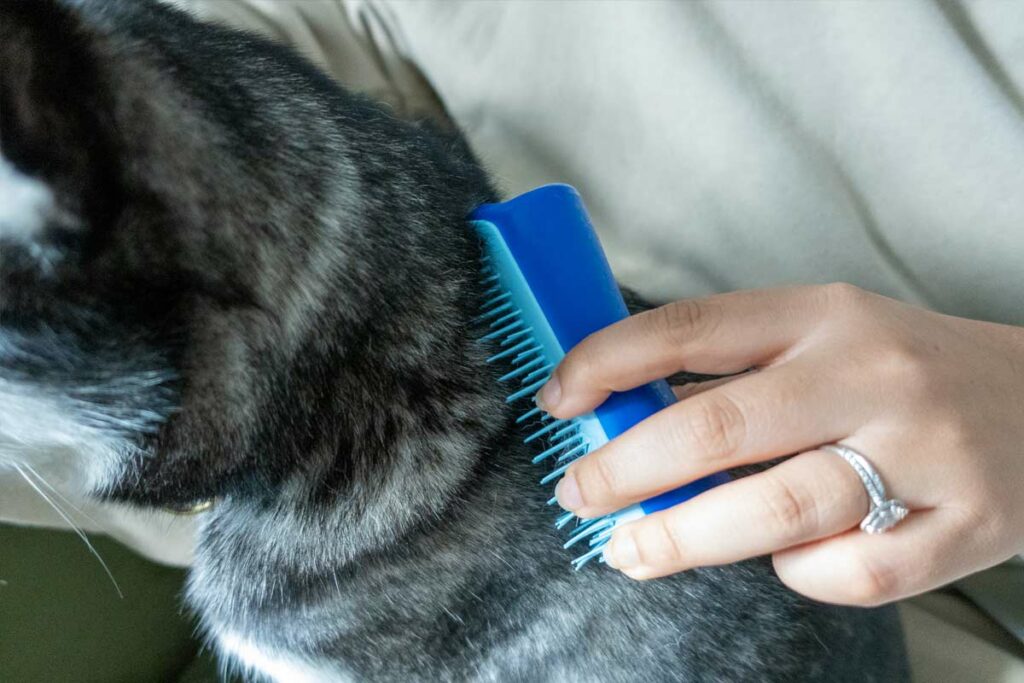 They manufacturers kept dog owners in mind with an ergonomic design to make it easier to brush your Alaskan Klee Kai. Tangle Teezer claims that this means less wrist strain! It's easy to clean – too. You can remove the hair and run under warm water to get rid of any dirt between the teeth.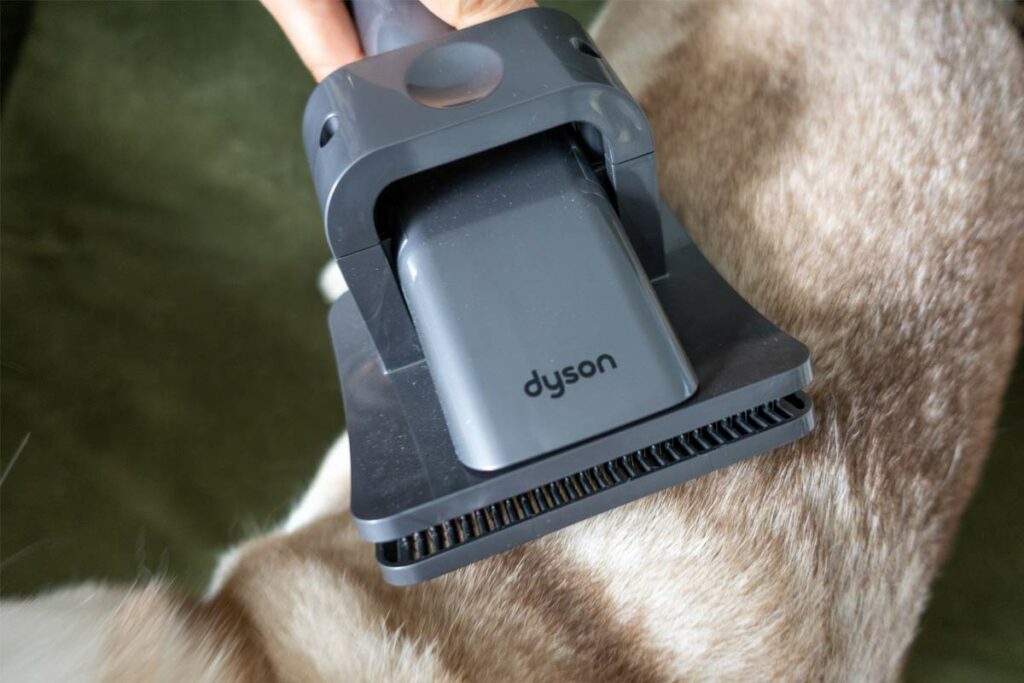 Aside from the Tangle Teezer, we've also tried the Dyson's pet grooming kit. As dog owners, we found this a particularly effective tool to use during grooming sessions. Dyson's pet groom tool will collect hair and suck it directly into your Dyson's bin. So you don't have to deal with picking dog hair from a grooming brush and collection copious amounts of fluff. The brush itself looks like a standard slicker brush. So for Copper and Skye, it was less comfortable than the Tangle Teezer. It has 364 slicker bristles angled at 35° flex to an upright position as you brush, penetrating deep to grab loose hairs. Once you've filled the slicker brush with hair, you simply release and the hair will be sucked into the bin.
If you're getting an Alaskan Klee Kai and you're doing your research on grooming products, our three recommendations would be a grooming glove, the Tangle Teezer and the Dyson pet groom tool.
However, even with these tools, you'll still find hair on your furniture, clothes and floor. It's inevitable and part of life owning these wonderful double-coated dogs. Their shedding is manageable provided you're willing to put the effort and time into grooming them or you're willing to invest in a bi-weekly or monthly trip to the groomer.
Their shedding might be a shock at first when you encounter your first shedding season. But trust us, you do get used to it!