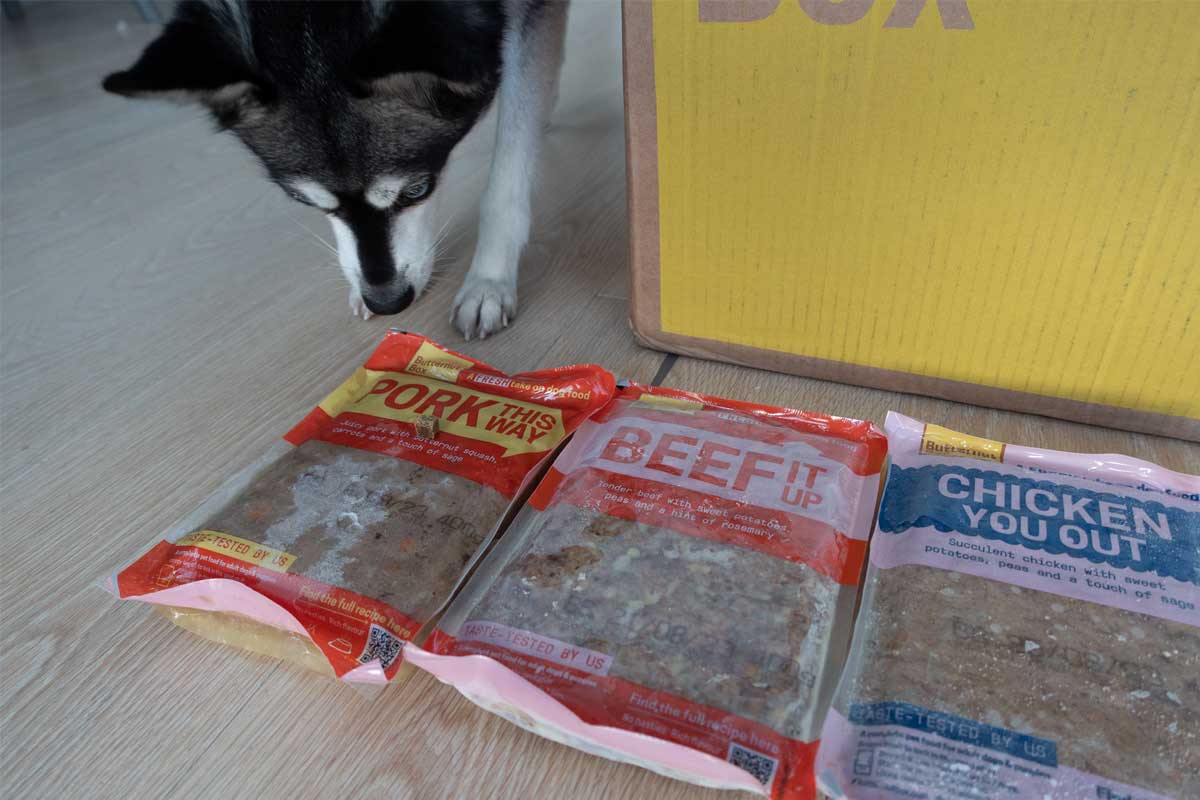 Last Updated on October 31, 2023 by Kieran Beckles
Are you thinking about making a switch to your dog's food but you're stuck between Butternut Box and Pure Pet Food?
These are two of the leading dog food companies in the UK who are providing British dog owners with the chance to feed balanced and complete meals to their four-legged friends.
We made the decision to ditch regular kibble in favour of fresh meals after Copper and Skye started to show a fussiness with their dog food followed by a spate of tummy issues.
Once we introduced complete dog food to their diet, we were pleasantly surprised by their mealtime excitement and the overall benefits to their health.
While Butternut Box and Pure Pet Food may cost a little more than store-bought dog food, we believe it's worth every penny. We've seen the health benefits, Copper and Skye's appetite for fresh meals and the peace of mind it provides by knowing the ingredients in their food.
So let's take a look at both Butternut Box and Pure to see how each company works and what recipes they've got on offer.
(Cut to the chase: We recommend Butternut Box and you can save 50% on your first box and 50% on your second box by clicking here).
Butternut Box
Website: butternutbox.com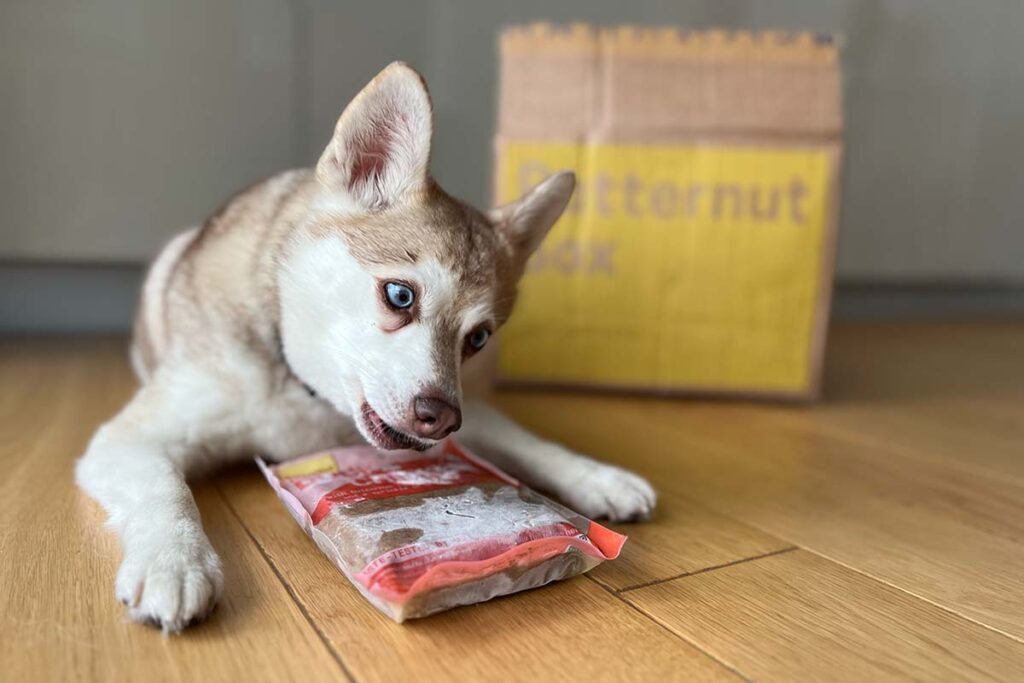 Butternut Box are one of the leading providers of fresh dog food in the UK following their launch in 2016.
We discovered Butternut Box almost three years after the dog food company's creation.
We were searching for fresh dog food that was balanced and complete, formulated by vets, had a range of different recipes, customized and pre-portioned and could be shipped to our front door. Butternut Box ticked all the boxes.
While we have tried some other fresh dog food companies in the UK over the past four years, we've consistently returned to Butternut Box because they're the only dog food brand that provide meals Skye is excited to eat. She's the fussier of our two dogs and provides a good litmus test when it comes to the tastiness of fresh dog meals.
When we first ordered Butternut Box, they had just four recipes on offer. This expanded to six before hitting 10 (correct at the time of writing).
While Butternut Box are becoming a big pet food brand in the UK, they've managed to successfully strike the balance between expansion and retaining a community feel. If you read through their 15,000+ reviews on Trustpilot, you'll get a sense of just how passionate Butternutters are (Butternut Box have a score of 4.9 stars).
To start your Butternut Box journey, you'll have to complete their sign-up questionnaire where you provide key details about your dog(s). Once they've learned more about your pup, they'll suggest a meal plan which you can stick with or select the recipes you believe will best suit your pet.
Butternut Box cook their meals at low temperatures to retain all the nutritional goodness and tasty flavour before freezing, packing and shipping to your door. British dog owners can keep a few meal pouches defrosted in the fridge and the rest should conveniently fit in your top freezer drawer.
Butternut Box have a stellar reputation with picky eaters, dogs with allergies or flatulence and dogs with sensitive stomachs.
Our Experience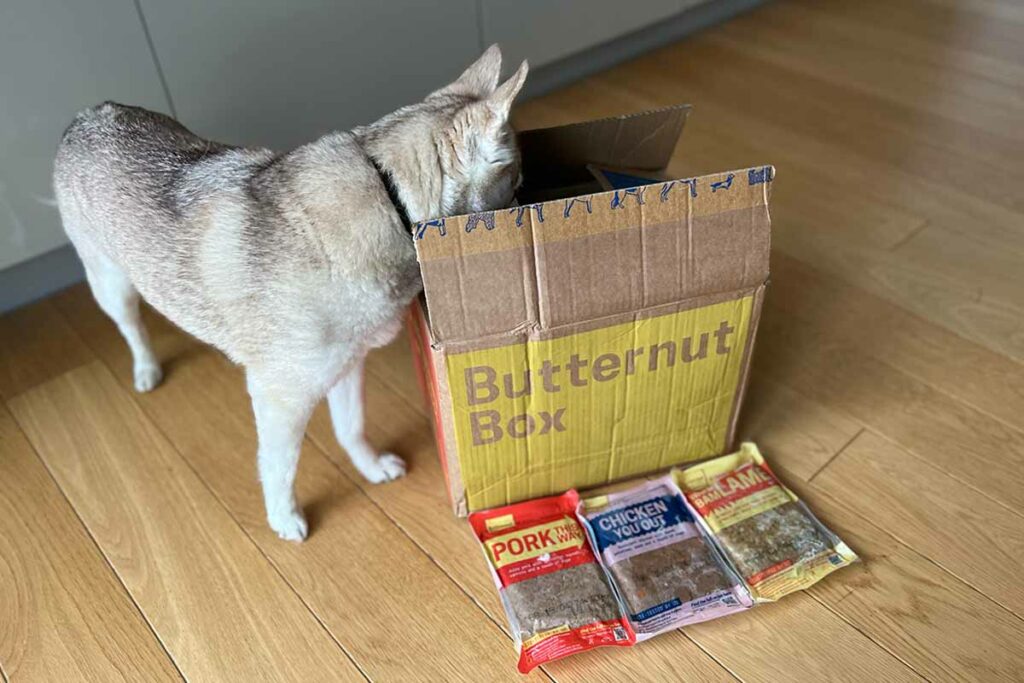 We made the switch from kibble to Butternut Box in 2019. Copper and Skye loved their meals.
Butternut Box offered four recipes at the time and it felt like a lot! They've now increased their menu of meals to 10, including decadent options like 'You've Got Game' and 'Duck and Chicken'. They've even got veggie and plant-based option if that's something your passionate about.
While we were approached by other dog food companies to review their food, we have always returned to Butternut Box because Copper and Skye truly love their meals.
As dog owners, we enjoy seeing our dogs excited about their food, feel good about the ingredients in Butternut Box's meals, appreciate the company's sustainable approach to their packaging and the community feel.
They use recyclable packaging so you can feed your dog healthy meals and feel good about doing your bit for the environment too!
Pure Pet Food
Website: purepetfood.com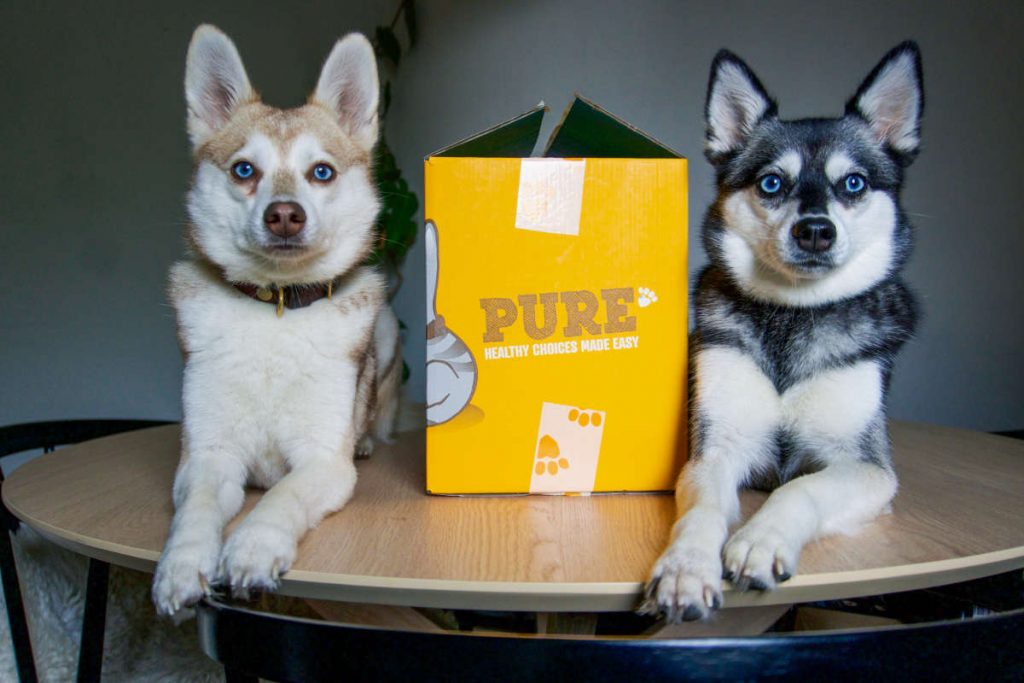 Pure Pet Food are another example of a dog food brand in the UK who have adopted a fresher approach to pet nutrition.
However, Pure differ from Butternut Box in the sense that their food is air-dried. They use high-quality ingredients in their meals that are cooked at low temperatures in their Yorkshire-based kitchen.
Pure, like Butternut Box, don't use any additives or preservatives in their pet food – just natural ingredients. Pure's meals are approved by vets so you can have confidence your dog is eating a balanced and complete diet.
You'll be required to complete their sign-up questionnaire so Pure can learn some more details about your canine companion. They'll suggest meals and portion sizes so you know exactly how much to feed your pup.
Pure provide a scooper for food and a scooper for water and pet owners will be required to mix air-dried dog food with water to create their dog's meals. While more effort is required on the part of the owner, it does mean Pure's meals can be stored in the cupboard rather than taking up fridge or freezer space.
Pure have an average rating of 4.7 stars on Trustpilot based upon over 3,000 reviews (a slightly lower average score than Butternut Box).
They have a stellar reputation when it comes to helping fussy eaters or dogs with sensitive tummies.
Our Experience
We switched to Pure Pet Food for a couple of months but ultimately returned to Butternut Box.
I liked that Pure's food can be stored in the cupboard rather than my fridge and freezer so it's certainly more convenient for the pet owner.
You don't need to consider how much frozen food to put in your freezer because you know there's a draw full of frozen dog meals.
However, it's less convenient when it comes to mealtime preparation as I needed to mix together the air-dried food and water.
Copper would happily scoff down his Pure meals but Skye was a little more hesitant.
You can 30% off your first Pure Pet Food box and 10% of your second and third box by clicking this link.
(*offer correct at the time of writing).
Butternut Box vs Pure: Our Pick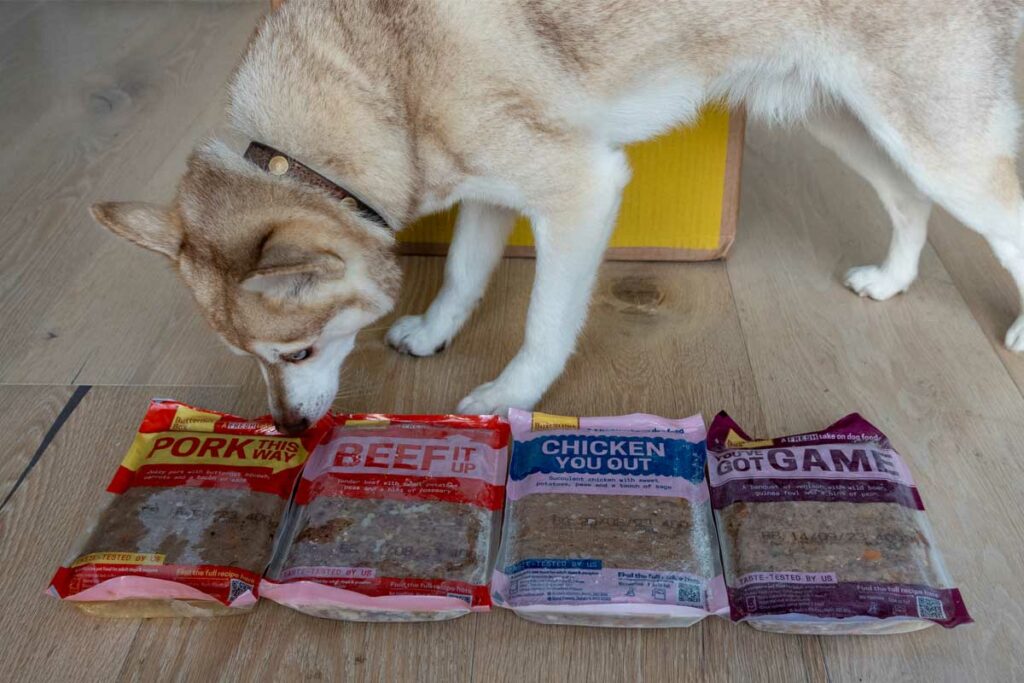 We've reached the key part of our Butternut Box vs Pure article.
You won't be surprised to learn that our pick is Butternut Box based upon our experience.
Butternut Box was a bigger hit in our house with Copper and Skye. They've got a fantastic range of recipes so I can rotate their meals to ensure Skye retain her mealtime excitement.
While Butternut Box does take up more room in my freezer, I like that it's easy to prepare Copper and Skye's meals. I keep a couple of meal pouches defrosted in the fridge and when it's mealtime, it's really as simple as rip-and-serve directly into their dog bowl. There's no messing around.
Butternut Box have an eco-friendly approach to their business and I really appreciate that I can recycle most of the packaging in their box. I can also tailor my deliveries to once a month (you can chose between every 2 weeks, every 3 weeks and every 4 weeks). This cuts down on emissions from delivery trucks and packaging materials.
While Butternut Box and Pure have stellar reviews from dog owners online, Butternut Box do have a higher average score based upon over three times the number of reviews. So you can feel confident that you're feeding balanced and complete meals to your dogs that have benefited other British dogs too!
If you'd like to give Butternut Box a try, we've got an exclusive discount for our readers and followers. You can get 50% off your first box and 50% off your second box when you click this link.
Wrapping Up – Our Final Thoughts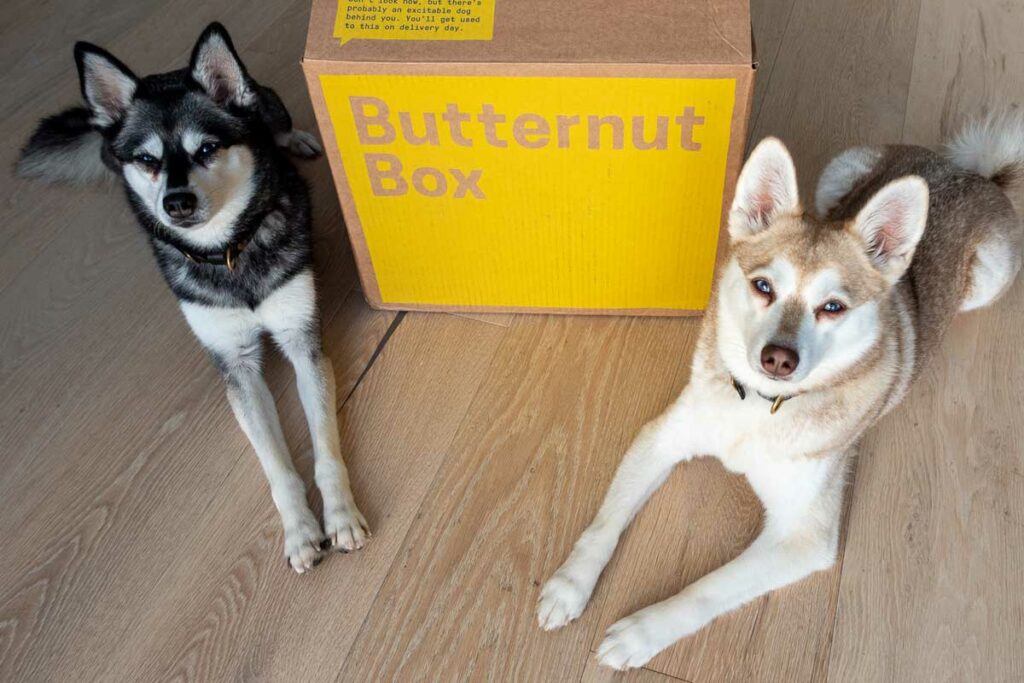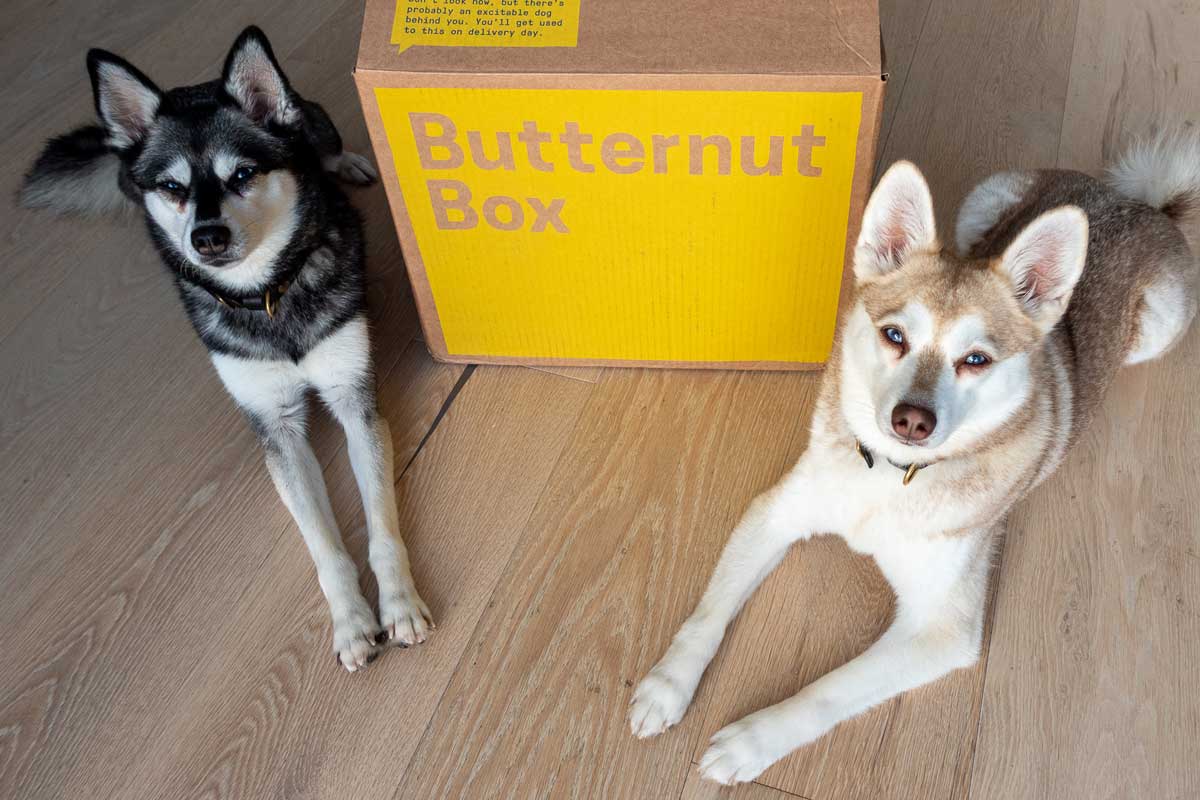 So there you have it – our pick would be Butternut Box.
We've had a great experience feeding Butternut Box to Copper and Skye so we wouldn't hesitate to recommend this dog food brand.
If you've got a fussy eater or a dog with a sensitive tummy, we can relate to the headache that you may be facing as you try to resolve these issues.
While consulting with your vet is a good idea before making a switch to dog food, we recommend giving Butternut Box a try to see if their balanced, complete and fresh dog food can help your dog.
We can offer our readers and our followers the chance to get 50% off your first Butternut Box order so you can give their dog food a try at a cheaper price before deciding whether to continue with their meals.
Don't forget you can get 50% off your first Butternut Box order and 50% off your second Butternut Box order here.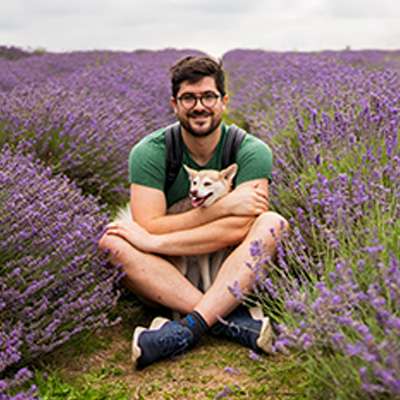 Kieran runs Life With Klee Kai on social media and other online platforms alongside his wife Yasmin. With over 10 years of experience as a journalist and a passionate dog owner, Kieran loves to combine his passion for pets and writing to share useful insights and product reviews to help other dog owners.