Last Updated on September 18, 2023 by Kieran
Are you looking to invest in a travel kennel and you're thinking about purchasing the Enventur?
The Enventur Travel Kennel made by Diggs is perfect for pet owners who like to take their dogs on their adventures whether it's a road trip, exploring a national park or visiting family in another state.
There are lots of soft sided crates available to purchase on online retailers such as Amazon but the Enventur is an inflatable travel kennel to allow pet owners to maximize space when it's not in use.
We love to take our Alaskan Klee Kai with us in our Tesla when we go on weekend breaks but with a toddler and two dogs, it can be difficult fitting everything in our Model Y, including a kennel.
The idea of an inflatable dog kennel appealed to us because it can be stored away when not in use, and it's easily inflated when we're visiting family or preparing to go on a road trip.
Having got our hands on the Diggs Enventur Travel Kennel, we're going to share our insights into the inflatable crate, give our pros and cons as well as give our readers a special Diggs offer.
With the introduction out of the way, let's get started with our Enventur Travel Kennel review.
Cut To The Chase: You can save 10% on first Diggs order by clicking this link and using code "KLEEKAI" at checkout.
Who Are Diggs?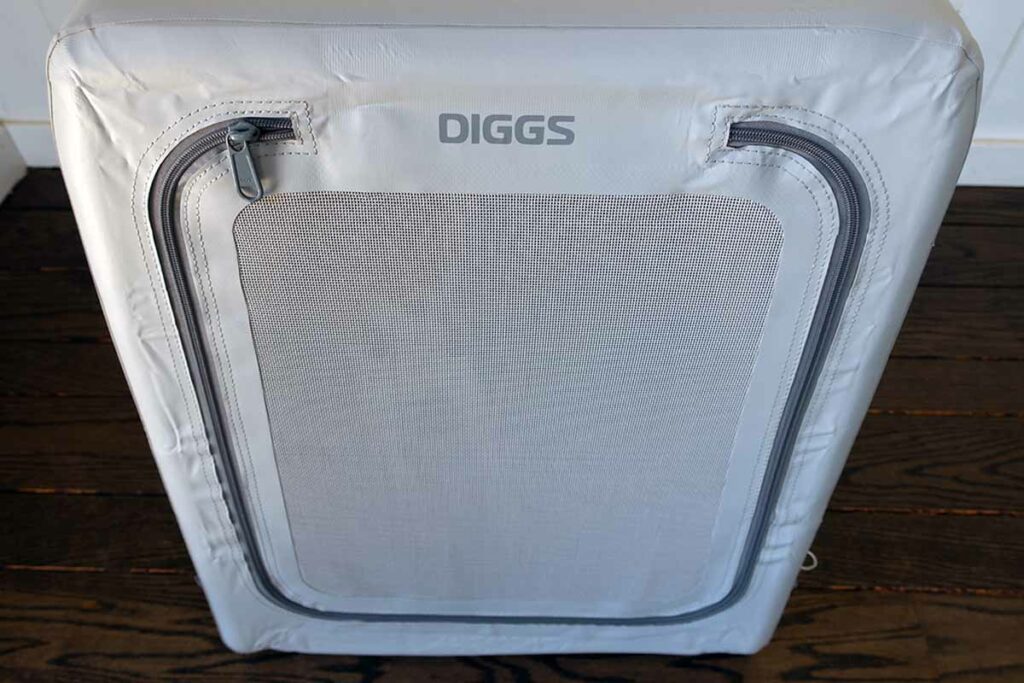 Diggs are one of the leading manufacturers of durable and safe dog crates in the USA (and you can also purchase their crates in some other countries too, such as Canada).
If you've got a dog and you've previously researched dog crates, you'll almost certainly have come across the Diggs Revol Dog Crate that is collapsible and portable.
This is Diggs most popular dog crate and helped the brand to establish themselves as one of the leaders in the dog crate market.
Diggs released the Evolv in 2023, which is their slimmest dog crate with a modular design and playpen mode.
While the Evolv is slimmer than the Revol, it's uses reinforced stainless steel to give it a sturdy design, with a significantly lower price point.
Diggs appeal to me because their creations are inspired by baby industry standards, putting the safety of dogs first.
If you're someone whose on the go, adventures a lot with your dog, the Enventur could be the best choice for you and your canine companion.
Enventur Travel Kennel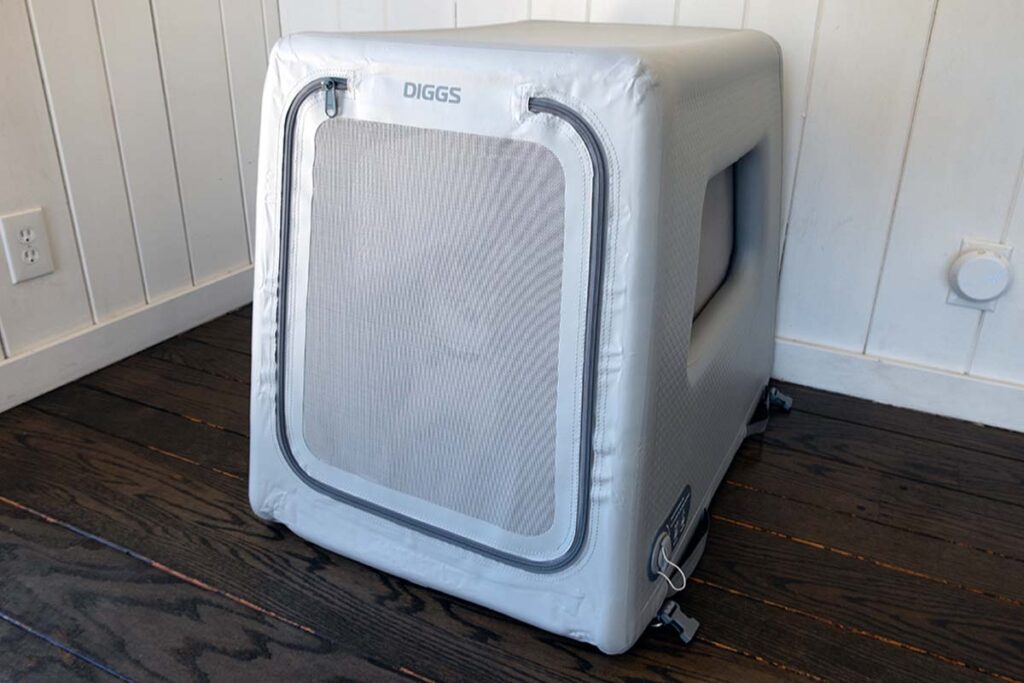 The Enventur is Diggs' first travel kennel and it allows pet parents to ditch soft sided crates for a more convenient and versatile option.
Most pet owners will look to invest in a travel crate or travel kennel at some stage because you'll need a safe space for your pup if you're heading to the dog park or the vet.
Diggs write on their website that the Eventur is tough but lightweight, which makes it a good contender for a travel kennel in most vehicles.
Diggs Enventur Travel Kennel arrives deflated and once you've laid it out flat on the floor, you can inflate the travel kennel using a pump.
Once fully inflated, the Enventur is extremely solid just like a hard sided crate (I sat on top of the crate and it didn't lose any of its stability).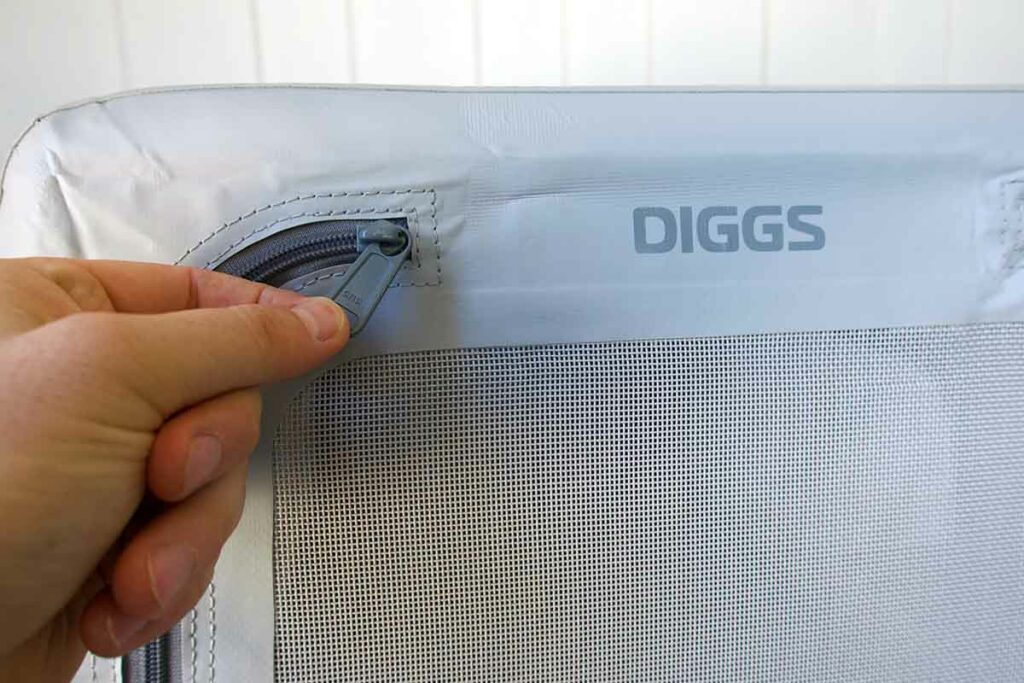 Diggs have used puncture-resistant, waterproof materials to ensure the Enventur can withstand the rigors of day-to-day life with dogs.
It'll keep your pet contained and Diggs provide tie downs with your purchase so you can securely attach the travel kennel to your car.
Diggs put your pet's comfort first and the Enventur's angled walls maximize space in the kennel, with ventilated windows and air cushioned walls to make your dog feel at ease inside.
Diggs explain on their website that the small Enventur has passed bench seat crash safety tests, but the medium and large sizes are still subject to ongoing testing.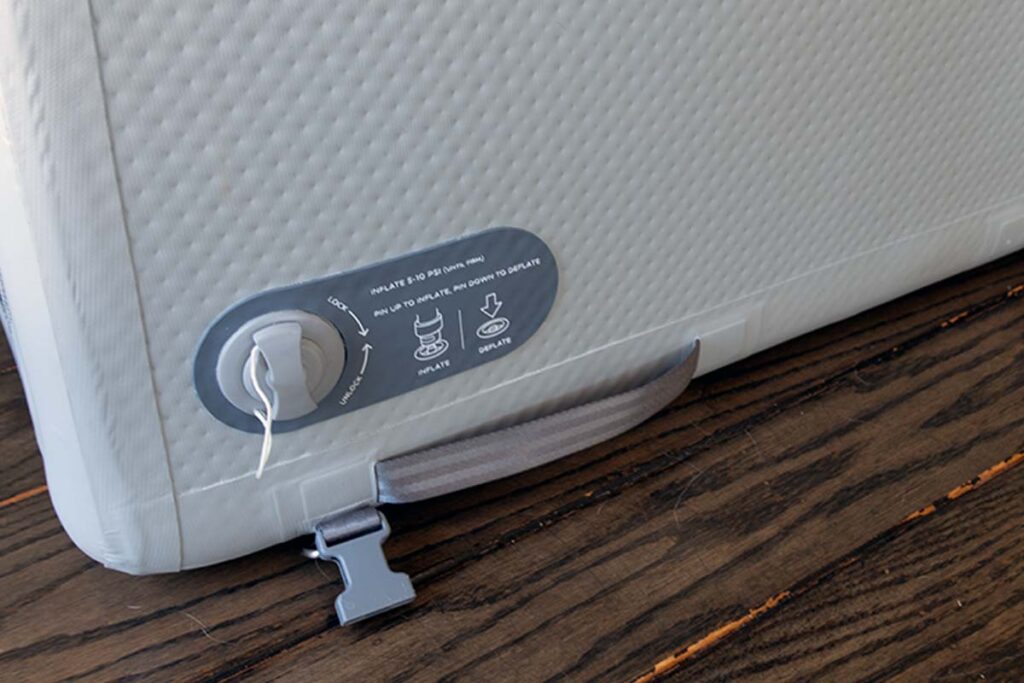 So if you're looking at the medium and large sizes, that's something to keep in mind. For those who require the small Enventur, you can feel extra confident knowing its passed the test.
If you're worried about the materials used to construct the crate and whether they're safe for dogs, Diggs write online that the Enventur is safe from phthalates, heavy metals and other harmful chemicals.
Our Verdict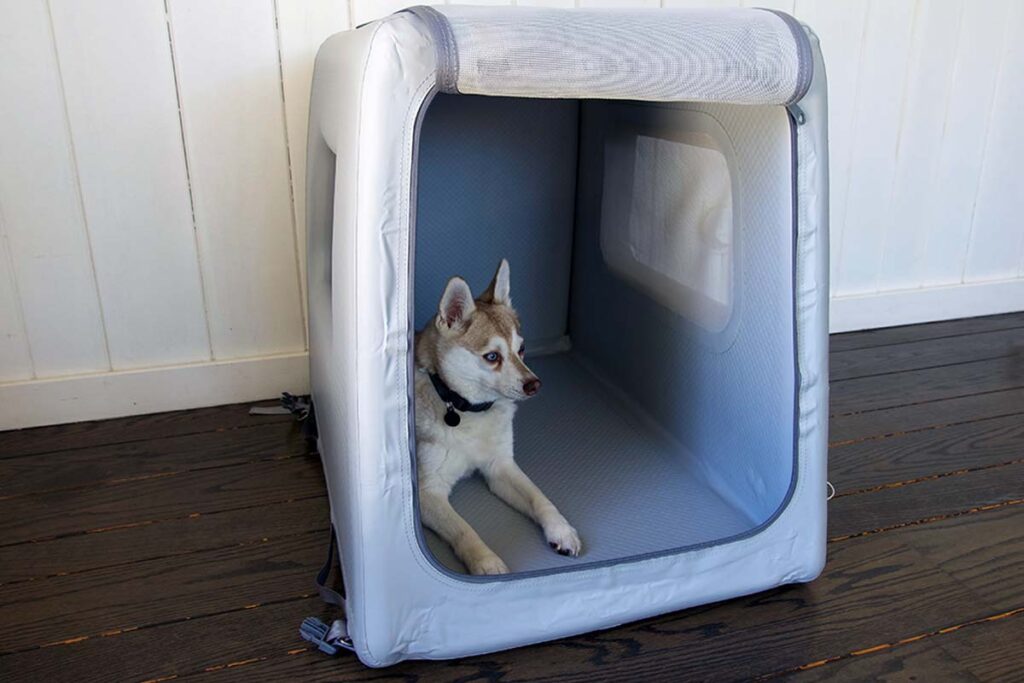 We managed to get our hands on the Enventur Travel Kennel after its release in 2023.
I've been looking for a travel kennel that is durable and secure like a hard sided crate but easy to carry and transport like lightweight soft sided kennels.
When I received the Enventur deflated, I rolled it out and got pumping (Note: Diggs Manual Pump is sold separately on their website if you want to add to your cart).
Using the Enventur for the first time, it did take me a couple of goes inflating and deflating before I felt like I'd mastered the process.
Once you've got to grips with the kennel and the pump, you can rapidly inflate within 60 seconds with ease.
When you deflate Enventur following use, it folds flat which offers efficient storage in a closet or garage.
Copper and Skye were immediately intrigued by the Eventur and my Klee Kai didn't require any encouragement to go inside.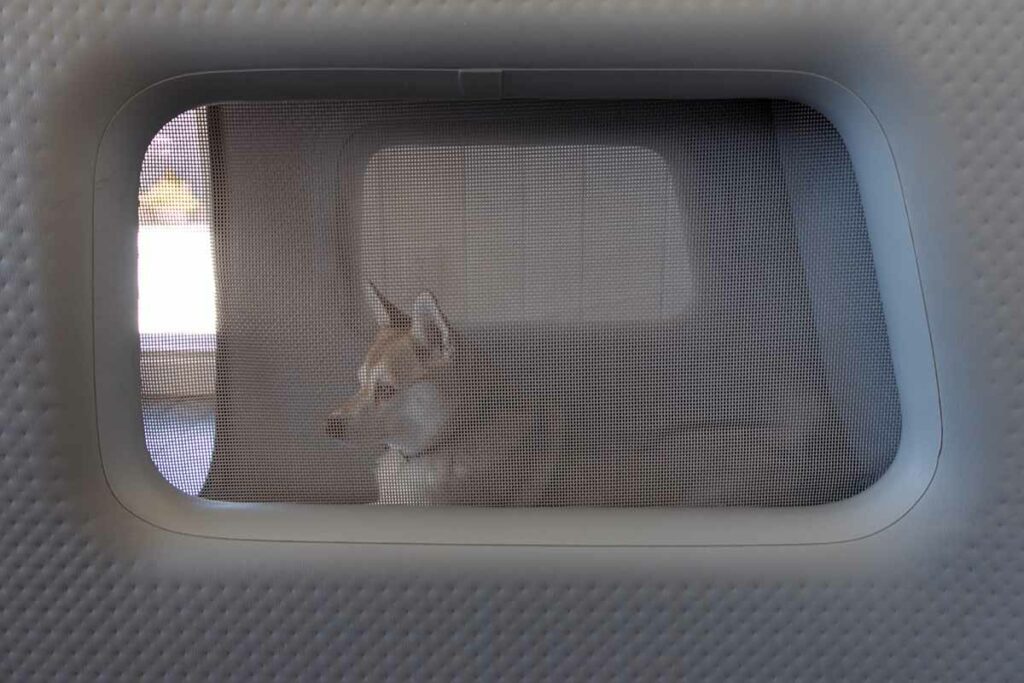 In the hot afternoons in California while I was reviewing and testing the Diggs Enventur Travel Kennel, Copper really enjoyed napping inside which I think speaks to the calming space and cool interior.
Reading that the small Enventur passed crash tested safety standard, I sat all 210lbs of me on top of the crate and it didn't wobble in the slightest.
Diggs state that the Enventur is ultra durable and puncture resistant – and this certainly seems to be the case based upon my amateur testing.
At the time of writing, I've used the Diggs Enventur Travel Kennel for about a month.
I've got sufficient cargo space in my Tesla to fit the Enventur with ease. You should check Diggs' website where they explain what type of cargo space is required for most vehicles.
Based upon my experience, it seems more pet safe than other basic travel crates I've bought on Amazon.
Diggs have delivered in creating a travel kennel that encompasses the durability of a hard sided crate and the portability of a soft sided crate.
In the hopefully unlikely event we are involved in a car accident, I feel confident my Klee Kai will be safe in the Enventur. However, I'll be keeping an eye to see if the medium Enventur does complete testing.
Where To Buy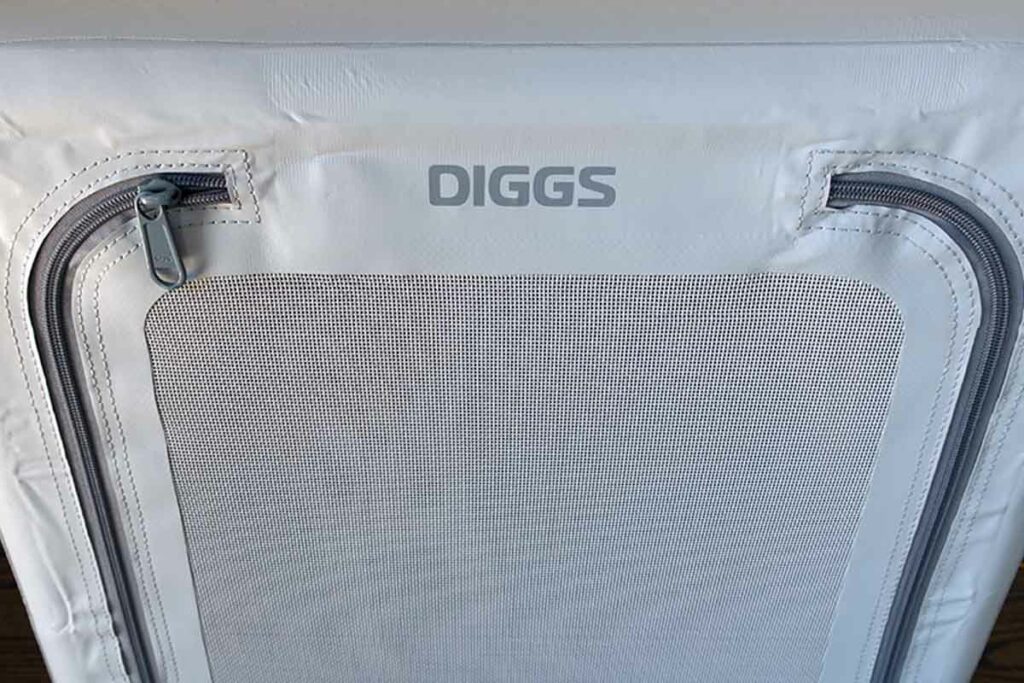 You can purchase the Enventur on Diggs' website. At the time of writing, there are three sizes.
The small Enventur costs $425, medium Enventur is priced at $475 and the large Enventur has a price tag of $575.
So it's clear the Enventur is a premium product with a premium price when compred to other travel crates.
However, the Diggs' Enventur is an innovative travel kennel that is reshaping the market.
Do Diggs Have Coupon Code Or Discount?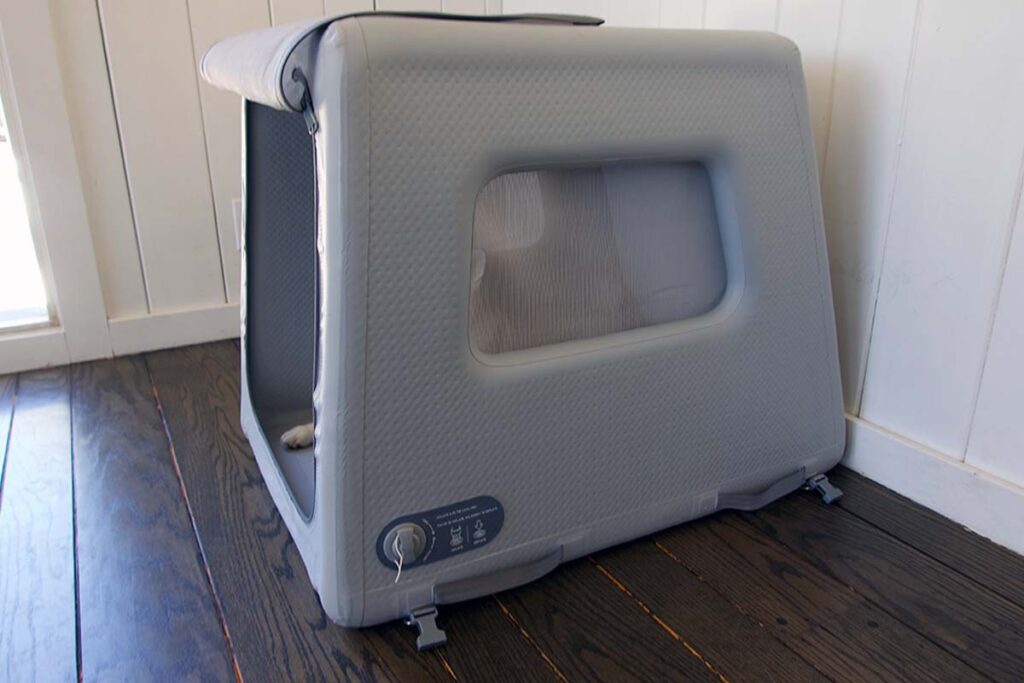 We contacted Diggs and you can save 10% on your first order when you click here and use code KLEEKAI at checkout.
(This offer is only good until midnight Sunday 17 September.)
Anything Else To Consider?
If you buy the Enventur but change your mind, Diggs write on their website that the travel kennel is eligible for returns and exchanges provided the tags are intact and you have the original packaging.
It's important to note that the Enventur doesn't come with a pump, so you'll have to purcahse it separately whether that's the official Diggs pump or an alternative on Amazon.
Diggs don't include the tie straps in your purchase, either. So you'll need to cough up an extra $45 for the tie downs which Diggs explain are required to ensure crash-tested safety.
Final Thoughts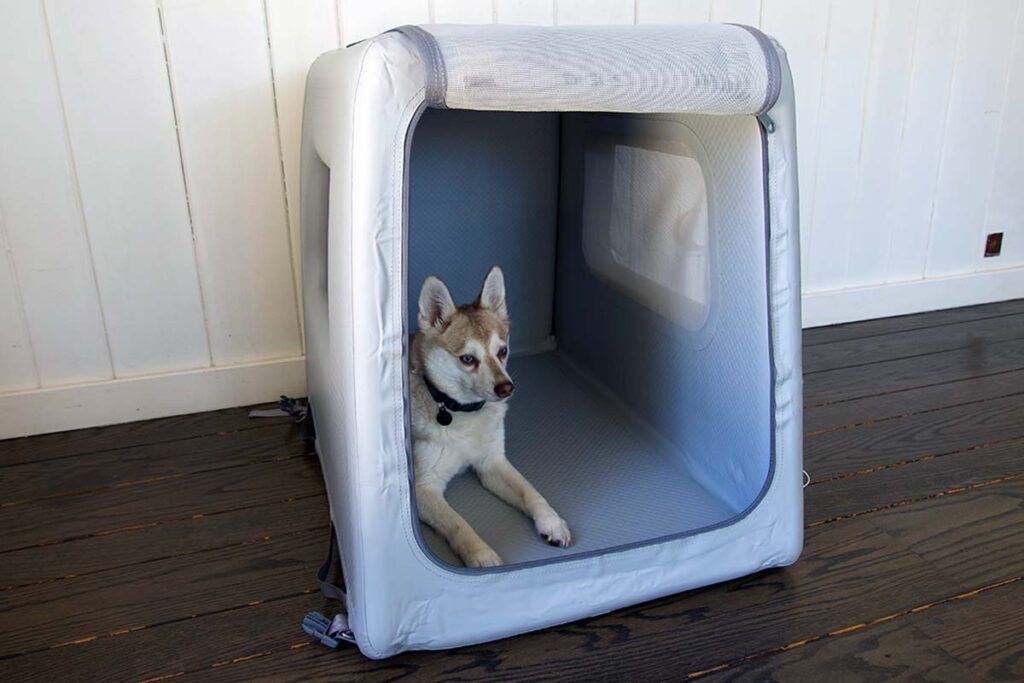 We've reached the conclusion of our Enventur feature.
If you're looking for a travel kennel for your dog that will fit most vehicles, the Enventur could be for you.
The Enventur is ultra durable, considers pet comfort with angled walls and a cushioned base, uses waterproof materials, is puncture resistant and incudes ventilated windows.
Unlike some cheap travel crates that are awkward to collapse and store away, I found the Enventur simple to inflate, reasonably easy to deflate and folds flat for easy storage.
Overall, it's a comfortable travel crate that meets safety standards so perfect for dog owners who want a strong, versatile travel kennel to take on the road.
You can save 10% on the Enventur when you click this link and use code "KLEEKAI" at the checkout.