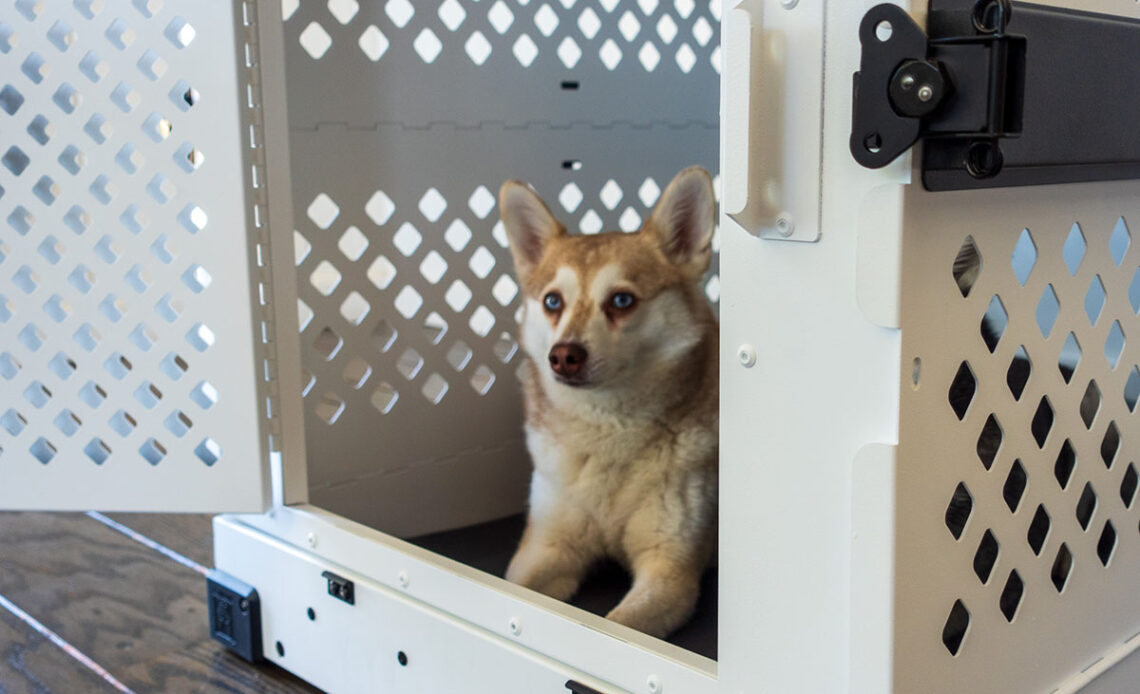 Last Updated on September 7, 2023 by Kieran
Are you thinking about investing in Impact's Collapsible dog crate but you want to make sure it's worth the hefty investment?
Impact have established themselves as one of the leading dog crate manufacturers in the USA thanks to their premium products that keep our dogs safe whether they're at home alone or travelling with you.
If you're familiar with the Alaskan Klee Kai breed, you'll now that these Mini Huskies are escape artists so I wanted to find a reliable collapsible dog crate to use in my house but also on the road.
In my quest to find a durable crate, I came across Impact Dog Crates and I decided to give them a try.
Impact have a range of different crates, including the Stationary Crate and the High Anxiety Crate, but we're going to take a close look at the Impact's Collapsible dog crate for the purposes of this review.
In this Impact collapsible crate feature, we're going to examine Impact Dog Crates, the Collapsible crate, give our personal review and explain how you can save 15% if you decide to buy.
Skip To The Good Part: You can save 15% on your first Impact Dog Crate order when you click this link and use the discount code "KLEEKAI" at the checkout.
Who Are Impact Dog Crates?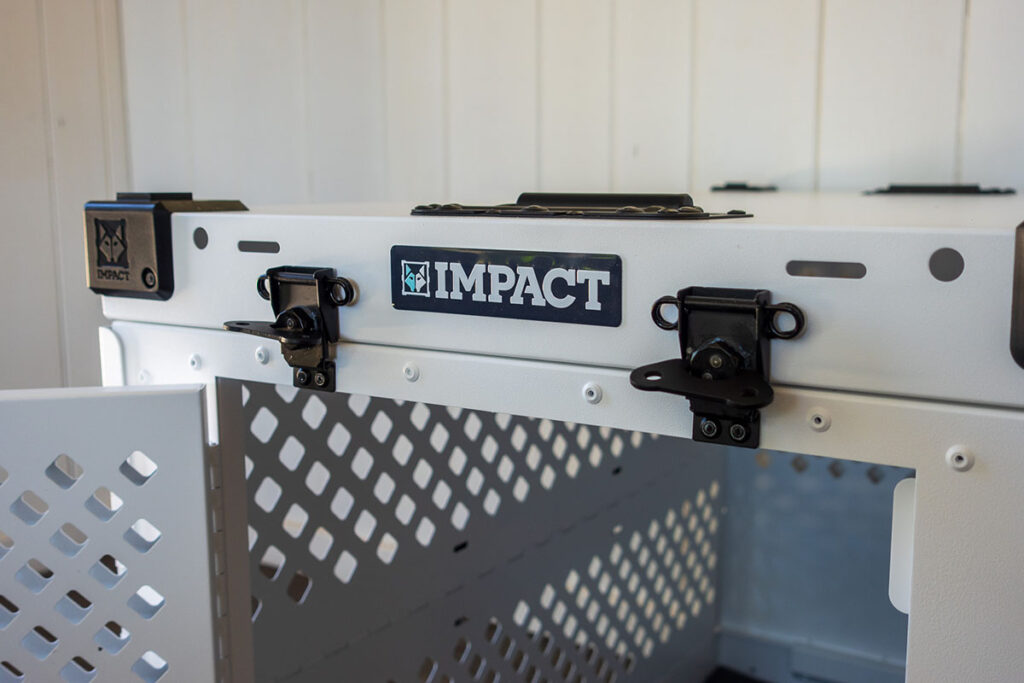 Impact Dog Crates are one of the top manufacturers of dog crates in the USA, with three crates proving particularly popular: the Stationary Crate, High Anxiety Crate and the Collapsible Crate.
Having launched in 2012, Impact wanted to create durable crates that prioritize the safety and security of pets while providing peace of mind to owners. So it's a win-win!
As someone who has wasted a lot of money on cheap foldable crates and wire crates from online retailers over the years, Impact's unique creations that put an emphasis on safety appealed to me.
Unlike other crates, Impact have put a lot of thought into creating crates that can cater to all dogs, whether you've got an axious dog who struggles with separation anxiety or your dog destroying their crate has become a regular occurrence.
Impact have modelled all of their dog crates on military-grade aluminum cases. You can have complete confidence that your dog is safe in their escape proof, well designed crate.
These heavy duty crates are made from durable aluminum, they're portable thanks to the clever design, maximise space with stackable corners and should last the lifetime of your dog.
Now that we've learned a little more about Impact and their dog crates, let's take a closer look at their collapsible dog crate.
Impact Collapsible Dog Crate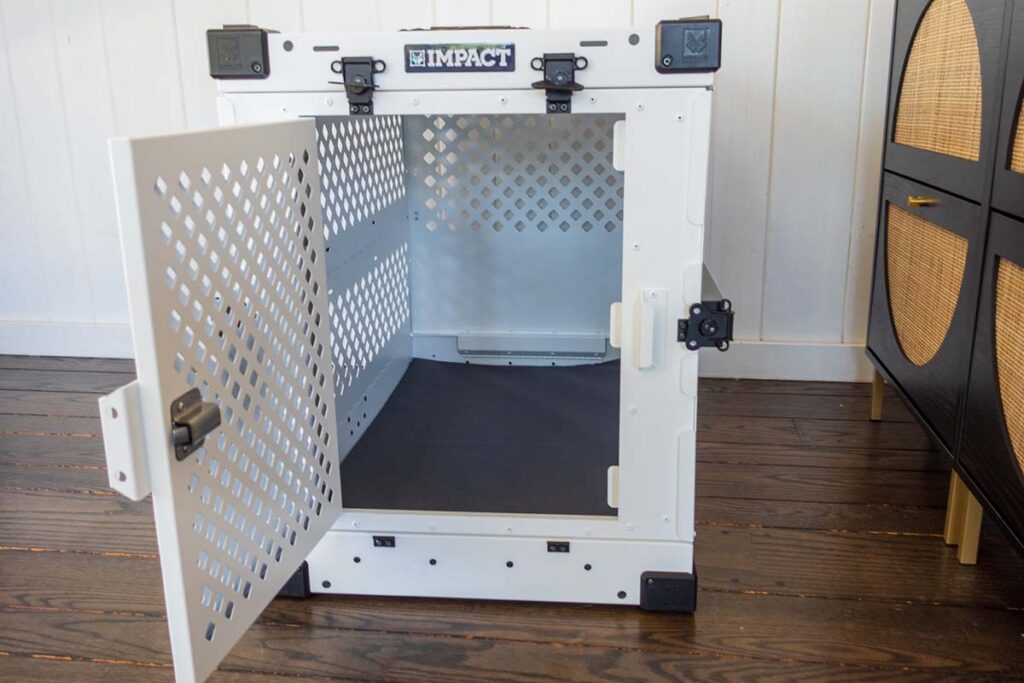 If you've previously invested in wire crates, you'll know they're awkward to use. I've regularly caught my fingers in the crate as I try to collapse it or put it back together.
Impact have created a well designed crate that is super simple to use. It takes less than 60 seconds to set up – and it's just as easy to break down if you need to move it to a new location.
The Collapsible dog crate uses 100% aluminum to make it a durable crate capable of withstanding day-to-day life with active dogs like my Alaskan Klee Kai.
Impact make your dog's safety and security a priority – the Collapsible dog crate has a stainless steel slam latch. This ensures your dog is safe inside their den but makes the crate easy to use for pet owners. For added security, there are two butterfly latches.
The Impact crate has a sleek folding design with military grade handles which make transporting the durable but lightweight crate easy.
Once fully assembled, the Impact Collapsible dog crate has an eye-catching design that can compliment your decor. It's not an eyesore in the corner like some collapsible crates.
If you've got multiple dogs like me, you'll appreciate that the Impact Collapsible dog crate has stackable corners, allowing pet owners to utilize floor space in your home or trunk space in the car.
There's ample air flow thanks to the ventilation holes. Impact have cleverly made these ventilation holes in a rounded-diamond shape to prevent dogs from sticking their snout through or digging their teeth in.
Whether your dog is at home alone and you've got the AC on or they're in the trunk of your car, you can feel good that the ventilation holes are providing lots of air flow.
Our Review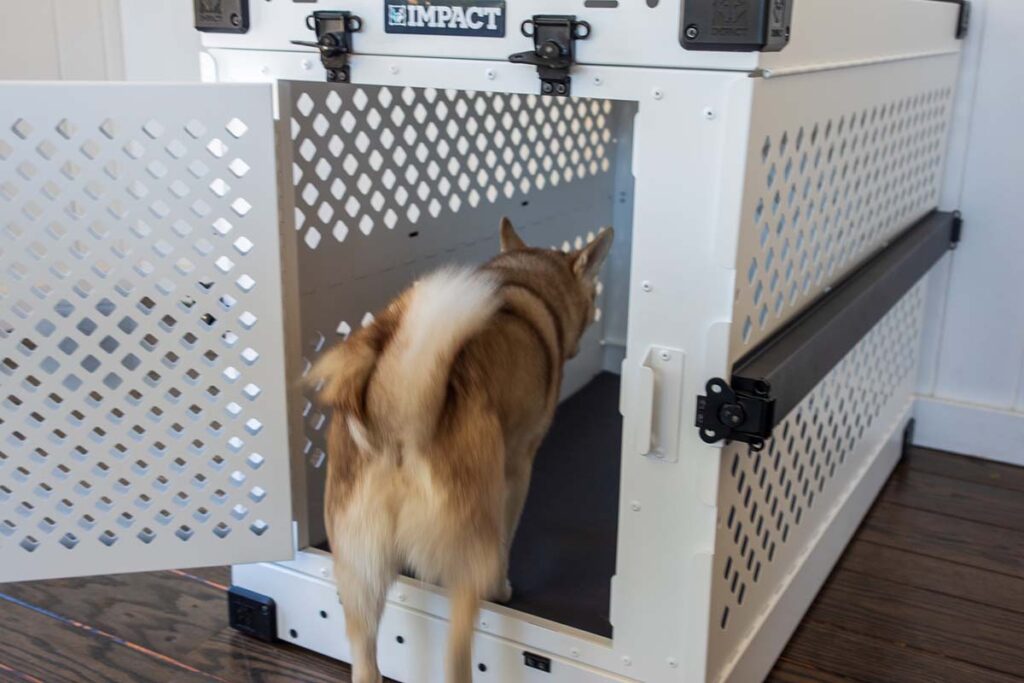 It's time to give our Impact dog crate review based upon using the collapsible crate since 2023.
When you receive your Impact dog crate, you should be ready to dedicate some time to set up. I found that it took me a little longer than 60 seconds to get the collapsible dog crate fully assembled.
You'll need to get to grips with the airline rails that support the crate – these airline rails can be a little tricky the first time you install them but afterwards, they're a breeze to use.
Once I became more familiar with the Impact collapsible dog crate, I could easily collapse and reassemble in 60 seconds. (It's worth noting the Collapsible Crate and High Anxiety arrive disassembled but the Stationary Crate comes put together).
It was clear to me that the Impact collapsible dog crate is a premium product with a thoughtful design. Impact surpassed my expectations with the sheer quality of the build.
I found the stainless steel slam latch to be a great addition to the dog crate. As a dad who typically has his hands full, it makes opening and closing the crate easy unlike other crates I've previously purchased.
The Impact crate has a cool design that my wife and I felt fitted seamlessly into our home decor. Funnily, it's the first time we've received compliments on our dog crate.
Copper and Skye have always used dog crates and they enjoy having their own den to take a break from life with our rambunctious daughter.
While they suffer with separation anxiety, they can't escape from the Impact dog crate. If we need to transport them, they're comfortable in their crate in the car.
Although the Impact dog crate doesn't have wheels (this could be cool addition in the future), my wife and I were able to carry the crate to a different room or to the car with ease.
Overall, the Impact collapsible crate was a great purchase that made life with our two high energy dogs a little easier.
How Much Does Impact's Collapsible Dog Crate Cost?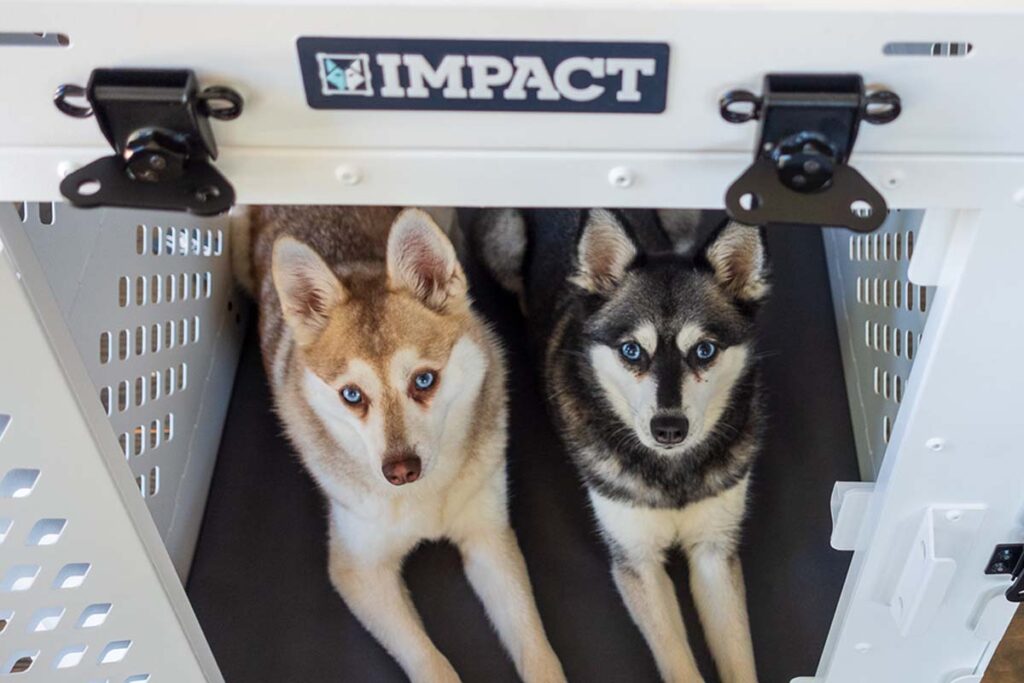 If you're ready to make a purchase, you're probably wondering the cost of this Impact crate.
There's no hiding from the fact that Impact crates cost a lot of money – it's a premium product. However, you'll be investing in an Impact crate that can last the lifetime of your dog.
The Impact collapsible crate starts at $999 for the 30″ model but goes up to $1199 for the 48″ crate.
(If you've got a Great Dane, they've got a specially designed dog crates that cost a lot more)
You can add a vinyl pad to your order if you want to use Impact's bedding for your dog's comfort. Initially, I didn't get the vinyl pad but I did retrospectively order as they're a useful addition.
Do We Have Impact Coupon Code Or Discount For Our Readers?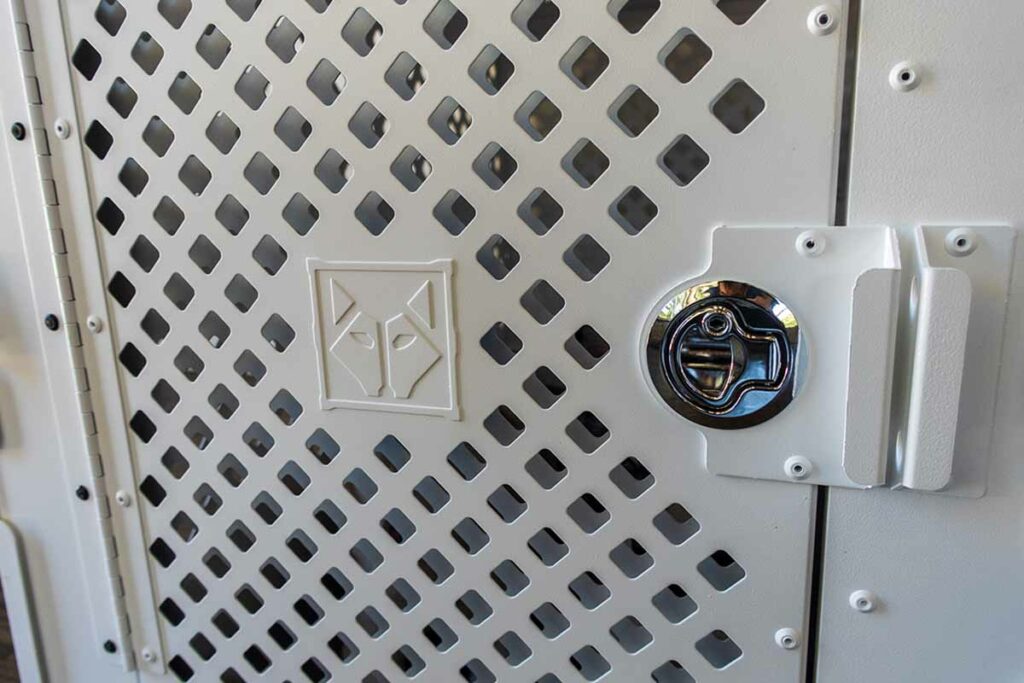 We reached out to Impact Dog Crates and they provided us with a special discount for our readers.
You can save 15% on your first Impact Dog Crate order when you click this link and use the discount code "KLEEKAI" at the checkout.
This offer is valid for the Collapsible Dog Crate, Stationary Crate or High Anxiety Dog Crate.
For example, if you decide to buy a new crate such as the 30″ collapsible model, you'll be able to save around $150 on your order by using our LIFEWITHKLEEKAI discount code.
So to make a saving of 15% on your Impact crates, click this link or hit the button below and use "KLEEKAI" at the checkout.
Do Impact Dog Crates Offer A Guarantee?
Impact Dog Crates offer a Lifetime Guarantee with your purchase of their crate.
Impact's website states the following: "The Collapsible crate comes with a Lifetime Guarantee to ensure your crate is free of defects in materials or workmanship, for life."
Is The Impact Collapsible Crate IATA Approved?
This Impact crate isn't IATA approved but Impact have engineered sturdy IATA-approved brackets to transform your Collapsible Impact Dog Crate into a stationary crate in order to meet the IATA (International Air Transport Association) pet cargo requirements.
Impact write that dog owners can purchase the brackets to turn the Impact Collapsible crate into an IATA-approved crate but still enjoy the convenience of having a crate that can be collapsed.
Anything Else To Note?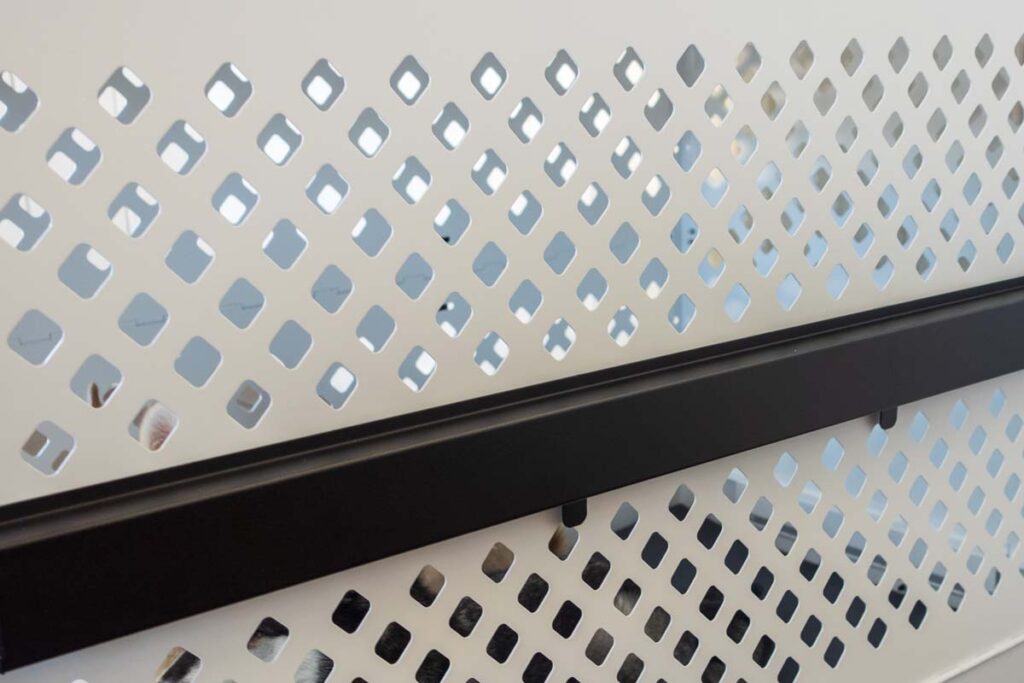 Impact state online that the Collapsible dog crate isn't designed for dogs with severe anxiety. So if you've got big dogs with destructive tendencies when left alone, you may want to take a look at their High Anxiety Dog Crates.
Here's what Impact write on their website about the Collapsible dog crate and High Anxiety crate:
"The Collapsible crate is not designed for dogs who escape or show signs of anxiety. Although this crate is much stronger than traditional wire and plastic crates, the hinges and folding design of this crate is not ideal for anxious dogs. We have specifically designed the High Anxiety crate for destructive and escape-artist dogs."
Conclusion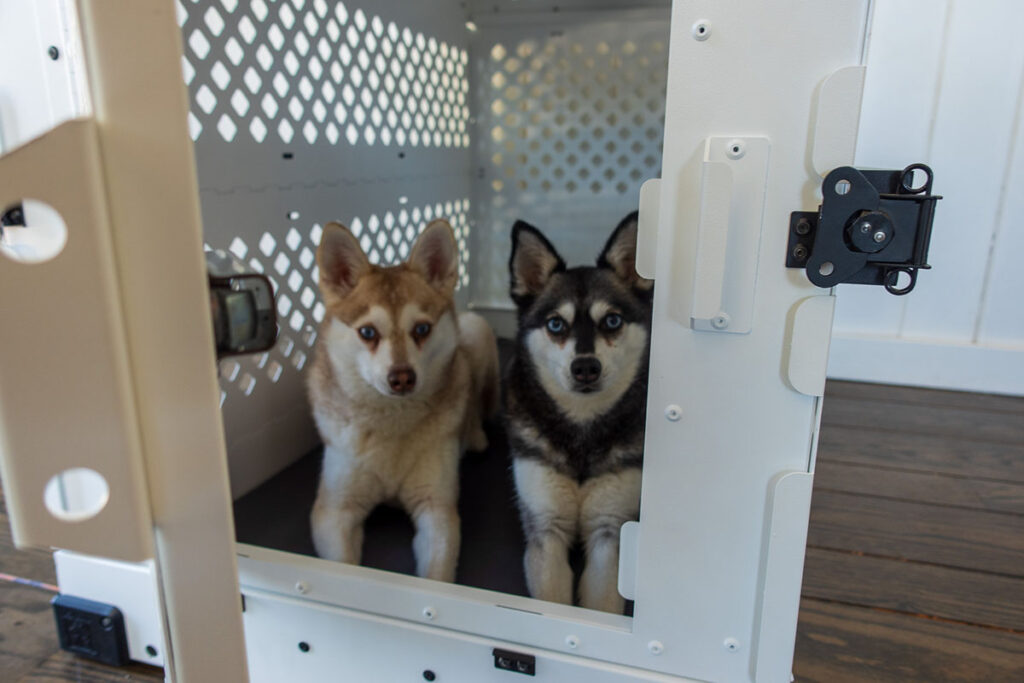 We've reached the end of our Impact crate review.
If you're looking for a versatile dog crate that you can keep at home, bring on road trips, breakdown and store away but set up easily, you won't go wrong with Impact's Collapsible dog crate.
In my experience with my dogs and trying lots of dog crates over the years, Impact have created one of the best crates that I've used with my Alaskan Klee Kai.
It's easy to set up, provides ultimate safety and security, is tastefully and thoughtfully designed and includes a lot of features that other dog crates don't have.
While I appreciate the Impact Collapsible dog crate has a big price tag, I believe it's worth the investment. If you decide to purchase, you likely won't need another dog crate in your dog's lifetime.
Furthermore, Impact offer the Lifetime Guarantee should any of the parts prove defective.
If you're looking for a dog crate that is portable and versatile, can be collapsed and reassembled easily, and puts your dog's safety first, I'd go with the Impact Collapsible dog crate.
Don't forget you can save 15% on your first Impact order when you click this link and use the discount code "KLEEKAI" at the checkout.