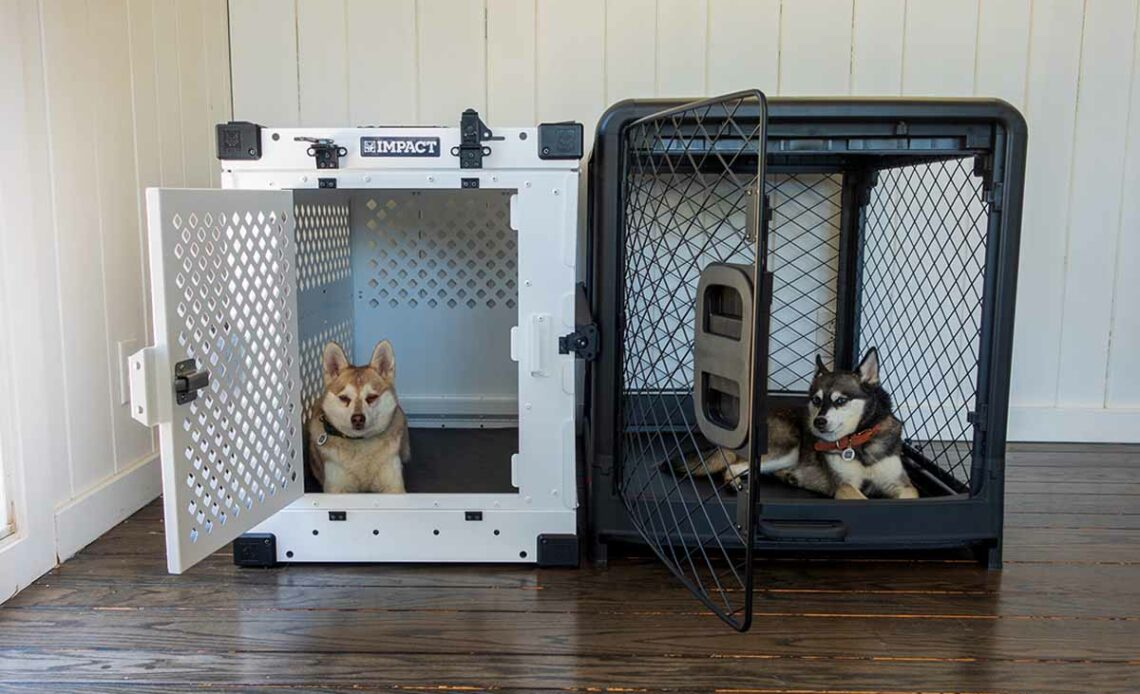 Last Updated on September 18, 2023 by Kieran
Are you looking for a collapsible dog crate for your small dog?
I know from experience that it can be a little confusing and overwhelming trying to figure out the best options for you and your dog.
There's no shortage of options available to buy on online retailers such as Amazon but it can be difficult to figure out the best fit for your pup.
As the owner of two small Alaskan Klee Kai, I know firsthand the important role that crates play in day-to-day life.
Whether you're going on a roadtrip, taking your dog to the vet or you need to put your dogs in a safe place when you have visitors, a crate can be a useful tool.
In this article, I'm going to take a look at the best collapsible dog crates for small dogs based upon my experience testing and reviewing the options featured below.
So with the introduction complete, let's take a look at some of the best collapsible dog crates for small dogs available to purchase right now.
Cut to the chase: If you just want to know my top two pick without learning more about collapsible dog crates and reading more detail on my top three picks, my preferred option is Impact's Collapsible Dog Crate and you can save 15% by clicking here right now.
What To Look For In Collapsible Dog Crate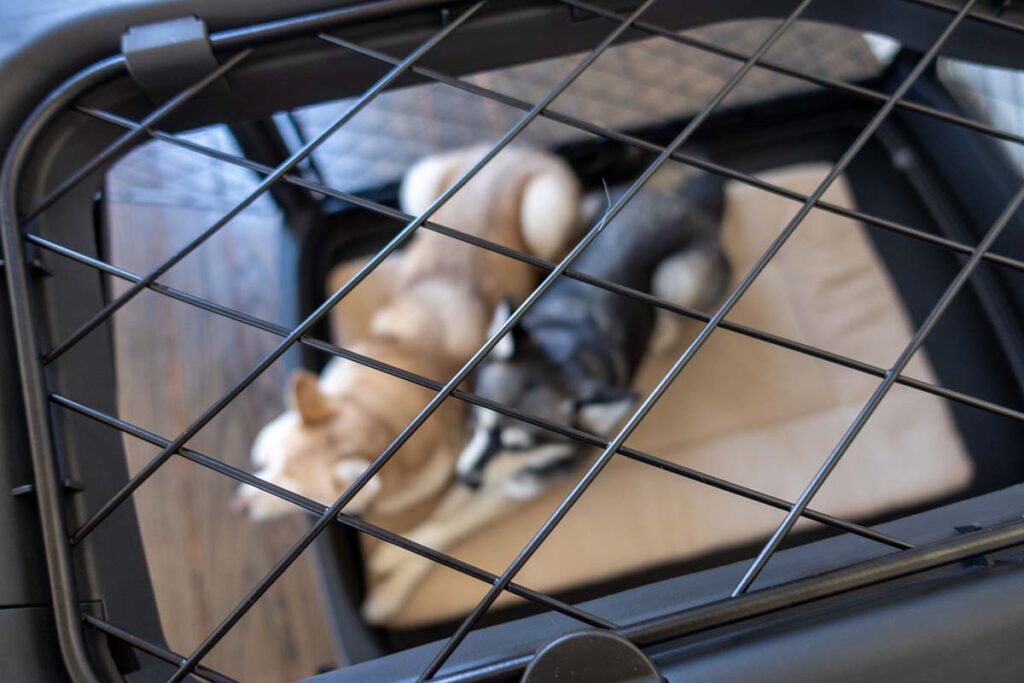 When I began my research into the best collapsible dog crates for small dogs, I considered a number of different factors as well as researching customer reviews.
I carefully considered the opinions of dog experts who have spoken about the topic of dog crates before I put the leading suggestions to the test to assess their performance.
If you're thinking about getting a collapsible dog crate for your dog, there are a number of factors that I believe you should take into consideration before purchasing your crate.
• Size – You need to measure your dog (height, weight and length) and refer to the brand's measurement guide (reputable brands should provide such a guide on their website) before selecting the right size for your small dog. It's essential to ensure your dog has sufficient space to stand, turn around and lie down comfortably.
• Ventilation – It's vital that your dog feels comfortable so you'll want a suitably sized crate with plenty of ventilation. There should be proper airflow with ventilation openings or mesh panels. Such features can ensure adequate air circulation within the crate so your small dog is comfortable.
• Portability – If you're looking for a small collapsible crate for your dog, you're probably planning to move the crate or take it with you when you're on the road or travelling. Therefore, it's vital that the dog crate is easy to collapse and carry. So I've highlighted small dog crates that use lightweight materials and a design that's easy to fold away.•
• Durability – So you're planning to use your collapsible dog crate to transport your small dog in the car for day trips or weekend breaks. Let's be honest, bumps and scratches happen whether it's a pothole in the road or a narrow doorway – I've certainly bumped a few walls moving my dog crates around. That's why I like to use dog crates made from lightweight but durable materials. They should also be sturdy enough to withstand any rambunctious behavior from over zealous little pups!
• Safety – I like to see dog crate manufacturers employing multiple latch security systems to ensure you're completely covered even if one of the latches should break. I've highlighted three crates that use latches rather than zippers (which I feel are susceptible to issues and unreliable). You want an escape-proof crate for your small dog, especially if you've got expert escape artists like my Alaskan Klee Kai, Copper and Skye.
• Design – If you're planning to keep your collapsible dog crate inside your home, you'll want it to have an easy-on-the-eye design. I've included two options that my wife and I believe to be aesthetically pleasing (of course, this is our taste but may differ from yours!) as well as a basic option that is no thrills but still ticks all the boxes. If you like to keep an eye on your small dog, you'll want a crate with good visibility too.
• Easy Cleaning: Look for crates with removable, machine-washable fabric or a smooth, easy-to-clean surface. Accidents and spills can happen, so it's important to have a crate that is easy to maintain and keep clean.
• Reviews – Finally, I kept in mind online reviews from experts and journalists as well as customer reviews when deciding to highlight the three best collapsible dog crates for small dog. I managed to get samples of each to ensure I could give them a proper test run before recommending on our website. I felt it important that I could speak from experience.
Best Collapsible Dog Crates For Small Dogs – Reviewed & Tested
Now that we've discussed the benefits of having a dog crate and the factors that I considered when highlighting my favourite dog crates, here are my top three picks for pet owners who are looking for the best collapsible dog crate for their small dog.
Impact's Collapsible Dog Crate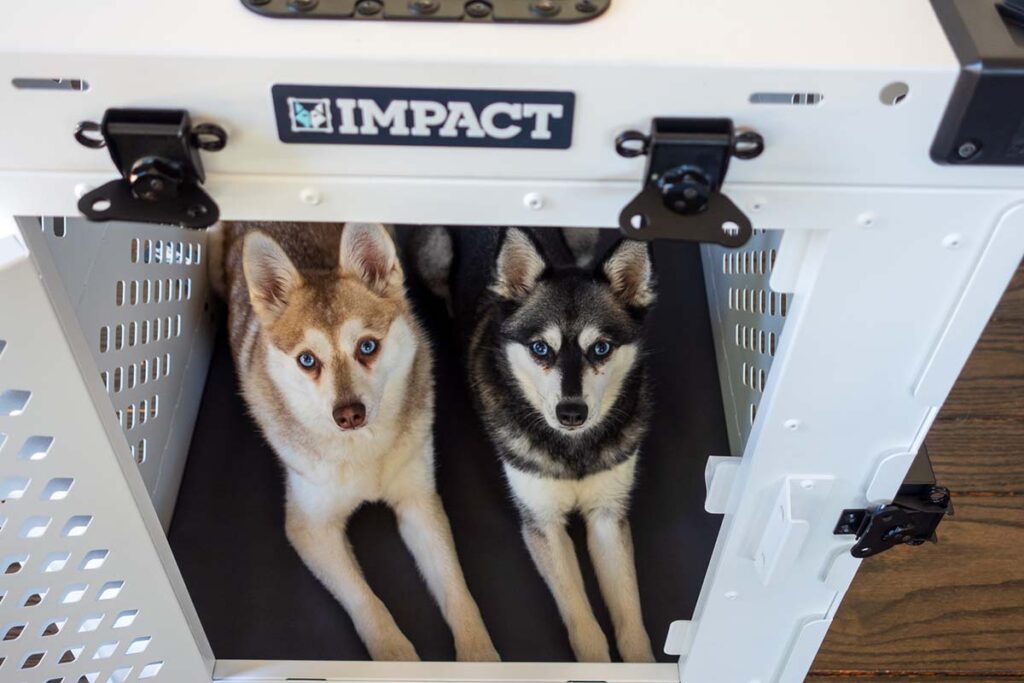 Impact have a reputation for creating some of the most dependable and durable dog crates in the business – and I was really impressed with their collapsible dog crate. It's got an extremely thoughtful design with your dog's safety paramount followed by ultimate convenience. Impact explain on their website that their collapsible dog crate can be set up in just 60 seconds (there's a demo on their website if you need proof!). It has a sleek design that is easy to fold away so minimal fuss when you need to temporarily store it away. You don't require any tools so you won't have to search the garage for your screwdriver or wrench. It's made out of lightweight material but the design ensures it can withstand the most rambunctious of small dogs. Other features include a one-handed opening (which proved particularly useful when wrestling two dogs like Copper and Skye), they're stackable in case you decide to purchase multiple crates and has military grade handles. I really liked the diamond-shaped ventilation holes that ensure your small dog won't damage their teeth attempting to chew the crate. Impact have used long-lasting materials sourced within the USA to construct the crate and it comes with a lifetime guarantee! Impact will ship your Collapsible Dog Crate already assembled too! It does have a premium price – $999 – but you're paying for a product that has been made using premium materials and should serve you for your dog's entire life. Our readers can save 15% off your first order by clicking here and using KLEEKAI at the checkout.
Diggs' Revol Dog Crate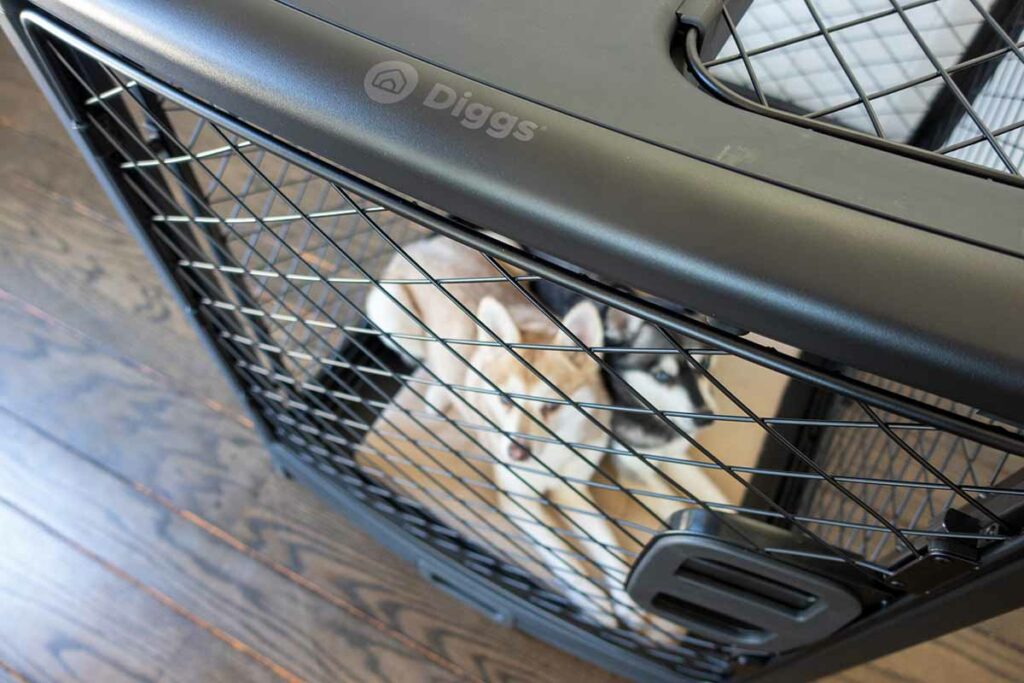 It was a difficult choice between Impact's Collapsible Dog Crate and Diggs' Revol Crate but I gave top spot to the former because it's been specifically designed as a collapsible crate. Having said that, I don't think you'll go wrong by selecting the Revol Crate as it's more than capable for comfortably and safely housing your small dog. Diggs have created the Revol to be attractive on the eye so you can happily place it in your main living space and ensure your dog has a safe den if they need some time to chill out. It's still easy to collapse (within a minute according to their website) and it comes with carrying handle and wheels, which makes it easy to transport if you and your small canine companion like to keep on the move. Diggs highlight on their website that they were inspired by baby industry quality standards in creating the Revol Dog Crate. They take your dog's safety seriously, as highlighted by their diamond-shaped mesh design and solid single-piece frame to help prevent injury to jaws and paws. There's a useful ceiling hatch to give you access from above to your dog if they're in the back of the car. There's a garage-style entrance to make life easier for old or injured dogs. You've also got an entrance at the front. Diggs provide a puppy divider in case you want to start off with a smaller space for your young dog. So they've covered a lot of bases! It's significantly cheaper than Impact with the small version of their Revol crate priced at $375. I'm glad to say lifewithkleekai followers can save 10% on your first order when you click here and use code "KLEEKAI" at checkout.
Budget Option: Amazon Basics Foldable Metal Wire Dog Crate
If you're tight on money or working to a budget, you may want to get a more affordable option. Alternatively, you may remain unconvinced by dog crates and want to try a cheaper option before investing significant money in a premium brand. The Amazon Basics Foldable Metal Wire Dog Crate will do an adequate job. I've used a number of these as temporary solutions in the past. They're not as easy to collapse (watch out for those fingers) with a rather uninspiring design. But it's a reliable and sturdy option if you want to spend less than $60 on a collapsible dog crate for your small dog. It has a plastic base tray so you'll want to add a bed to make it more comfortable for your dog. It has a top handle to make it portable. There's a double locking mechanism to add a level of security. You can buy the Amazon Basics Foldable Dog Crate by clicking here.
Why Are Dog Crates Helpful?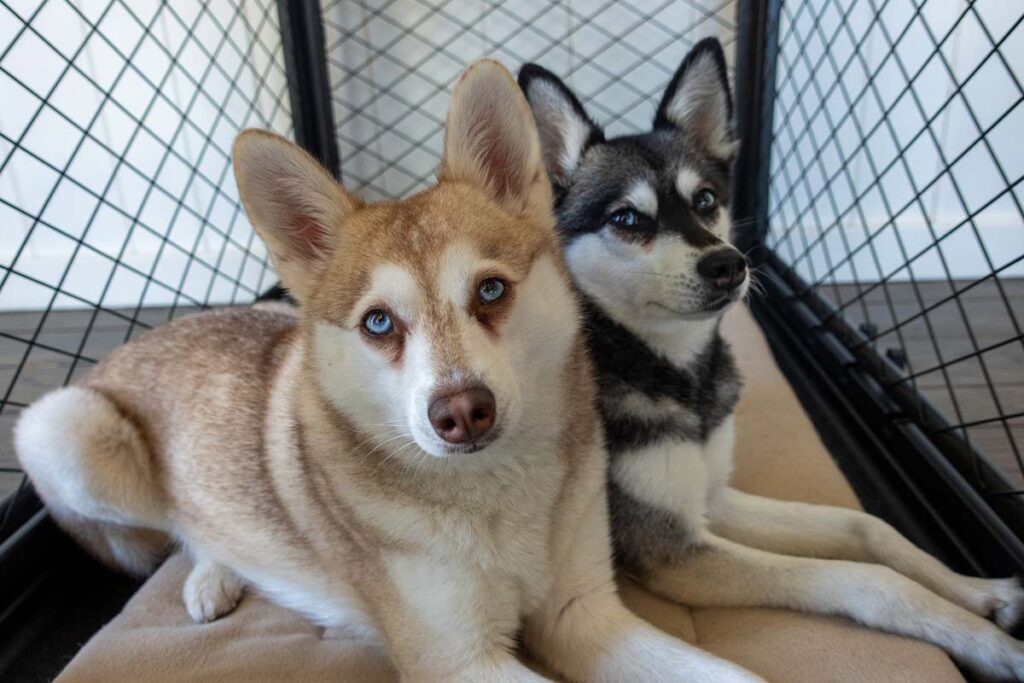 • Safety and Security: A crate provides a safe and secure space for your dog. It can protect them from potential hazards in the home, prevent them from chewing on dangerous objects, or getting into harmful substances. It also keeps them contained and prevents them from running away or getting lost.
• House Training: A crate can aid in house training your dog. Dogs naturally avoid soiling their immediate living area, so when properly introduced to a crate, they will learn to hold their bladder and bowels until they are taken outside. This helps establish a routine and promotes successful potty training.
• Travel and Transport: Dog crates are useful when traveling with your pet. They provide a familiar and secure space where your dog can feel comfortable and calm. Crates are also required for air travel to ensure the safety of your dog during the journey.
• Management and Control: A crate can help manage and control your dog's behavior. It can be used to prevent destructive behaviors when you are unable to supervise your dog, such as when you're away from home or at night. Crates can also provide a designated space where your dog can relax and have their own "time-out" when needed.
• Transition and Adjustment: Introducing a crate to your dog early on can help them adjust to new environments, such as staying in a hotel or visiting the veterinarian. Having a familiar space can provide a sense of comfort and security during times of change or stress.
Note: Crates should never be used as a means of punishment for a dog and you should never leave your dog confined in a crate for a long period of time.
Wrapping Up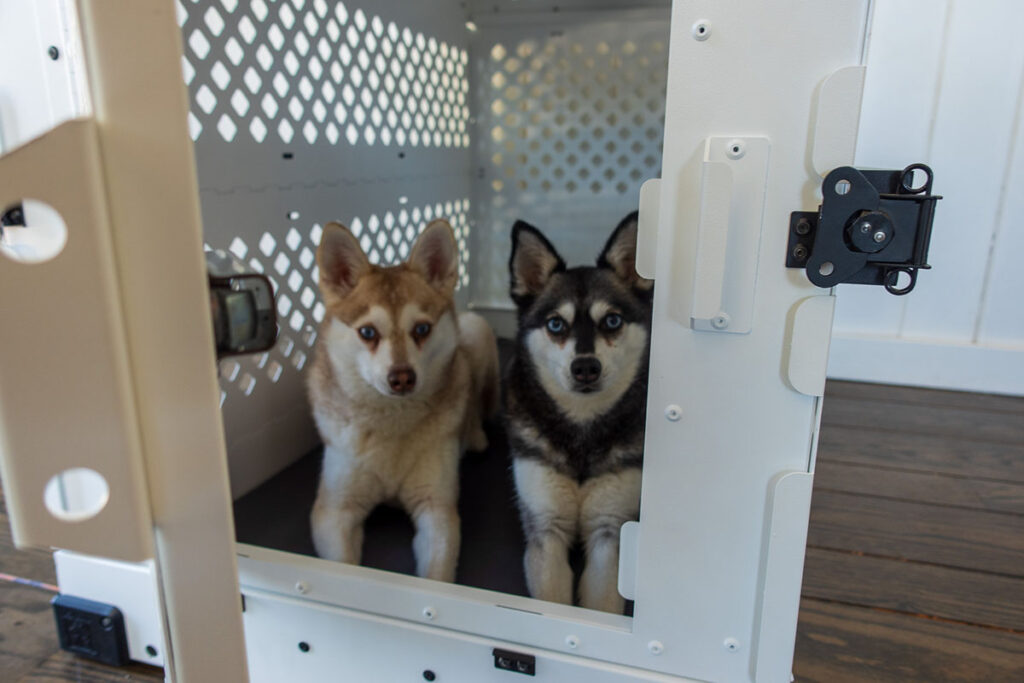 We've reached the end of this review of the best collapsible dog crates for small dogs.
Based upon my positive experience, I would recommend Impact Dog Crates' Collapsible Dog crate after seeing how comfortable Copper and Skye are in the crate.
It's easy to set up and close, I like the high quality of the materials used, the thoughtful diamond-hole design and the ability to stack on top of each other.
Having said that, I'd be more than happy with Diggs and their Revol crate if I was working on a more limited budget and didn't want to spend big on Impact's crate.
If money is really tight and you need a temporary fix, you won't go wrong with Amazon Basics Foldable Metal Wire Crate.