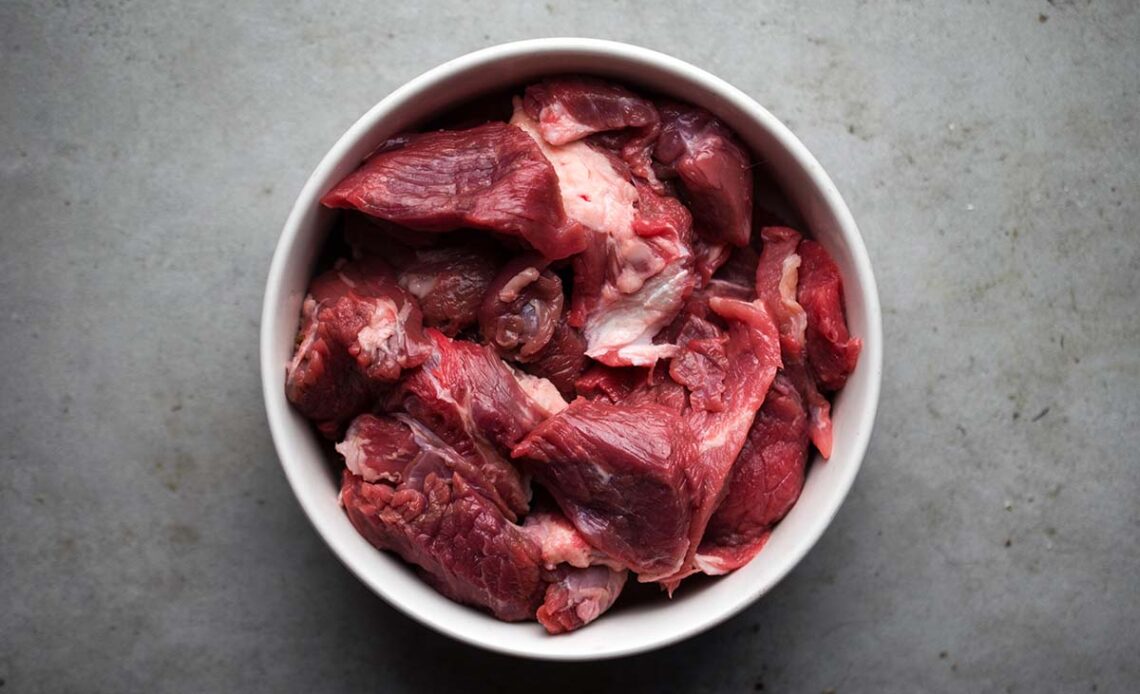 Last Updated on September 7, 2023 by Kieran
Have you been thinking about making a change to your dog's food and giving a raw dog food company a try?
If you're a dog owner based in the UK, you've probably noticed that there's been a shift towards raw dog food over the past 5 or 10 years.
More and more dog owners are ditching the kibble, wet food and unhealthy canned dog food in favour of raw dog food brands who provide a fresh option.
As you'll know if you're a regular reader, I'm a big believer in feeding Copper and Skye balanced and complete meals. I've seen firsthand the benefits of fresh dog food – but what about raw feeding?
I've been intrigued by the prospect of adopting a raw dog food diet instead of our regular dog food so I temporarily fed a raw food diet to Copper and Skye.
In this article, I'm going to take a look at the best raw dog food for dogs in the UK to help other pet parents who are thinking about feeding raw food or frozen raw food meals to their pets.
I'll take a look at the things to consider when trying to decide between different raw dog food companies. With the introduction out of the way, let's start by taking a look at what constitutes complete raw dog food.
Understanding the Raw Dog Food Diet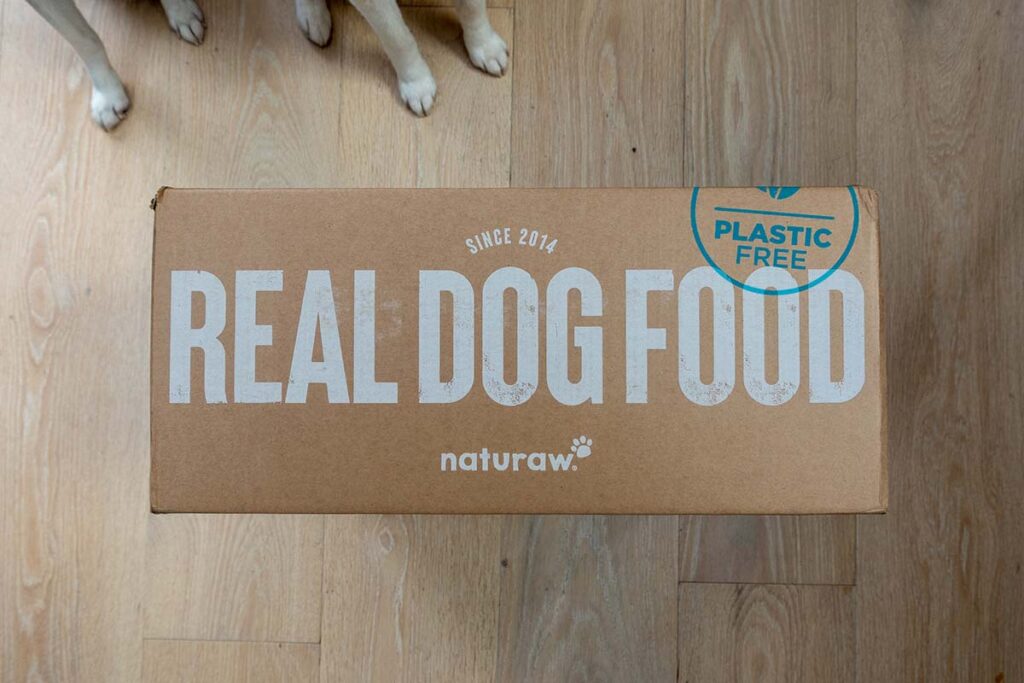 Raw dog food, often referred to as a raw diet adult dog food or raw feeding, involves feeding dogs unprocessed and raw ingredients.
This approach is designed to replicate the diet of their ancestors and provide them with a nutritionally rich and species-appropriate diet.
In looking to uncover the best raw food for dogs in the UK, I sought to find raw dog food that focuses on high-quality ingredients and follows a balanced raw food diet.
You want to make sure a raw dog food company is providing your dog with a complete meal with the nutritional value required to keep your dog happy and healthy.
The best raw dog food will use high-quality, human-grade meat responsibly sourced alongside fresh ingredients to ensure your dog is getting sufficient protein and all their essential vitamins.
If you're going to ditch kibble, wet food or other unhealthy dog food behind, you want to be confident that you're feeding your dog the best raw food possible.
Benefits of a Raw Dog Food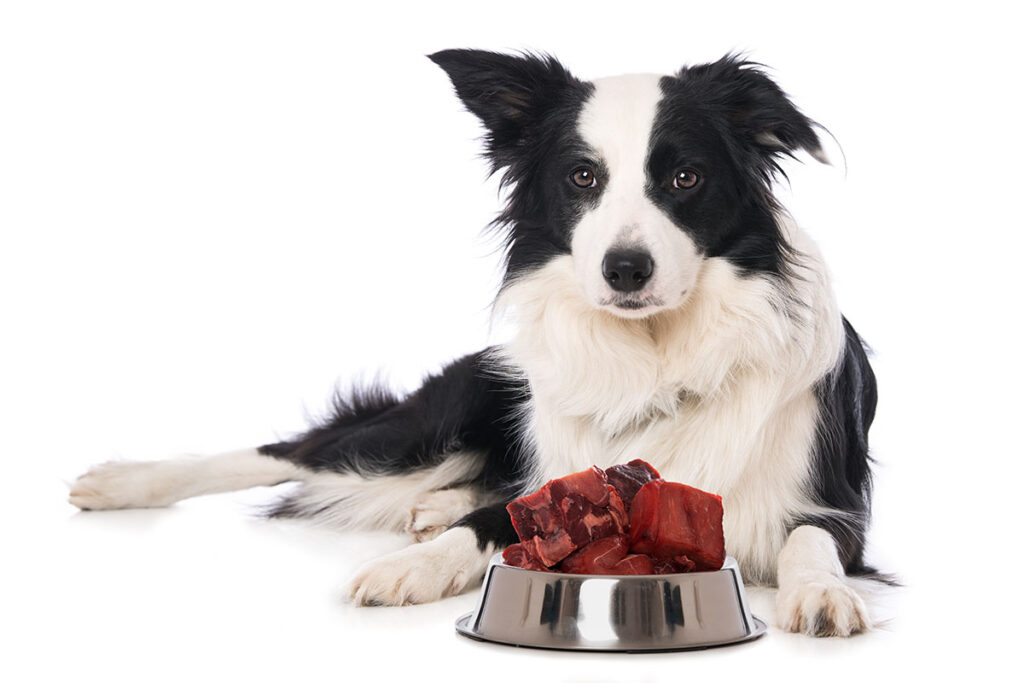 Balanced Nutrition
Raw dog food offers a balanced diet by incorporating a variety of high-quality ingredients. This diet includes raw meat, which provides essential meat proteins and contributes to a dog's overall health. Additionally, fruits and vegetables offer vital nutrients, antioxidants, and fiber, ensuring complementary raw food is a well-rounded and balanced nutrition for your pet.
Improved Digestion
Many dog owners report that their pets experience improved digestion when eating raw dog food. This can be attributed to the absence of processed ingredients and the inclusion of natural enzymes and fiber, which support optimal digestion and nutrient absorption.
Allergy and Sensitivity Relief
Raw dog food eliminates potential allergens commonly found in commercial dog foods, such as grains, artificial additives, and preservatives. This makes it a suitable option for dogs with dietary sensitivities or allergies, providing relief and promoting overall well-being.
Enhanced Dental Health
Chewing on raw meaty bones included in a raw dog food diet can help maintain healthy teeth and gums. Raw bones are a natural source of calcium and other essential minerals that contribute to strong dental health.
Support for Joint Health
Raw diet for dogs often includes raw meat with natural cartilage and connective tissues, which are beneficial for joint health. These components provide natural sources of glucosamine and chondroitin, supporting healthy joints and mobility in dogs.
Best Raw Dog Food UK 2023 – Tested & Reviewed
Now that we know a little bit more about raw dog food and the benefits of raw dog food, it's time to share what we believe to be the best raw dog food in the UK at the moment.
Naturaw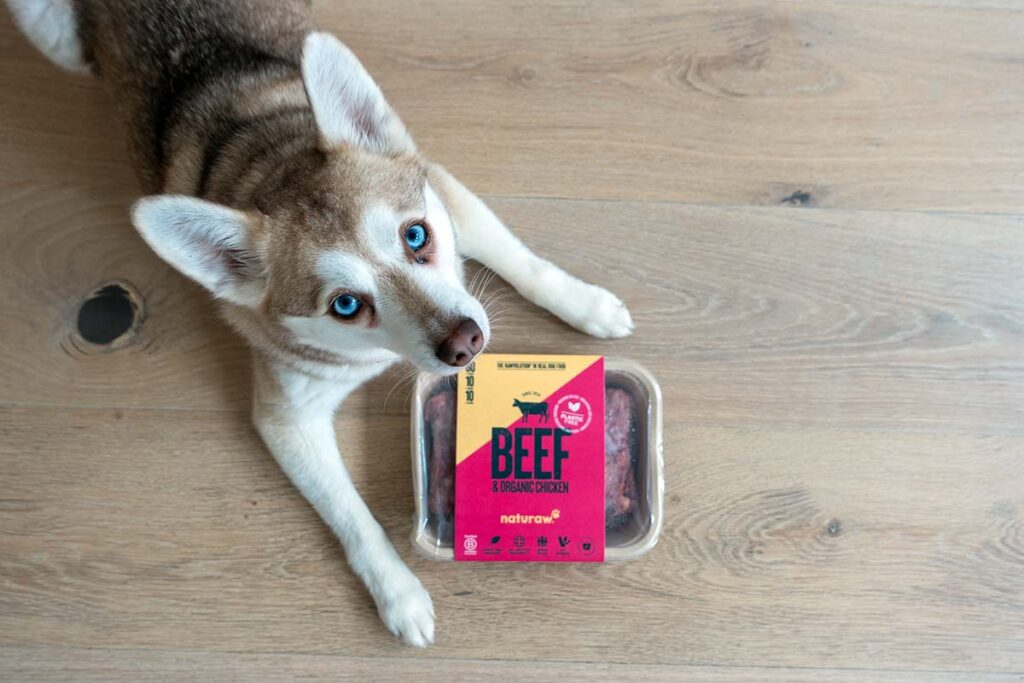 I've had the opportunity to try many different raw dog food brands in the UK thanks to work. Typically, Copper and Skye aren't massive fans of raw dog food. They prefer fresh meals rather than a raw diet. Having said that, there have been a few other raw food brands they've shown interest in. By far their favourite is Naturaw. It's the only time I've seen both Copper and Skye go crazy for raw dog food. I was really surprised. They absolutely loved Naturaw's recipes, especially their Forage range. I have to say I was impressed with Naturaw's range of recipes, their transparency, their colourful packaging and their eco-friendly approach to their business. If you're a regular reader of my dog food reviews, you'll know that Butternut Box are my go to dog food brand. But Naturaw offer a great option if you're convinced a raw dog food diet is right for your pup. They only use high welfare meat from British farms and their recipes don't contain any additives or preservatives. Unsurprisingly Copper and Skye wolfed down their Naturaw meals. I really liked that the packaging is made from sustainably-sourced materials and can be recycled, while their business is powered by solar panels on their roof! While I don't plan to switch Copper and Skye onto a raw dog food diet, Naturaw would be my go to if I was planning to feed raw. You can give Naturaw a try by clicking here or the button below.
Paleo Ridge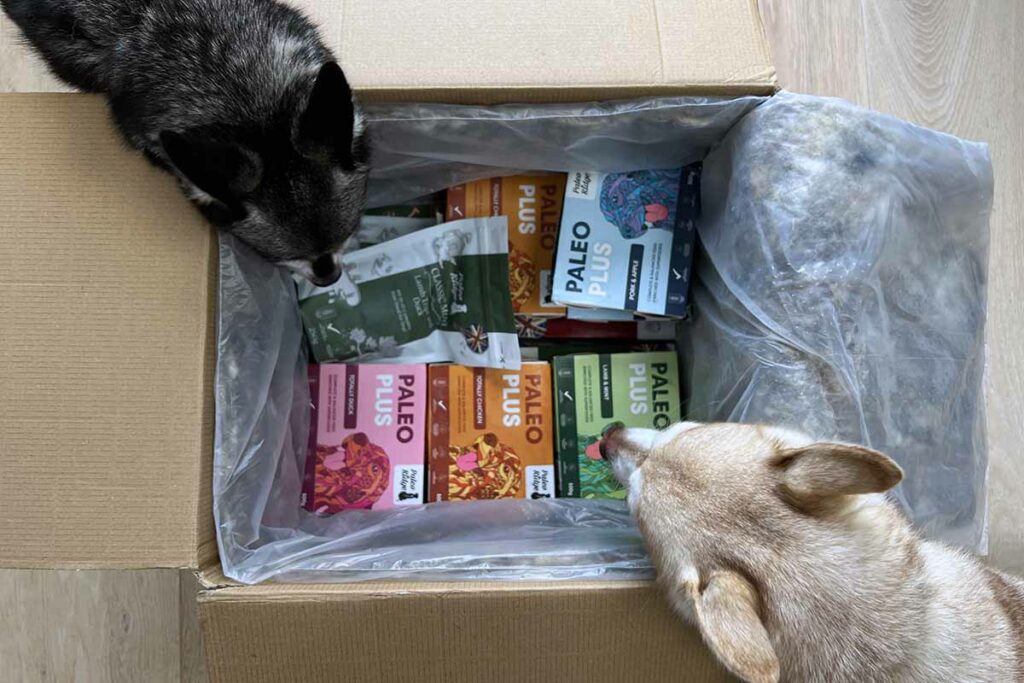 My second pick for the best raw dog food in the UK is Paleo Ridge. They're another raw dog food company who are offering a great alternative to some of the unhealthy dog food you may have previously fed your pup. Paleo Ridge offer three different ranges to cater to dogs and dog owners who may have different experience levels with raw dog food. Based in Hampshire, Paleo Ridge offer high-quality raw dog food made from ingredients sourced from sustainable farms that allow high welfare standards. Paleo Ridge explain on their website that they strive to use ingredients that organic, free range or sourced from the wild. What I like about Paleo Ridge is their flexibility – you can choose from a range of different hampers to get a feel for raw dog food and the brands before you commit to a consistent subscription plan. Copper enjoyed his Paleo Ridge meals and finished most of them off. Skye was a little bit more picky so Paleo Ridge was hit and miss with her. However, they've got an average score of 4.7 stars on Feefo at the time of writing, which is encouraging.
Bella & Duke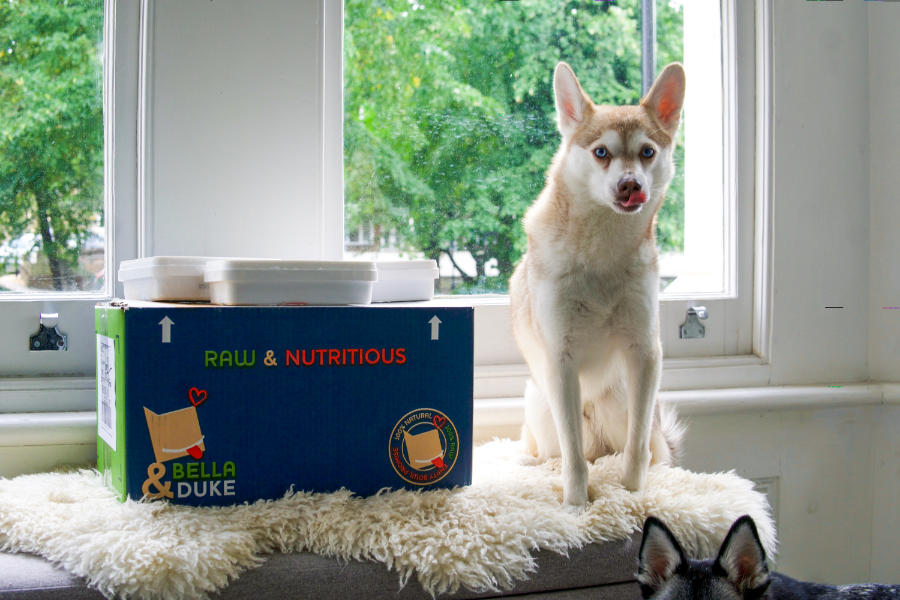 Bella & Duke are a Scotland-based raw pet food company who finish off our feature on the best raw dog food UK. They're an experienced operator in the raw dog food market and they constantly strive to be at the cutting edge of pet nutrition. You can have confidence that your dog's health is in good hands. Bella & Duke like to get to know your dogs in greater detail so they require dog owners to fill out a sign-up questionnaire. Once you've completed it, Bella & Duke will be able to recommend a meal plan that meets your dog's specific needs. Whether you've got a young dog, adult dog or senior dog, whether you've got an underweight or overweight dog or you've got a fussy eater, Bella & Duke will strive to meet their needs. Bella & Duke sourced their human-grade meat from farms in the UK and the rest of the ingredients such as fruit and fresh vegetables, are sourced locally. Copper seemed to enjoy his Bella & Duke meals, although his favourite was Naturaw. Skye, like with Paleo Ridge, wasn't as enthusiastic as her brother. But reading through the Bella & Duke reviews, it's clear they do a great job and keeping British dogs happy and fed thanks to their raw dog food.
How We Chose The Best Raw Dog Food In UK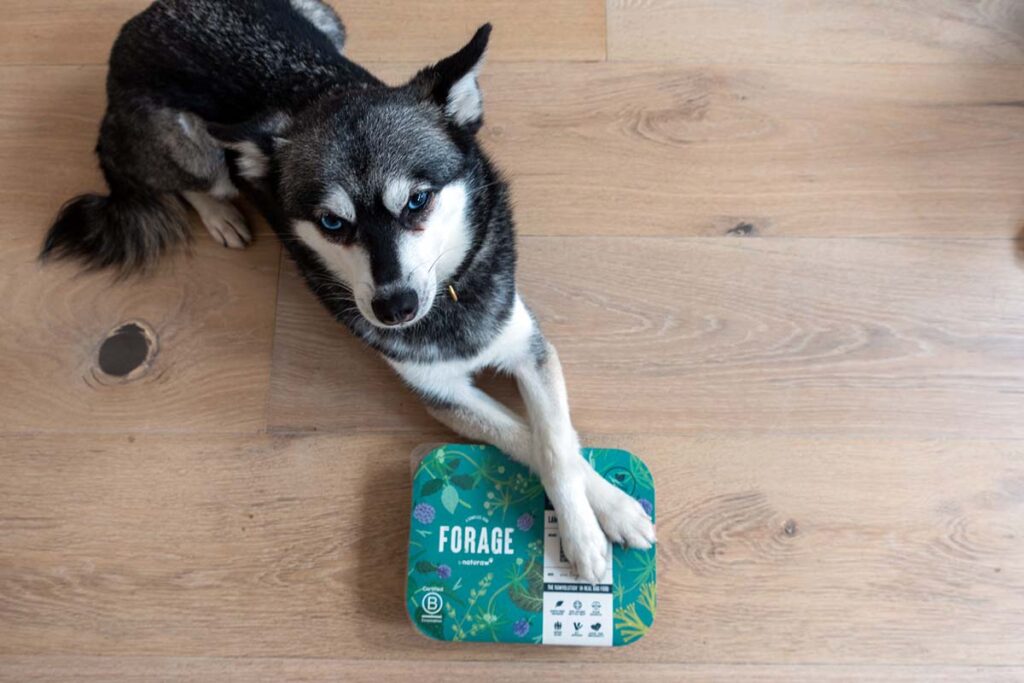 When selecting raw dog food, it is crucial to consider several factors to ensure you are providing your dog with a high-quality and nutritionally balanced diet.
High-Quality Ingredients
Look for raw dog foods that prioritize high-quality ingredients sourced from reputable suppliers. This ensures that your dog receives the necessary nutrients without unnecessary fillers or additives.
Responsibly Sourced
We looked for raw dog food brands who had a transparent approach to sourcing their ingredients. We made sure they detailed how and where the ingredients for their raw dog food came from so you can have peace of mind your dog is eating a natural diet with the best raw dog food.
Range Of Recipes
If you've got fussy dogs like me, you'll appreciate dog food companies who offer a range of different raw dog food meals to keep your dog excited at mealtime. Whether it's beef, chicken, lamb, pork or fish, options are a good thing.
Vet Approved
We like to see that dog food companies who have consulted with the experts, whether that's veterinarians or pet nutritionists to ensure your dog is eating balanced and complete meals that have lots of meat protein as well as all the essentials vitamins, essential fatty acids. Essentially, a natural diet.
Freezer Space
What a lot of raw food reviewer won't mention is the freezer space required for raw food. There's no escaping from the fact that raw feeding requires a lot of space in your freezer so you can keep the majority of the raw food frozen until you're ready to feed.
Consultation with a Veterinary Professional
Before transitioning your dog to a raw dog food diet, it is crucial to consult with a veterinary professional. They can assess your dog's specific nutritional needs, provide guidance on proper portions, and offer advice on maintaining a balanced diet.
While I've focused on raw food, raw food diets and complete raw dog food in this article, there is the option of going for frozen raw food. For many dog owners, it may prove more convenient to feed frozen raw food to their dog because it can be stored in the cupboard.
UKGOV Advice On Raw Feeding
Here's the official UKGov advice on handling raw food intended for pets.
"Some types of pet food, including pet chews or treats, are made of raw meat and other unprocessed animal products. It may not always be obvious that products contain raw meat.
"Raw meat can be contaminated with harmful bacteria such as Salmonella, Campylobacter, Listeria and E. coli.
"Some pet foods, such as those which are described as being lightly steamed or lightly cooked, may not have been fully pasteurised and may still potentially contain harmful bacteria.
"People can become unwell after handling raw pet food and treats. It is therefore important to take the correct precautions before, during and after feeding pets."
Other Resources On Raw Diet For Dogs
I would also suggest you visit the Raw Feeding Veterinary Society to learn more about raw food and raw diets. The Raw Feeding Veterinary Society provide a lot of detailed information on the potential benefits and risks associated with raw food for dogs.
Our Final Thoughts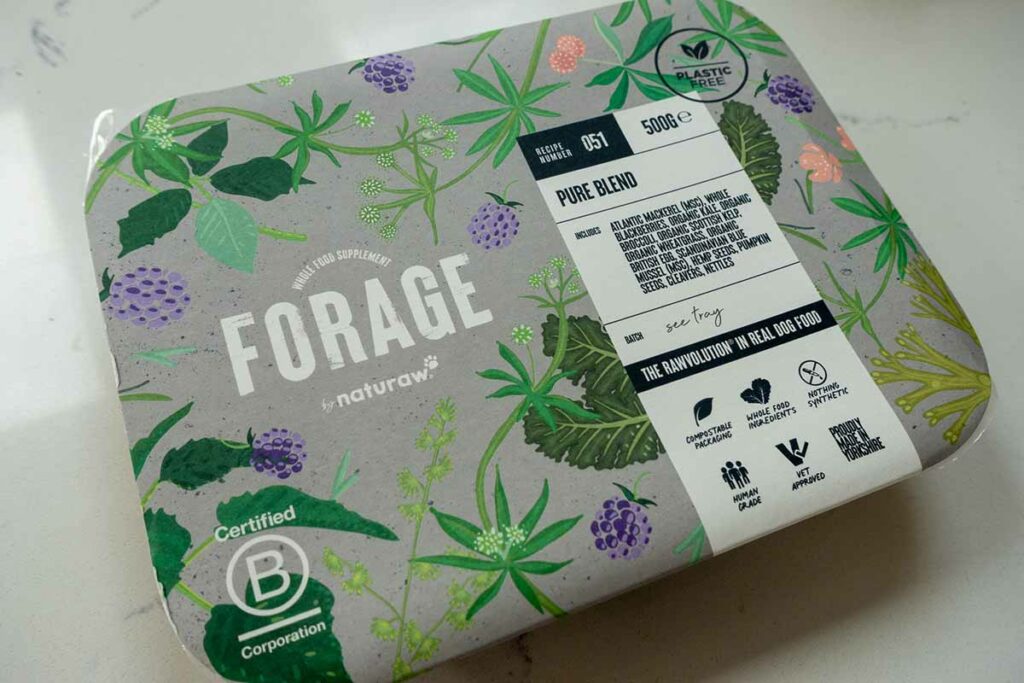 So we've reached the end of our best raw dog foods in the UK article.
I'm hoping at this stage you have a good idea about raw food for dogs and whether you would like to give a raw food diet for your canine companion a try.
There's no shortage of potential raw food diet options for your furry friend as the UK has seen an explosion of different options in the past 5-10 years.
As more and more dog owners adopt a raw food diet for their pets, we've seen a lot of raw food options become available.
It can be difficult to decide which raw diet would best suit your dog so I highlighted three raw dog food companies who I believe represent the best raw dog food in the UK.
My top pick for any British dog owner looking to switch their dog onto a raw food diet would be Naturaw.
My dogs, Copper and Skye, loved their Naturaw meals, much to my surprise as they can be fussy and sensitive to change. They embraced the raw diet to such a degree that I continued to buy Naturaw to supplement their fresh meals with a little tasty raw diet topper.
However, if you're unsure about Naturaw and you want to choose a different raw diet, I'd suggest giving Paleo Ridge or Bella & Duke a try.
Raw dog food can offer numerous potential benefits for dogs in the UK. These could possibly include a balanced and species-appropriate diet, improved digestion, relief from allergies and sensitivities, enhanced dental and joint health, and overall well-being.
When choosing the best raw dog food, prioritize high-quality ingredients and consult with a veterinary professional for personalized recommendations.
By embracing a raw dog food diet, you're hopefully helping your dog to live a happier, healthier life.