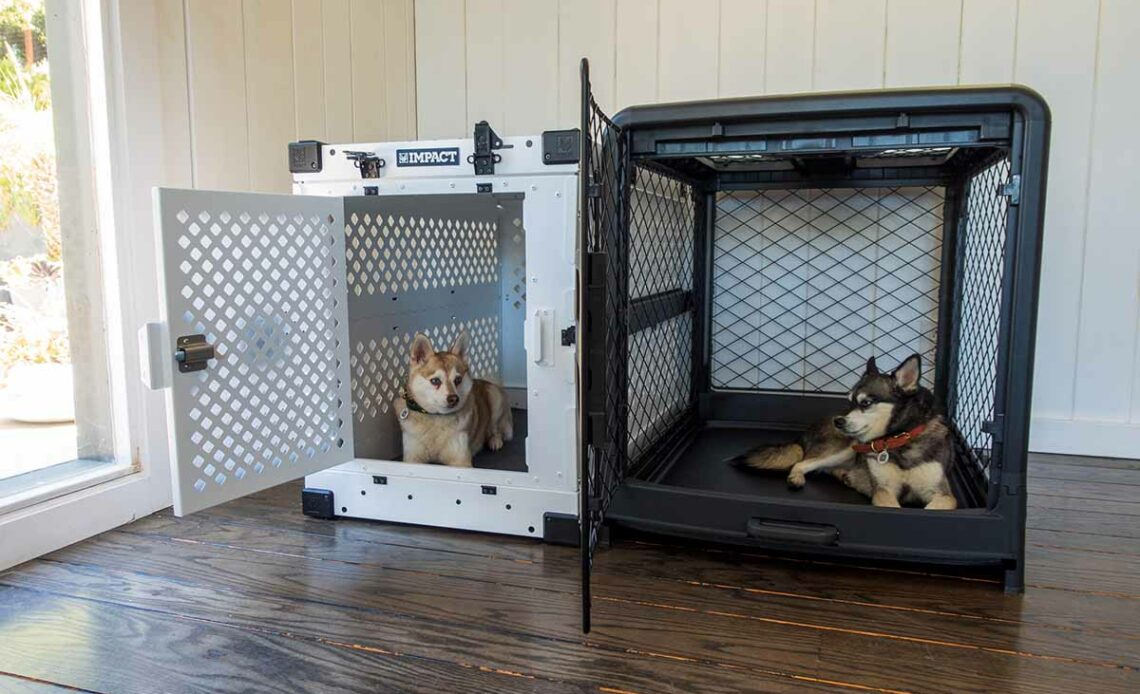 Last Updated on September 18, 2023 by Kieran
Are you weighing up whether to buy the Revol dog crate or Impact's collapsible dog crate?
It's a tough choice between two excellent dog crates that can do a great job at keeping your canine companion safe and secure.
The Revol and Impact's Collapsible Dog Crate are premium options within the dog crate market so I can understand why you might be hesitant about clicking buy.
You might be worried about making the wrong selection – if you're spending so much on a dog crate, you'll want to make the right choice for you and your dog.
I've been sent the Revol and the Impact Collapsible Crate to review so I can speak firsthand about the pros and cons of these premium dog crates.
So with the introduction out of the way, let's take a look at the Diggs Revol and the Impact Collapsible Dog Crate in closer detail.
We'll start by looking at each dog crate individually before finishing with a Diggs Revol dog crate Vs Impact Collapsible dog crate comparison.
Diggs Revol Dog Crate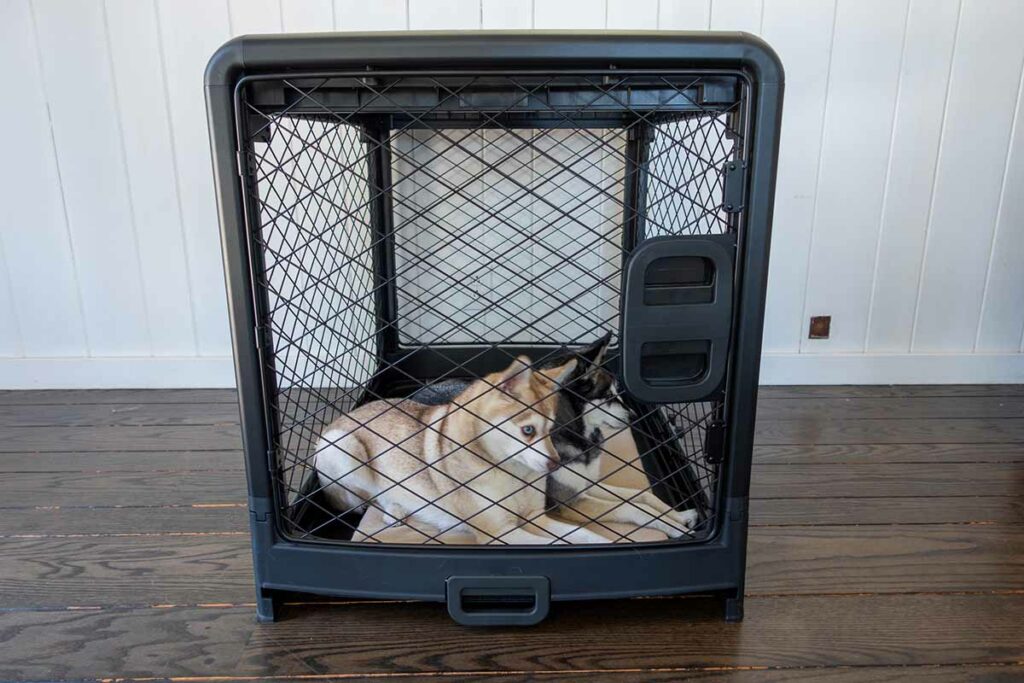 The Revol crate is the creation of pet brand Diggs. It's one of the most popular dog crates on the market thanks to its versatility and ease of use.
Diggs explain on their website that the Revol was created to be a "comfortable, ergonomic, beautiful and inviting" dog crate.
The crate's design was inspired by baby-industry standards, with a diamond-mesh pattern and solid, single metal frame to offer excellent support.
The diamond-shaped mesh pattern ensures that your dog can't fit their snout through the gaps and protects the teeth of dogs who like to chew.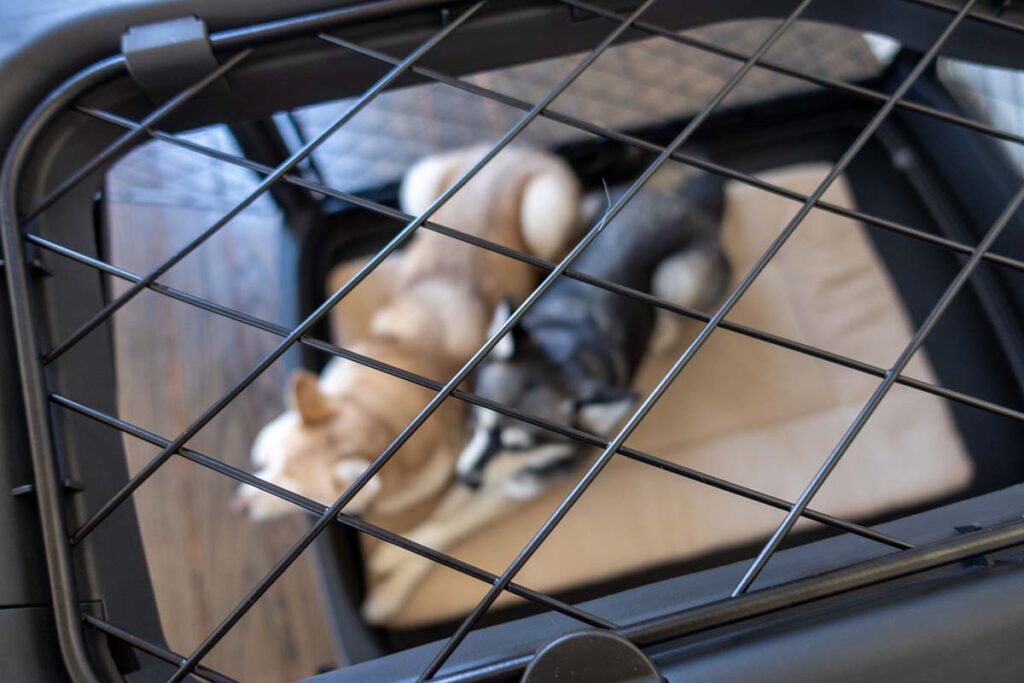 Diggs claim that the Revol is easy to set up, transport, and store. In my experience, the crate meets the brief.
I found it relatively simple to set up, even easier to break down and the handle and wheels make the crate a breeze to move around the home.
There's no shortage of access points – there's the roof, side door and garage-style door. So it's a great option for the car to give you access all areas.
The Revol is a premium crate so it carries a fairly hefty price tag – the small starts at $375 and the large goes up to $675 – that's before you consider add-ons.
However, as someone whose wasted a lot of money on cheap crates over the years, I think it represents good value for money if you're looking for a long-lasting crate.
Impact's Collapsible Dog Crate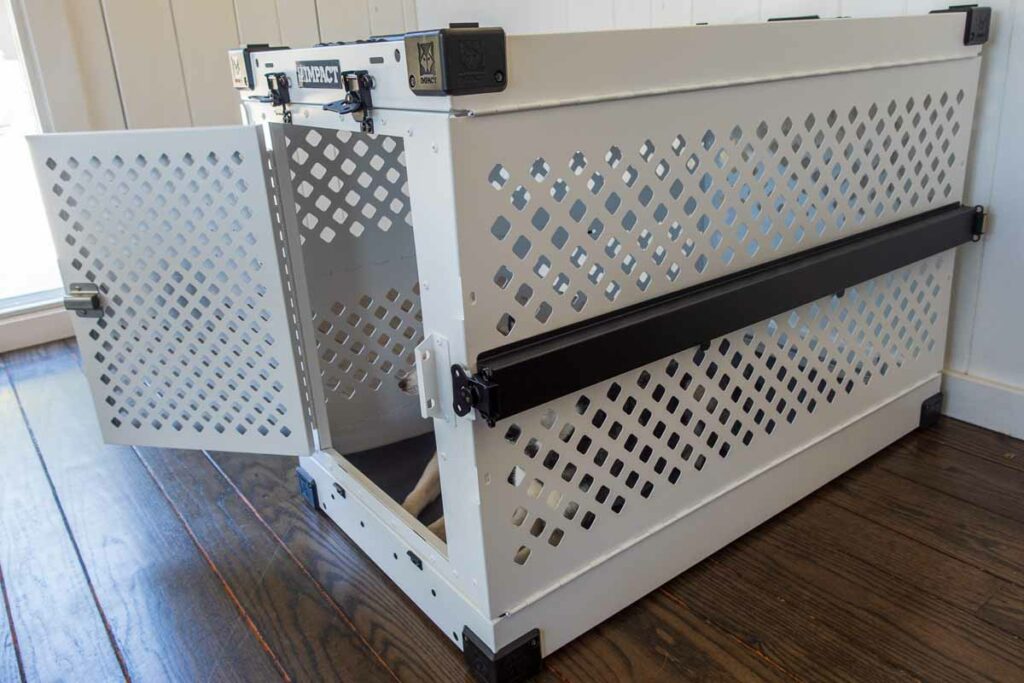 Impact are another manufacturer of premium dog crates and they've got more selection than Diggs when it comes to different type of crates for dogs with different personalities and lifestyles. For the purposes of this article, I'll be taking a look at their Collapsible dog crate but you can view their full section right here.
The Collapsible Crate has an eye-catching design with the diamond-shaped rounded holes to provide ample air ventilation for your dog, whether they're snoozing in their crate while you run your errands, they're taking a break from over excited visitors or you're taking them on your road trip in the trunk of the car.
The diamond shape prevents dogs from seeking their teeth into the holes so there's a big element of safety with the design as well as practicability.
It's simple to set up – it really does take a mere 60 seconds as advertised on their website. It's just as easy to collapse the crate and take it away using the military grade handles.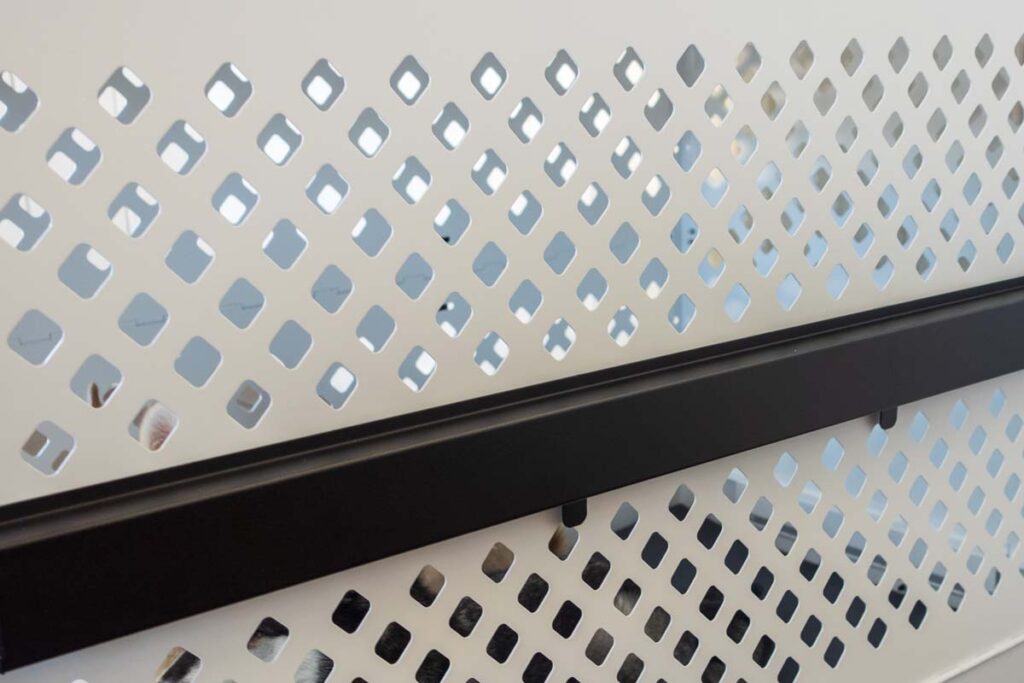 Impact have used reinforced aluminum to withstand over zealous dogs who might like to paw at their crate and ensure your dog's safety should you be involved in any accidents (I noticed one incredible testimonial on their website about an Impact crate surviving a car crash).
Impact provide premium crates and they carry a premium price but this pet product company offer a lifetime guarantee should any parts prove faulty (their collapsible dog crate doesn't have a dog damage guarantee but their high anxiety crate does so maybe check it out here if you've got a dog with anxiety).
Their smallest Collapsible crate starts at $999 and the large Collapsible crate has a price tag of $1,199. However, our followers and readers can get a discount of 15% off their first dog crate from Impact when you click this link and use coupon code "KleeKai" at the checkout.. So that should save you a big chunk!
Revol by Diggs Vs Impact's Collapsible Dog Crate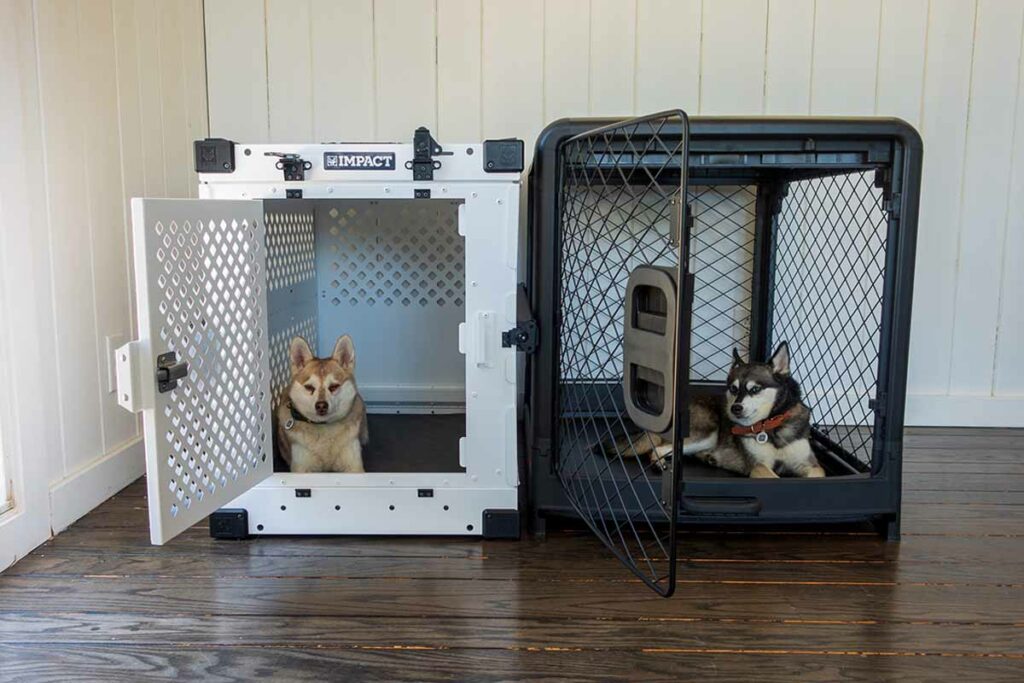 It's a really tough choice between these two high quality dog crates. I think you won't go wrong if you got with either the Revol or Impact's Collapsible Crate.
If I had to pick, I would probably learn towards Impact's Collapsible Crate for the sense of security that it provides not only my dog, but me. I read one review on their website from a lady whose dog survived a car crash thanks to the Impact crate – it had a big impact on me.
Impact's Collapsible Crate has a unique design that my wife and I felt really suited the interior of our home so we were happy to place it our living area.
We've even received compliments about the crate from family and friends who have come to visit – that's never happened before.
Some dog owners may find the Revol a more subtle addition to their home, with your dogs more visible inside the crate than the Impact.
I did find Impact's Collapsible Crate easier to put together with less steps than the Revol but the latter is quicker to collapse and set back up once you've initially constructed it.
The Revol has three different access points to your dog which is something Impact's Collapsible Crate lacks. The Revol is a good choice if you want to be able to reach your dog on a road trip. However, the Impact crate has reinforced aluminum that may give you added piece of mind if your dog is being kept in their crate in your trunk during your journeys on the road.
The price could play a big part in your decision. These are two expensive crates but the Revol is a more affordable choice if you don't want to spend $800+ on a dog crate. However, Impact do offer a lifetime guarantee so you'll be getting a den for your dog for life!
Ultimately, it comes down to personal preference. I really liked both dog crates so I don't think you'll go wrong with either the Revol by Diggs or Impact's Collapsible Crate.
But as I said at the top of this section, I think Impact's Collapsible Crate probably edges the Revol for sheer durability and versatility.
Do Diggs Or Impact Offer A Coupon Code Or Discount On Their Crates?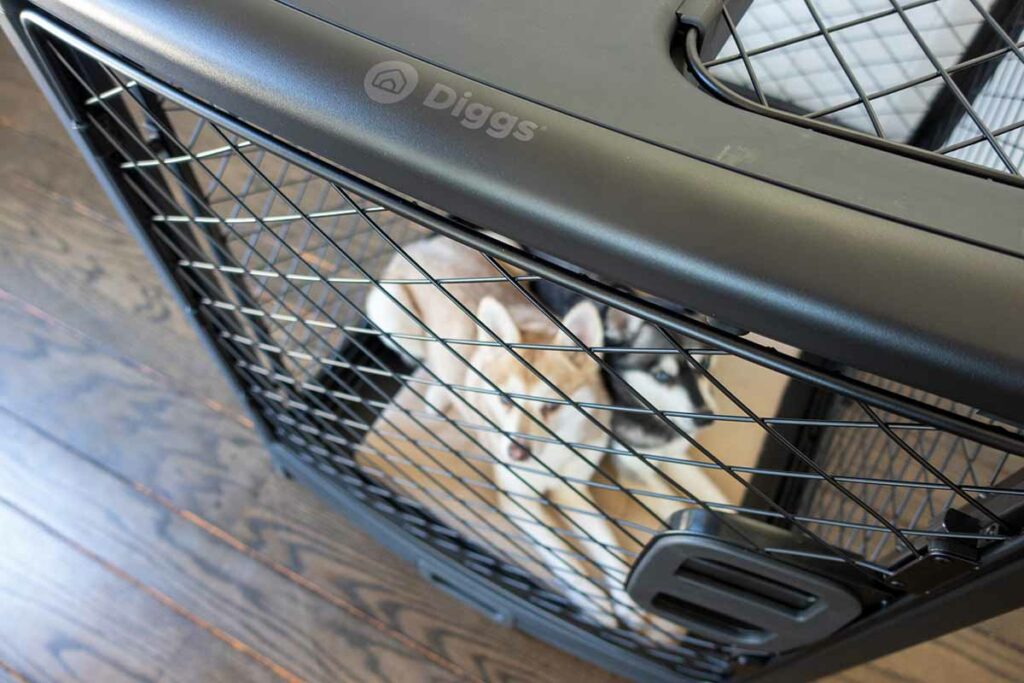 New Diggs customers can save 10% on their first order when you click here and use code KLEEKAI at checkout.
We can also offer our readers a 10% discount on their first Impact crate by clicking this link and using coupon code "KleeKai" at the checkout.
Finishing Up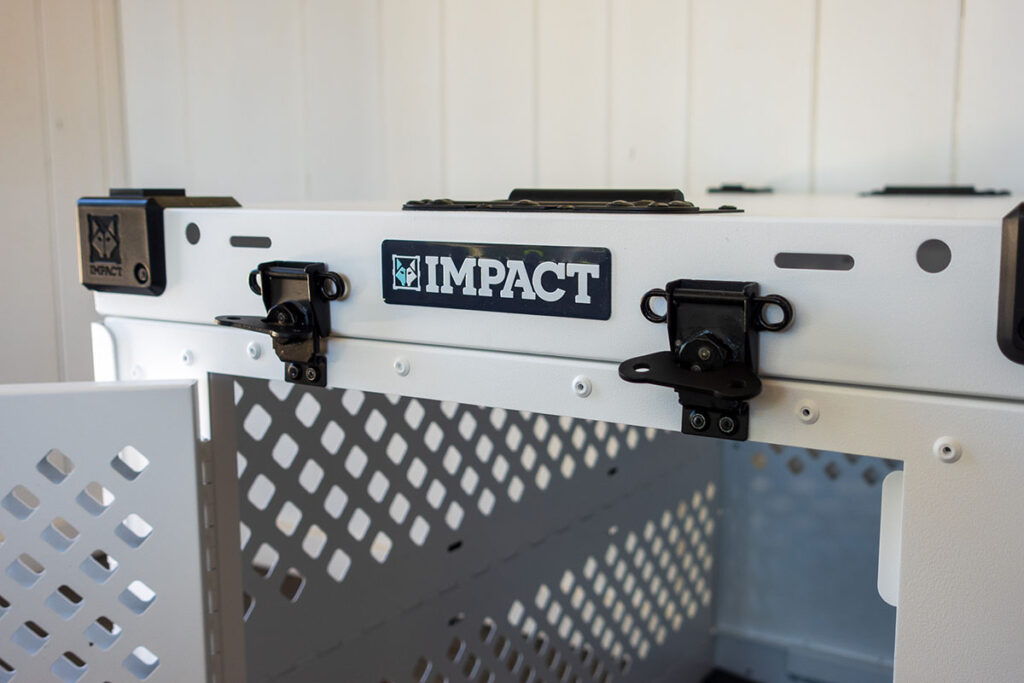 We've reached the end of our Revol by Diggs Vs Impact's Collapsible Crate comparison article.
These are two of the best dog crates available on the market for pet parents who want to invest in a high-quality crate for the long term.
I don't think you'll go wrong by selecting either the Revol or the Impact crate based upon my experience using them and reading the reviews of other pet owners.
You should weigh up factors such as the intended use of the crate, where you're going to put it, whether you want flexibility of access or you want extreme durability.
I've got both of these crates in my home and I love them both – but if I had to reluctantly decide between the two, I'd go for Impact's Collapsible dog crate.