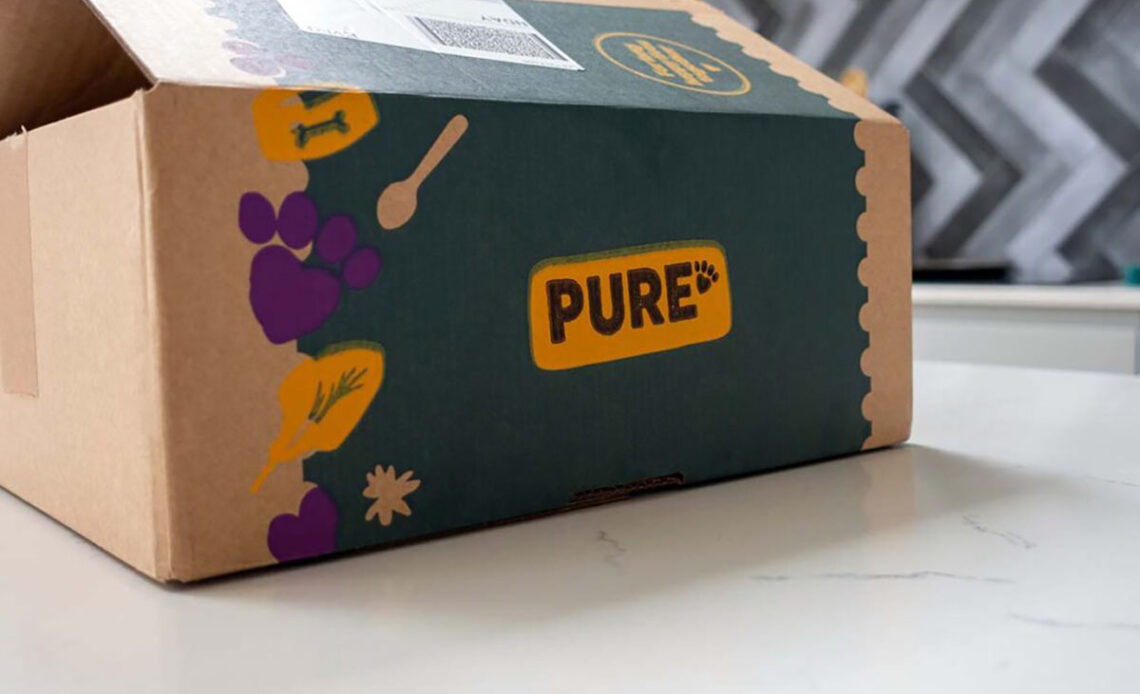 Last Updated on October 10, 2023 by Kieran Beckles
Are you thinking about signing up to Pure Pet Food but you want to know how much you can expect to pay per month before you sign up to this dog food subscription plan?
As a pet owner with a fussy eater, I understand the importance of feeding balanced and complete meals to my Alaskan Klee Kai to keep them fuelled and happy in their day-to-day adventures with my family.
If you're familiar with Copper and Skye, you'll know that I strongly believe in the benefits of feeding fresh dog meals to my Klee Kai having seen firsthand how their lives were transformed by a fresh approach to their nutrition.
While I've predominantly fed Butternut Box to Copper and Skye during the past five years in the UK, I've been fortunate to try some air dried dog food options to get an idea of the convenience and flexibility of Pure Pet Food.
You may have stumbled across this article in your search for Butternut Box alternatives, quest to find air dried dog food, or perhaps you're already to sign up to Pure Pet Food but you want to get an idea of the potential monthly cost.
In this article, I'm going to address the cost of Pure Pet Food in respect of how much I can expect to pay for Copper and Skye, as well as take a look at the price if you've got a small, medium, large or extra large breed.
We often get questions from our Life With Klee Kai community about the dog food that we feed Copper and Skye so I wanted to share more information about Pure Pet Food to give you an idea about this air dried dog food brand.
How Much Does Pure Pet Food Cost Per Month?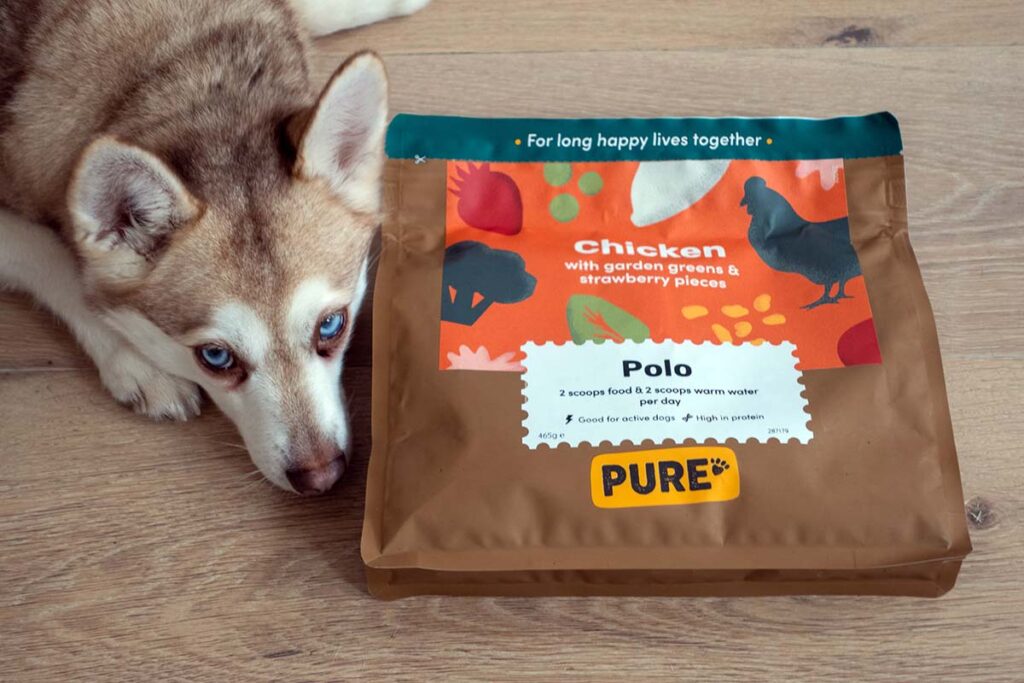 So let's get straight down to business and the address the question posed in the title of this guide: What is the monthly cost of Pure Pet Food?
Pure offer a subscription plan to ensure that they can offer customized and tailored dog food for dogs of all ages whether you've got a puppy or senior dog.
The price of Pure Pet Food will depend on your dog's age, breed, size, weight, activity level, dietary requirements and much more.
By completing Pure Pet Food's sign-up questionnaire, they can get an idea of your dog's requirements and propose a suggested mealplan.
Having said that, if you think you know best, you can still adjust your Pure Pet Food meals.
It's worth remembering that Pure Pet Food offer high quality dog food which means it'll cost more than dry food, wet dog food and raw dog food that you may find at your local supermarket.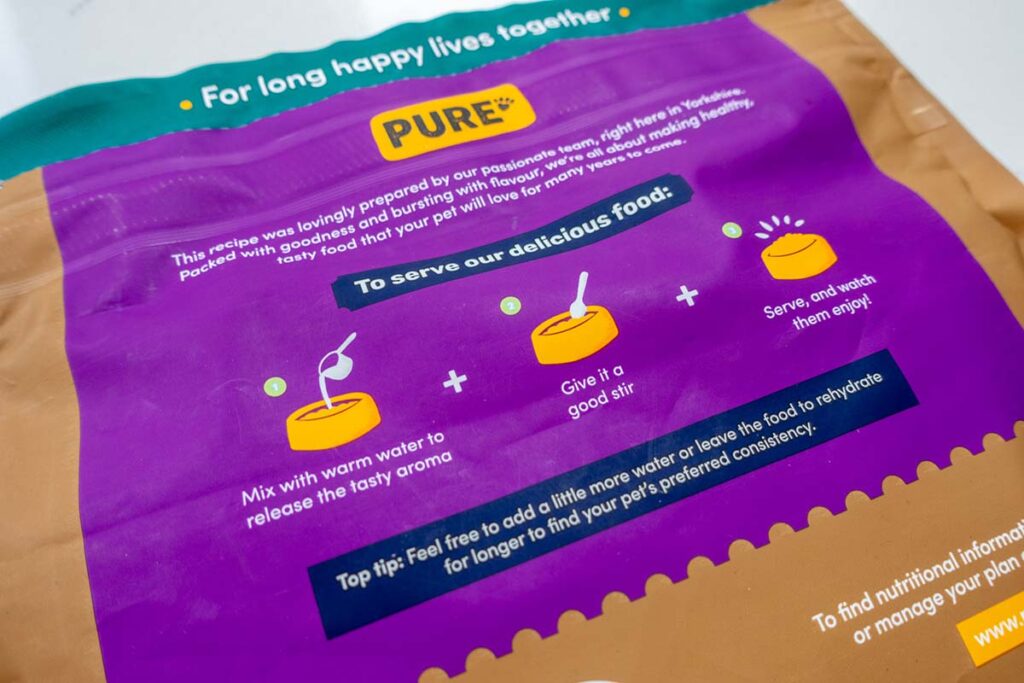 As I mentioned above, I've fed Pure Pet Food to Copper and Skye on and off over the past five years, especially if we're travelling and I can't bring fresh dog meals with us.
At the time of writing, Copper and Skye's meals would cost £2.61 per day or £47.88 per month.
Now that I've shared what I can expect to pay for my dogs, let's take a look at some different breeds.
• Cocker the Cocker Spaniel, 5 years old, 13kg – £1.83 a day, £54.90 per month.
• Husky the Siberian Husky, 5 years old, 23kg – £2.38 a day or £71.40 a month
• Lab the Labrador, 5 years old, 33kg – £2.93 a day or £87.90 a month.
• Al the Alaskan Malamute, 5 years old, 44kg – £3.73 a day or £111.90 a month.
• Rottie the Rottweiler, 4 years old, 48kg – £4.10 a day or £123 a month.
• Dane the Great Dane, 4 years old, 54kg – £4.55 a day or £136.50 a month.
Note: All monthly prices are calculated on a 30-day month and don't include delivery fees if applicable.
If you've read our Butternut Box cost article, you'll notice that you can make a significant saving feeding Pure over Butternut Box.
Having said that, I still prefer Butternut Box's fresh meals based upon my experience feeding both of these brands to Copper and Skye.
But there's no denying Pure offer a great alternative at a more affordable price.
Where Can You Buy Pure Pet Food?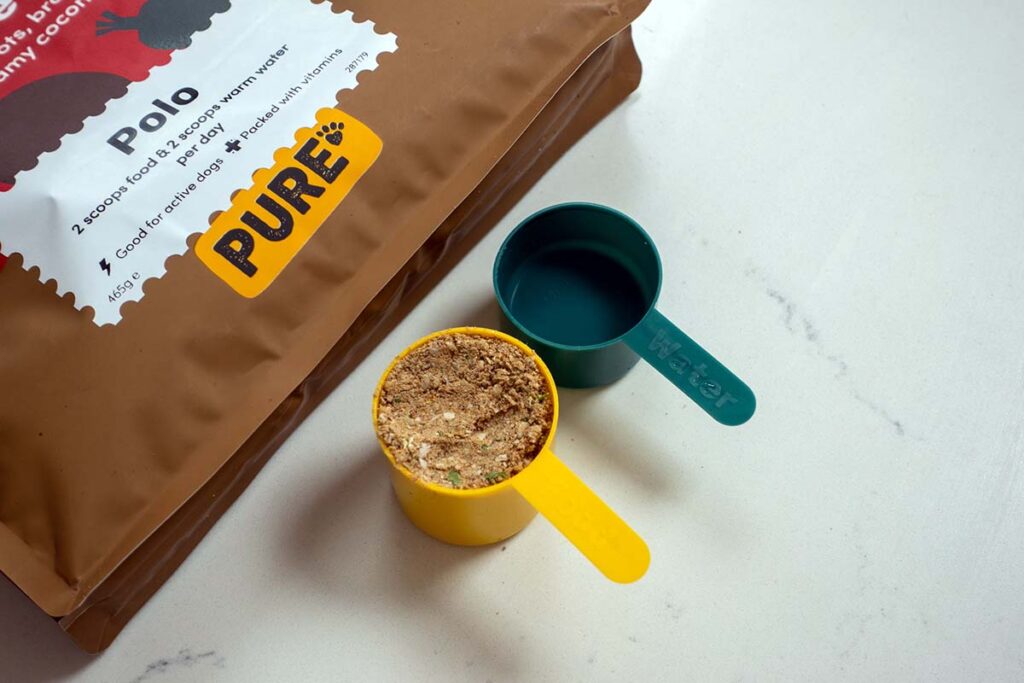 You can only purchase Pure Pet Food direct from their website unlike other dry food, wet dog food and even air dried food brands.
If you've decided to give their high quality dried food meals a try, you can click this link or the button below to start the process of signing up.
Do Pure Pet Food Offer A Coupon Code Or Discount?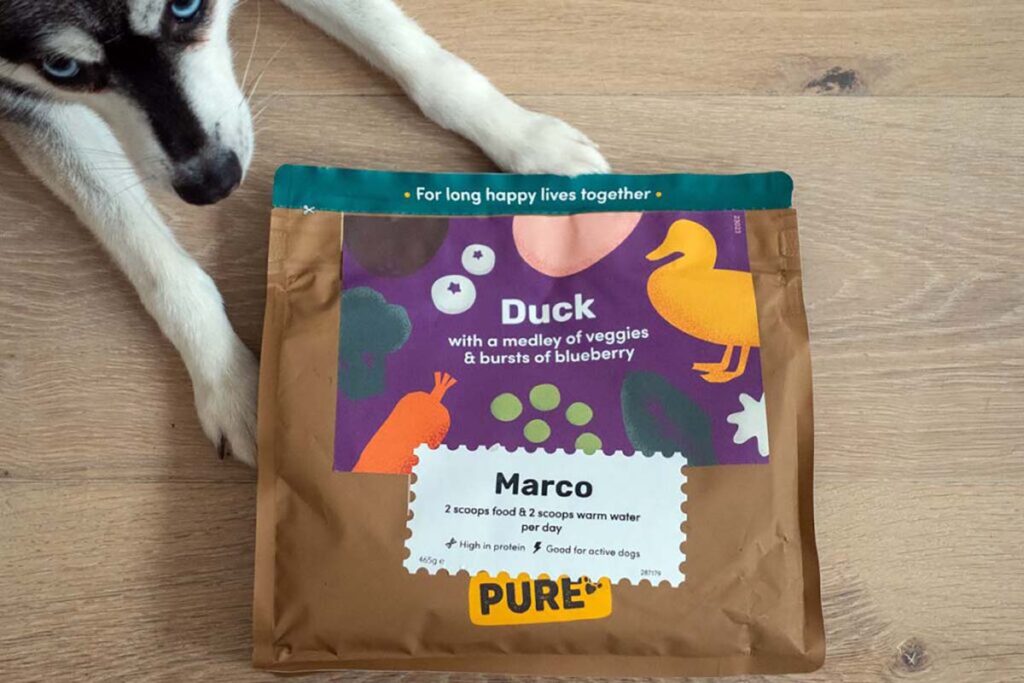 We contacted Pure Pet Food to see if we could get a coupon code or discount for our Life With Klee Kai community but unfortunately we're unable to share an exclusive saving with our fans at this time.
Having said that, Pure Pet Food do offer 25% off your first box and 10% off your second box if you're a new customer. You can check out this offer when you land on their homepage.
Who Are Pure Pet Food?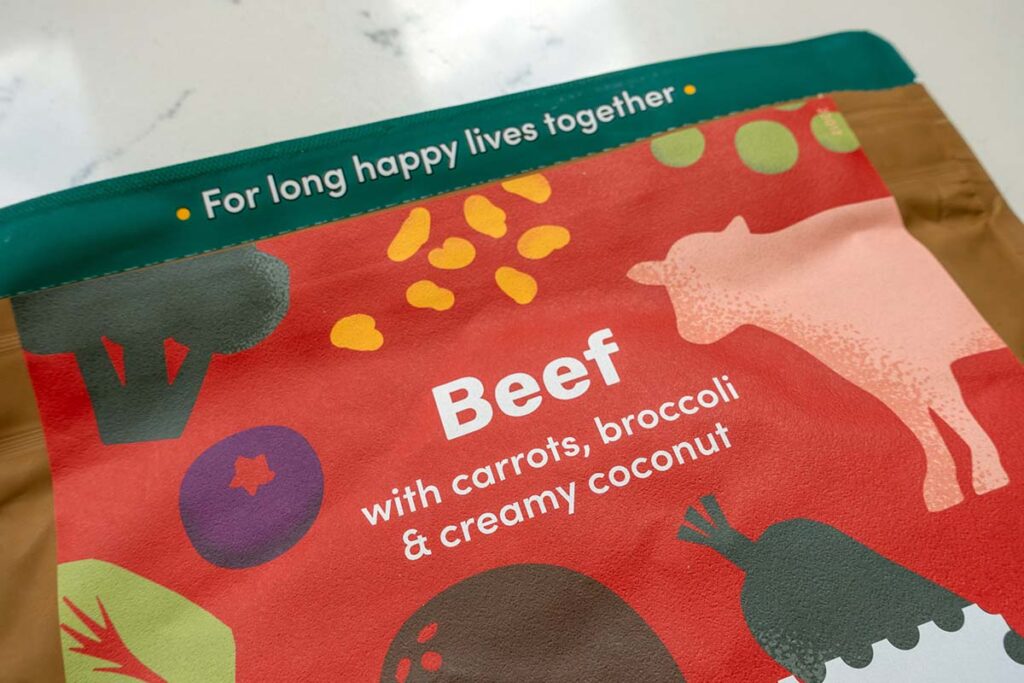 Pure Pet Food are a dog food company based in Yorkshire where they create their human grade meals for dogs of all life stages.
Having launched in 2015, Pure Pet Food have established themselves as one of the leading creators of quality food for dogs in the UK.
If you check out any Pure Pet Food reviews on websites such as Trustpilot, you'll notice a lot of pet parents explain how much this air dried food has helped their dog.
Whether you've got a dog with a sensitive stomach, digestive problems or other health problems, fussy eaters, or even dogs who need a grain free diet, Pure Pet Food have you covered.
How Does Pure Pet Food Work?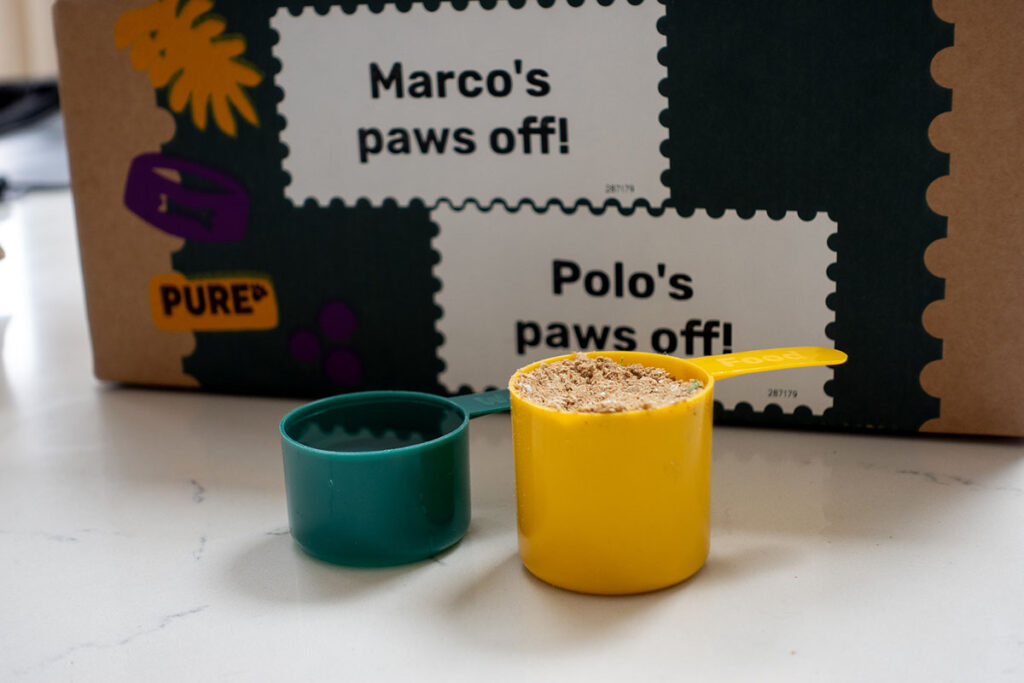 As I mentioned earlier in this guideline, Pure Pet Food is a dog food subscription service that uses human grade ingredients to provide your dog with balanced and complete meals.
Pure Pet Food use fresh ingredients such as high quality meat and locally sourced vegetables before the recipes are gently air dried to lock in flavour and nutritional goodness.
Unlike some supermarket brands, you won't find any artificial additives in their dog food.
Once you've received your Pure Pet Food delivery, you can open the bag and create your dog's meals. All you need to do is add warm water to the air dried food to create your Pure dog food.
When you're done, you can store your Pure food in the cupboard or a dry place making it more convenient than fresh dog meals that need to be kept in a fridge or freezer.
If you have any questions about whether this is the right dog food for your pet, you can always contact Pure's customer service to learn more and get any questions answered.
Pure Pet Food – Our Verdict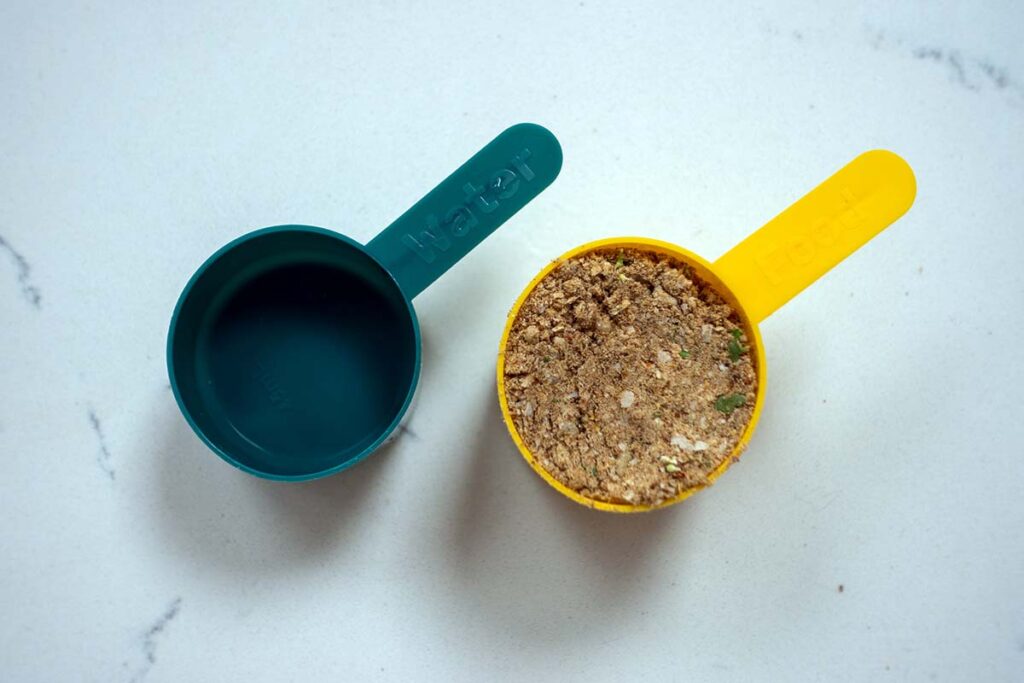 I've predominantly fed fresh dog meals to Copper and Skye over the past five years because I've seen firsthand the benefits, especially with dogs with sensitive stomachs and a tendency to be picky.
While I would always opt for fresh dog meals such as Butternut Box (if you're UK-based) or Nom Nom (if you're US-based), I do believe there are benefits to alternative dog foods such as air dried.
Pure don't compromise on natural ingredients that are high quality, while you can still avail of dog food without any additives or nasties.
When making Copper and Skye's Pure meals, I could see fresh ingredients such as carrots and peas.
I really like that Pure's meals can be stored in a dry place such as the cupboard to make it much more convenient than fresh dog food that requires freezer space.
While I appreciate the health benefits of fresh meals, it can get messy in the fridge when you have meal pouches that are half full.
Having said that, Pure does require more effort on the part of the dog owner to create the food as you'll need to mix the air dried food with water.
It's also significantly cheaper than fresh dog meals to make it more affordable to feed high quality dog food. In the cost of living crisis, this is an important consideration.
So overall, if you're looking to ditch dry food or wet food at the local supermarket or pet store, Pure Pet Food provide a great convenient option for dog lovers.
If you decide to give their air dried dog food a try but decide you want to cancel, you do have to call their customer service to end your subscription. It's a little more hassle than being able to do it online.
Pure Pet Food Summary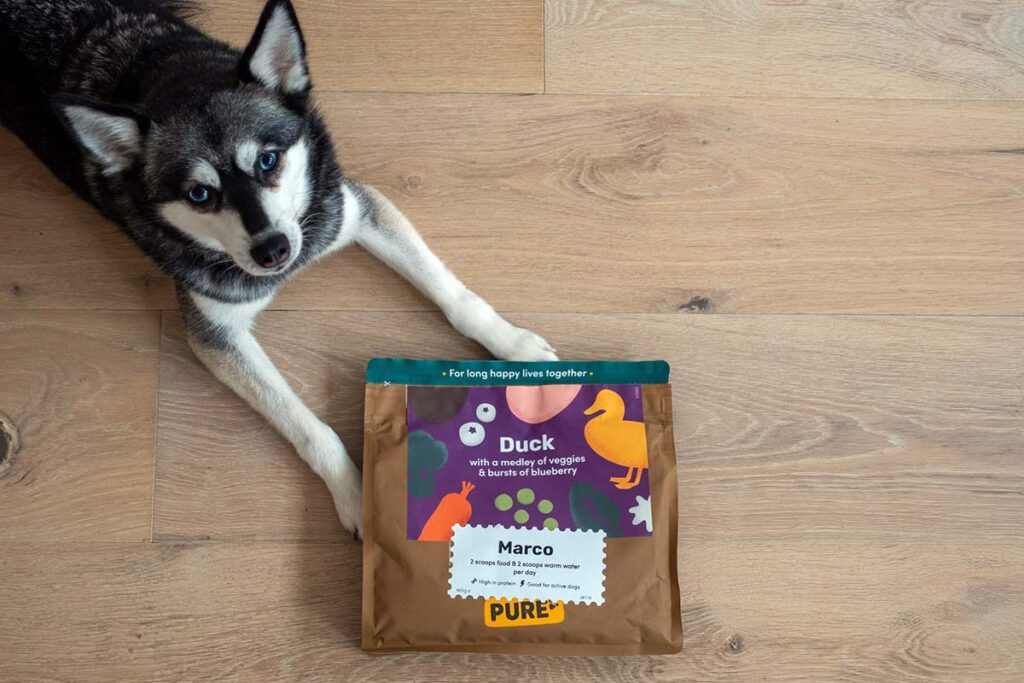 We've reached the end of our guide on the cost of Pure Pet Food.
If you're ready to ditch traditional dog foods such as kibble and wet food in favour of a healthier approach and you're considering Pure Pet Food, I hope this article helped.
Pure write online that their food costs as little as 89p per day.
Based upon feeding Pure Pet Food to Copper and Skye, I can expect to cough up £2.62 per day.
While this is more expensive than regular dog food bought from your local pet store or supermarket, Pure represents a more affordable and more convenient option than some fresh dog food services.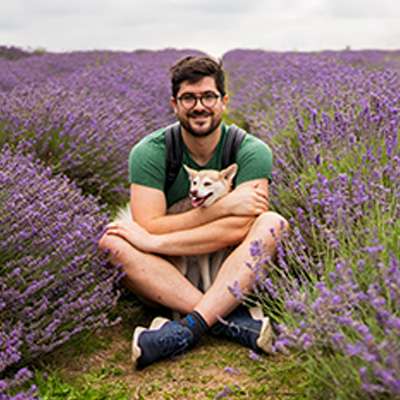 Kieran runs Life With Klee Kai on social media and other online platforms alongside his wife Yasmin. With over 10 years of experience as a journalist and a passionate dog owner, Kieran loves to combine his passion for pets and writing to share useful insights and product reviews to help other dog owners.