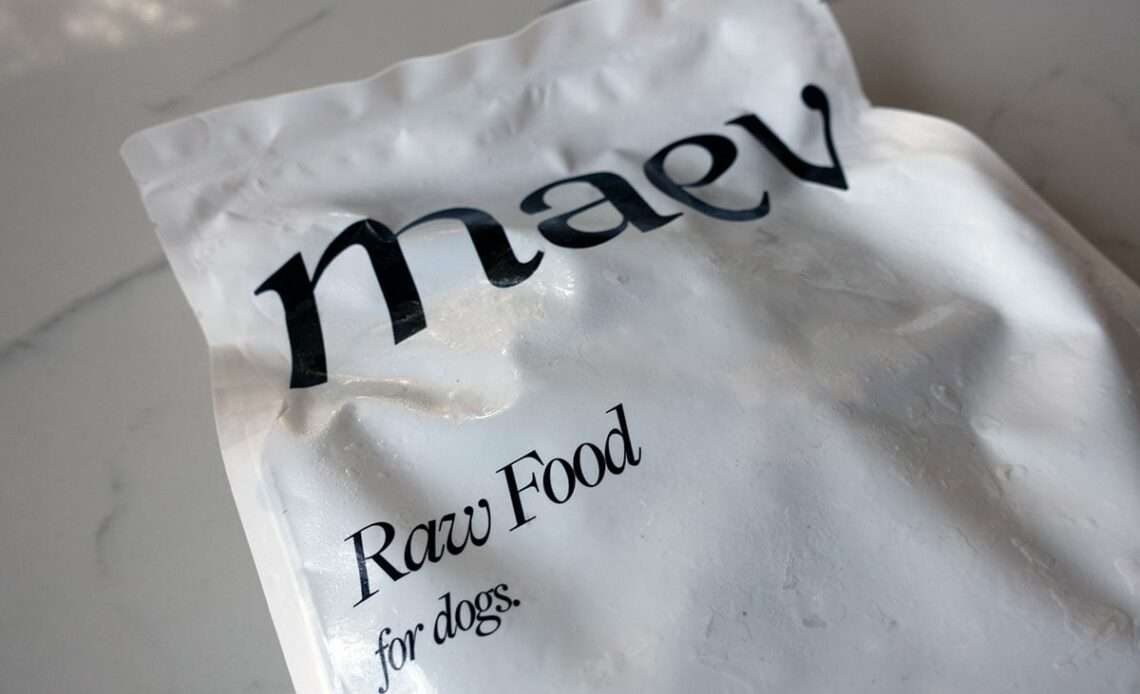 Last Updated on November 19, 2023 by Kieran Beckles
Are you thinking about giving Maev's raw dog food a try but you want to get an idea of the cost before you commit to their raw food diet?
Well, I decided to test out Maev to see if Copper and Skye would enjoy raw dog food rather than the fresh dog meals.
Maev have created dog food that is balanced and complete, tailored to meet your pup's specific needs and offers a convenient way to feed raw for pet parents.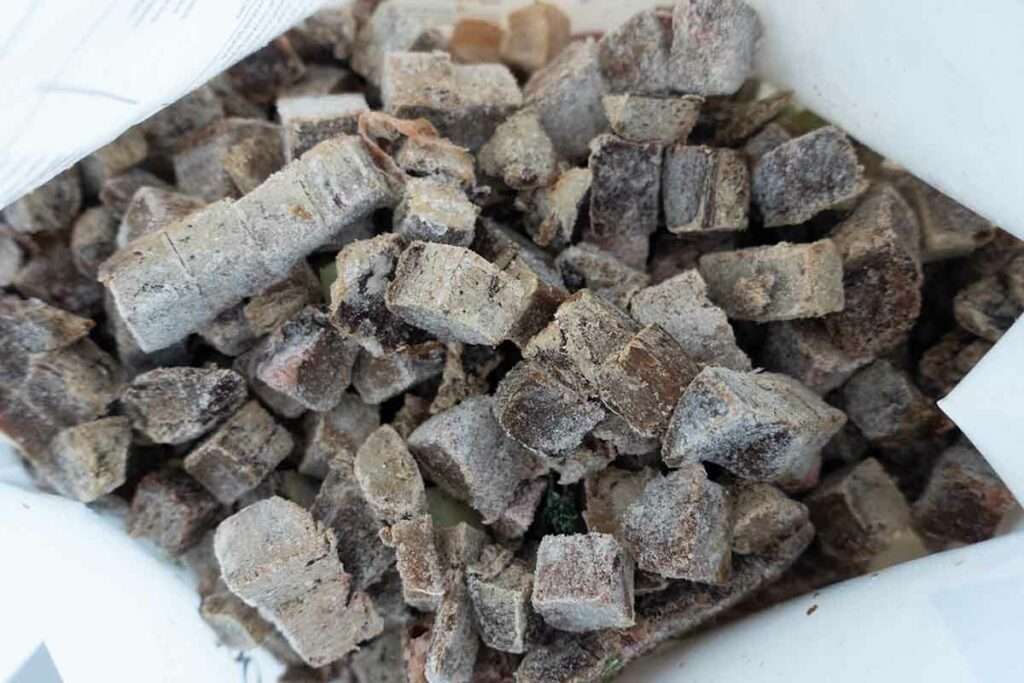 In this article, I'm going to share how much I paid for Copper and Skye's for their raw food as well as giving readers an idea of Maev dog food price whether you've got a small, medium or large dog.
Once I've shared a price breakdown, I'll share a brief overview of Maev as well as giving our verdict.
CUT TO THE CHASE: You can save 15% on your first Maev order via this link and use discount code "NEWFRIEND" at the checkout.
How Much Does Maev Dog Food Cost?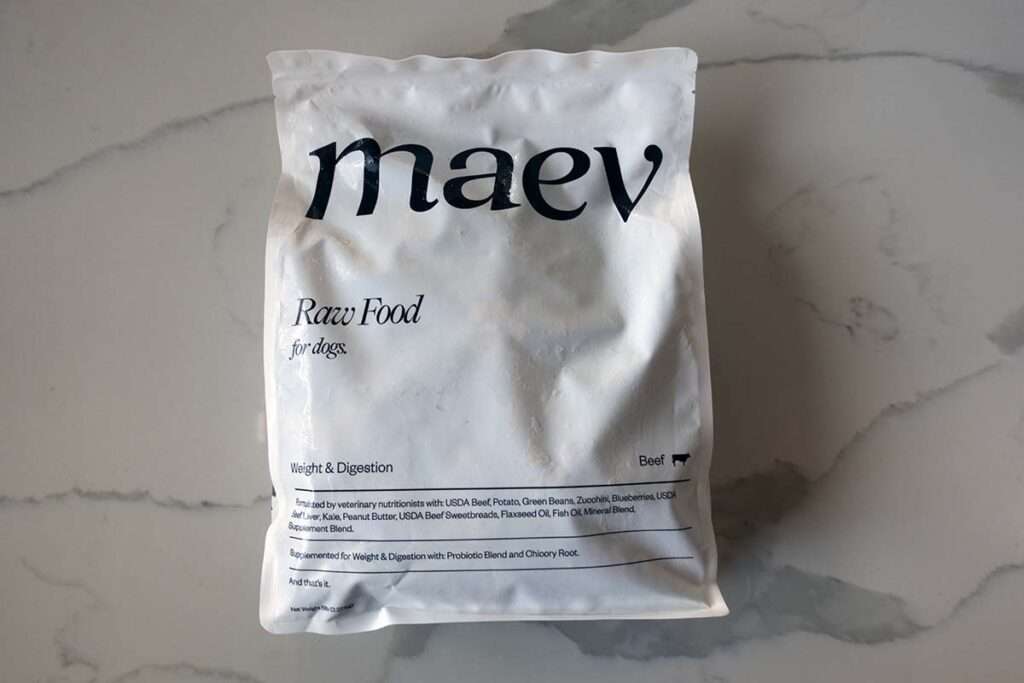 Maev provide high quality, raw food to dogs in the USA using healthy and natural ingredients.
If you're ready to ditch the traditional kibble and unhealthy wet food in favour of dog food containing human grade ingredients and formulated by veterinary nutritionists, Maev could be an option for you.
For dog owners with a specific interest in switching their dog to a raw diet but worried about the faff, Maev offers a convenient and hassle-free way to give raw dog food a try.
Seeing as Maev use human grade fresh produce in meals created by veterinary nutritionists, you should expect to pay a little more than traditional dog food you'd buy in the pet store or supermarket.
But how much does Maev cost if you've got a small dog, medium dog or large dog? Let's find out.
Small Dog
Chi, Female Chihuahua, 5 years old, 5lbs – $67 every 5 weeks (or $1.91 a day).
Medium Dog
Bea, Female Beagle, 5 years old, 21 lbs – $122 every 5 weeks ($3.48 a day).
Large Dog
Goldie, Female Golden Retriever, 5 years old, 60 lbs – $152 every 4 weeks (or $5.42 a day).
Copper and Skye's Maev dog food cost
Skye and Copper are five/six years old, female and male, while they weigh around 11lbs.
Once I entered my Alaskan Klee Kai's details in Maev's vet recommended portion calculator, I was provided with a quote of their frozen raw food.
At the time of writing, Maev's raw food costs $236 a month (or $6.84 a day) to feed Skye and Copper.
Who Are Maev?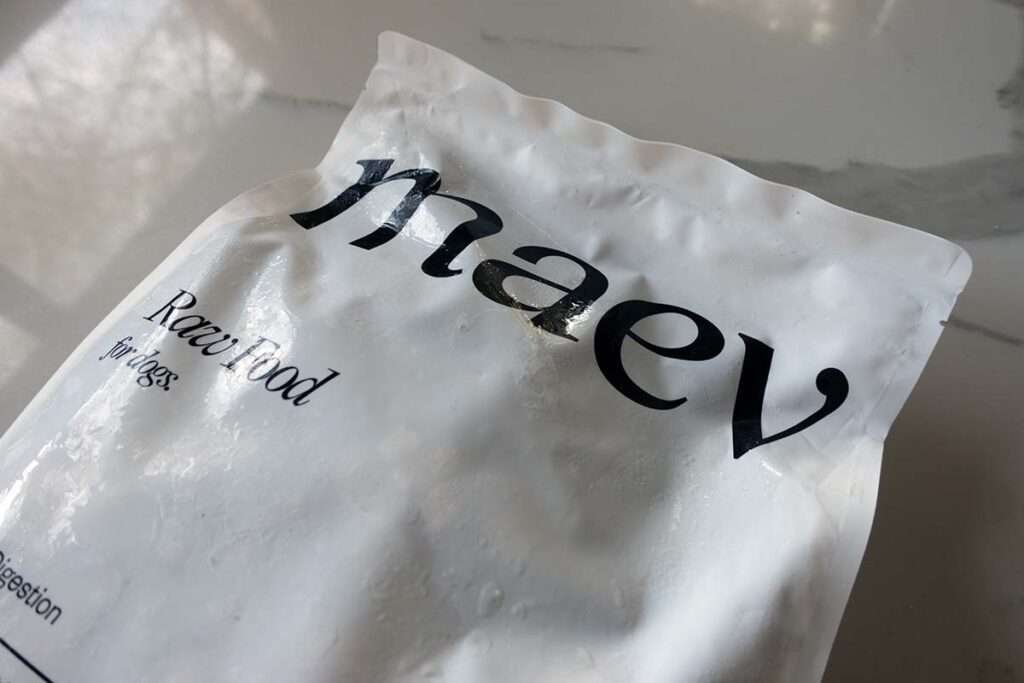 Maev are a dog food company that are looking to make raw food diets more accessible and more convenient to pet parents in the USA.
They use fresh produce in their vet formulated meals to create a balanced, complete and healthy raw dog food for our canine companions.
You should check out their website to read all the health benefits of raw food to your dog's diet, but Maev are offering human grade raw food to bolster your dog's health.
Maev take into account health concerns such as gut health, joint health, healthier skin, weight management, seasonal allergies and overall health of dogs.
Just like other human grade dog food brands that I've reviewed, Maev do suggest pet parents use their sign-up questionnaire to provide information about your dog and get a tailored meal plan.
I will say that it's not as easy to find as some dog food companies but once I managed to locate it, I was really impressed with the detailed and thoughtful questions.
For instance, Maev will take into account whether your dog has a history of separation anxiety, anxious or reactive behaviours, their coat and shedding plus other factors.
Once you've filled it out, Maev will suggest a meal plan for your dog.
What Recipes Do Maev Offer?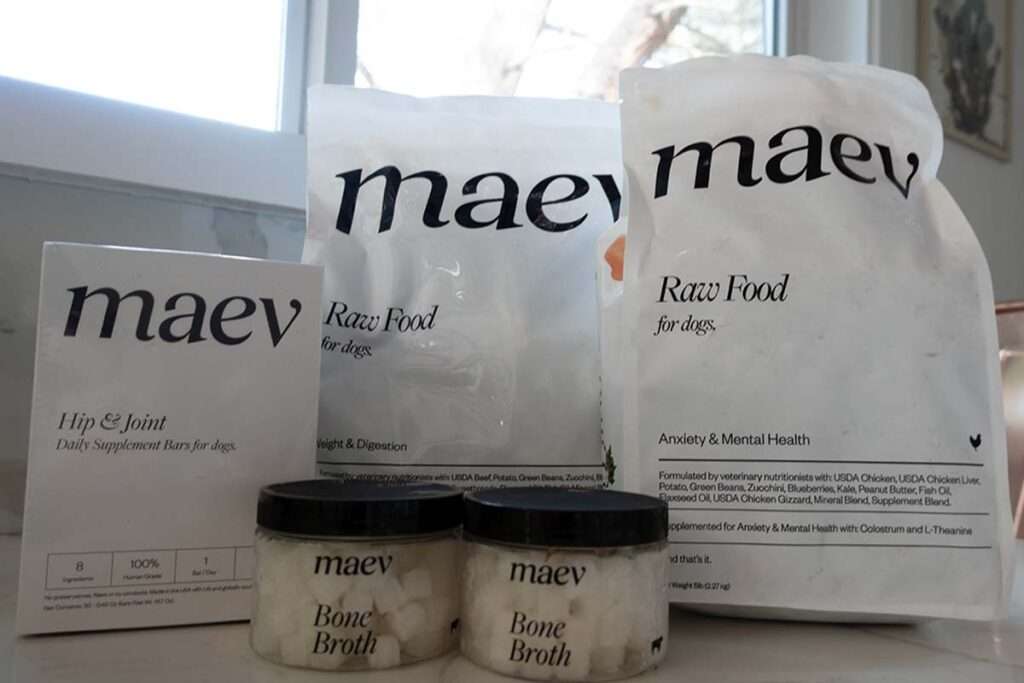 Maev offer raw dog food to help adult dogs, senior dogs and puppies – too.
At the time of writing, Maev offer a beef recipe, chicken recipe and the option to select their variety pack. These contain USDA certified meat, fresh produce and superfoods.
As you'd expect from a dog food company purporting to offer human grade raw food, Maev only use ingredients that you'd see in human food.
Maev raw food doesn't contain any additives, filler, nasties or preservatives.
You can also choose whether you want the raw food to be formulated for weight and digestion, hip and joint, anxiety and calming or skin and coat.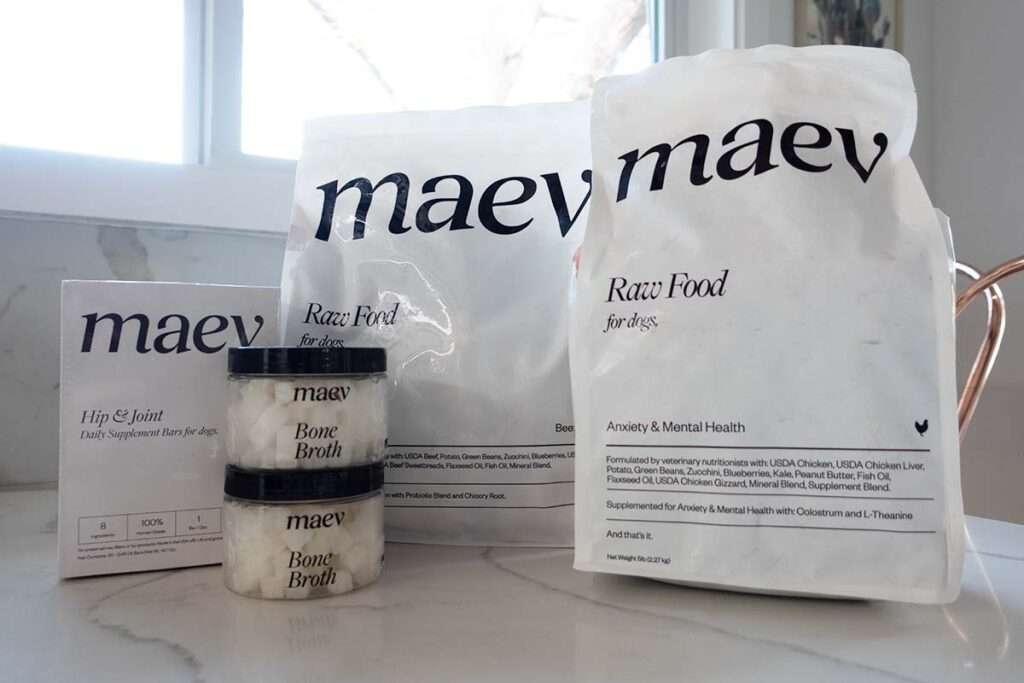 Maev have really covered all the bases with their dog food to cater to the different type of personalities and different health issues that dogs may have.
While Maev have established a good reputation for their dog food, they offer supplement bars, bone broth topper and puppy formula.
If you're interested in their supplement bars or bone broth topper, you can bundle these products together with their dog food.
They've got a senior dog bundle, puppy bundle, achy dog bundle, small dog bundle, big dog bundle, gassy dog bundle and itchy dog bundle.
Is Maev Worth It?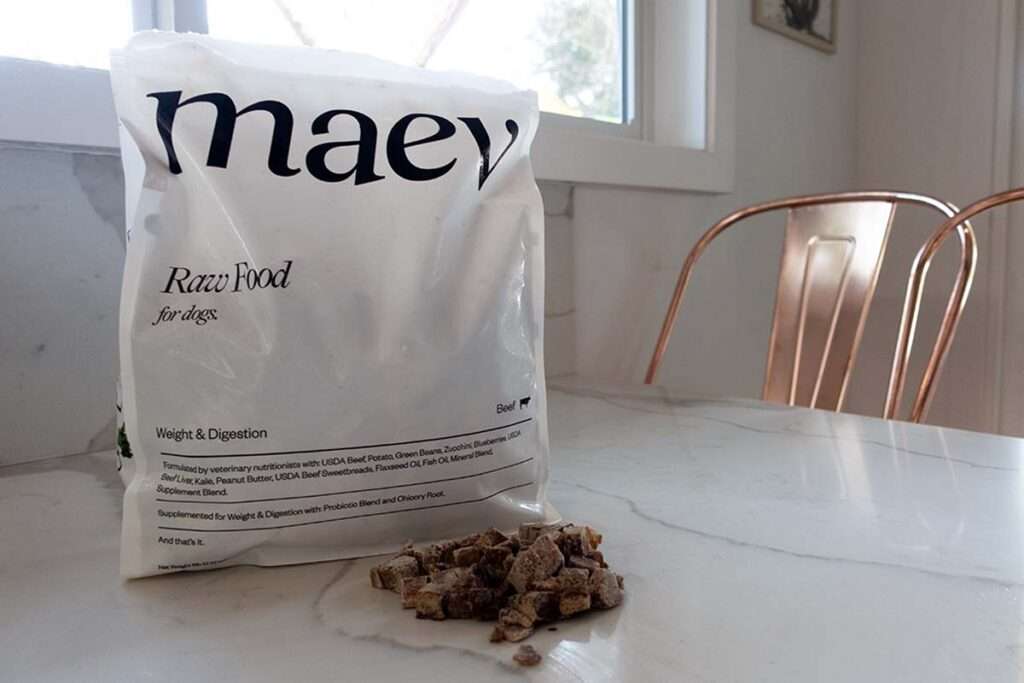 I must admit that I've always been reluctant to feed raw dog food to Copper and Skye.
I've been scared off trying raw food because of the hassle of dealing with raw meat, especially with a toddler in my house and family members with weak immune systems.
When I have reviewed raw dog food companies in the UK (before we moved to California), I found it quite a messy affair once the raw food was defrosted to be served to Copper and Skye.
However, Maev really appealed because their raw dog food is frozen raw.
It comes in a convenient bag with easy to follow feeding instructions, taking the hassle of raw diets.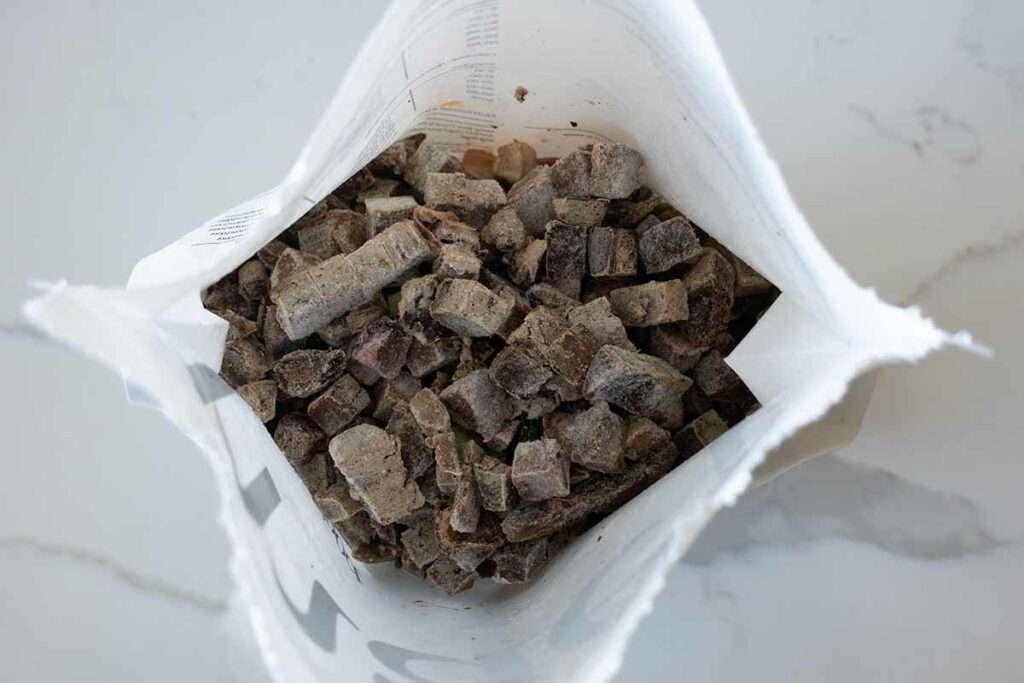 I could clearly see the human grade ingredients – chunks of organ meat, green beans and other fresh ingredients.
Feeding Maev was easy. You don't have to defrost your dog's food – Maev recommend feeding frozen because it slows down your dog's eating process.
If your'e familiar with my Alaskan Klee Kai, you'll know Skye is fussy but Copper is really food motivated and he wolfs down his meals.
I loved that Copper had to take his time with Maev – he'd grab a mouthful and head to the rug before slowly munching away before going back to his bowl for another bite.
When I filled out the sign up questionnaire, I shared the Copper needed better weight control and Maev adjusted my dog's diet to reflect that goal.
Skye is the fussier of my Klee Kai but to my surprise, she cleaned her bowl every mealtime. I couldn't believe it because Skye usually doesn't like raw dog food.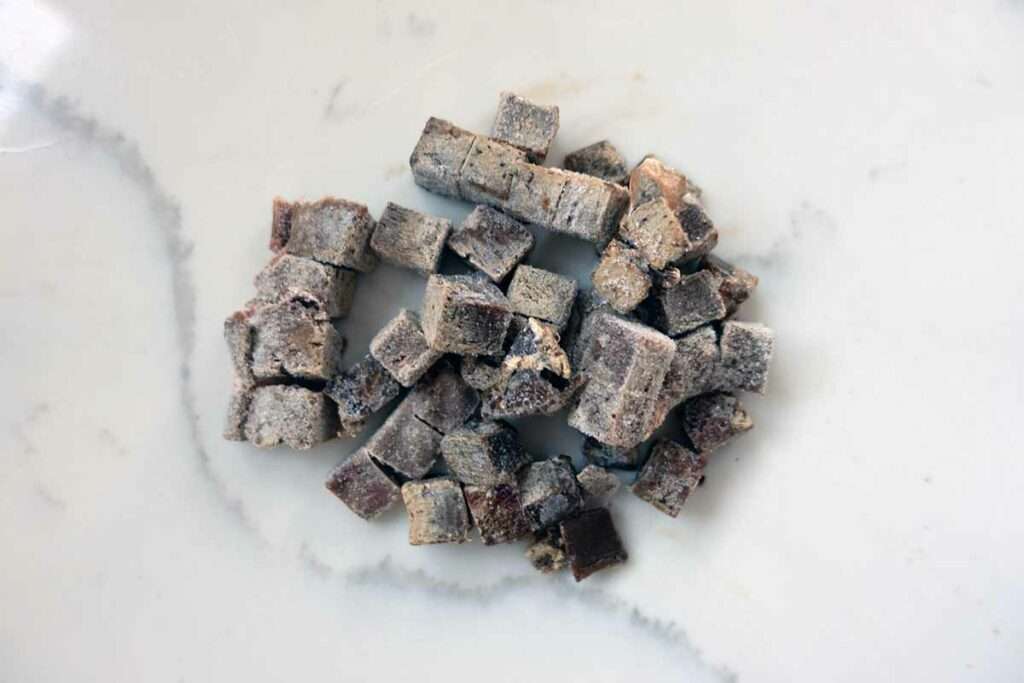 I found that Maev's bone broth was a welcome topper or even a treat on hot days in California.
Compared to a low of fresh dog food delivery companies that I've reviewed, Maev are very affordable.
They're priced at the lower end of the fresh dog food range – and certainly much cheaper than traditional raw dog food than you'd find at your local pet store.
So I believe Maev is worth every cent – not only will your dogs benefit, but you'll benefit from the affordable price and sheer convenience of Maev raw dog food.
Where To Buy Maev?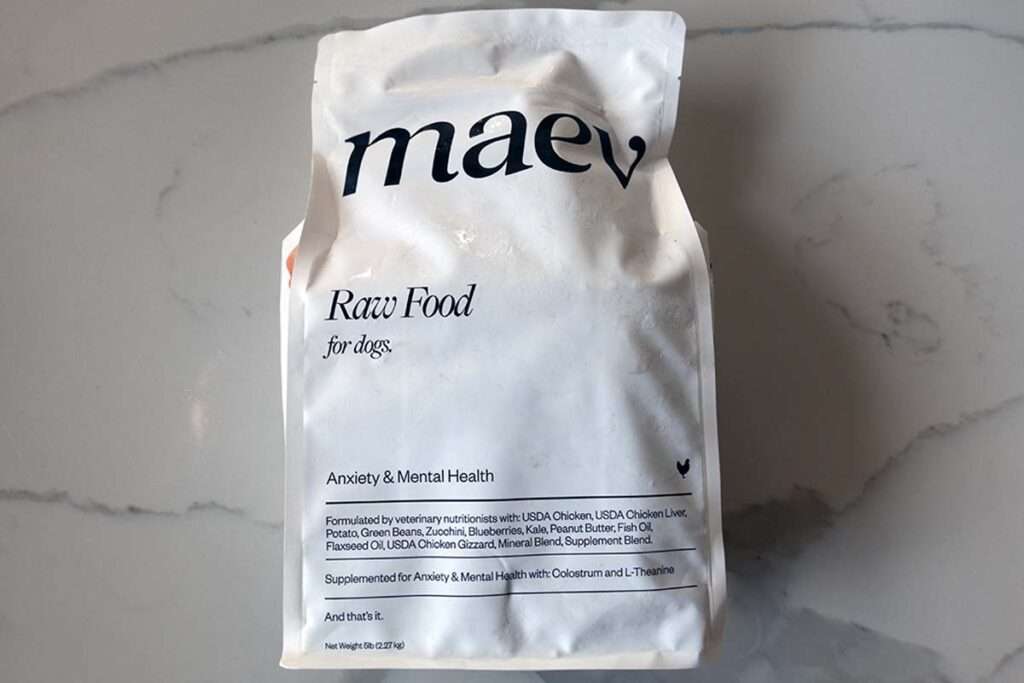 You can only buy Maev raw dog food through their website. You have the option to complete their questionnaire or use your judgement when placing your order.
I've shared how much you can expect to pay for Maev raw dog food if you've got a small, medium or large dog, but your monthly price will depend on the age, size, activity level and other factors.
You can also add their bone broth and supplement bars to your order through their website.
How To Save On First Maev Order?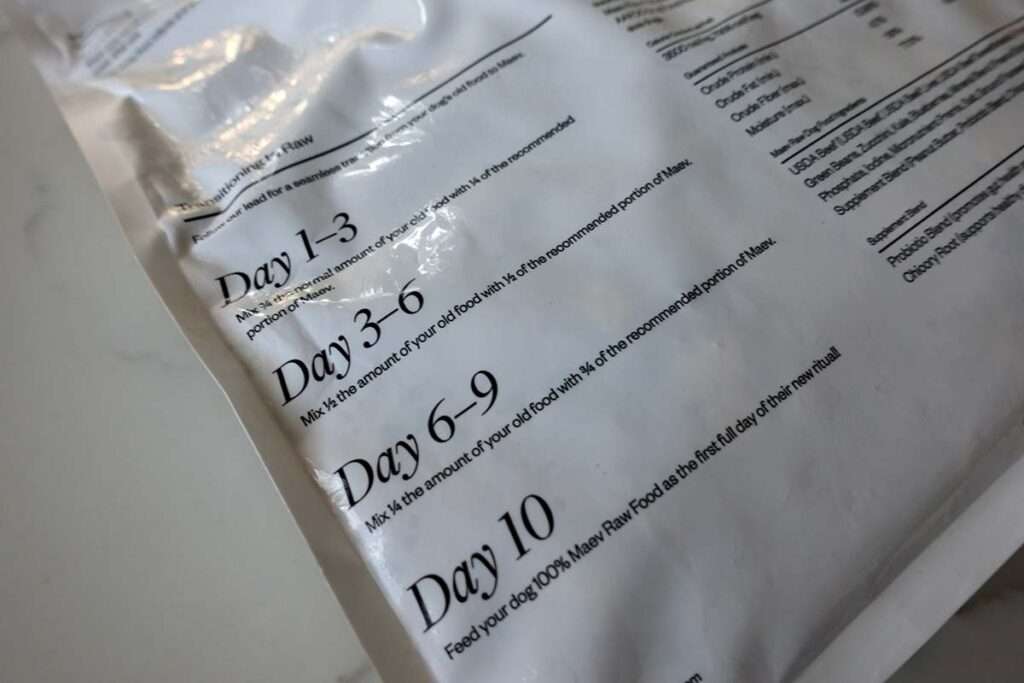 If you want to give Maev dog food a try, you can save 15% on your first order when you click this link and use the coupon code "NEWFRIEND" at the checkout.
Wrapping Up – Our Final Thoughts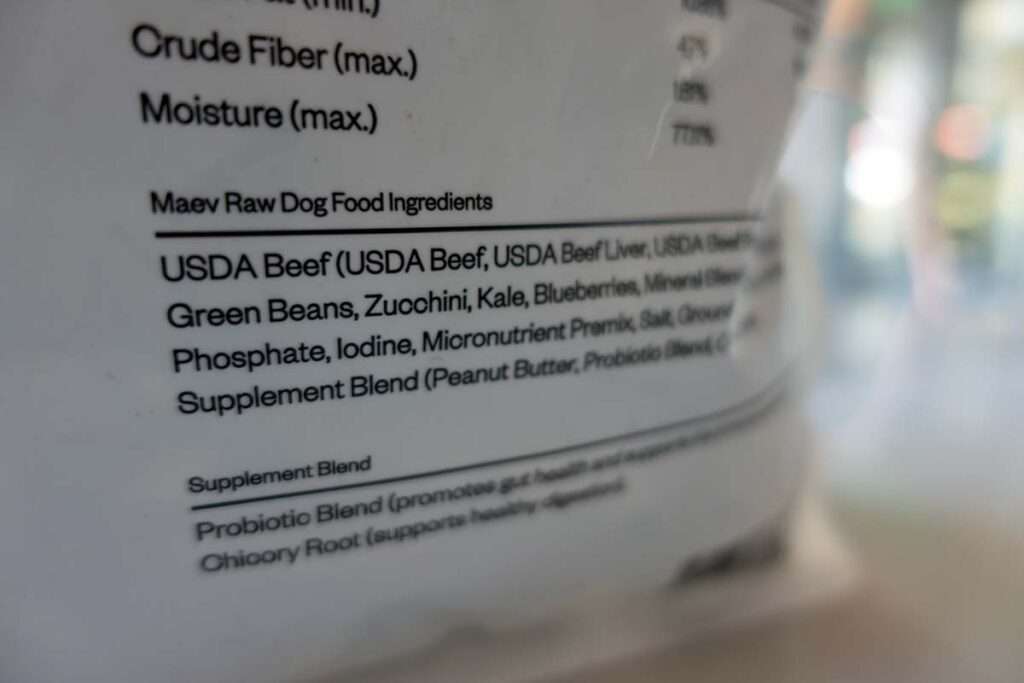 We've reached the end of our feature taking a look at the price of Maev's raw dog food.
As you'll know by now, the cost of Maev will depend on the size and specific requirements of your pet whether you've got adult dogs or puppies.
It can range from as little as $67 a month to over $200 depending on the breed or mix.
I believe Maev represents great value because you can feed raw food containing human grade recipes formulated by vets for specific conditions and delivered to your door.
Not only does Maev offer great value and great convenience, but my fussy Alaskan Klee Kai loved their raw food.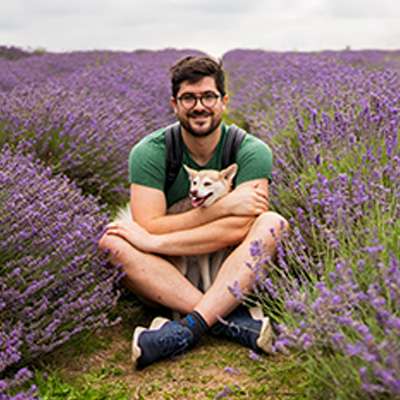 Kieran runs Life With Klee Kai on social media and other online platforms alongside his wife Yasmin. With over 10 years of experience as a journalist and a passionate dog owner, Kieran loves to combine his passion for pets and writing to share useful insights and product reviews to help other dog owners.