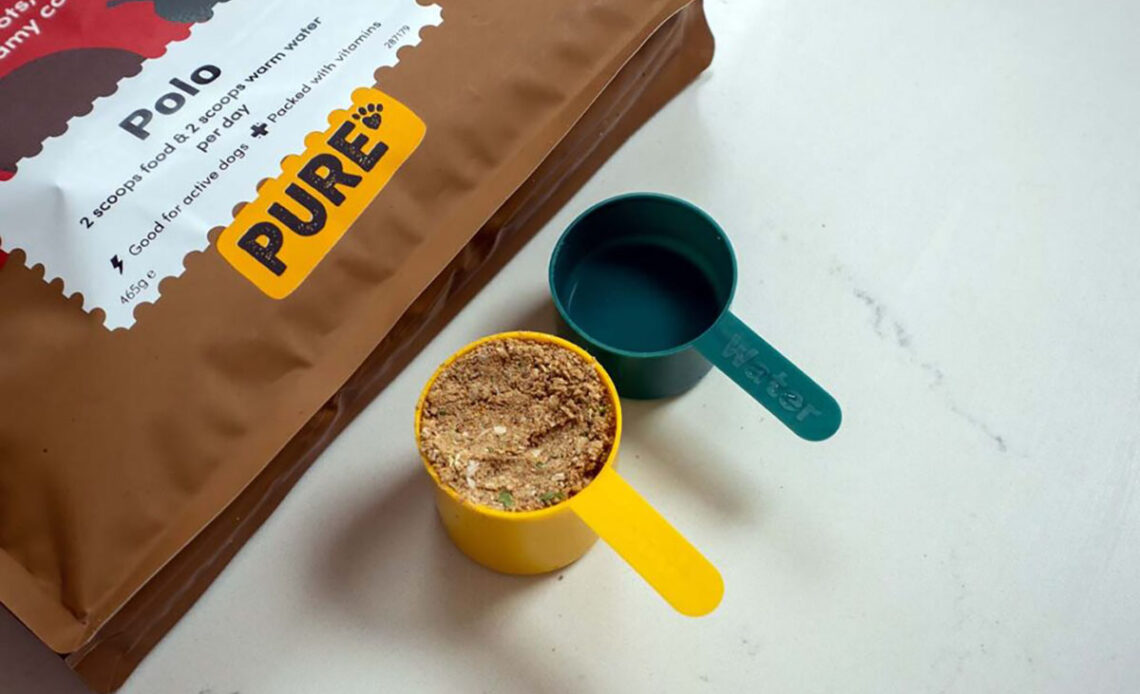 Last Updated on September 7, 2023 by Kieran Beckles
Are you looking to switch up your dog's food but you're unsure whether to go for air-dried dog food?
There are so many options within the dog food market in the UK – including air-dried food, raw dog food, freeze-dried raw, customised kibble and more.
It can be confusing trying to decide which dog food brand is the best fit for your canine companion seeing as there's no shortage of potential options.
In this article, we're going to take a look at one of the leading air-dried dog food companies in the UK at the moment.
Pure Pet Food are a Yorkshire-based dog food company who have created a range of air-dried dog food options to help dogs live happier and healthier lives.
We'll take a close look at how Pure Pet Food works, highlighting the different recipes on offer and give our verdict on this pet food brand.
So with the introduction out of the way, let's delve a little deeper into all things Pure Pet Food.
Pure Pet Food
Pure Pet Food are one of the leading air-dried dog food companies in the UK thanks to their healthy range of recipes.
The Yorkshire company explain on their website that they believe British dogs deserve tasty, wholesome and healthy dog food.
Pure finely chop the ingredients in their recipes before slowly air drying to ensure all the nutritional goodness and flavour is locked in.
By taking such care to chop the ingredients into really small pieces, Pure believe their meals are more gentle on your dog's digestive system.
The air drying process is as a natural form of preservation so Pure don't need to add any preservatives and can avoiding the harmful high-temperature cooking methods.
They only use natural ingredients in their vet-approved recipes so you won't find any additives, fillers or other nasties in Pure's recipes.
How Pure Pet Food Works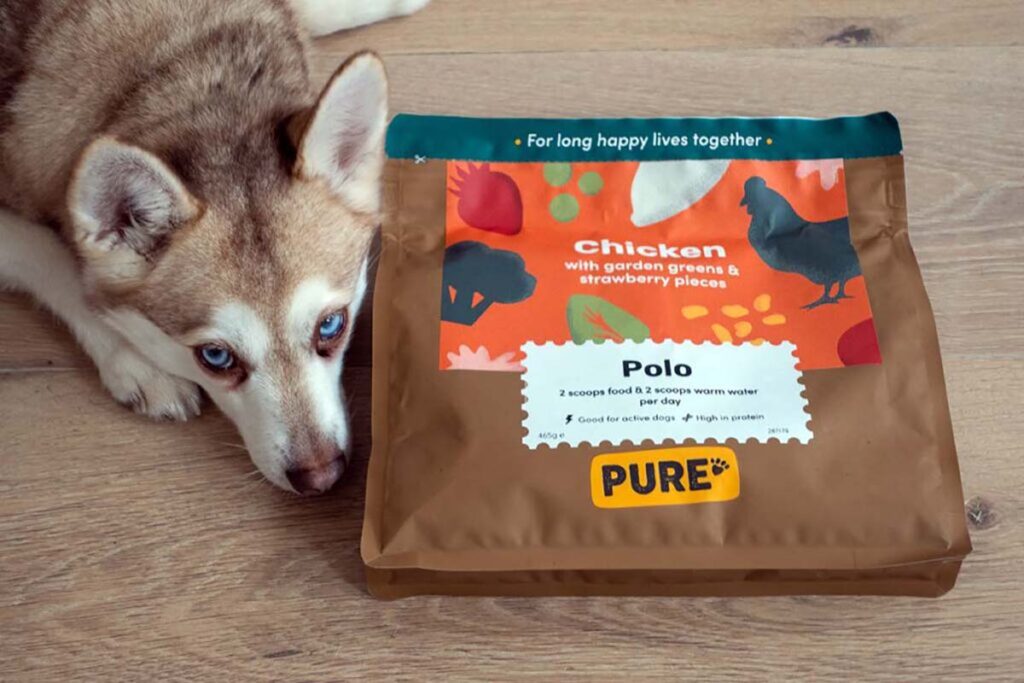 It's pretty simple to get started with Pure Pet Food.
You'll have to visit their homepage and start by filling out their questionnaire so Pure Pet Food can get an insight into your dog's characteristics and habits.
Pure will ask your dog's age, breed, sex, weight, eating habits, activity level as well as checking for any potential allergies or behavioural issues.
Once they've got an understanding of your dog and what makes them tick, Pure will suggest some potential recipes that could keep your four-legged friend happy.
Their recipes include Beef, Chicken, Duck, Herring, Lamb, Salmon and Turkey. It's a great range that can caters to all dogs irrespective of their preferences.
Once you've signed up to their subscription service, Pure will ship your dog's food straight to your door and you can get started feeding Pure.
How To Feed Pure Pet Food
Once you've got your hands on your first Pure Pet Food delivery, you can read through the materials included in your welcome box such as feeding guidelines.
Pure provide a dog food scooper and water scooper so you can get your measurements spot on when it comes to preparing your dog's food.
You'll need to combine Pure's air-dried dog food and some water before giving it a good mix to create a balanced and complete meal for your pooch.
It's a little more effort on the part of the dog owner than some brands such as Butternut Box, but it's easy and quick to prepare your dog's Pure food.
You won't have to worry about making space in your fridge or freezer because Pure Pet Food can be stored in a dry and cool location.
Pure Pet Food Price
Pure Pet Food provide a customised service so it'll cost a little more than regular dog food but it isn't extortionate either.
Based upon Copper and Skye, I could expect to pay around £1.50 a day or just over £45 a month.
If you fancy giving Pure Pet Food a try, you can click this link or the button below.
Our Verdict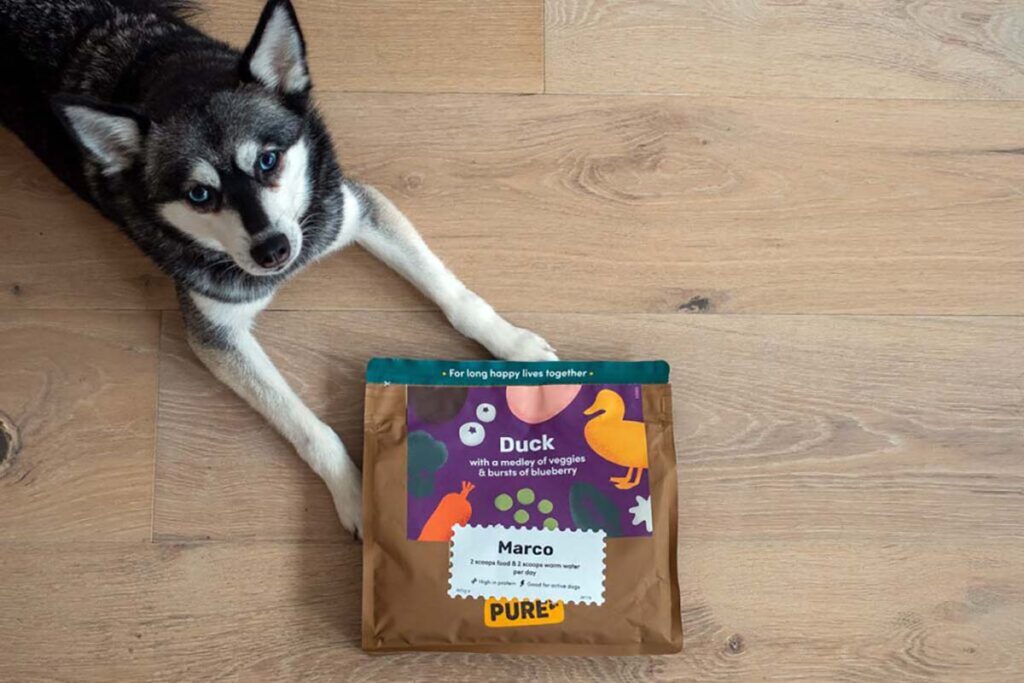 If you're familiar with Copper and Skye, you'll probably know that we like to feed balanced and complete fresh meals rather than air-dried dog food.
At the current time, we've been feeding Butternut Box to our Alaskan Klee Kai based upon this preference but we have tried Pure Pet Food in the past.
If we were to switch to another dog food brand in the UK, Pure Pet Food would be one of two options that we would consider based upon our past experiences.
When we were feeding Pure Pet Food to Copper and Skye, I was impressed with the quality of the food and how much they both enjoyed the meals.
I like that it can be stored in the cupboard so you don't have to sacrifice fridge/freezer space but still have confidence your dog is eating high-quality food.
It was a little more work to prepare their meals but that's a small price to pay for human-grade dog food that my dogs enjoyed eating.
What Other Customers Have To Say About Pure Pet Food
Pure Pet Food have a great reputation for helping dogs who have sensitive tummies, smelly poops, digestive issues and pickiness at mealtime. It's reflected in their average score of 4.7 based upon over 3,000 reviews on independent review website Trustpilot. Let's take a look at some of the reviews.
Air drying acts as a natural form of preservation; this means we don't add any preservatives while also avoiding the harmful high-temperature, high-pressure processing methods used to make most dog foods. Gone are the days of mysterious brown biscuits full of additives.

Dog owner Linda.
My fussy dog loves this food! We have tried so many foods over the years and she has always been a picky eater. She looks forward to her pure pet food meals. She also has digestive issues but this has improved hugely with this food. Quick service, easy ordering, food is easy to prepare, and unlike a lot of other foods doesn't need to be chilled/frozen so doesn't take up fridge or freezer space!

Satisfied customer Susan.
Winston has always been a fussy eater and is also quite sensitive to allergies. We approached Pure Pet Food a few months ago and the team were really helpful. Winston is now on a tailored diet and really loves the food (and the treats).

Happy pet parent Tim.
Is There A Pure Pet Food Coupon Code Or Discount?
At the time of writing, you can get 30% off your first Pure Pet Food order as well as 10% off your two subsequent orders when you click this link.
Wrapping Up Our Pure Pet Food Review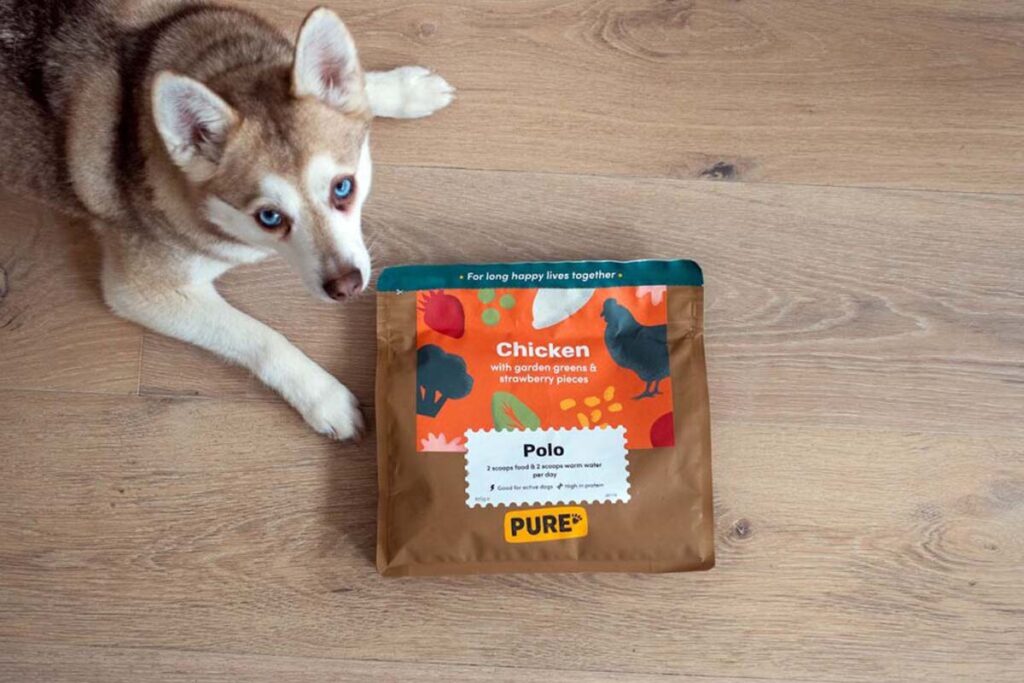 We've reached the end of our review of Pure Pet Food.
While we do prefer Butternut Box if you're looking for a dog food option in the UK, Pure Pet Food do a great job of creating healthy and tasty air-dried recipes.
We've previously fed Pure Pet Food to Copper and Skye – and we wouldn't hesitate to recommend the brand to other dog owners looking for a fresh approach.
They've got a good range of options to cater to dogs, even fussy pooches or pups with sensitive tummies. These include seven protein options for British dogs.
If you fancy giving Pure Pet Food a try, you can click this link or the button below.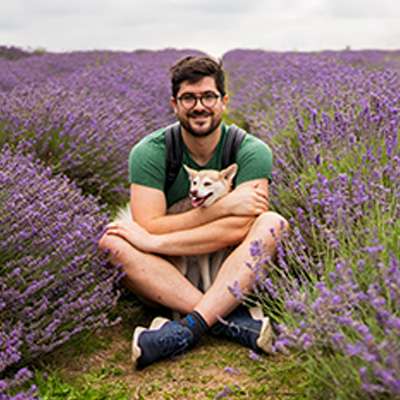 Kieran runs Life With Klee Kai on social media and other online platforms alongside his wife Yasmin. With over 10 years of experience as a journalist and a passionate dog owner, Kieran loves to combine his passion for pets and writing to share useful insights and product reviews to help other dog owners.