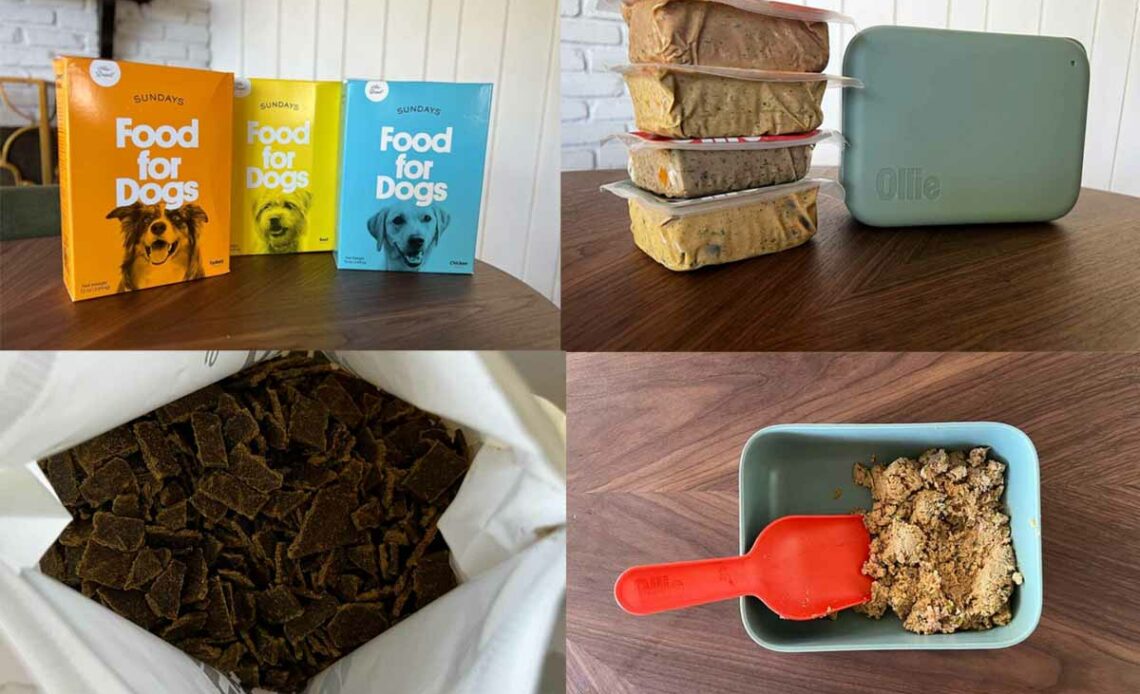 Last Updated on September 16, 2023 by Kieran
Are you ready to switch to fresh dog food but you can't decide between Sundays For Dogs and Ollie?
These are two examples of human grade dog food brands in the USA that are offering dog owners the opportunity to adopt a fresh approach to their pet's nutrition.
Sundays For Dogs and Ollie offer high quality food to dogs in the USA – but there are some key differences between these two dog food delivery services.
The big difference between these two dog food subscriptions is that the offer alternative types of dog food - Sundays For Dogs provide air dried dog food, while Ollie create fresh pet food.
Having moved to the USA in 2023, I've been on a journey with my Alaskan Klee Kai trying to find the best dog food that'll keep Copper and Skye happy, healthy and food motivated at mealtime.
I've been feeding balanced and complete meals to my Alaskan Klee Kai for the past five years – and I'm excited you're ready to join me in ditching kibble in favour of one of these pet food delivery services.
In this comparison article, I'll be taking a look at Sundays For Dogs and Ollie to share my experience with these dog food brands to help inform your decision if you can't pick between them.
Let's start by taking a look at each dog food delivery service before directly comparing these brands.
Cut To The Chase: You can save 35% on your first Sundays order when you click this link and use code LIFEWITHKLEEKAI at checkout.
Who Are Sundays For Dogs?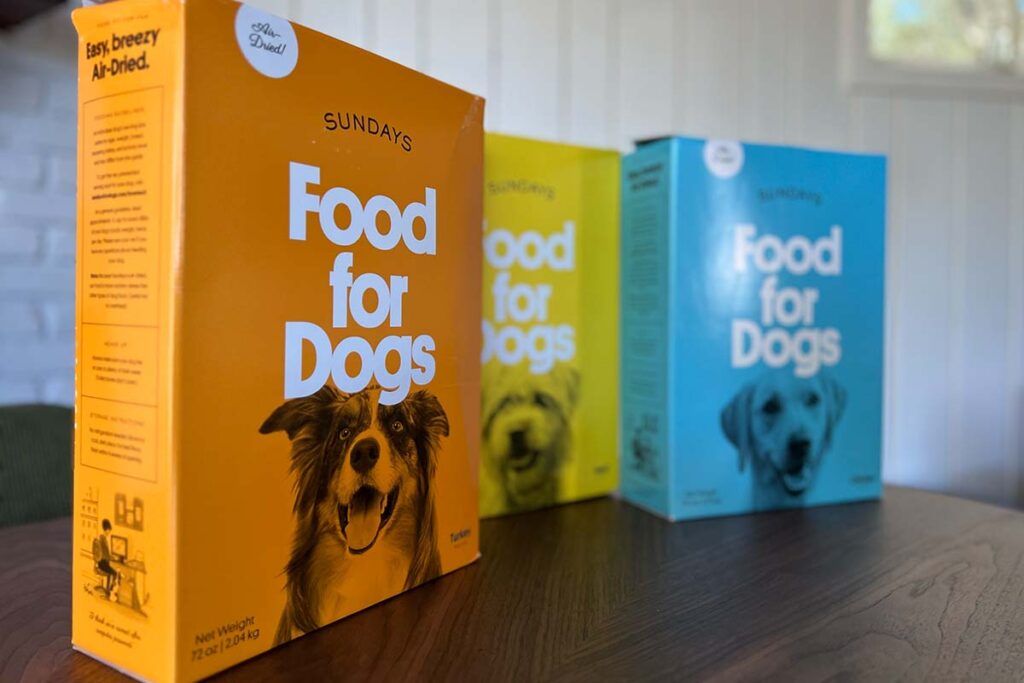 Sundays For Dogs have been creating healthy dog food for three years since launching in 2020.
Sundays' dog food is made with human-grade ingredients such as USDA-quality meat, fresh fruit and fresh vegetables.
You'll be happy to learn that Sundays' dog food doesn't contain any additives, preservatives or any other nasties.
Sundays Food For Dogs' recipes are made up of 90% protein, which is significantly higher than a lot of dry food and fresh dog food brands.
So if you want your dog to enjoy a high protein diet along with superfoods in recipes formulated by veterinarians, Sundays' dog food is a good choice.
They use an air-drying process that locks in flavours and nutrients "better than fresh cooked", according to Sundays Food For Dogs' website.
So if you've got picky eaters at home like my Alaskan Klee Kai, Sundays' dog food should have great flavour and taste.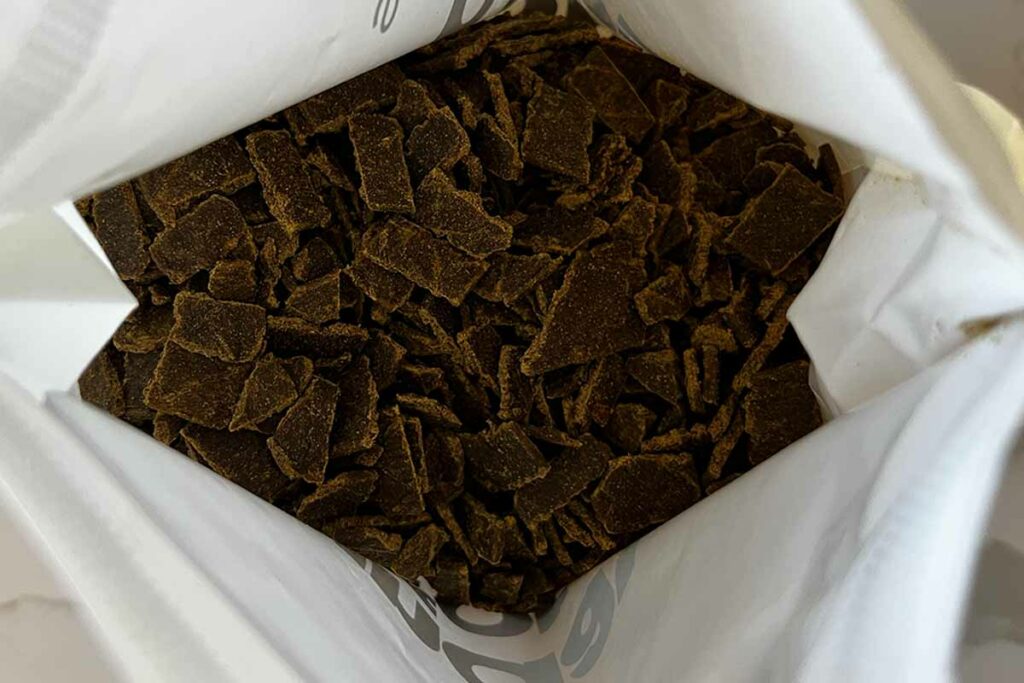 Sundays claim that the jerky-like-texture of their air-dried dog food is more akin to a tasty treat.
To get started, you need to complete their sign-up questionnaire so Sundays can tailor your dog's air dried food accordingly.
You can still decide which recipes you'd prefer for your dog before Sundays Food For Dogs reveal the cost of your subscription plan.
As Sundays offer air dried dog food rather than fresh food, it's more affordable and your budget should take less of a hit.
They claim Sundays' dog food costs 40% less than fresh-cooked (keep reading to find out if that's true).
Sundays Food For Dogs can be stored in the cupboard rather than taking up fridge or freezer space, making it really convenient for pet parents.
Who Are Ollie?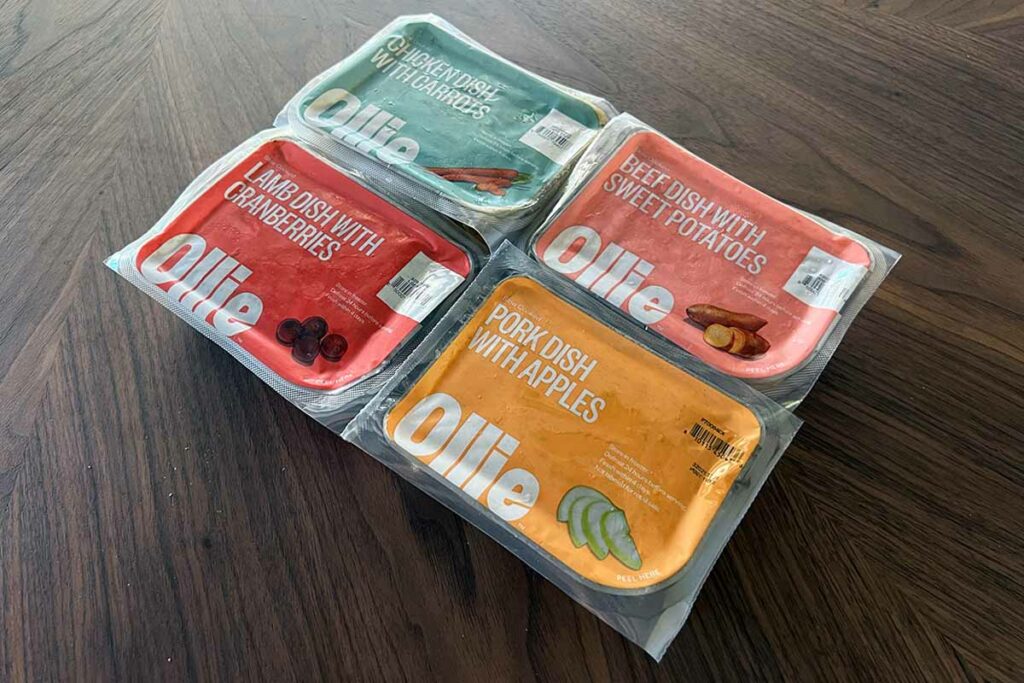 Ollie are another relatively experienced dog food delivery service in the USA who've been providing fresh food to pups for over seven years in the States.
They have created a range of fresh meal recipes that cater to pet owners who want their dogs to eat fresh food rather than dry or wet food for dogs.
Ollie are so confident about the quality of the dog food they claim on their website that their fresh recipes "are the closest thing to feeding your dog human food".
At the time of writing, this dog food delivery service offer five fresh recipes for dogs.
Ollie's recipes include Fresh Beef With Sweet Potatoes, Fresh Chicken With Carrots, Fresh Turkey With Blueberries, Fresh Lamb With Cranberries and Fresh Pork With Apples.
They explain your dog's diet will be made up of whole, human-grade meat, veggies and grains.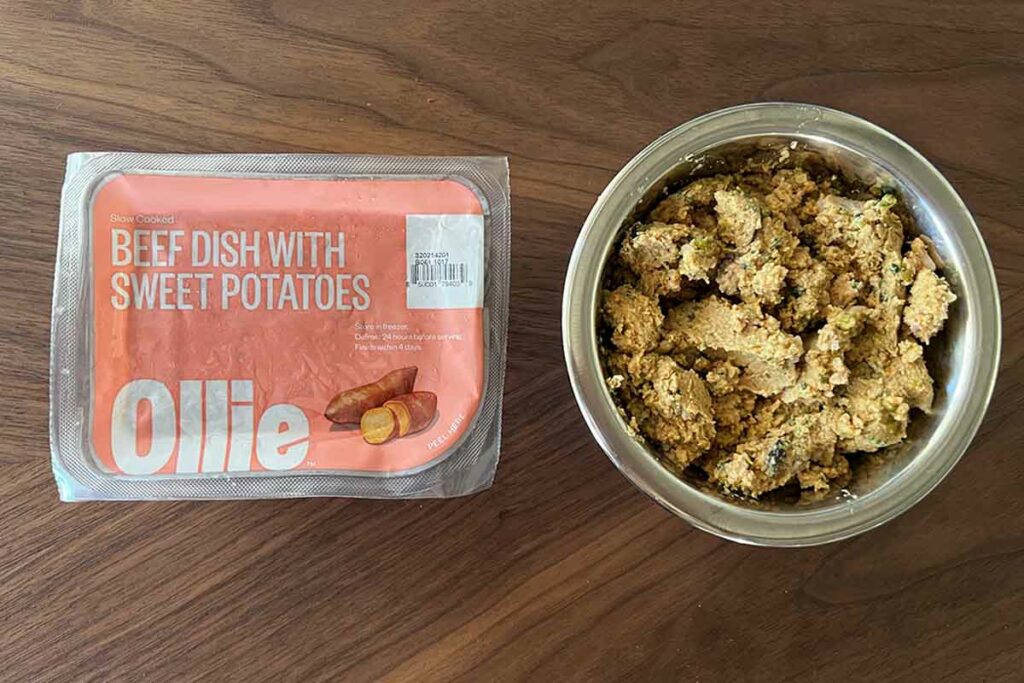 Ollie explain the ingredients are minimally processed and their dog food doesn't contain any preservatives or harmful fillers.
You can feel good that your fresh dog food is being cooked in US kitchens, while Ollie's meals have been vet-formulated.
Just like Sundays Food For Dogs, Ollie will require pet parents to get started by filling out a questionnaire to allow the dog food delivery company to get to know your dog better.
They'll tailor your dog's diet to meet their specific needs before your pup's fresh dog food will be shipped direct to your door.
You'll need to store the dog food in the freezer and keep a couple of defrosted packets in the fridge ready to serve.
Sundays Food For Dogs Or Ollie: What's The Difference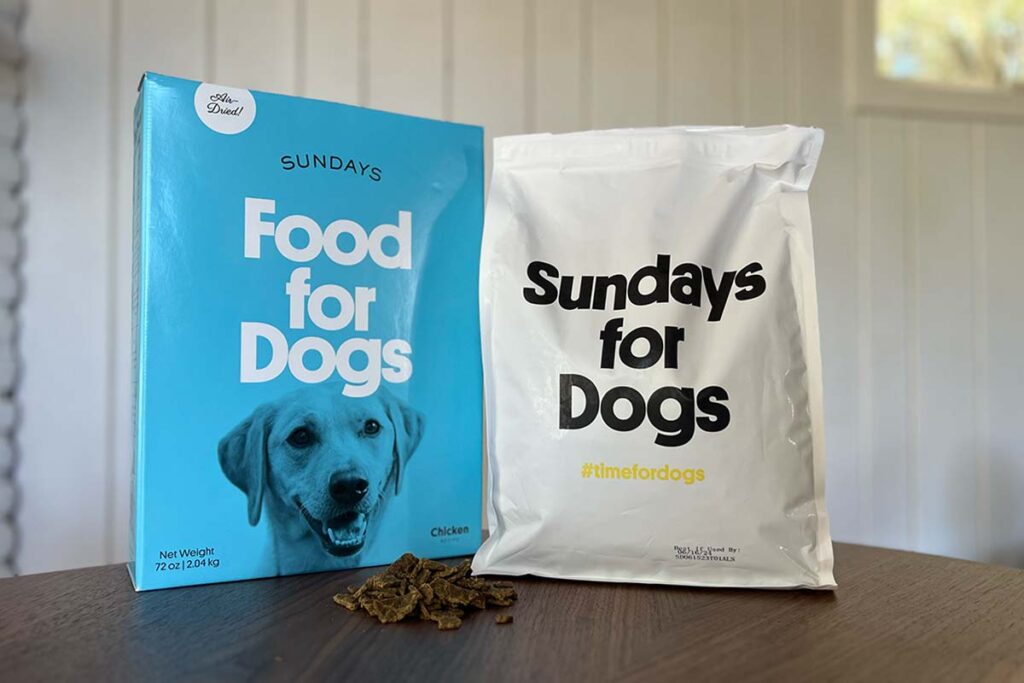 As I touched upon at the start of the article, the big difference between these dog food delivery services is the format of their pet food.
Sundays For Dogs offer air dried dog food that contains a lot of meat and superfoods, while Ollie offer fresh meals that use whole, human-grade ingredients.
Although Sundays For Dogs offer air dried food, they've got a significantly higher percentage of protein in their jerky-like dog food.
This is significantly more than Ollie based upon the nutritional information provided on their website for their five meals.
By virtue of being air dried dog food, Sundays offer a more convenient way to feed your pet.
If you've got limited space in your freezer and a fridge full of leftovers, you might not want the headache of trying to store loads of dog food packets.
Sundays offer shelf stable dog food that can simply be placed in the cupboard once you're done.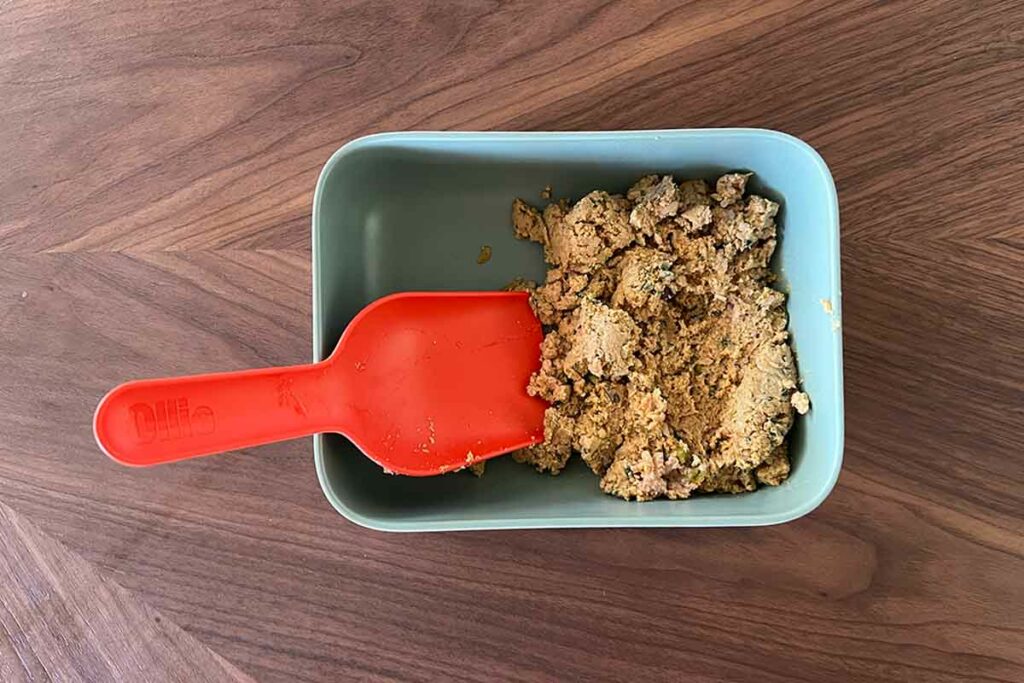 Having said that, Ollie do provide a brilliant storage container and scooper in your first delivery, allowing you to empty some meal packets into the container and keep it in the fridge.
I haven't seen any other dog food delivery service show such initiative so credit to Ollie for trying to make fresh dog food as least messy as possible.
There's no escaping that air dried dog food is less messy than fresh dog food.
When it comes time to prepare your dog's meals, you simply check the feeding guidelines and scoop some air dried dog food into your dog's bowl.
With Ollie's packets, you have to cut them open, move it into the "puptainer" if you're using it, use the scooper to place in your dog's bowls and make sure every is clean and wiped.
There's also the price to consider. Sundays For Dogs claim that their air dried dog food is 40% cheaper than fresh dog food.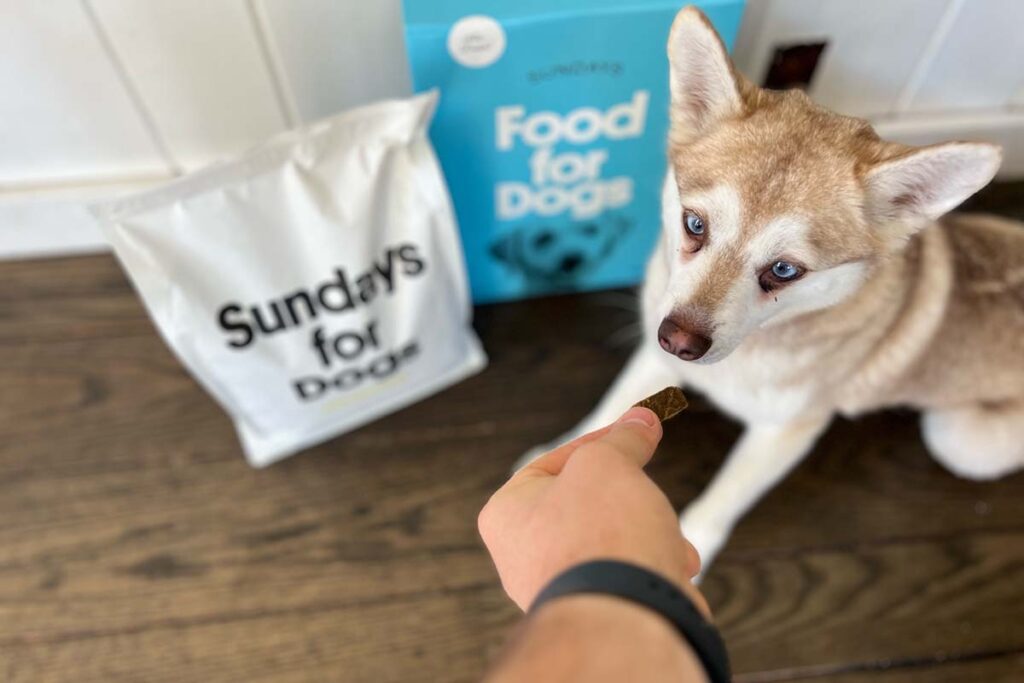 Well I put this to the test to see how much I could expect to pay for Copper and Skye each week and the total for the month when feeding Sundays and Ollie.
I used the same information for each dog food delivery service to make the experiment fair.
If I decided to sign up to Sundays For Dogs, I could expect to pay $138 every month for their air dried dog food once the trial price experience. That equates to around $35 every week or $5 a day.
Alternatively, I'd need to cough up $219.60 every month for Ollie's fresh meals once I finished my 2-week starter box. That works out at $54.90 per week or $8 a day.
Based upon my calculation, in this care, Sundays is just shy of 40% cheaper than Ollie!
So my four key differences would be the type of dog food (Sundays is air dried dog food and Ollie is fresh dog food), the way it needs to be stored, the preparation and the price.
Sundays Food For Dogs Or Ollie? Our Verdict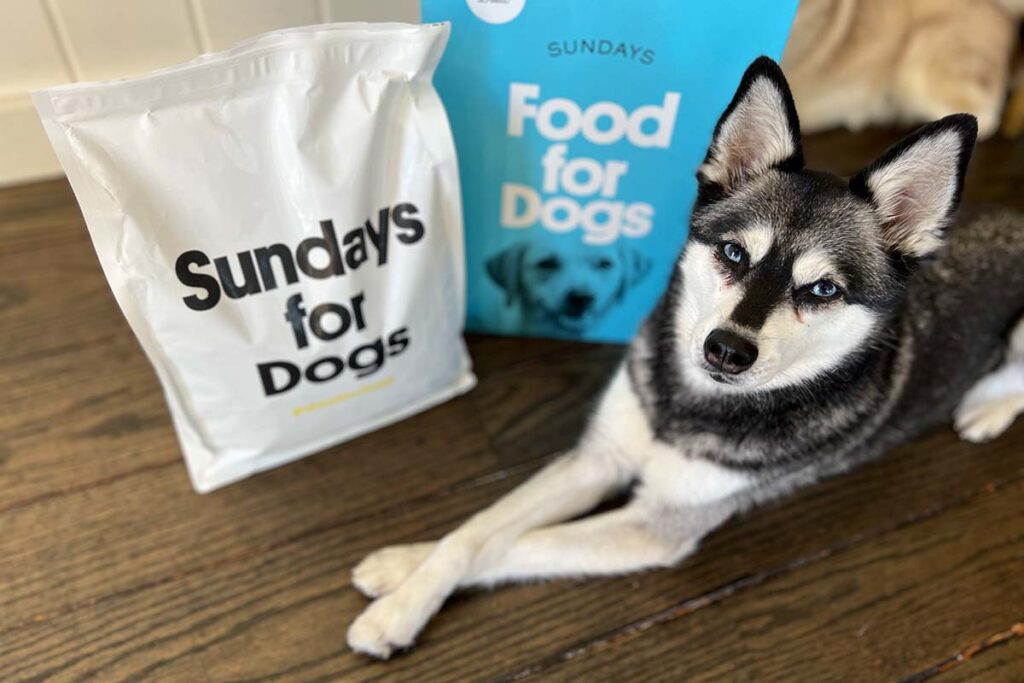 Now that we know a little bit more about Sundays Food For Dogs and Ollie, it's time to look at which of these dog food delivery services comes out on top.
Since moving back to the USA with my Alaskan Klee Kai, I've been trying a range of brands in an attempt to find the best pet food for Copper and Skye.
My criteria included human grade dog food that offer a fresh food diet to my Klee Kai, catered to Skye who is a picky eater with food sensitivities.
Sundays didn't start as my first choice because I have limited experience feeding air dried dog food to my Alaskan Klee Kai.
But I decided to give them a go following the stellar reviews online.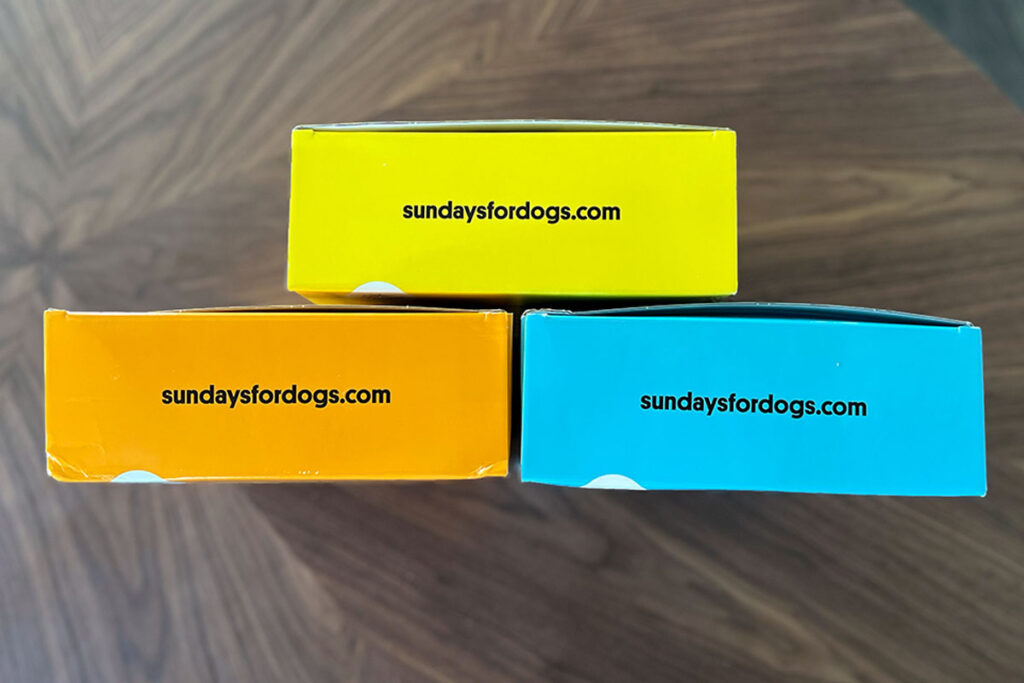 I was pleasantly surprised by how much Copper enjoyed their air dried dog food compared to dry food that they've eaten in the past.
Copper and Skye both finished their bowls even though Skye wouldn't typically be the biggest fan of dry dog food such as traditional kibble.
I continued to feed them air dried dog food for the best part of a month before my Sundays ran out.
When I placed my order of Ollie, I didn't realise it came with a free scooper and puptainer for each dog.
I thought this was a great touch because human grade dog food meals can get messy at times – leaving little bits of food in your fridge and you've got to clean any utensils you use.
Ollie's thoughtfulness meant that Copper and Skye had their own containers and scoopers so I didn't need to use my own Tupperware and spoons like with other dog food delivery companies I've used.
To look at the food, it did look like dog food rather than being fit for human consumption. While I know it's ultimately a dog food delivery company, some human-grade pet food have recipes that do look like something you or I would eat.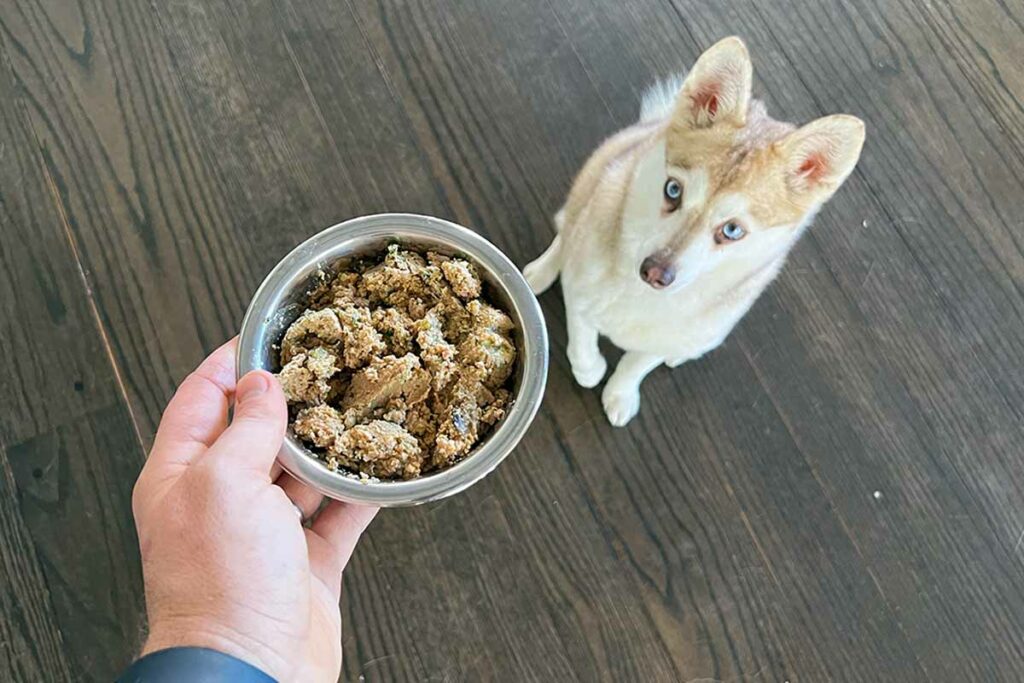 Another initial observation would be that Ollie's dog food did appear to contain a lot of moisture.
Having said that, my Alaskan Klee Kai enjoyed most of their Ollie meals. Skye did have a couple of days where she'd leave a little or she wouldn't come over immediately for her food but for the most part, it passed the taste thest.
If I was to order either Sundays For Dogs or Ollie again, I'd choose Sundays.
Copper and Skye appeared to enjoy Sundays's air dried food more than Ollie's fresh meals, while I preferred the convenience of simply storing the air dried food in the cupboard to keep my freezer free of pet food.
There's also the cost factor to consider. Sundays is significantly cheaper than Ollie which is huge for dog owners like me who have a family and trying to make a budget cover all life's necessities.
While I would typically always go for fresh meals over dry food for my dogs, I'd recommend Sundays Food For Dogs over Ollie based upon the factors listed above.
Where Can I Buy Sundays Food For Dogs And Ollie?
You can only order Sundays For Dogs direct from their website.
To start your order with Sundays, you can click this link or the button below.
Ollie's fresh meals can only be ordered by heading to their website and filling out their questionnaire.
If you've decided to give Ollie a go, you can click this link or the button below.
Do Sundays For Dogs Or Ollie Offer A Coupon Code Or Discount?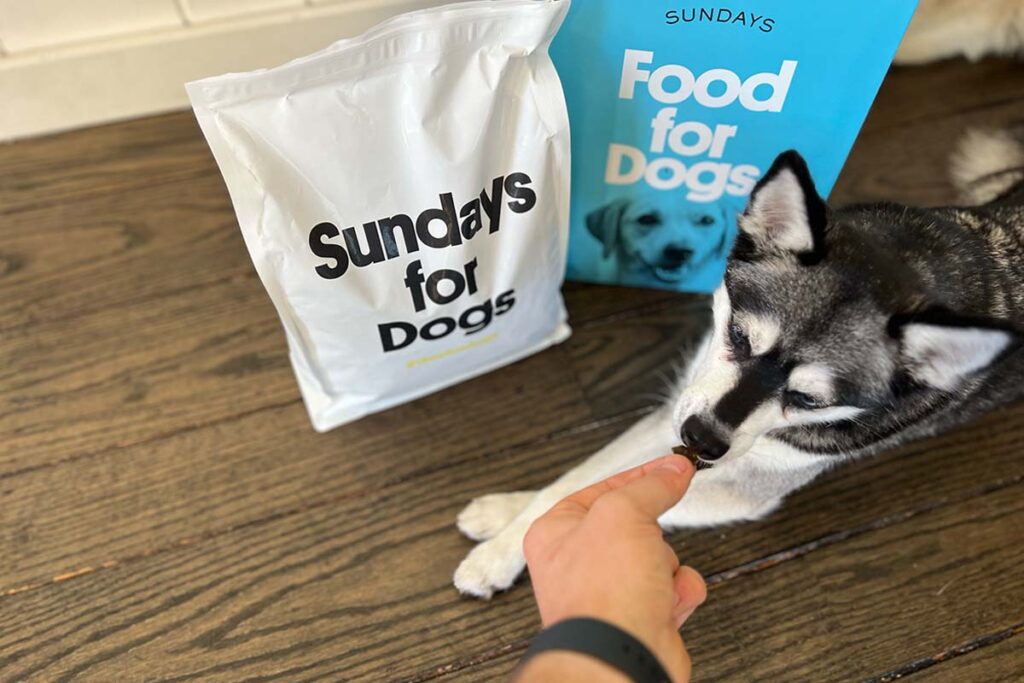 We contacted Sundays For Dogs to get a special discount for our readers and subscribers. However, we don't have an Ollie discount code at this time.
You can save 35% on your first Sundays order when you click this link and enter "LIFEWITHKLEEKAI" at checkout.
Wrapping Up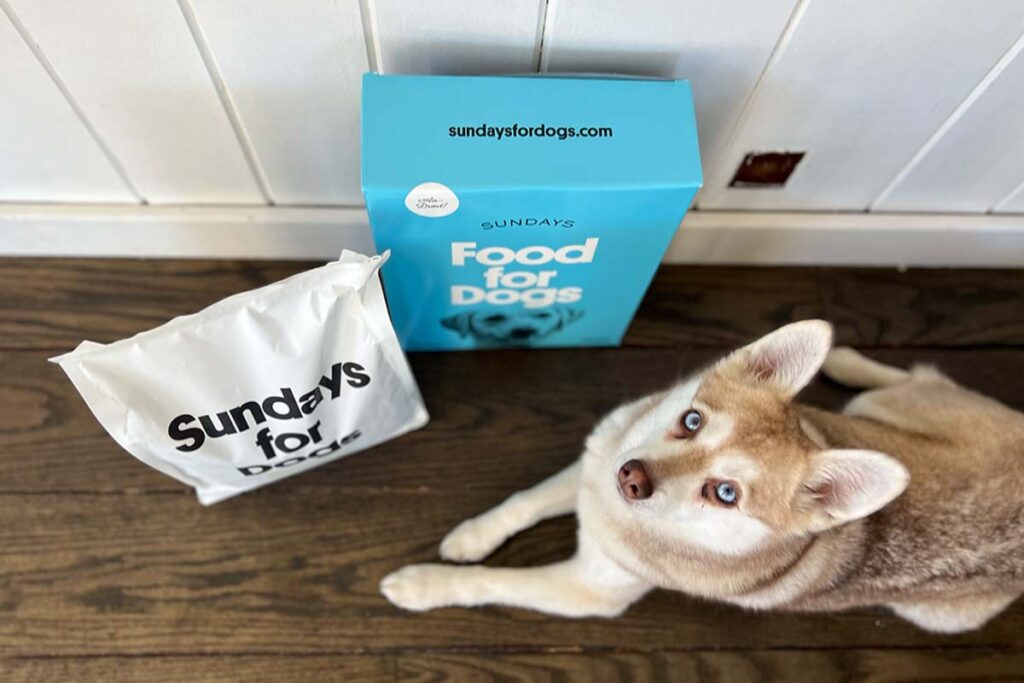 We've reached the end of our Sundays For Dogs and Ollie comparison article.
As I discussed above, there are four key differences between Sundays and Ollie. There are the pet food format, storage, preparation and price.
Based upon these factors, I prefer Sundays For Dogs for the sheer convenience of feeding healthy food that can be stored in the cupboard and doesn't cost the price of a car loan each month.
Don't forget you can save 35% on your first Sundays order by clicking here and using code "LIFEWITHKLEEKAI" at the checkout.