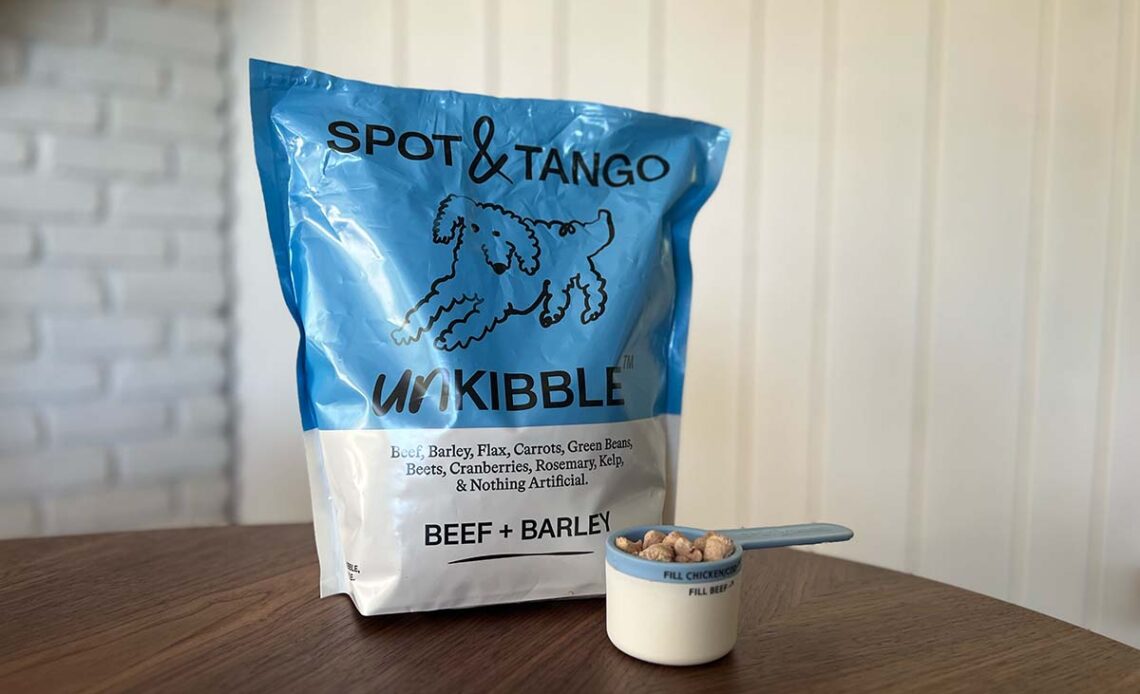 Last Updated on September 18, 2023 by Kieran
Are you thinking about signing up to UnKibble to provide your dog with fresh, human-grade dry food – but you want to know UnKibble's price per month before committing?
There's no shortage of fresh food for dogs in the USA through pet food companies who operate on a subscription plan or deliver your dog food direct to your door.
However, it can be confusing trying to figure out how much fresh dog food will cost you on a monthly basis once you've finished your trial price or your dog's eaten their sample box.
UnKibble is one of the leading dry dog food options in the USA for pet parents who want to feed fresh recipes to their canine companions and ditch the store bought dog food.
Created by Spot & Tango, UnKibble promises to deliver the benefits of fresh meals without the cost and with the convenience of dry food.
In this article, we're going to take a look at how much you can expect to pay for UnKibble, helping you to make an informed decision before signing up to receive UnKibble dog food.
Cut To The Chase: You can save 50% on your first UnKibble order when you click here.
What Is UnKibble Dog Food?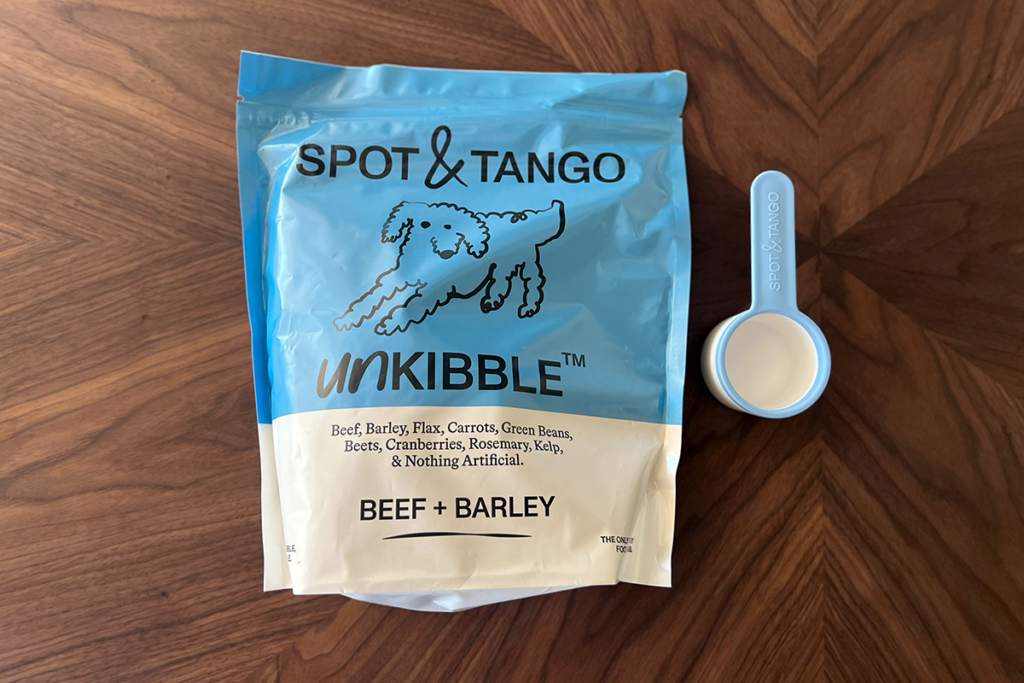 UnKibble is a range of dry food created by Spot & Tango to cater to pet owners who want high quality dog food for their pups but don't want the hassle of feeding fresh dog food that has to be frozen, defrosted and store in the fridge.
You may be familiar with Spot And Tango as they're one of the leading dog food brands in the USA. When we first moved back to the USA with Copper and Skye, we wanted to give Spot And Tango a try.
While we typically look for fresh frozen options such as Spot And Tango's fresh dog food, we decided to order UnKibble after we read some of the positive reviews about the dry dog food.
By signing up to UnKibble, dog owners can allow their dog's to enjoy the benefits of fresh dog food thanks to the fresh ingredients in the recipes that are responsibly source.
These include fresh food such as fresh fruits and fresh vegetables, human grade meat and other superfoods.
You can feel confident your dog is eating a balanced and complete diet of fresh ingredients that's been formulated by veterinary nutritionists.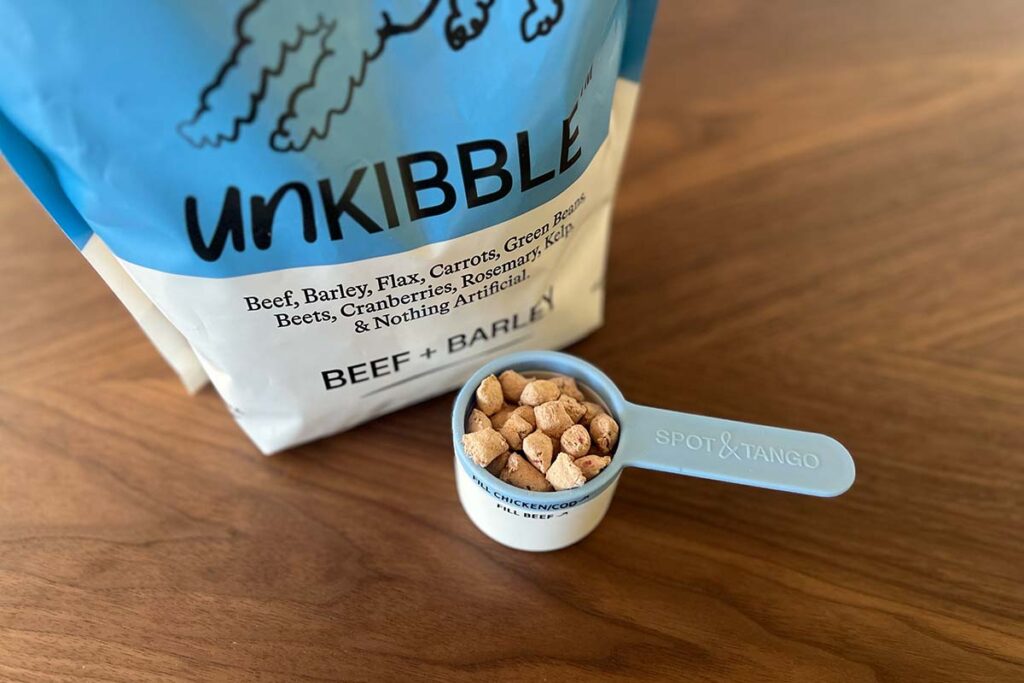 Unlike other dog food that you might find on the supermarket shelf, UnKibble doesn't use any powdered meat meals, artificial ingredients or nasty preservatives.
UnKibble is human grade and tailored to meet your dog's specific needs, which makes it perfect for dogs of all ages, picky eaters and dogs with sensitive stomachs.
Spot And Tango require dog owners to complete their sign up questionnaire so the dog food brand can get to know key information about your pet, such as age, breed, weight, activity level, eating habits and more.
By answering the questions set by Spot And Tango, you can ensure your dog is enjoying the right amount of human grade ingredients. This allows Spot And Tango to cater to dogs of all life stages.
Spot And Tango will provide a customized serving scoop in your first UnKibble order, which pet parents can use to practice portion control.
While home cooked meals or fresh food for dogs needs to be store in the freezer and fridge, UnKibble can be left in a cool, dry place such as the cupboard.
UnKibble is also cheaper than fresh food that's delivered to your door.
How Much Is UnKibble Per Month?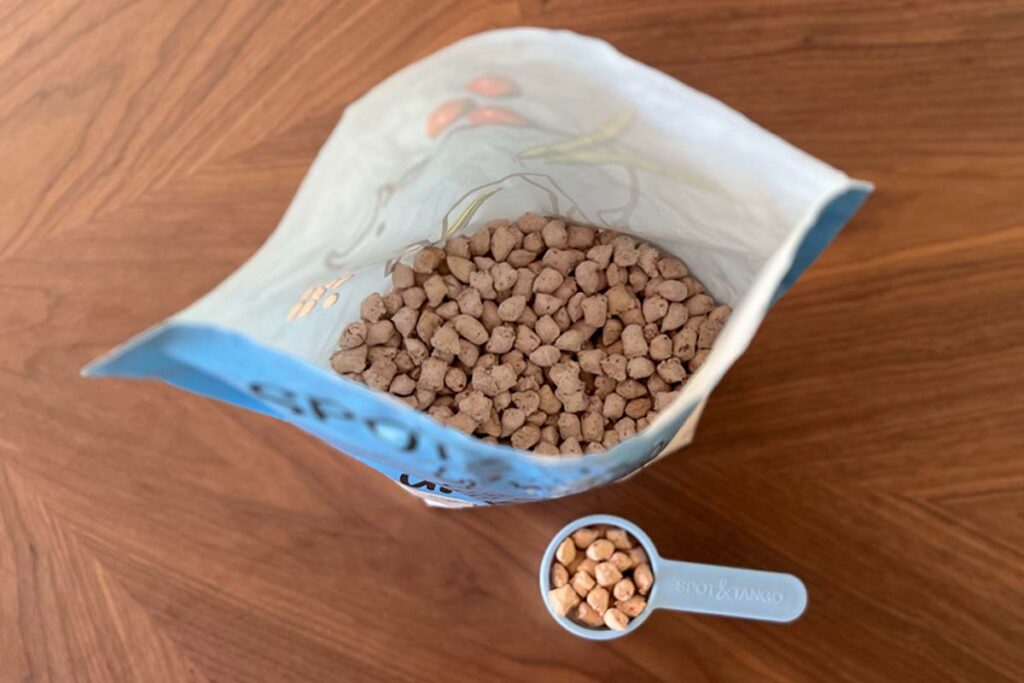 Now that you know a little bit more about UnKibble by Spot and Tango, let's take a look at the price.
As we mentioned above, UnKibble is a cheaper option than Spot And Tango's fresh food and other dog food delivery companies who provide fresh food frozen in packets that take up freezer space.
So if you're working on a tighter budget or you prefer the convenience of dry dog food, let's see how much you can expect to pay based upon the size of your dog.
To give a varied breakdown of the cost of UnKibble, I've examined how much it would be to feed a Chihuahua, Australian Shepherd and Bernese Mountain Dog.
Chihuahua
Chi, male Chihuahua, 6 years old, 5lbs – $15.47 per week, $61.88 per month.
Australian Shepherd
Aussie, male Australian Shepherd, 6 years old, 60lbs – $47.81 per week, $191.24 per month.
Bernese Mountain Dog
Bernie, male Bernese Mountain Dog, 6 years old, 90lbs – $66.38 per week, $265.52 per month.
For my Alaskan Klee Kai dogs
Alaskan Klee Kai, Copper and Skye, 6 years old, 11lbs – $75.72 per week, $302.88 per month.
So as you can see, UnKibble isn't exactly cheap but it's cheaper than fresh meals and you still get the benefits of human grade dog food for your pets.
Where To Buy UnKibble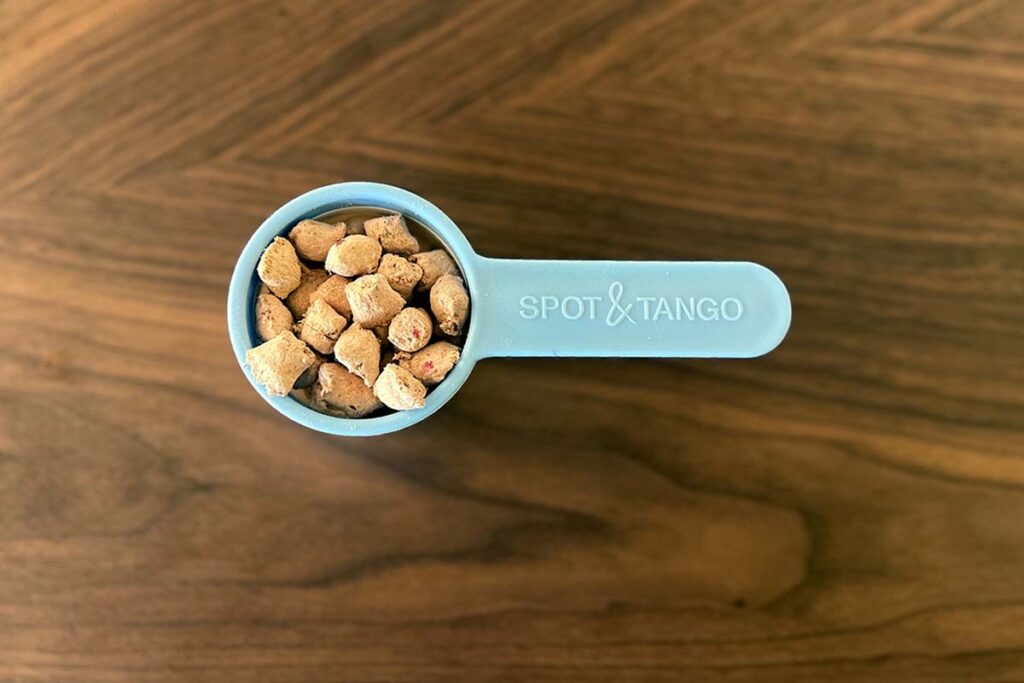 You won't find UnKibble at your local supermarket or your local pet store.
If you're ready to go ahead and give UnKibble a try, you'll need to head to the Spot And Tango website.
As I touched upon earlier, you'll need to fill out Spot And Tango's sign up questionnaire to ensure they can provide you with the correct customized serving scoop with your first UnKibble order.
We can offer Life With Klee Kai readers 50% off their first UnKibble order via this link.
Do Spot And Tango Offer A Discount For UnKibble?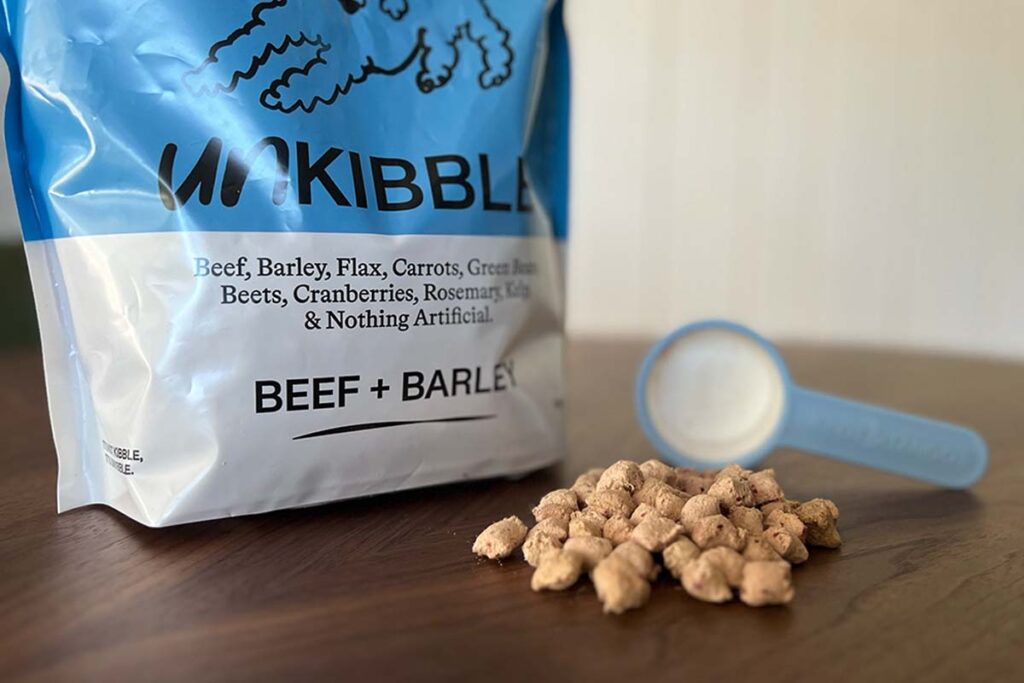 We reached out to Spot And Tango directly and we secured a 50% discount off their UnKibble dog food.
So if you want to give UnKibble a try, you just need to click this link and the 50% discount will be automatically applied when you reach the checkout.
Hopefully the 50% discount will allow you to see what UnKibble is all about and whether you want to keep receiving their dog food.
UnKibble Recipes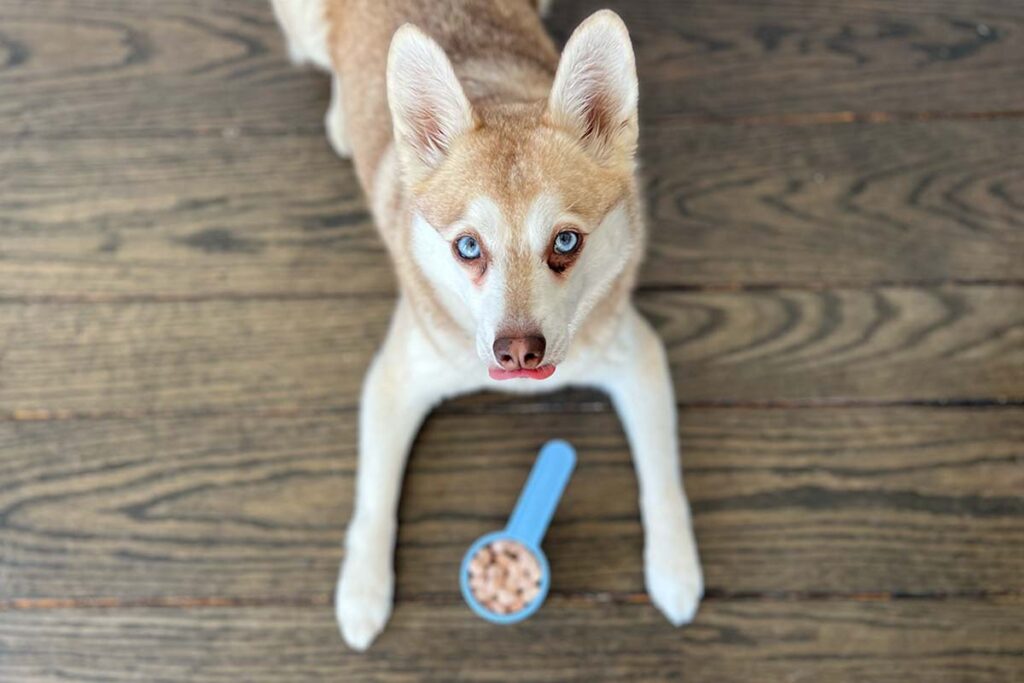 At the time of writing, Spot And Tango have three UnKibble recipes on offer on their website.
Spot & Tango use simple ingredients in each of their three recipes. Let's have a look at the good stuff such as fresh fruits and veg plus quality meat that goes into their fresh dry food UnKibble.
<strong>Cod & Salmon -</strong> Cod, Salmon, Sweet Potatoes, Pumpkin, Sunflower Seeds, Tapioca, Strawberries, Carrots, Spinach, Parsley, Rosemary, Kelp.
<strong>Beef & Barley –</strong> Beef, Barley, Flax, Carrots, Green Beans, Beets, Cranberries, Rosemary, Kelp & Nothing Artificial.
<strong>Chicken & Brown Rice –</strong> Chicken, Brown Rice, Sweet Potatoes, Carrots, Apples, Kale, Sunflower Seeds, Ginger Root, Kelp & Nothing Artificial.
Our Verdict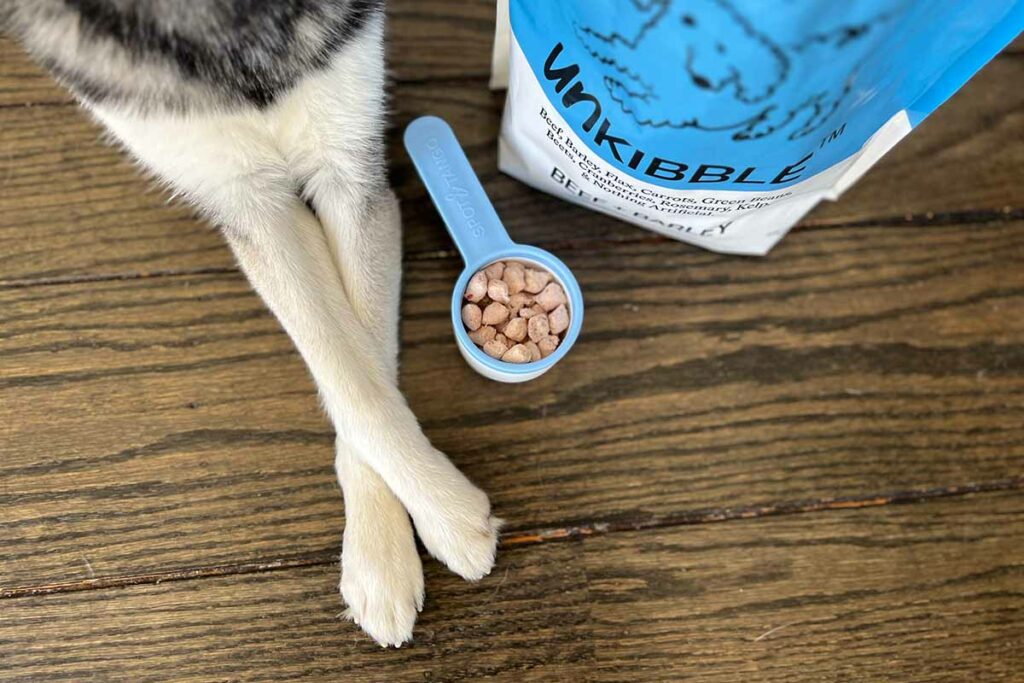 We've typically fed fresh meals to Copper and Skye because they're picky eaters.
However, we went through a big life change in 2023 when we moved to California from London.
As a result, we had to change Copper and Skye's diet because their UK dog food isn't available in USA.
We decided to give fresh dry food a try after reading lots of positive reviews about UnKibble.
I really like the customized scooper that makes preparing Copper and Skye's meals really easy, you just scoop UnKibble out of the bag and into your dog's bowl.
With other dog food that we've tried, it can be a case of trial and error figuring out the correct portion size.
But Spot And Tango removed this dilemma with their UnKibble dog food by including the scooper (we really liked the design of the scooper, too).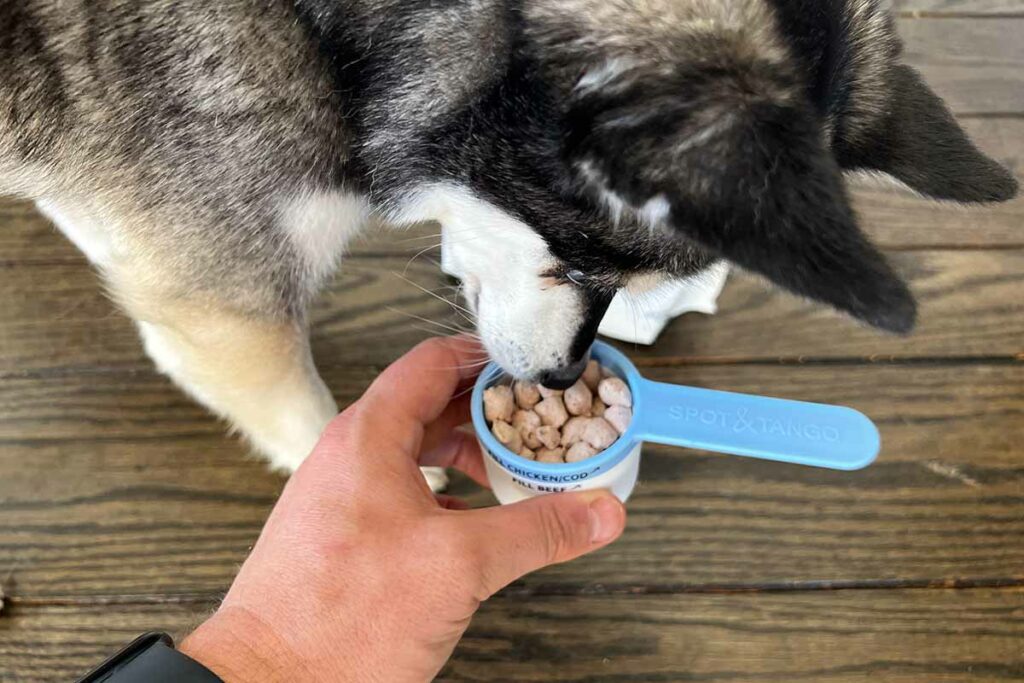 To my surprise, Copper and Skye didn't hesitate to tuck into their UnKibble meals so it certainly passed the taste test with my Alaskan Klee Kai.
It looked like high quality food with a much lighter color than other dry dog food that we've previously fed. You could pick out some of the fresh food ingredients in the UnKibble nuggets.
I felt good knowing that UnKibble's fresh dog food doesn't contain any artificial additives or nasties.
UnKibble's packaging was clear and transparent which isn't the case with a lot of dry food, allowing us to see each ingredient in the recipe and feel confident there weren't artificial additives.
If you're looking to feed a fresh diet to promote your dog's health but you don't want the hassle of fresh frozen meals or you've got limited freezer space, UnKibble does provide a good option.
Of the brands that we've tried since arriving back in the USA, I feel UnKibble is up there with Sundays Food For Dogs.
If I was to feed dry food to my Alaskan Klee Kai long term, it would be a toss up between Sundays Food For Dogs and UnKibble Dog Food.
Anything Else To Consider?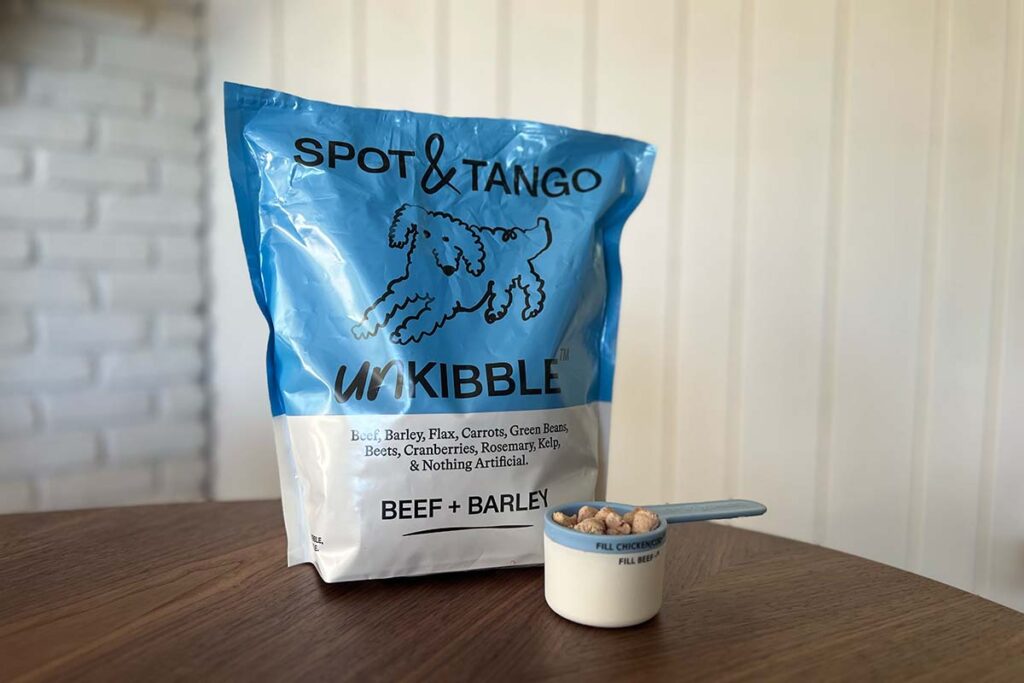 Spot And Tango offer a Happy Pup Guarantee – so if your dog doesn't like their UnKibble dog food, you can get your money back.
So you have the chance to feed fresh ingredients to your dog and it's effectively risk free seeing as you can get a refund if your dog turns up their nose.
Final Thoughts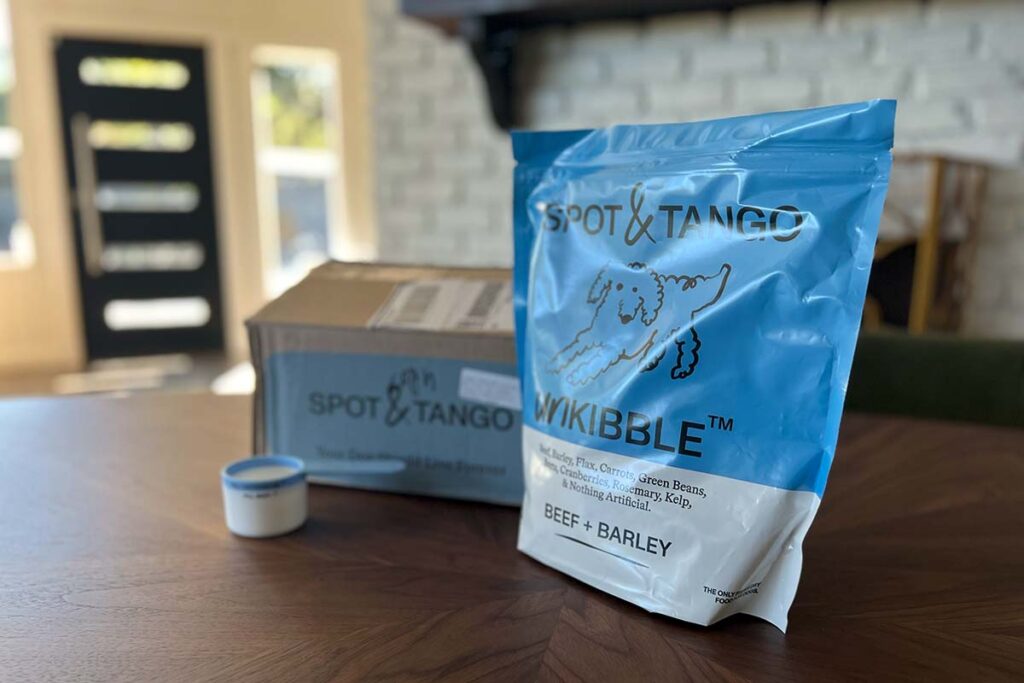 We've reached the end of our UnKibble feature.
In this UnKibble guide, we've learned a little bit more about how this Spot And Tango dog food works, how to sign up and how you can make a 50% saving.
But importantly, you hopefully have an insight into how much you can expect to spend on a month to month basis if you do decide to give UnKibble a go.
Don't forget you can save 50% on your first UnKibble order when you click here.